On the Way to Reaching Herd Immunity
Katie Vastola and Moira Sirois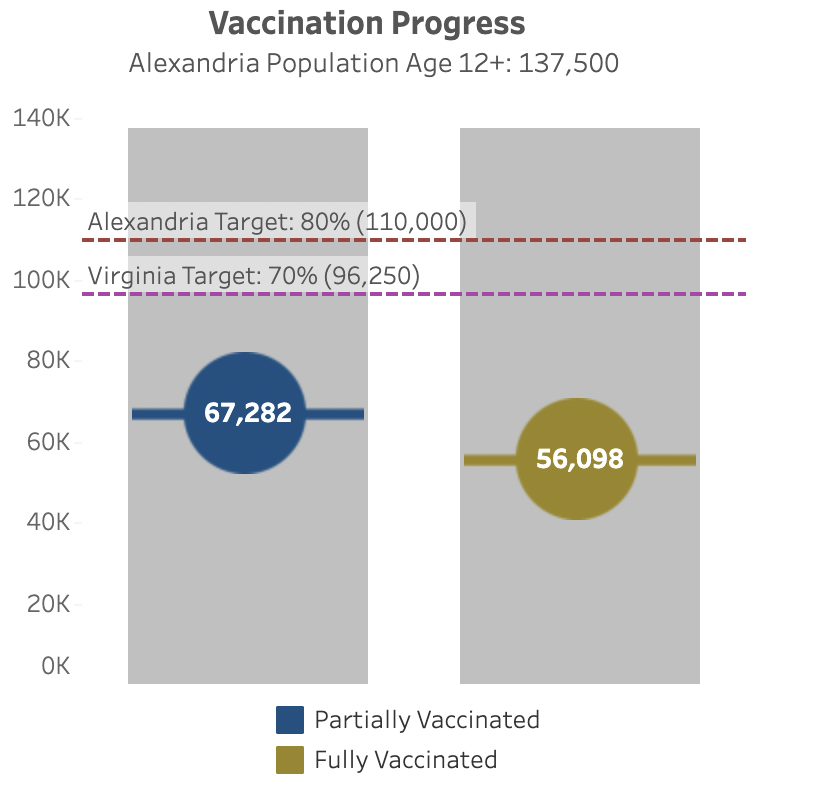 On May 10, the FDA granted Pfizer's coronavirus vaccine emergency use authorization for kids ages 12-15. The CDC signed off on this two days later. This marks the beginning of kids getting vaccinated, which helps the United States reach its goal of herd immunity.
Currently, the Pfizer vaccine is the only one that has been approved for people under the age of 18. Their original trials included people ages 16 and up, making everyone in that age group eligible when the vaccine was first approved in December 2020. Pfizer conducted additional trials with kids ages 12-15; their studies indicate that the vaccine is safe for people of that age group. Pfizer is currently doing trials with children ages 6 months old to 11 years old.
Alexandria's current target goal is 80% immunity for people 12 and older, which translates to 110,000 people. In total, Alexandria has 137,500 residents ages 12+. As of May 17, 48.9% of the population 12 and older is partially vaccinated and 40.8% is fully vaccinated. In total, Alexandria has administered 123,380 doses of all vaccines combined. As of May 17, 51% of vaccine doses given are Pfizer, 42.1% are Moderna, and 6.9% of all doses given are Johnson & Johnson.
For residents who are not yet vaccinated, the Alexandria Health Department (AHD) is hosting student and family events to "ensure that vaccines are widely available to students." These clinics are hosted at ACPS middle schools and are intended for both public and private school students.
On Saturday, May 22, George Washington Middle School will host a Pfizer vaccine clinic from 1-3:30 pm. On Saturday, June 5, Francis C. Hammond Middle School will host a Pfizer vaccine clinic also from 1-3:30.
In addition to the student and family events, there are a variety of other vaccination clinics in Alexandria hosted by the AHD. As long as the clinic is giving out Pfizer vaccines, children 12 and older may also go to those sites. Some clinics offer walk-ins vaccinations in addition to those who schedule appointments.
In addition to city vaccination sites, some pediatric practices are also working with the AHD to vaccinate children ages 12+. These providers include Van Dorn Pediatrics and Hispanic American Pediatric Associates. To schedule an appointment with either of them, contact the practices directly.
Residents can also contact the Alexandria COVID-19 Hotline (703-746-4988) for help finding/scheduling vaccine appointments on weekdays from 9 a.m. to 6 p.m.Getting vaccinated is an important part of reaching herd immunity, and it is important that all residents get vaccinated. To find vaccination sites, go to alexandriava.gov/Vaccines.