Girls Volleyball Wins Gunston District Championship, Occoquan Region Championship and Are Hosting State Championship
Jacqueline Lutz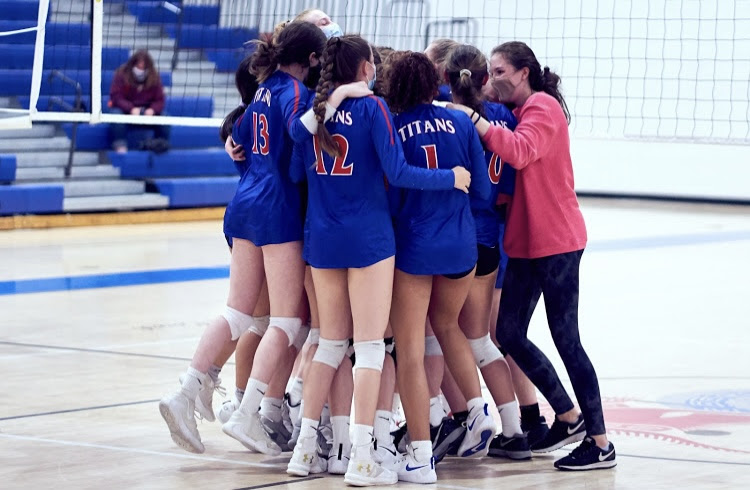 For the second year in a row, Varsity Girls Volleyball has won the Gunston District
Championship. This is the first time in the school's history that the team has been back-to-back district champions. The team also went on to win the Occoquan 6C Regional Championship and the state semi-finals, and are now set to play in the VHSL Class 6 Championship game. The team is currently undefeated, going 16-0 during the regular and playoff season.
Several players have also been awarded District and Regional Honors: Milan Rex was awarded 1st Team All-District and 1st Team All-Region; Lila Randall was awarded 1st Team All-District, Defensive Specialist of the Year for the district, 2nd Team All-Region, and Libero of the Year for the region; Chloe Wilmot was awarded 1st Team All-District and 2nd Team All-Region; Jill Jones was awarded 1st Team All-District and an Honorable Mention All-Region; Erika Harwood, Meaghan Wendling, and Kaitlin Peters were awarded 2nd Team All-District; and Megan Munson was awarded Honorable Mention All-District.
The head coach, A.J. DeSain, earned both the Gunston District and Occoquan Region Coach of the Year awards.
Despite the pandemic and the initial uncertainty surrounding the occurrence of sports this school year, "[the] team has adapted to COVID by being as versatile as possible. This year more than ever, lots of players have had to miss games and practices, but thankfully our team has been super flexible and willing to play different positions," said Evie Ankele, senior and co-captain of the team.
The team also has a strong bond, which helps them do well on the court. "I think part of the reason why our team has done so great this year is because of the relationship we all have with each other. Especially [during] a hard period of time, we're all constantly supporting each other and [we] have become best friends," said Samantha Sorto, senior and co-captain of the team.
The team's next game, the VHSL Class 6 Volleyball Championship, is tomorrow, Friday, April 23rd at 6 PM in the T.C. gym. They will be playing Floyd Kellum High School of Virginia Beach. According to Titans Athletics, this is the first time in recent history that a Titan team will compete for a state championship on their home court.
The event's in-person attendance tickets are currently sold out, but Titans Athletics is hosting a State Volleyball Watch Party in the T.C. Williams auditorium. The event is limited to the first 100 people that arrive and is open to all students and staff. To register for the event, go to https://www.tcwathletics.org/state.
The event can also be streamed from any electronic device using the link https://www.nfhsnetwork.com/events/vhsl/gam6f8e56f594, or the Titans Athletics App.
Rachel Wilson contributed to this story.