Lauren Larsen
On October 30th, record-breaking singer Ariana Grande released her sixth studio album Positions. She dropped the title track "positions" a week prior, teasing the name of the album for her fans. The 14-song collection features three collaborations and highlights Grande's R&B skills and wide vocal range — from low tones to whistle notes.
In February 2019, Grande released thank u, next just six months after the release of her fourth studio album Sweetener. thank u, next detailed the emotional toll of her boyfriend Mac Miller's death and Grande's subsequent disengagement from actor and comedian Pete Davidson.
Positions was a departure from her previous work, as Grande explores intimacy and personal growth.
Every track on the record claimed the top 14 spots in the United States Top 50 List in a single day. Grande made history as the first artist with five Hot 100 #1 debuts and three #1 debuts in a single year, as "positions" joined "Rain on Me" and "Stuck With U" as her three 2020 hits.
Positions opens with "shut up," a song with significant orchestral moments and synchronous layered vocals. Grande was criticized for the simple background instrumentals on thank u, next. In response to those critics, track one on this album has a whimsical multidimensional feeling to it, as stringed instruments paint the backdrop of Grande's lyrics. The final 26 seconds of the song is dominated solely by this complex yet effortless sound.
Track two, "34+35," is a fun upbeat song that was actually the first of the record to earn a music video from Grande following the release. In the video, Grande acts as a researcher and test subject in a lab; her invention is a fembot who sparks craziness and fun for the research team depicted in the video. The song itself is playful and lighthearted, as an almost Disney-like pop feel carries throughout.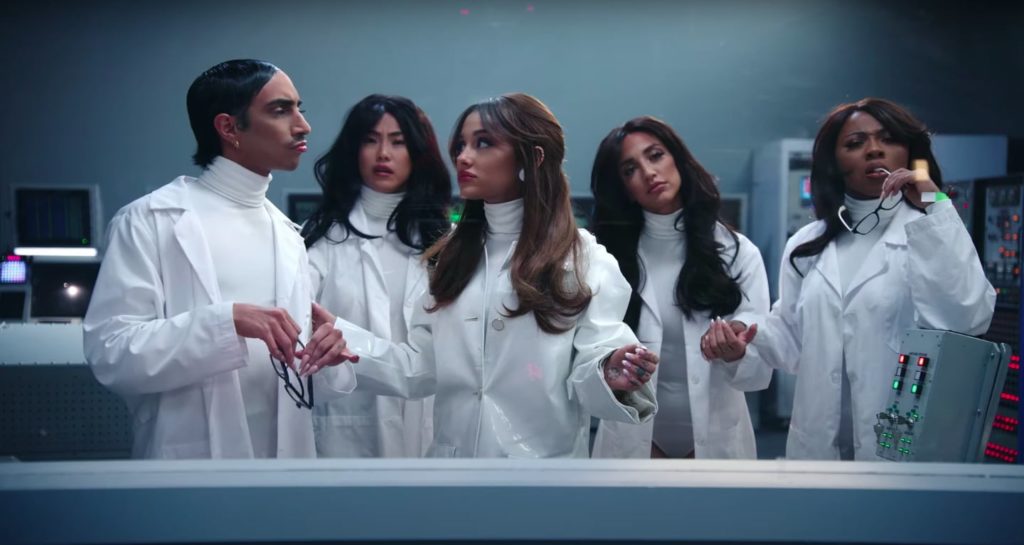 The first track with a collaboration is the third song "motive," which features American singer, songwriter, and rapper Doja Cat. "We did this song together towards the end of last year, and I love it so much," said Grande according to Apple Music, "I remember when I first wrote it and sent it to her, she was in the shower, and she was like, 'I love this.'" As said in the title, "motive" is simply about the intentions of Grande's partners. It has a subtly suspicious mood and medium-to-low tone, adding to the mysterious feeling of it. The song ends with the artist repeatedly singing, "What's your motive?"
The peppy, bubbly song "just like magic," track four, clearly exudes a confident energy and attitude from Grande. While she alludes to sadness in her past, like with the lyric, "Take my pen and write some love letters to Heaven," she also demonstrates a personal comeback with lines like, "Good karma, my aesthetic / Keep my conscience clear, that's why I'm so magnetic / Manifest it, I finessed it" and, "Losing friends left and right, but I just send 'em love and light."
Track five features the second collaboration on the album. The song, "off the table," features Abel Tesfaye, a Canadian R&B artist better known as The Weeknd. The song is a bit of a mood shift from "just like magic," as Grande explores her readiness to enter another relationship, while Tesfaye describes how he can be patient. The music itself features heavier and deeper sounds reverberating at a slow and contemplative pace.
Ironically, track six is called "six thirty." Before the song was released, fans noticed in the "positions" music video that all of the clocks were set to 6:30p.m. The track has a catchy chorus and post-chorus as Grande sings, "Six thirty / Down like six thirty / Down like sunsets / Down like my head on your chest." Finger snaps are included, connecting this track to "just like magic" where Grande sings, "Middle finger to my thumb and then I snap it."
The final collab of the record is on track seven; "safety net" features singer, songwriter, and record producer Ty Dolla $ign. Grande continues to delve into her personal growth in lines like, "You're making me forget my past / Never thought I'd feel like that again / I came to peace with my path." The beat and tone are very cohesive with "motive" and "off the table" as it is slowed down and incorporates deeper moods.
"my hair," track eight, is all about — you guessed it — Grande's signature ponytail. She takes a unique spin on this, however, as she sings about letting her hair down and trusting others with her insecurities through vulnerability. Grande echos the iconic whistle notes she hit in "imagine," the first track on thank u, next, at the end of "my hair." She belts the final chorus in this manner.
The next song, "nasty," while about female empowerment, also reveals more connections to her previous songs on other records. In the second verse, she sings, "You're like a whole constellation," which correlates to lyrics on track three of thank u, next, "NASA," or "pete davidson," the 14th song on Sweetener. In the latter track, Grande wrote, "No better place or a time / (Look) how they align / Universe must have my back / fell from the sky into my lap."
The tenth song, "west side," is about being selective with those whom she chooses to let in and love. The beat of this song is immaculate; it's structured, yet simple, but will still get listeners to bop their heads.
"love language," is the track with the most jarring intro of the entire record. Moreso, the outro has an 11-second audio fade followed by a surprising final 20 seconds worth of lyrics that conclude the track. The chorus from "love language" also forms another bridge with Sweetener's "breathin," as Grande sings, "If you're gonna keep speaking my love language. You can talk your sh*t all night. You the medication when I'm feeling anxious." In "breathin," Grande explains, "I can so overcomplicate, people tell me to medicate."
The following track is the album's title single, "positions." On the evening of the last Presidential Debate, Grande dropped the music video for this song. In it, she is Madam President and powerfully struts throughout the White House and leads Cabinet meetings, signs important documents, and issues a high Presidential honor. It pans to other scenes that correlate to the lyrics as she is not just in a position typically dominated by men, but is also, "Cookin in the kitchen and I'm in the bedroom."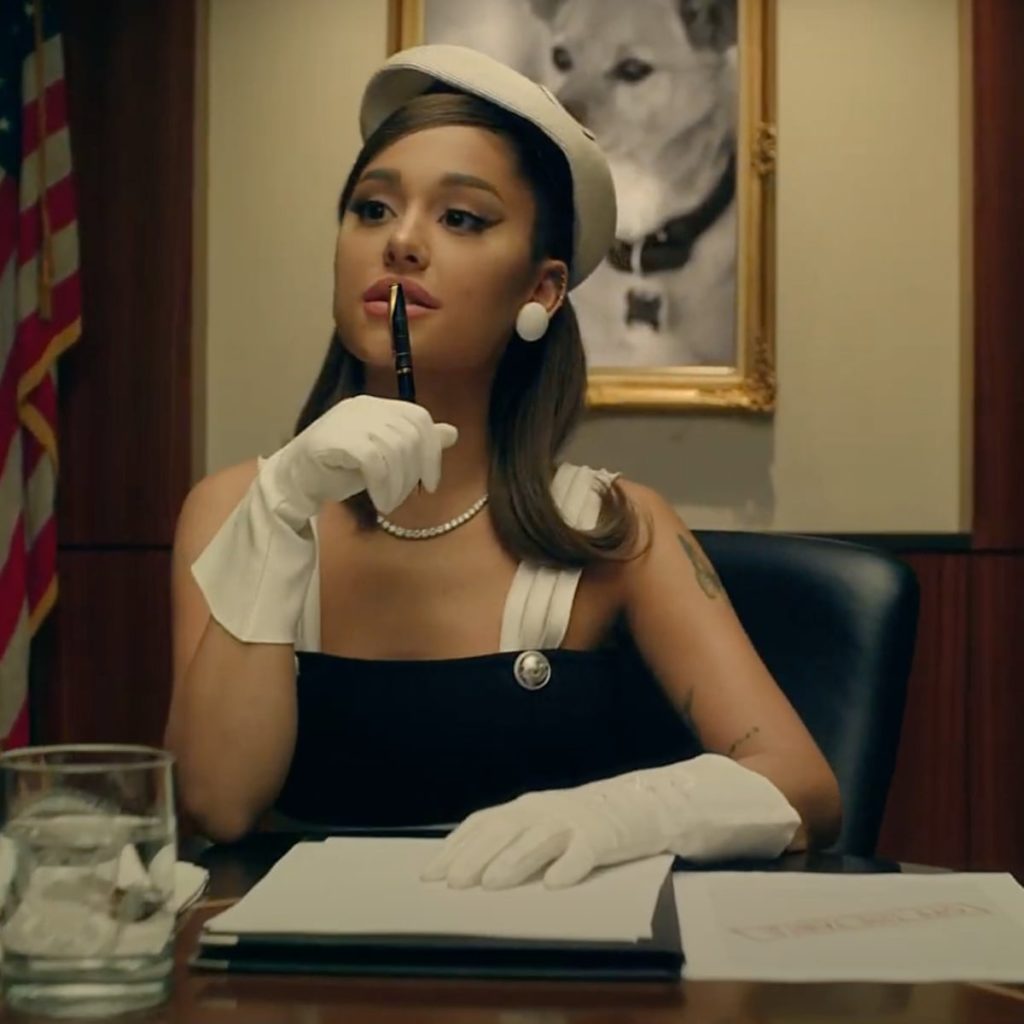 The second-to-last track is "obvious." It is about how her current boyfriend Dalton Gomez has opened her up to true love again. This is one that can be slowly danced and smiled to, as she hits some higher notes in the chorus.
Track 14, "pov," is the best song on the record. She expands on the theme of personal growth; for example, in "ghostin," the eighth track on thank u, next, she sings, "I'm a girl with a whole lot of baggage." However in the bridge of "pov," she reveals, "All my baggage fadin' safely." In the beginning, it is slower as her voice creeps further up the scale. In the end, Grande leaves us with her classic beautiful belted notes as she takes the final verse and chorus up a notch before letting the song drift to a close.
Overall, Positions, is an incredibly beautiful and intricate album by Grande. It is clear that the artist has found a sense of peace within herself since the Sweetener and thank u, next era. This album marks a new time for Grande, and of course, another success by one of the most iconic artists in the world.