A Deep Dive into 'Project Red Notebook'
Kate Casper
Titan senior Mia Humphrey is not just a singer; she is a storyteller, and her Project Red Notebook EP released November 14th is not just a collection of songs; it is a collection of journal entries. Eighteen minutes and 59 seconds of deeply personal, relatable accounts of love, loss, bliss, and remembrance.
Humphrey began her musical journey in sixth grade. It was not until her childhood friend, T.C. senior Ella Kahl, introduced her to Taylor Swift's musical masterpiece 1989 that Humphrey realized singing and songwriting is what she wanted to do. Humphrey said when she listened to Swift's debut pop album, she was "in absolute awe."
Throughout middle school, Humphrey began writing songs in a red composition notebook and performed them for the first time in eighth grade for eight of her closest friends. She called the mini concert Project Red Notebook, hence the name of her EP. "I just kept writing songs," said Humphrey, " I think I've done three Project Red Notebooks."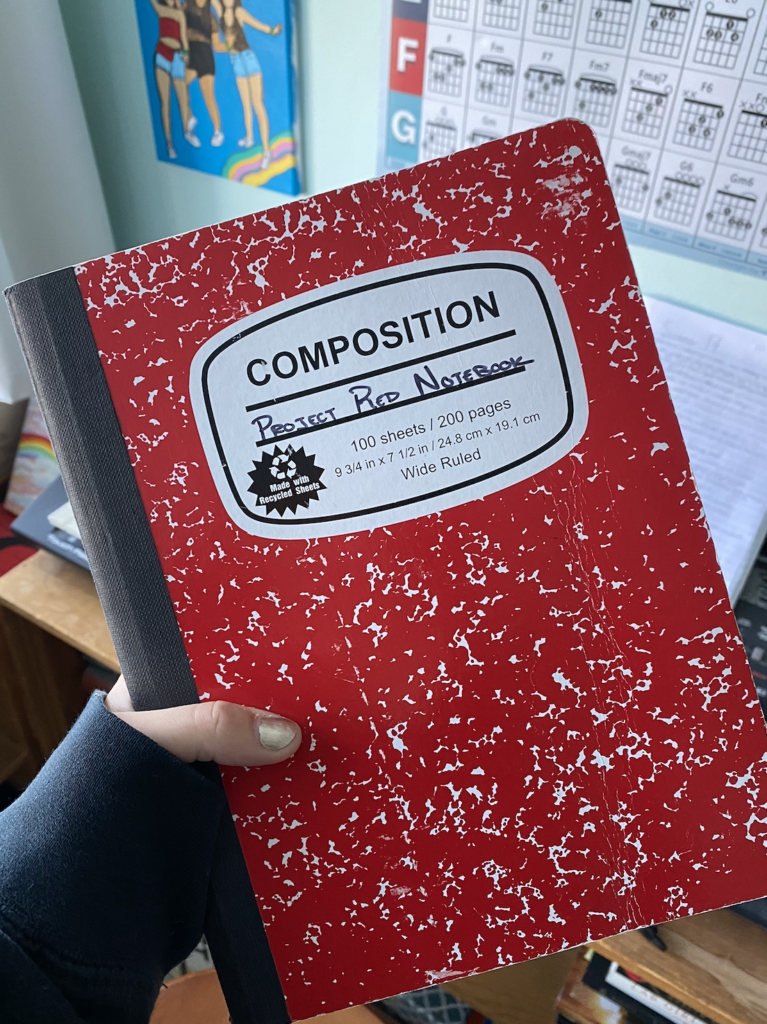 Freshman and sophomore year of high school, she competed in First Night Alexandria's Battle of the Local Stars where she placed second two years in a row. She said "more people became hip to the fact that I write music because I've always been pretty private about it."
The process of writing a song comes in short bursts of inspiration. Humphrey said, "Songwriting is my therapy…Usually something will happen, or I'll be really reflective that day." Most songs take between 20 minutes to an hour for Humphrey to write. She will sit in her music corner in her room and come up with a hook, then a quick chord progression, "and it kind of flows out from there…I don't stop and take a break. It's in-the-moment," she said.
"I don't write songs to get famous. I write for myself, for my friends, and [for] people who relate."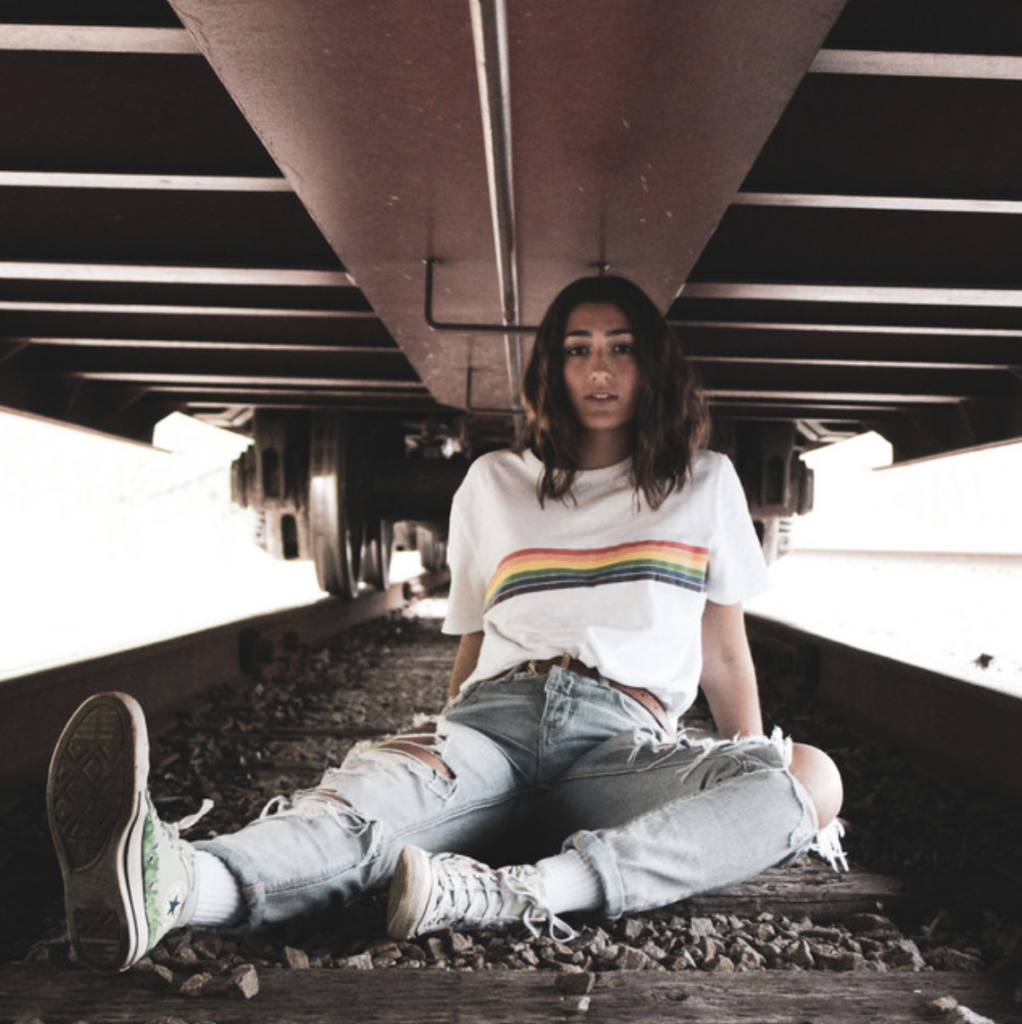 On June 1, Humphrey released her first single called "Honest." The song is a gentle stripped-down ballad that details Humphrey's first serious breakup. Lyrics like, "I wished for snow and got rain / I watched love turn into hate," authentically describe a loving relationship turned sour and the lingering pain that comes with heartbreak. The song was written in 20 minutes, but Humphrey has little recollection of the process. "I just remember sitting down, and all the feelings came out completely honestly. It was that natural. I didn't have to think about it," she said.
"Parties," her second single, came out July 27 as an ode to old friendships and new ones. The chorus, "Go to your parties / I'll go to mine," depicts the shift Humphrey experienced in her friend group sophomore year. She said, "I feel like that's something we've all experienced in high school." The song was "the final step of moving on" for Humphrey, as she realized that "things have changed…it's sad, but it's okay, and life goes on." In one of the last lines of the song, Humphrey leaves a chilling message: "I'll think of you at midnight," a nod to her past tradition of celebrating New Year's with her former friends.
Both singles tease the artistry and authenticity shown on the EP, Project Red Notebook.

Track 1, "Black Hightops":
The opening track on the EP, "Black Hightops," is a classic crush song with the fluttery airy nuances of Corinne Bailey Rae's "Put Your Records On," and the giddy ukulele-sound of Conan Gray's "Lovesick Boys." The song is about Humphrey's excitement of having a new love interest who makes things feel so simple, without the complications of every other teenage romance.
Humphrey said that she was proud of this song "because it is so hard to write a happy song. It very much captures the light-hearted feeling of having a crush."
In the first verse, Humphrey airs out her frustrations with hook-up culture and the woes of high school dating, then in the pre-chorus describes her curly-haired hightops-wearing crush.
The chorus and bridge feature a simple, yet impactful rhyming scheme with coming-of-age imagery of sunsets on rooftops, singing-in-the-shower, and dancing-around-the-room. The song even includes a reference to the beloved indie band COIN in the bridge.
"In this culture, it's so hard to have a crush…[This] was the first time I felt a crush feeling in such a long time," she said. "Black Hightops" is the most recent song, written in September. Humphrey admits the song "has so many details that if you're smart enough, you will know exactly who it's about."

Track 2, "I'm So Sorry":
"I'm So Sorry" dramatically contrasts the upbeat and cheerful "Black Hightops." It is a somber ballad that features a collaboration with pianist Leo Critchfield, a T.C. senior who previously produced Mia's two aforementioned singles. The song feels reminiscent of Matt Maltese's "Vacant in the 21st Century," with the emotive piano instrumentals and the classic indie cry-song feel. The tone is one of impending doom and pain. Even in the vocals, the listener can hear the aching and the hurt.
Humphrey said the song is "about the feeling of being wanted for your body and nothing else…" The song follows a relationship where Humphrey questioned her own value because of how she was treated. The lyrics are Humphrey pleading and apologizing because she is so desperate to prove she is worthy of love, as shown in the chorus where she questions if she is "whole enough" or "good enough" to be loved.
As the song fades out, there are haunting layered vocals, "enough, enough," representing the lingering feeling of worthlessness and victim-blaming.
Nearly seven months since the song was written, Humphrey said, "I've had some self-reflection, and I've realized, 'no, it's not my fault. And I'm not sorry at all.'"

Track 3, "Loverboy":
"Loverboy" is a classic singer-songwriter song that one might hear at an open-mic in a coffee shop. It is a narrative piece going through a relationship chronologically, from the moments sitting in Loverboy's "daddy's car / the seats all warm" to the moments "when loverboy watched me cry."
Humphrey said that even though the song is sad, "everytime I sing it, I'm smiling."
Humphrey describes her "Loverboy" as someone who made her "feel like a love song," as detailed in the second verse, but gave her mixed signals and confused her. According to Humphrey, the tone of "Loverboy" is "almost sarcastic, but not, because those were feelings that I felt…he didn't like me that much."
One standout lyric from the chorus are the lines, "Loverboy come to my door / and knock until your knuckles sore," which represents times when he would "swoop in" when Humphrey was uninterested, but be apathetic when she reached out.
While the real-life loverboy did not bang on her door in the middle of the night, Humphrey says, "yes, multiple times Loverboy watched me cry."

Track four, "Feelings":
The second-to-last song on the EP is "Feelings," the oldest song featured in the collection, written nearly two years ago in February 2019. The song is more stripped-down with a greater focus on the challenging vocals. "I wanted to include 'Feelings' because it's a very different vibe than most of the songs I write," said Humphrey
The song is about the treachery of liking someone, but knowing the relationship can never happen. She said, "They take me so high, but then it always ends up hurting someone, so it takes you down again."
Humphrey is desperately trying to shake the feelings and regain control of her emotions, pleading in the bridge: "I try and erase it 500, a million times / but I can't let go."
Though Humphrey is more detached from the story now, she said, "When I sing that song to myself, I usually close my eyes, and I get so into it."

Track five, "Summer 17":
The last track on the EP is "Summer 17," the pinnacle pandemic song. "This song is actually my favorite one on the EP because…I know everyone is feeling this way, and people need this song," she said.
The song was inspired by a lyric in the Wallows song "1980s Horror Film": "She was only 17 / Why are girls in songs always 17?" Being 17 is usually a pivotal coming-of-age moment; 17-year-olds are on the verge of adulthood from preparing for standardized tests to getting driver's licenses to applying to colleges. Humphrey said, "Not many people remember [the] year 50-51, but I feel like 17-18 is an important year in your life."
The song describes this past Summer and how the covid-19 pandemic affected teens' lives. In the chorus, Humphrey cites that she can not see her friends closer than six feet or "live the dream in all the songs and movie scenes." She repeats that she is trying to make the best of the situation, but all she wants to do is "wake up from this bad dream / and just be 17."
"All the movies, all the songs are about being 17…all the adventures, all the love that you have at 17, and here I am at 17–I'm literally inside my house. None of that is happening because we're in a pandemic," said Humphrey.
Citing 2020 anthems like "F2020" by Avenue Beat, Humphrey said she wanted to write a uniquely 2020 song, but one that specifically captured the essence of what it is like to be 17 right now during a pandemic.

Summary
Mia Humphrey's Project Red Notebook EP is a beautifully-constructed raw glimpse into her encounters and emotions throughout high school as she paints an all-too-relatable picture of the teenage experience. From rooftop motifs to dancing in the street, Humphrey tells her coming-of-age story with honesty and passion. She said, "I used to go up on the roof with my friends sometimes, and you can see all of Alexandria, and you can see into D.C.; you can see the casino across the water. In that moment, I think, 'wow, this is really cool. We're growing up.'"
Seniors Anna Hill and Kahl are among many of Humphrey's long-time friends who have witnessed her musical journey, along with Critchfield who has worked extensively with Humphrey on her music.
Kahl said, "I have watched her grow from a fourth grader singing Taylor Swift on the playground with me, to now this artist who released a whole EP…I had the honor to be at the first Project Red Notebook, and…I almost felt selfish being one of the only ones to hear it."
Hill too attended all of these mini concerts. "Every detail has importance, and you can tell how much each lyric means to her," she said.
Critchfield said Humphrey is "definitely one of the most talented people I know…I'm really excited to see what she puts out next and how far I know she's going to improve with songwriting and producing."
For now, Humphrey said, "I'm taking a break. Making an EP is really exhausting." Even still, Humphrey plans on releasing two more singles, including one of her personal favorite "Summer songs" she has written.
Follow Mia Humphrey on her musical journey by following her on Instagram @miahumphreyofficial and subscribing to her on YouTube at Mia Humphrey Official.
Stream Project Red Notebook on all major streaming services or listen on YouTube below: