Agenda: Alexandria Debates Virtual Learning
Regina Allen
Moving into the third week of this school year, many members of the T.C. and Alexandria community are wondering what is happening. Why are some students online and others aren't? Will we ever go back to school? Agenda: Alexandria is an organization that puts together panels that discuss a wide range of issues that affect the city. The meeting, held virtually on Monday, September 22, was supposed to answer these questions to ease the concerns of students, parents and staff as T.C. moves forward with virtual learning.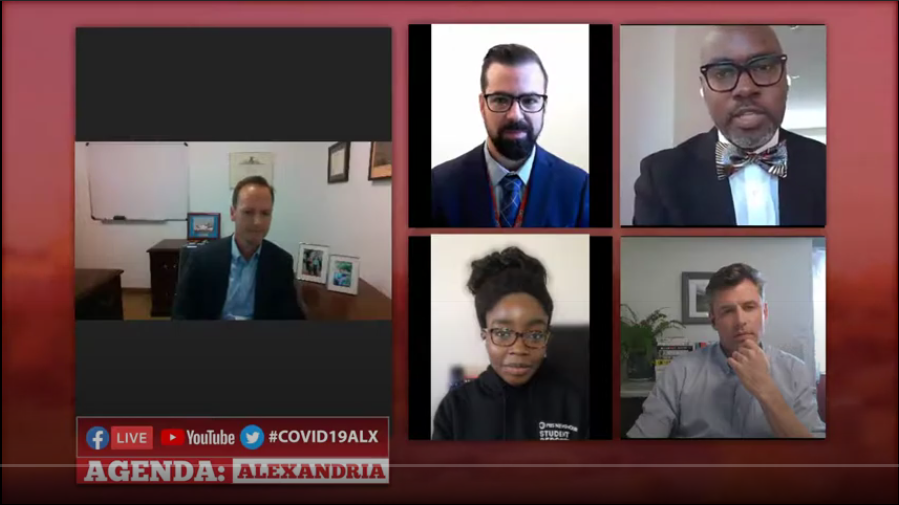 Shad Thomas, a board member of Agenda: Alexandria, moderated the event. The rest of the panel was made up of the Superintendent of ACPS Dr. Gregory Hutchings, Principal of the Basilica School of Saint Mary Daniel Cinalli, parent Jesse O'Connell, and T.C. senior Bridgette Adu-Wadier.
Hutchings was the first to speak about the situation with virtual learning at T.C. He started by acknowledging that virtual learning is not the best way for students to learn, but it was the most feasible with the pandemic. He described the many barriers of coming back to school.
Transportation is an issue, because in order to conform to the CDC guidelines, buses that once could hold up to 77 students would now only be able to hold 17. Hutchings said that getting everyone to and from school would be "extremely difficult." Teachers and staff would have to be willing to come back to school, and with many that are high-risk or have high-risk family members, getting everyone to be in-person would be highly unlikely. Lastly, he described the challenge that comes with simply not having enough space in the school. T.C.'s overcrowding makes social distancing nearly impossible. There are also certain air-quality standards the school must meet: every student must wear a mask and the school also has to be ready to provide them.
There is no current date that T.C. is scheduled to open, but the administration plans on assessing the situation every seven weeks. On October 15th, Hutchings will reveal what the next nine months will look like using insights from the Alexandria Health Director.
The Basilica School of Saint Mary opened this school year. Cinalli explained that they have many rules in place to adhere to the CDC guidelines, which include different pick-up and drop-off procedures that prevent crowding. To help with teacher concerns, each classroom is set up with a plexi-glass shield around the teacher's desk and space for the students to be distanced. All students and staff must wear personal protective equipment (PPE), like a mask or face shield.
Cinalli said that 17% of students have opted to attend their classes virtually. He stressed that those students would not miss out academically, but may not experience as much socially as the students who come to school. Students can choose to opt in or out of physical school every month.
O'Connell has two younger children in ACPS and came to the panel to discuss his concerns about the virtual learning environment. He said, "All the choices and decision making has been pushed onto parents."
His concerns included the amount of screen time that online learning requires, especially for younger children. The average high school student's schedule includes spending about three and half hours on Zoom alone. The lack of socialization is a problem, especially for students first starting school or starting a new school and not being able to meet the other students or teachers. He noted a challenge with navigating online resources, as well, and an overall problem with communication.
O'Connell also mentioned learning pods, which are usually groups of students who may live near each other who can work on their online classes together. This was one of the choices that stresses him and other parents out. He wondered what others had to say about them, as 60% of child care centers across the country have closed, and that this is one option that could help remedy that situation.
Hutchings said that while families can make their own decisions, learning pods could lead to inequities in education. He wants everyone to have a quality education, but learning pods are only for the people with the means to be in one. He briefly mentioned the need to provide additional support for people who may not have access to the same resources.
Adu-Wadier, the oldest of four siblings, had a very different take on virtual learning in the pandemic. "The big shift has been not just a big sister and a mentor and a babysitter, but now I have to help out with the teaching and the learning," she said.
In a day, she must balance her family responsibilities, working remotely and in person on freelance writing, and college applications. She spends her mornings helping her little brothers with their school work and spends her afternoons doing her homework and writing. She also helps her sister in middle school with her work. On the weekends, she goes to her in-person job.
Despite everything on her plate, Adu-Wadier stays optimistic. "This pandemic has taught us the importance of young people in all of this and their resilience and their ability to adapt," she said, "I just hope that's recognized and that as we continue with this online learning."
Because Hutchings is aware of students' situations like hers, he is worried about students', teachers' and parents' mental health. "Social and emotional needs of our kids have to be met to even get to the educational component or to see any learning happening," he said.
His biggest fear is that students whose mental health problems were caused by their home environment are now in that environment all the time. "School is typically a place where we can identify and notice some of the [problems in students' home environments], a lot of times we are the first responders to that. It's very difficult to do that in a virtual world."
School psychologists and counselors are still available to students, and it is encouraged for students to talk to them if they are having any issues. Staff are also supposed to be monitoring students' attitudes with tools like community circles, where students express their feelings and concerns with their teachers and each other.
There is no clear data about when T.C. will reopen. Hutchings said that there would be by October, but until then, students, teachers, and parents will unfortunately just have to make due with their situations.
To watch the full replay, use the link below: