Ethan Gotsch
On March 5, seven Democratic senators and one independent senator joined Senate Republicans to squash an effort to increase the federal minimum wage from $7.25 to $15 an hour by the year 2025. While this increase didn't make it into the final version of the most recent COVID-19 relief bill, it continues to be debated by Congress and state legislatures across the country.
Theogony reached out to students, many of whom are part of the workforce or have parents whose jobs are affected by the minimum wage, to hear their opinion on the matter. Many expressed strong support for the increase.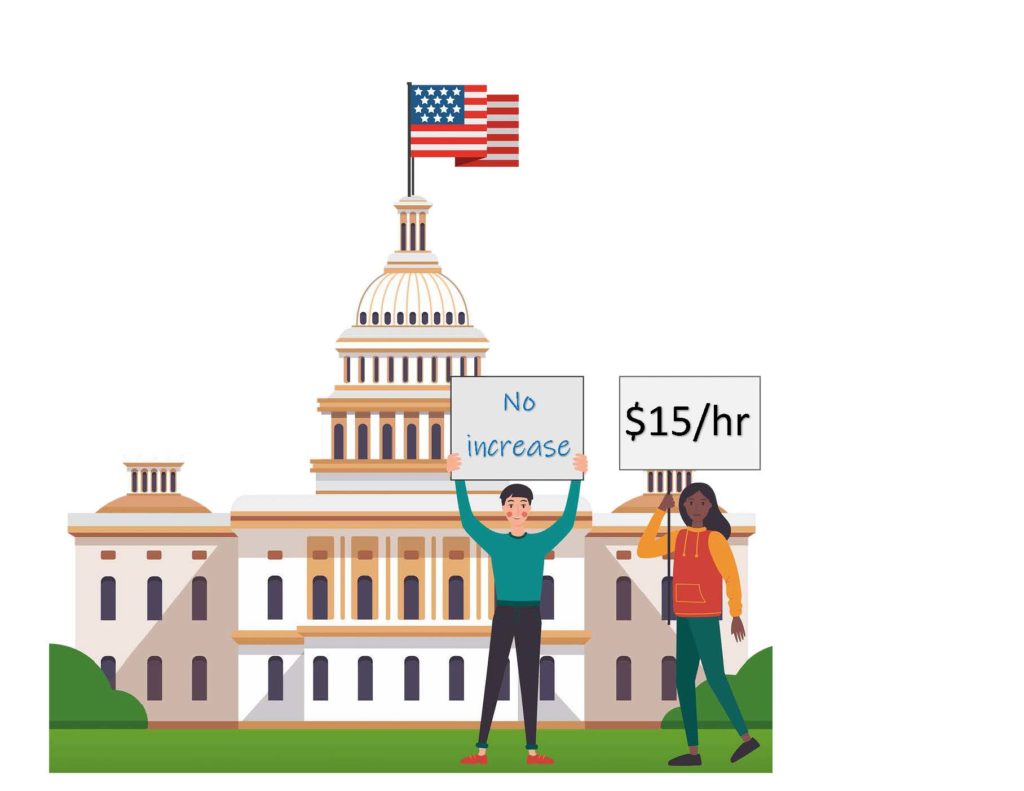 "With an increasingly competitive economy, anything less than $15 [an hour] is not enough for a sufficient living," said T.C. Williams junior Helen Cooper. "If living costs are increasing, wages need to increase to accommodate."
Other T.C. students agreed with this sentiment. "The minimum wage should be something people are able to live on no matter what their work is," said T.C. sophomore Bronwyn Gaw. Some students in the TCTV production team advocated that it should be increased even higher to $20 an hour.
Abass Conteh, a T.C. Williams junior who works at Clyde's restaurant on the west end of Alexandria, was particularly excited at the prospect of a minimum wage increase. "I think it would obviously be beneficial for me at least because I'll probably get to work less hours if there's more money being paid, so I'll have more time to focus on school and whatnot."
However, not all T.C. students support a minimum wage increase. "[The minimum wage increase] would put small business in a vice," said T.C. junior Will Jones.
"[I'm] not set on this stance but it shouldn't be because it will increase unemployment," said T.C. senior Libby Padilla. Other students cited concerns about potential inflation that would result from a minimum wage increase.
"Things will just cost more," said T.C. sophomore Thomas McLenahan. "We need to regulate the advantages that businesses have."
One T.C. freshman suggested that the minimum wage be based on location: "I support raising the minimum wage to a livable salary that varies from city to city, ie) the liveable wage in NYC is different to Topeka."
There are still signs of hope for those who want to see the minimum wage increased. Representative Don Beyer (D), who represents the City of Alexandria, as well as Virginia's two Democratic senators, Mark Warner and Tim Kaine, all voted to increase the minimum wage to $15 and they continue to advocate for an increase. Democratic Senator Joe Manchin of West Virginia, who voted against the inclusion of the increase in the COVID-19 bill, has indicated that he would support raising the minimum wage to $11 an hour.
Many states have already raised their minimum wage to $15 an hour, a sign that a change will come at the federal level soon. Virginia enacted a law last year that would eventually raise the minimum wage in the state to $12 an hour, but its implementation was delayed due to the coronavirus pandemic. The current $7.25 wage floor is due to rise to $9.50 an hour on May 1 of this year.