A Review of the Best and Worst Alexandria Cafe Coffees
Lauren Larsen
Fontaine, Misha's, Uptowner, Buzz and more. These are just some of the many coffee shops that line the streets of Alexandria. As an avid coffee drinker and connoisseur, I was determined to discover the best coffee in Alexandria, as it is lousy with these shops. However, I also wanted to find some of the…less tasty coffee places that Alexandria has to offer in an effort to spare you from spending money on a below average watered down bland-bean cup of joe.
Fontaine Caffe and Creperie
The first is Fontaine Caffe and Creperie on 119 South Royal Street in Old Town. This restaurant is very well-known for French fare; thus, their hot and iced coffees are made from French blends. Their iced coffee was splendidly rich, but not overpowering, and contained bold flavors without being too strong. The ice cubes were medium-sized, so they did not melt quickly and ruin the coffee. The beans themselves had earthy notes, which allowed for an all-around amazing taste. The hot coffee too was like a gentle sip of Paris. The cappuccino was frothy, light, and flavorful. Not to mention, it was the perfect temperature! The coffee at Fontaine Caffe is a 10/10!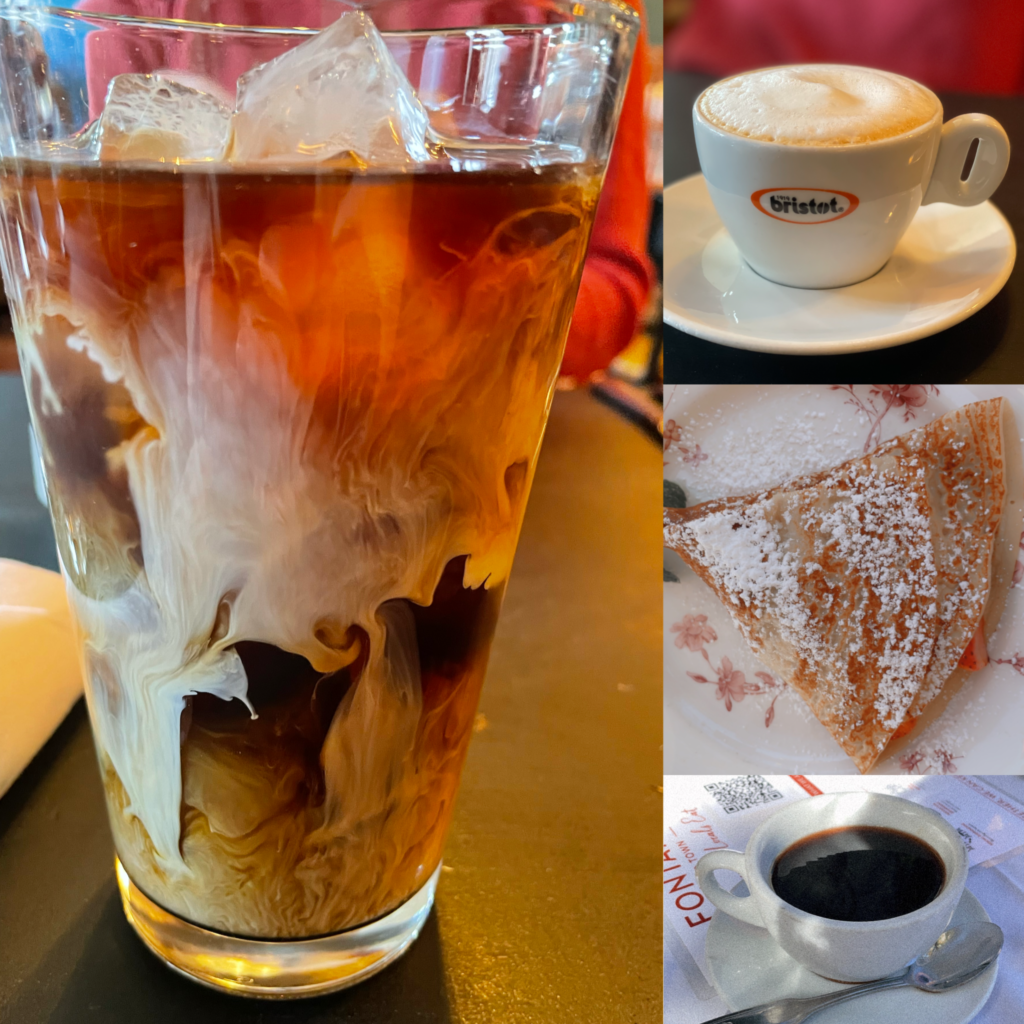 The ambiance itself is great too. There is outdoor dining on the sides of the street with heated tents and socially distant tables to accommodate CDC guidelines. There are flower pots and plants that provide for a nice atmosphere. Inside, it is surprisingly dim and dark, but this aids in the restaurant's quintessential French cafe vibe. While this establishment is more of a restaurant than a cafe, there is a coffee and drinks bar in the back open from breakfast to dinner that can serve you solely a drink if that is what you desire. Overall, Fontaine is an awesome restaurant with even better coffee!
Misha's Coffeehouse and Roaster
Misha's Coffeehouse and Roaster is located on 917 King Street, also in the Old Town neighborhood. While this cafe roasts beans on site, their high prices do not really equate to an exquisite cup of coffee. The drinks are satisfactory in that they tasted decent and provided the kick of energy needed in the morning, but the coffee itself is not necessarily ground-breaking. After a sip of the iced coffee, there is an initial punch, but the flavors fade until the aftertaste sets in; nothing was particularly bad about this, it was just a little off-putting. As for the hot coffee, there really is not much to say. It lacked flavor, was far too hot, and also tasted somewhat bland. Overall, Misha's is a 6/10. The coffee does the job, but if you had to walk an extra couple of blocks to go to a different coffee shop, you should.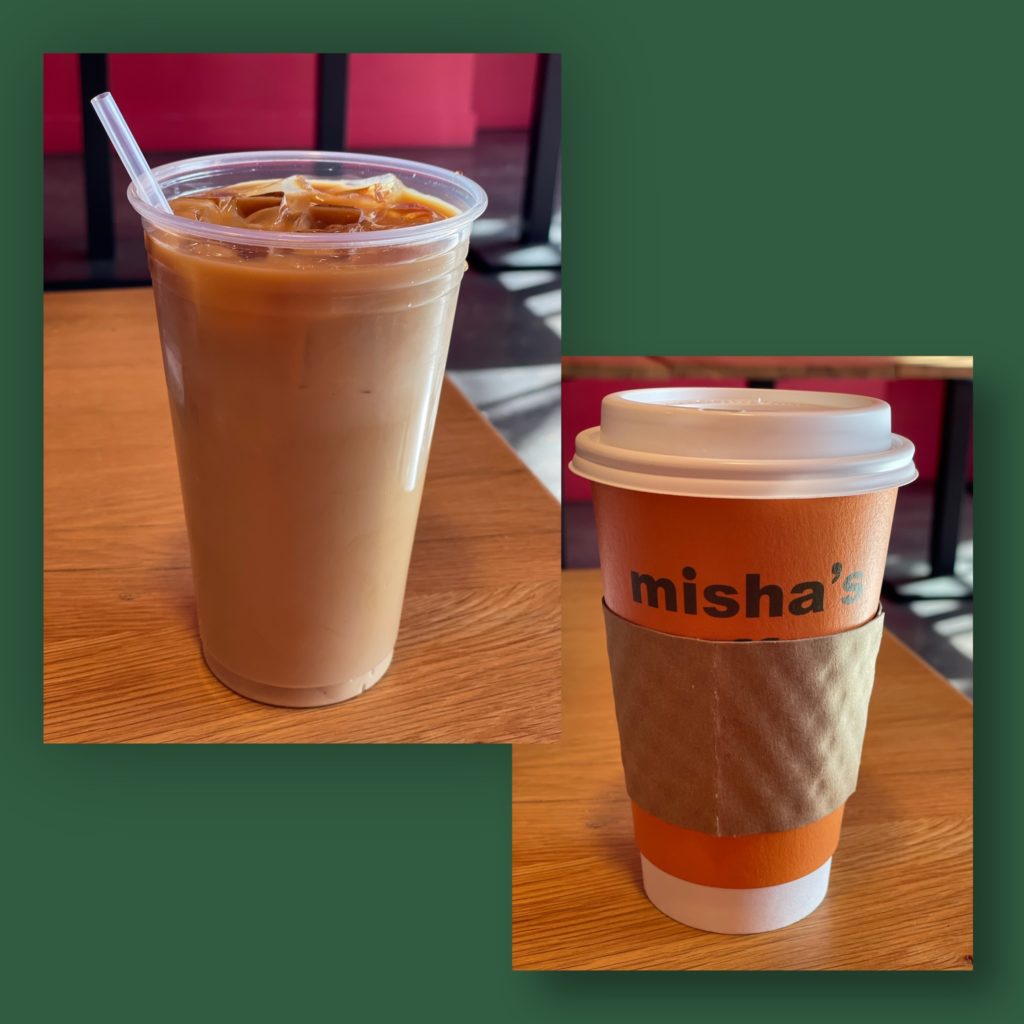 The atmosphere too is a little strange. There are a couple of benches in front of the large storefront windows, but that about sums up the outdoor seating. Inside, there are tables, but only on the left hand side of the shop. To the right, there is a lot of empty space to allow people to spread out when in line for their coffee and pastries. There are large jars of coffee beans in the center of the store in front of the counter, but that is about the extent of coffee shop energy Misha's radiates. The music selection is as jarring as their coffee; there are some very unique underground tunes that play, but they do not necessarily fit the vibe of the cafe. Even so, Misha's is a beloved Old Town classic that could fit your taste; everyone's different!
Cafe du Soleil
Cafe du Soleil located on 215 South Union Street is a great coffee shop option, but only for niche hip drinks—not for a black coffee (but we'll get to that). Their cold brew is absolutely divine. It is not overly strong, yet was one of the most flavorful drinks. Surprisingly, there is an underlying taste of sweetness, but no actual sweetener, which was actually quite pleasant. The beans themselves were medium strong and the ice cubes were the perfect size to avoid the drink from getting watered down. It was a gentle cup of coffee, but still very satisfying and memorable. The price point was incredible and the best thing of all—paper straws! We love to see a green cafe! As for the hot coffee, it was good, but not as good. The temperature was a little too hot and the coffee tasted a bit watery and burnt. It was not spectacular, but it did the job. Their hot coffee is compatible with Misha's hot coffee, just for reference.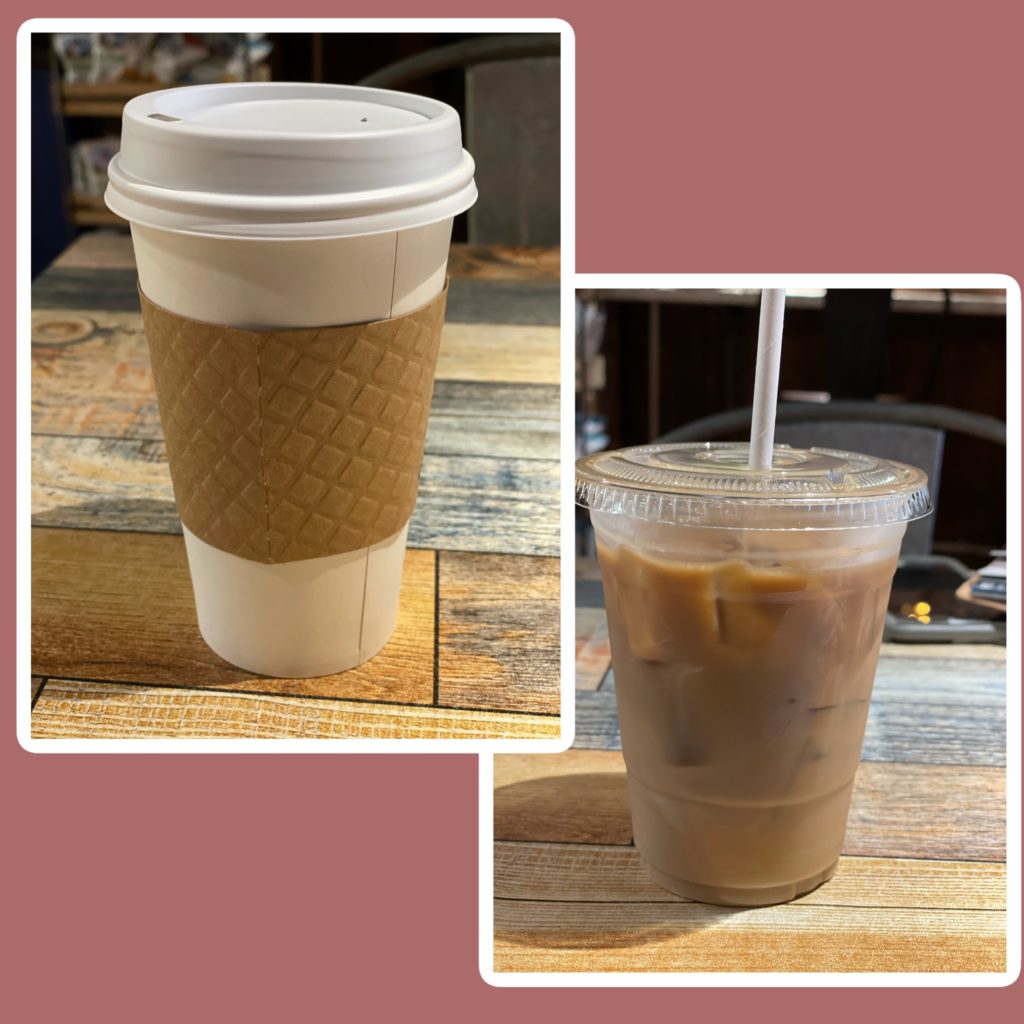 The vibe of the shop is fantastic though. There are cute wooden tables, warm cozy lighting, brick walls, gentle jazz piano music, and a sofa area like in the show Friends. Cafe du Soleil is certainly a contender for the best atmosphere, especially with their outdoor setup that includes tents, greenery, and lights. The cafe itself is in the heart of Old Town, but is tucked away enough so as to not be right in the middle of the bustling base of King Street. Overall, 8/10.
Hollin Hall Pastry Shop
Hollin Hall Pastry Shop is an all-time Alexandria classic. Located on 7920 Fort Hunt Road, this is arguably the best coffee shop in the area, seriously. Their iced coffee had the best price so far, as a size medium was $2.50. The coffee itself was enriching and contained kicky flavors, but was not overpowering. There was a perfect ratio between coffee and ice cubes, which was a major bonus as some shops overdue it on the ice cube front. There were notes of nuts and an overall earthy flavor. I am obsessed. As for their hot beverages, I wanted to try something a little different. The Dirty London Fog is truly to die for. It is the essential drink to have on a warm cozy rainy day. It's a riff off of a classic earl gray tea; in it, there is brewed tea, vanilla, creamer, and a shot of espresso. The drink itself has a thicker and creamier consistency. Everyone needs to try this drink—it'll change your life.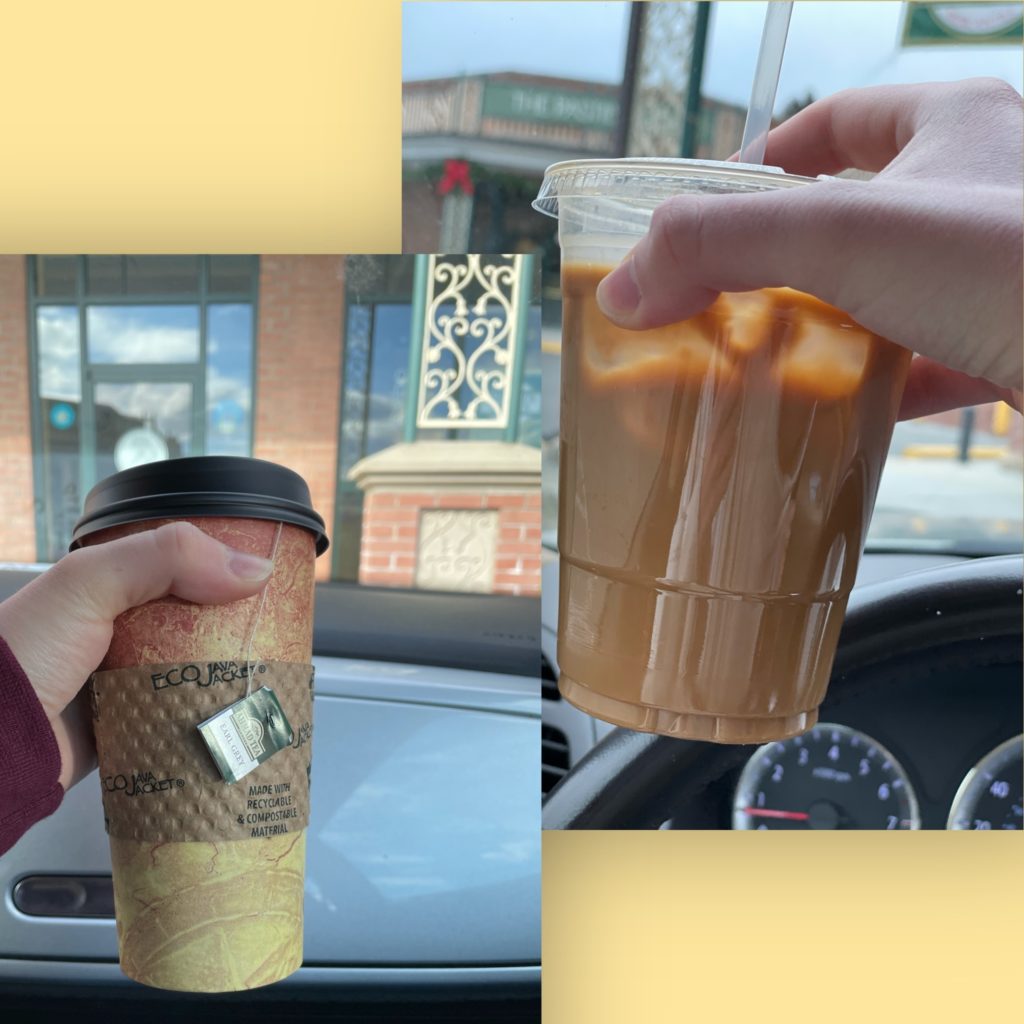 Hollin Hall Pastry Shop recently underwent some renovations. The original warm-toned walls, wooden tables, and hardwood floors have been replaced with a more modern look as white tables and blue walls dawn the shop. The overall cafe is very sleek and refined, but still feels comfortable and welcoming. Plus, the drive down the George Washington Memorial Parkway is super beautiful and peaceful. One can get incredible views of the Potomac River on the way to an amazing cup of coffee. What's not to like! I give this shop an 11/10.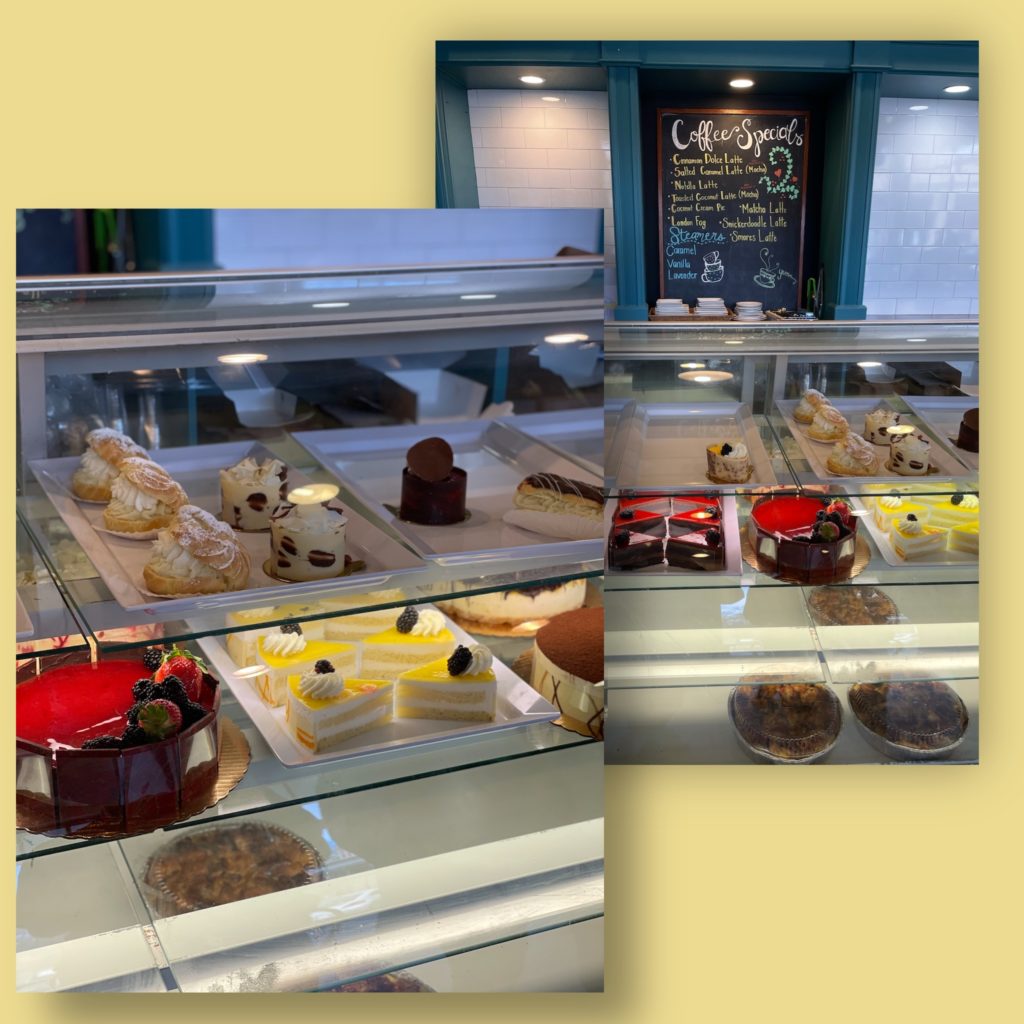 Uptowner Cafe
Next is Uptowner Cafe on 1609 King Street. The iced coffee at this establishment is fairly good; I might even say it is extraordinarily average, which sounds negative—but not entirely. This is a safe option. Iced coffee from this establishment is always consistently good. It is medium strong and has an underlying sweetness, but is not overly bold. There are notes of herbs as well. Even so, the quantity of ice was excessive and caused the drink to become watery with time. However, the price is acceptable given this.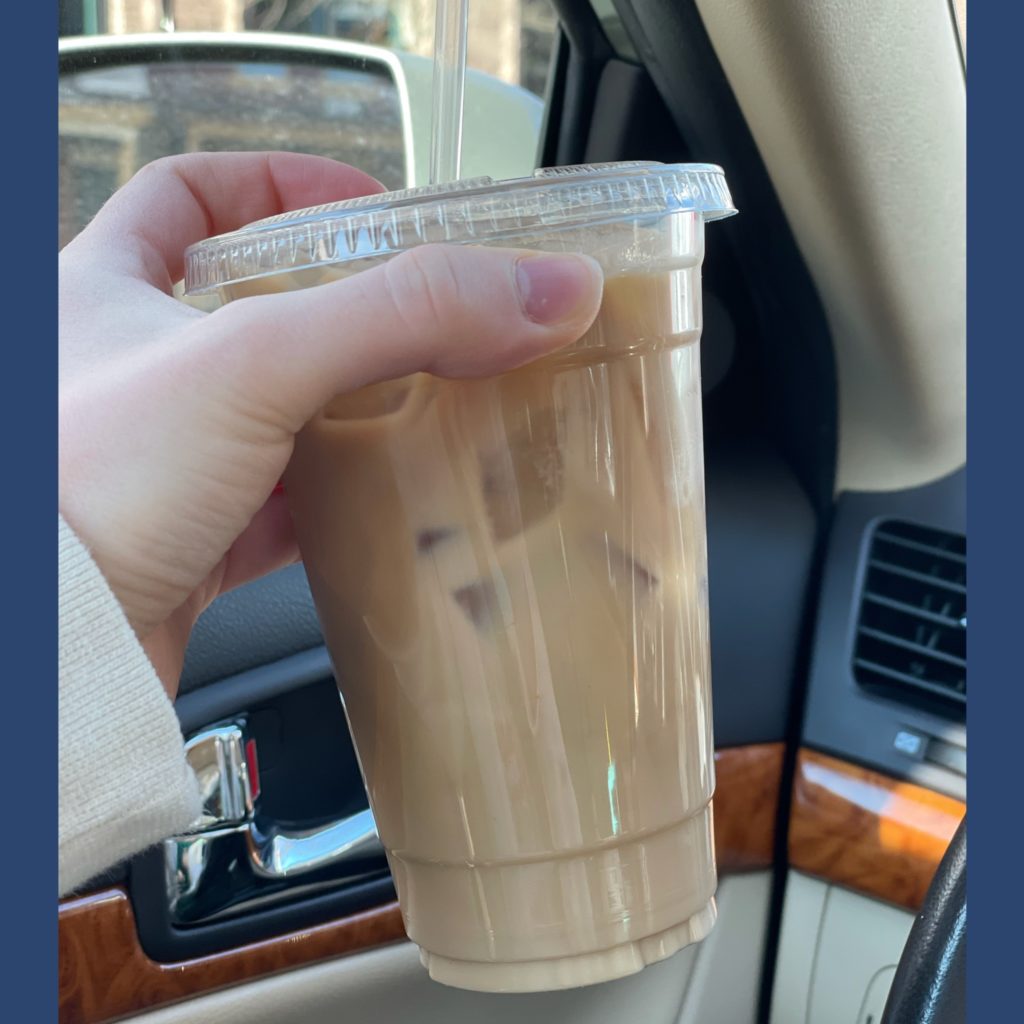 The cafe itself is nestled in one of the final corners of King Street right before the metro station. Inside, there is no seating for customers due to the coronavirus, but the vibes are still immaculate. The cafe feels quaint and unique as a collection of framed photos line the orange-red walls. It gives off Grandma's living room vibes, but I am here for it! There is a display case of tasty-looking pastries at the front counter too with handwritten black chalkboards behind it detailing eating and beverage options. Overall, I give this shop a 9/10.
Buzz Bakeshop
Buzz Bakeshop on 901 Slaters Lane, just south of Potomac Yard Center outside of Del Ray, has the classic bakery-style coffee. Their iced coffee has notes of hazelnut and a relatively sweet, yet balanced and pleasant, taste to it. It was creamier than I would have preferred, however if you enjoy a less bitter and more smooth cup of coffee, this is definitely the one for you. The cappuccino however was awkwardly small in size, unexciting, and not memorable. I won't roast Buzz Bakeshop too much however because their specialty is pastries and baked goods afterall (some of those you must try—especially their cupcakes)!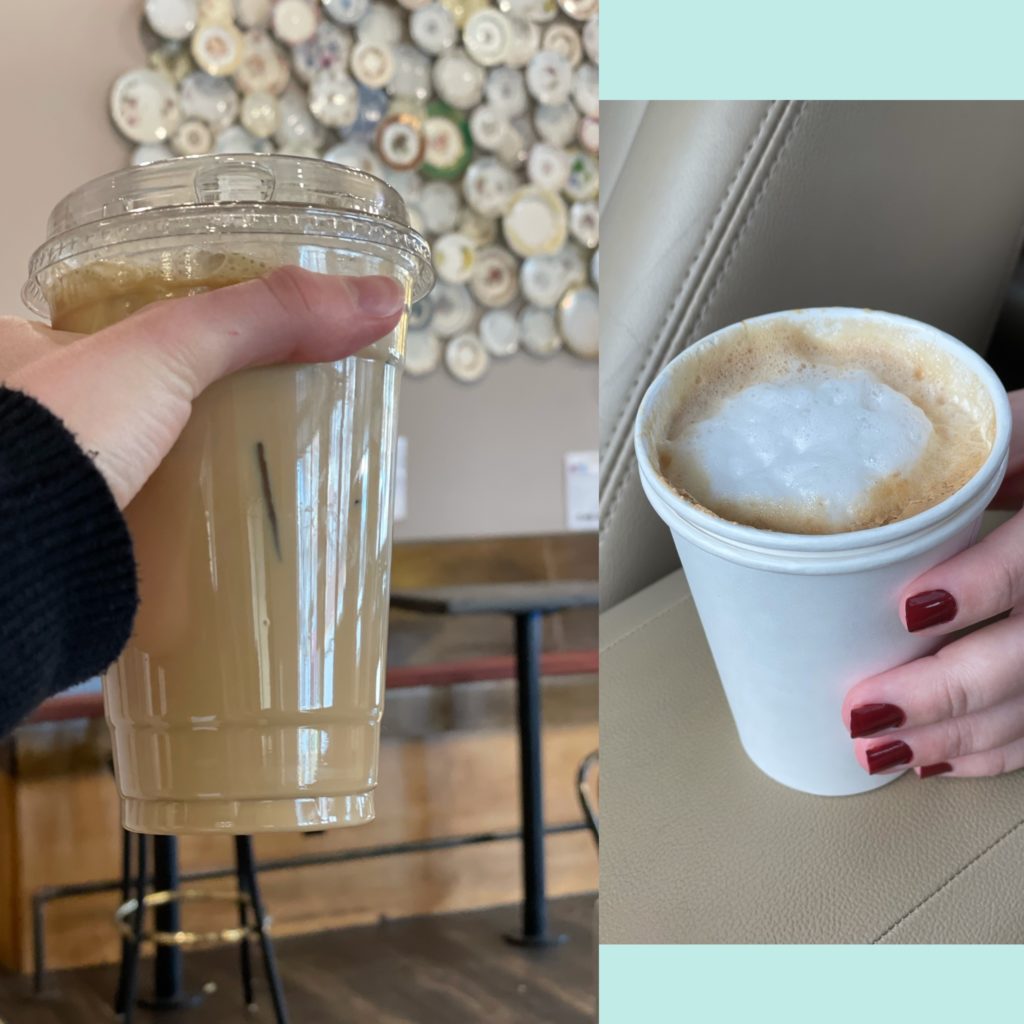 The atmospherics of the bakery were great. There is a large indoor and outdoor sitting area, so this is an excellent place to safely mingle with a couple friends or get some work done. There is a lot of natural lighting due to the large storefront windows as well as high ceilings; the openness of the shop makes it more inviting, and makes you want to stay. Overall, Buzz Bakeshop is a decent coffee joint—and an even better pastry place! Coffee-wise, I give them a 7/10.
All in all, Alexandria has some impeccable coffee shop options (so many that there might just have to be a part two of this article)! For most of these cafes, you really can't go wrong. Even the "worst" places have something to offer. Some might have a poor black coffee, but a spectacular cold brew. Some might have questionable drinks altogether, but stupendous food options. Others might only have a cool vibe, which could be perfectly sufficient to get some virtual school work accomplished. But genuinely, the best thing of all, is you have options. Plenty! You can pick and choose what is best for you. By trying some of these out too, you are supporting local businesses during a pandemic, which is a 10/10 in it of itself. So step away from your traditional Dunkin or Starbucks order and try something new; you will probably be glad you did.
The Final Ranking: