Scholarship Fund of Alexandria Awards $525k in Scholarships to Titan Seniors
Last week, the Scholarship Fund of Alexandria (SFA) awarded 183 T.C. Titan Seniors $525,000 in scholarship money, the largest amount for first-year students in SFA history.
Members of the class of 2021 joined a virtual award ceremony where they learned donor stories and celebrated their fellow SFA award recipients, sending outpouring messages of love and support in the chat.
At the beginning of the event, viewers watched a video where students got candid about the challenges they have experienced throughout high school and the devastating effects the pandemic has had on their ability to pay for college. Students shared personal accounts of losses, from death-of-a-parent to employment struggles, thanking the SFA for helping them financially to make their post-secondary dreams a reality.
Among the scholarship recipients are Sara Abbas and Mikias Elias who will both be attending Virginia Tech's College of Engineering in the fall. Abbas received the Titans in Tech Scholarship, while Elias received the Collis Warner Family Foundation Scholarship, both scholarships worth $40,000 over the next 4 years.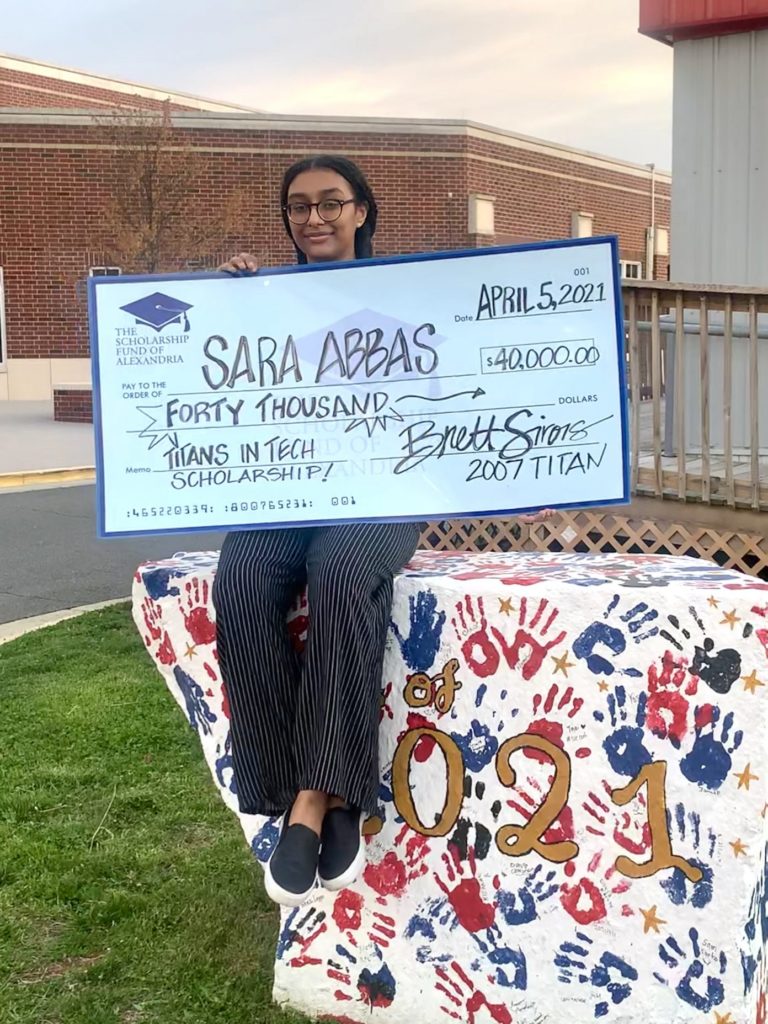 Abbas told Theogony, "Being the first generation in my family to attend college represents progress…Being the child of two hard-working immigrant parents, you grow up seeing them struggle to make ends meet. I saw them sacrifice any aspect of a life of leisure by devoting their time, energy, and soul to the needs of their children."
"Winning this scholarship brings hope to our family."
Elias, who delivered a speech at this year's SFA Gala, said, "It's a blessing to be awarded this scholarship. My family won't have to worry about the financial aspect of college, and that's such a relief to us."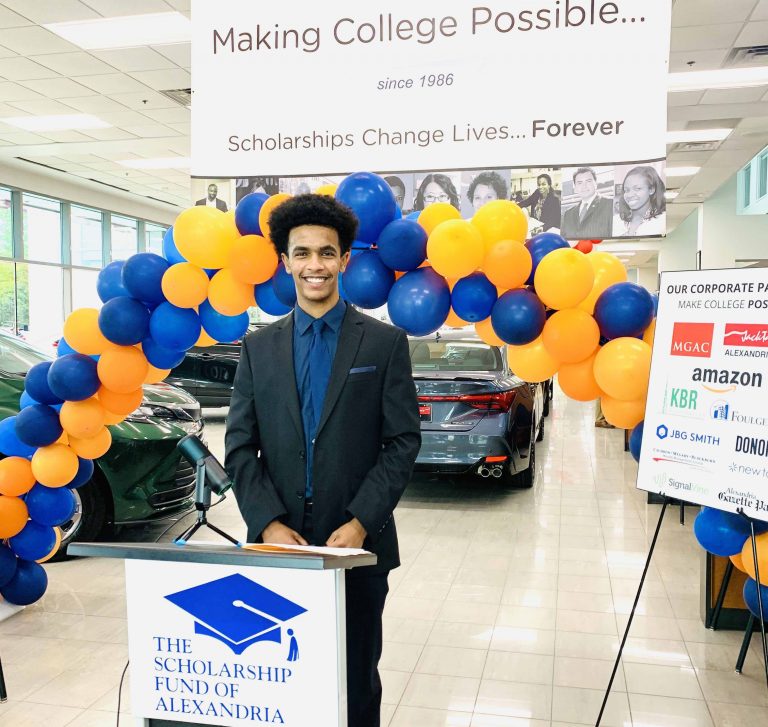 He continued:
"Being a recipient of this scholarship makes me proud knowing there was someone out there that saw potential in my future."
Scholarship recipient and senior class president Karam Burjas delivered remarks at the recent award ceremony. Burjas told Theogony that "SFA is a way for us Titans to be rewarded for the hard work we have put forth throughout our years in high school." He is grateful to have received the Walter Scott Downs Memorial Scholarship, which will help fund his next four years of school at Temple University.
Sadia Annona, a rising freshman at Hollins University said, "SFA is a gateway to opportunities." She is humbled to have received the 21st Century University Scholarship.
None of this money could have been raised without the support of local businesses, donors, former SFA recipients, and fundraising efforts like the annual SFA Gala & Auction and the Alexandria Drive-In.
Covid presented its own obstacles for the fund, as the annual gala went virtual for a second year. The SFA Gala 35, marking the 35th year of the organization, was streamed on April 24. Throughout the night, viewers were reminded that "two out of three students at T.C. Williams High School live at or near the poverty level." Families are struggling to feed and clothe T.C. students every day, which makes financing higher education an even more difficult feat.
With the support of sponsors including presenting sponsors, Jack Taylor of Jack Taylor's Alexandria Toyota and T.C. alums Mark and Cindy Anderson of Mark G. Anderson Consultants (MGAC), the Scholarship Fund had yet another successful gala, raising thousands of dollars for Titans.
In another fun-filled night, on Saturday, March 27, the Alexandria Drive-In Theatre hosted the famous 1971 Titans for a screening of Remember the Titans, with proceeds benefiting the Scholarship Fund of Alexandria (SFA). Over $20,000 was presented by the people behind the Drive-In, Kelly Grant of ALX Community, a waterfront co-working space, and Allen Brooks of the Garden, a West End-based event venue space.
Alexandria Drive-In screens 'Remember the Titans.' Photo taken by Kate Casper.

Jasmine and Steve Milone watch the movie. Jasmine Milone is the Assistant Director of SFA, a Titan alum (class of 1985), and mother of 3 Titans. Photo taken by Katie-Rose Milone.

From left to right, Titan senior volunteers Megan Munson and Erika Harwood with Titan Varsity Football Player Harris Babin outside of the food trucks. Photo taken by Katie-Rose Milone.

From left to right, Titan freshman, Sara Abrieto, Titan Class of 2002 alum with daughter, and Sidney Galviz. Arbieto said she wanted to bring her daughter and her friend to learn about "the mighty mighty Titans." Photo taken by Kate Casper.

Titan senior volunteers from left to right, Aliyona Tekleberhan, Tsion Million, and Hermela Abadi operate the drive-in. Photo taken by Kate Casper.

From left to right, Titan sophomores Meaghan Bucceri, Mia Medearis, Nora Mughloo, and Victoria Medearis watch with their family. Photo taken by Kate Casper.
The Drive-In screening was a huge success, with hundreds of Titans far and wide flocking to the location on Eisenhower Avenue in support.
As the Titans Class of 2021 prepares for graduation this Saturday, recipients thank the Scholarship Fund for their support and commitment to sending Titans to college.
Read more about this year's scholarship recipients here.
Check out more pictures from the Drive-In from Anna Jaeger here.
Special thanks to Assistant Director of SFA and Titan Alum Jasmine Milone for inviting Theogony to the Drive-In event.