How The Overproduction of Scooters is Harmful to the Environment
Nora Malone
Unless you've been living under a rock for the past year, you may have seen the newest environmental 'trend.' Scooters. These scooters are everywhere in Old Town and are beginning to pop up in surrounding areas and the West End. You can't walk two feet without bumping into a capitalist electric moneymaker.
These devices are the latest fad. The user simply downloads an app, scans the code, inputs their card number and then the scooter is ready to ride. However once the user is at their destination, there is no dock, or parking space like the Capital Bikeshare bikes. Instead, scooters are left on sidewalks, as the user goes on their merry way.
Soon someone else will take the scooter and bring it somewhere else. The scooter will keep on moving to wherever strikes the riders fancy.
They're in the street; they're on the sidewalk; they're in front of crosswalks. One of them is always beeping and another is making a terrible whirring sound.
The idea is good–an easy way to travel without using a car or a bus and using little energy. It is like a bikeshare, but without the dock. It is good for the environment, in theory.
But as time goes on and more and more companies try to profit from the scooter trend, there is bound to be overproduction.
This overload happened in China in 2017 with bikes. One company dropped off bikes all over and started a bike sharing app. It soon became a hot new fad, as scooters are in the U.S.; however as all trends do, new companies soon joined the market. The streets of China were filled with bikes; they were everywhere; and they were all different companies and brands. There was an overload. If one broke, there was nothing the company could do, so they left them there. And after a while companies began to go out of business, shutting down apps and abandoning their bikes. They had no money to send anyone to pick them up, so they left them there, frozen and unable to work because they needed to be unlocked by a company that no longer existed.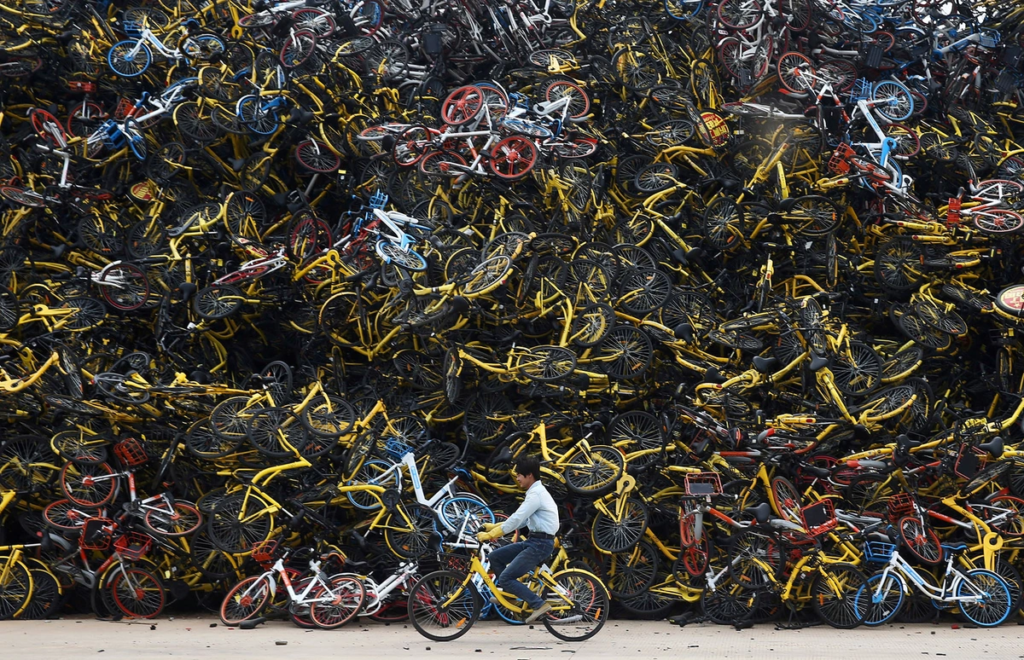 Alleyways and parking lots filled with them–piles and piles of bikes that no one can use. They were named 'bike graveyards.' They were left to rust.
Now, while there is yet to be this many scooters in the streets of Alexandria, their numbers are growing. New companies are dropping them off, and people are continuing to use them, and when the country opens up again after a coronavirus vaccine, it will only get worse.
Soon hordes of tourists will be riding scooters again, as they did in summers prior. Everywhere you look, there will be piles of them. The National Mall will again be littered with broken scooters, and they'll be piled like snow banks on the sides of the street.
Piles of broken bits of technology is not good for the environment. No matter how good they seem now, using them will feed into the environmental problem you're trying to fight. If demand is low, the community can drive them out before the world reopens and the hordes of people come, forcing them to leave before these companies can get any bigger. Take the bus or other public transportation, or if you are determined to help the environment, invest in a bike. There are tons of bike shops in Alexandria, and even more in the wider DMV area.
These scooters may seem like a convenient way to get where you are going while helping the environment, but in the long run they will only clog our streets and empty your wallet.