By Christina Comar and Sasha Dafkova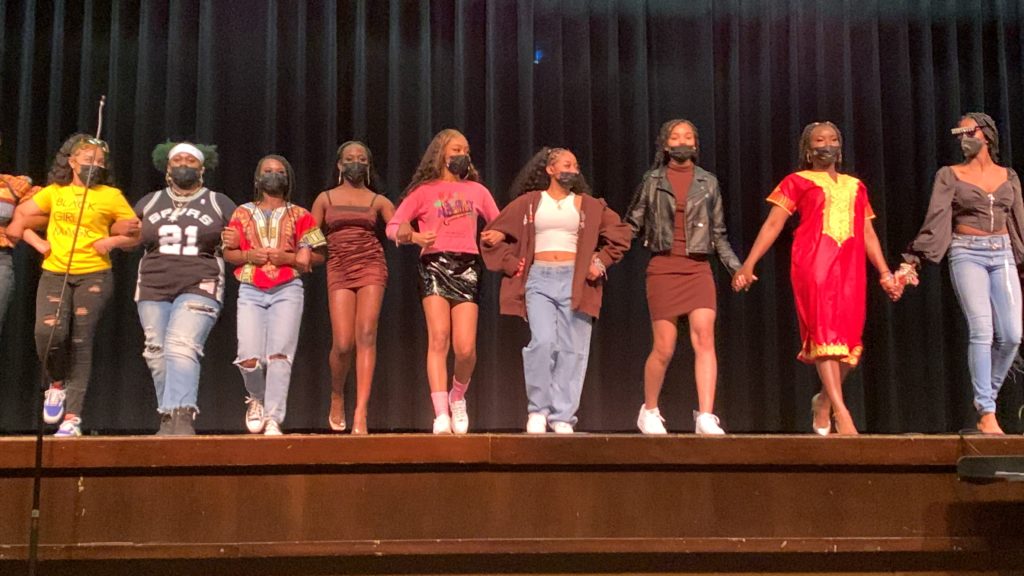 How did you formulate the BSU Fashion Show and Dance?
After I found out that we would be holding a showcase, I knew that we needed to incorporate/showcase both fashion and dance because they are prominent parts of Black culture. Black fashion and dance has influenced and heavily contributed to pop culture. However, we remain underrepresented. My goal was to showcase the overarching elements of Black history, creativity, culture, and excellence. I took on the role of organizer for both the models and the dancers. I advertised a signup sheet by posting the Google Form on the BSU Instagram. Within days, there were a plethora of people signing up to participate.
As far as the fashion portion, I was the organizer, but I also participated in it. Most of our work went into what we wanted to wear and having a reason why. We, as a team, discussed what we wanted to express through fashion. The goal was for each participant to be able to express their individuality and showcase their Blackness. Some of us wanted to showcase African culture, some wanted to display trends in the Black community from the 90s and early 2000s which have heavily influenced pop culture styles today such as y2k and streetwear, and others wanted to showcase what it looks like to be a beautiful, unapologetic, bold, driven, sophisticated, Black woman. We had exactly two practices! We practiced walks, turns, and formations. I was fascinated by the confidence and fearlessness displayed by the "Black In Vogue Models." I think we truly displayed what it looks like to be unapologetically Black. The power in our walks made it clear that Black excellence, beauty, and unity cannot and will not be suppressed, for we are a fire that cannot be extinguished.
For the dance portion, I was the choreographer! The goal was to showcase Black creativity and joy, and to be able to express ourselves authentically in a world that constantly oppresses us. We had five in-person practices and one online practice. The first two practices were dedicated to learning the choreography that I made in my bedroom, the third practice was dedicated to formations, and the fourth and fifth practice was dedicated to perfecting everything. Most of the dancers are my cheer sisters (as most of us cheer at ACHS) therefore I knew they were reliable and would put the work in to make the performance a great one. I tried my best to make the practices as easygoing and fun as possible, because it's when you're having fun that your authenticity glows. I wanted all the dancers to have fun with the choreography, make it their own, and let their personalities shine. Even when I had to give a little tough love through pep talks about formations and timing, I always made sure they knew they were loved and appreciated and that no matter what, I am so proud of them. I was absolutely in awe of their performance. From their outfit choices that embodied the beauties of Black culture, to their attitude and personalities that shined throughout the performance, my "Cultural Influence Dancers" gave me more than I could've ever asked for.
What does this showcase mean to you?
To me, this showcase was an embodiment and enlightenment of Black excellence; period. It showcased Black health, wellness, and art (our themes for Black History Month), as well Black creativity, joy, and unity. It was unlike anything I ever experienced. Personally, I often feel as if the talents and creativity of Black students aren't showcased enough. So, this showcase touched my heart as Black students had a platform to express themselves and showcase their talents. Furthermore, I love that Black history was highlighted through musical performances such as the orchestra performing "North Star To Freedom," the jazz band performing "Freedom Day," and the Black Student Union ensemble performing "Lift Every Voice & Sing," "Wade in the Water," and "Swing Low Sweet Chariot." I loved working with all of the people involved and I truly appreciate everyone who contributed.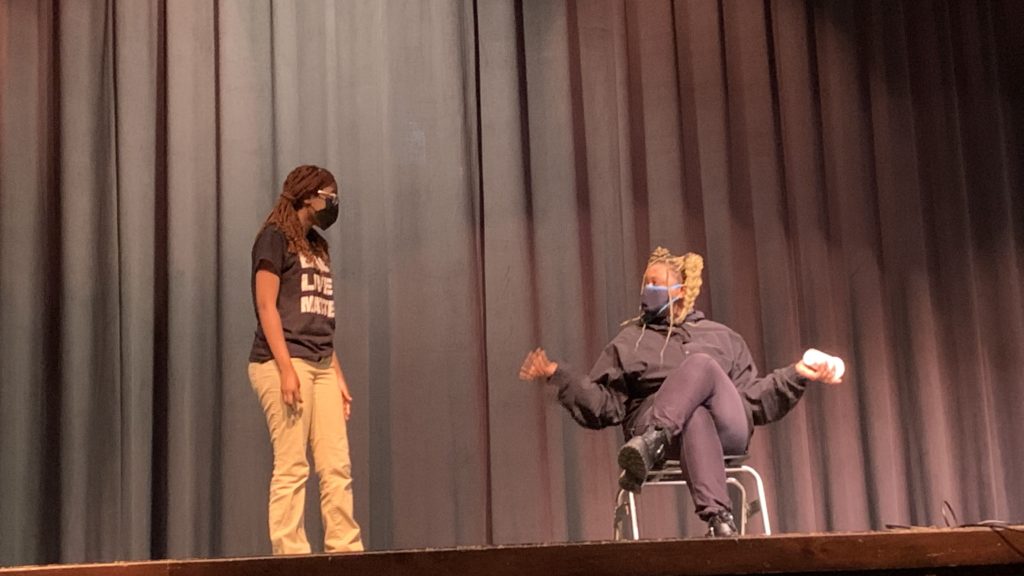 How does this help other student's of Black descent feel connected to their culture?
This showcase helped other Black students feel connected to their culture and identity because it provided representation of Black people in different fields. We had singers, actors and actresses, musicians, poets, models, dancers, and a guest speaker; and most of them were Black! There's something very powerful in seeing someone who looks like you doing something you've dreamed of doing/have a passion for doing. Representation matters because it reinforces positive views of oneself and fosters motivation and inspiration.
Did you hit any roadblocks in the creation of the showcase? How did you overcome them?
One roadblock I faced in the creation of the showcase was finding music for the models and dancers. I wanted them to dance to something upbeat and something that highlighted Black excellence, but didn't want to get copyrighted. Thankfully, Ms. Jones and Mr. Shabazz helped me find music that was non-copyrighted that I could use for the performance. Other roadblocks were more unanswered questions, as this was my first time creating a showcase and "working in production." However, any questions I had were quickly answered by Mr. Shabazz, Ms. Jones, or the tech from the theater crew. I appreciate them beyond what they know.
How do you feel about the outcome of this production?
I feel that the outcome of this production was extremely successful. I was in awe of how many people opted in and loved the crowd's energy. However, the reason I know this showcase was successful wasn't because of how many people showed up, but because of how many people the performances touched. I was told by many people that it was a breathtaking and enlightening experience and was a learning experience. Thank you to all of my models, dancers, the jazz band, the orchestra, our BSU ensemble, our poets, our actors and actresses, Mr. Shabazz, Ms. Jones, Ms. Jackson, co-directors, and choreographers, my makeup artists, and of course, my BSU enlightenment team.
Would you consider doing something like this again and what would that be?
Absolutely; we look to do this again next year and showcase even more Black culture and excellence. As far as the rest of this year, Black Student Union will continue to be a proactive force dedicated to discussion, action, anti-racism, pro-Blackness, and Black joy. For the rest of this year, our main goals are to empower Black voices at ACHS and discuss social issues that may affect the Black diaspora.
Description of the Black Student Union Showcase
The Black Student Union (BSU) throughout the whole of Black History Month had been organizing and providing the students and staff with different presentations and programs all highlighting the beauty and significance of Black culture. On February 23rd, 2022 the BSU put on two showcases full of art and student talent. There was one program at 10am which featured the fashion show that highlighted Black fashion and a second at 2pm that showcased Black culture through dance. Both showings featured Dr. Emanuel Pepper, who runs a research center at NYU, as a key speaker who highlighted the disparities among communities of color in the health system, issues of systemic racism, and how that has affected these communities, especially during the COVID-19 pandemic. Along with that, these showcases were packed with amazing poetry, plays, music, and art that all highlighted the beauty and power in Black culture. All of the art was created and performed by students and portrayed just how talented our peers here at Alexandria City High School truly are.