español (PDF) | አማርኛ (PDF) | (PDF) بالعربية
T.C. Williams High School has seen an all-time high in the number of Advanced Placement (AP) tests scoring the top grades.
A record 22 percent of students who took AP tests scored a grade five, the top level possible in AP tests. In addition, a record 72 percent of all students who took the tests in 2018 achieved a grade three, four or five – the scores required by the College Board needed for college credit.
Both of these results are the best that ACPS has seen in AP tests since the school division started to pay for students to take them in 2005. In 2005 only 9 percent of students scored a grade five and 39 percent of students scored a three or above. The jumps are also the greatest increase in a single year in AP student performance seen at TC Williams dating back to 2005.
In addition to higher scores, more students also took the AP tests this year. More than a third of all students (36 percent) in grades 10 through 12 took at least one AP test in 2018 – an all-time high for the school division, with 931 students taking 2,021 subject tests.
This is a great result all round. Not only did more students take the AP tests this year but also they scored better than ever before. ACPS is supporting students to achieve their best and make the most of opportunities that they may simply not get elsewhere," said Peter Balas, Principal of T.C. Williams High School.
Advanced Placement programs provide motivated high school students with the opportunity to take college-level courses in a high school setting. Students who participate in the program not only gain college-level skills, but in many cases they also earn college credit while they are still in high school.
All ACPS students who take an AP course are required to take the corresponding AP test. This means that students who select course have to carry through with them, complete them and be graded on them. In 2005, ACPS also instituted a policy to allow all students to take these AP tests for free.
See the School Board briefing and agenda item.
Here's What the Opportunity to Take AP Classes Means to Two of Our Students

Aidan Donnellan
T.C. Williams High School Senior
Aidan has always nurtured the idea of becoming a doctor. Over time, through the experiences he gained in classes at T.C. Williams High School, his interests have evolved and he's leaning towards studying neuroscience and chemistry in college. He knows that to get there he'll have to take advantage of every opportunity available to him, including taking Advanced Placement (AP) classes that will help propel him to his goal.
By the time he graduates in 2019, Aidan will have taken a dozen AP courses in math, English, history and government, psychology, computer science and more. He took his first AP in tenth-grade.
I take AP classes because I want to engage in more rigorous coursework and I want to be surrounded by other students who feel the same way. And, my experience with those who teach AP courses is that they are able to share a depth of knowledge about their subject that's more than one might experience in a regular class," said Aidan.
Taking AP classes has not only impacted Aidan academically by preparing him for challenging college-level coursework. Taking AP classes has also helped him to prepare for and engage in life beyond the classroom. He spent his summer working with the Lupus team at the National Institutes of Health (NIH) where he's been conducting research with members of the Lupus Clinical Trials Unit. Aidan pursued this opportunity after his sister shared information she learned from an NIH guest speaker at career day at Minnie Howard last year. He's lightened his AP load during his senior year to accommodate his continued work at the NIH during the school year.
Taking AP courses has helped improve and build skills that I will need and use in college and life, such as developing my work ethic, time management and overall critical thinking skills. I have also become much more comfortable in interacting with my teachers and I am not shy anymore when it comes to asking for help," said Aidan.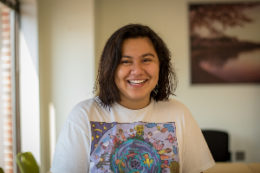 Jasselene Paz

T.C. Williams High School Senior
When Jasselene Paz talks about her high school experience, she's effusive and she attributes most of that to her teachers.
My AP courses really shaped my educational experience at T.C. While much can be and is taken from honors and general courses, AP classes are taught in a different way. As students, we are given work that really matters to us and we are really pushed as thinkers and learners. We are in classes with other students who are interested in exploring different ways to approach a topic. I know that I'm learning a lot that really matters to me and that my teachers are committed to their students. They really push us to do the learning. And, the fact that ACPS pays for students to take the AP exams means that students are not limited in the number of AP classes they can take based on financial constraints. We are given an opportunity to take as many AP classes as we want in so many different subjects," said Jasselene.
By the time Jasselene graduates in 2019, she will have taken 14 AP courses. This fall, she'll give back to her community by tutoring students at Casa Chirilagua in Arlandria after school, which will help prepare her for the work she wants to do with at-risk and marginalized youth in the long-term.