T.C. Williams Titans proudly remembered former 1971 teammate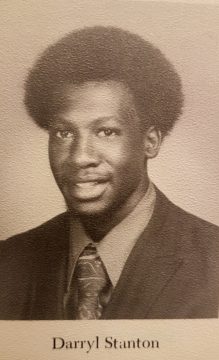 Titan Darryl "Blue" Stanton this week, who was killed in a car crash in North Carolina.
Stanton was a member of the 1971 State Championship football team memorialized in the movie, "Remember the Titans." Blue was portrayed by actor Earl C. Poitier in the movie. In December 1971, President Richard Nixon was quoted in the Washington Post as saying, "The Titans of Alexandria saved the City of Alexandria." Stanton graduated from T.C. in 1973.
Coach Herman Boone, who was appointed as T.C. Williams' first black head coach when the City of Alexandria integrated its three high schools into one said that he would never forget the former player.
To his family, it is most regretful that a man of his character and age passed before his time. He is a person that my family will never forget. He is a person who stood for teamwork and stood for the team. I believe that a team is made of people with one vision and one heartbeat and that it is because of people like Blue that we stand proud as an integrated school system. That team became the heartbeat of the Titans at a time in our society when segregation and division were better developed than visions of togetherness. I'll miss him," said Coach Boone.
Petey Jones, a security monitor at T.C. and former classmate of Stanton, knew Stanton as a good student who was always fun to be with.
Stanton loved to play basketball and football and he was an outstanding player. We grew up playing together at George Washington Middle School and that continued at T.C. We had a nice relationship that grew stronger when we went to T.C. After "Remember the Titans", we did a lot of speaking engagements together," said Jones.
Jerry Harris, another former classmate of Stanton and Payroll Specialist for ACPS, also played football with Stanton. They initially played against each other when they were at G.W. and T.C., and played together once the schools were merged.
Harris recalled a memory of Blue and Coach Boone during a talk on the field. Boone was standing face-to-face in very close proximity to Blue, as he was known to do when talking with the players. Each time Blue, who was wearing his large and bulky football helmet, was addressed by Coach Boone, he nodded his head up-and-down or side-to-side, bumping Boone in the nose. Blue, feeling rather amused with himself, came away laughing that he had gotten Coach.
Blue was a serious person, but he was funny. He was an enjoyable person, both in the locker room and on the field. We got along really well and kept in touch after T.C.," said Harris.

Harris described how former Titan teammates would get together at Joe Theismann's Restaurant and other places to discuss ways to they could help support youth in Alexandria and work to bridge divides. Members of the group would travel locally and to places like Chicago to talk to at-risk youth and share their stories in hopes of encouraging the youth toward a better path.
Blue always had positive things to share with the kids," said Harris.