Superintendent Alvin L. Crawley has appointed Michael Herbstman as the new Chief Financial Officer.
Herbstman has an extensive background in financial management and experience that includes work with the Cook County Department of Homeland Security and Emergency Management, Chicago Public Schools and a private risk management consulting firm. He came to Alexandria City Public Schools from Chicago as the Director of Budget and Financial Services in September.
We are delighted to have Michael join our senior leadership team. He has impeccable credentials and has proved himself an incredibly able and thoughtful team player. We are confident he can continue to ensure ACPS handles its business operations with diligent care and the highest ethical standards in line with goal six of the ACPS 2020 Strategic Plan," said Dr. Crawley.
Herbstman has three Master's degrees in public policy, finance and business administration. He also has a certificate of advanced accounting from Northwestern University. He has previously worked as a senior account manager with a private risk management firm and as a senior budget analyst and assistant director of operations and finance with Chicago Public Schools, where he managed a budget of $1.1 billion and day-to-day financial operations for 9,000 staff members.
During his time with Chicago Public Schools, he helped the Office of Early Childhood Education expand the number of preschool students served and helped direct resources to allocate funds for 3,500 special education teachers and 3,800 paraprofessionals.
I am thrilled to assume this role. Sound financial procedures will ensure ACPS gains and maintains the confidence of our community, our staff and our students. We need to grow Alexandria's financial investment in its children in order to ensure that every student succeeds," said Herbstman.
The ACPS 2020 Strategic Plan is the roadmap for all decisions made at ACPS over the next three and a half years. Goal 6: Effective and Efficient Operations states that ACPS will handle its business operations with diligent care and the highest ethical standards in order to provide proper stewardship and a full accounting of our resources.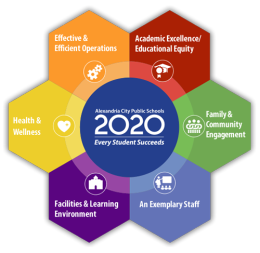 Having a strategic goal such as Effective and Efficient Operations in the 2020 plan demonstrates the importance of careful financial stewardship. This goal means that ACPS will be prudent in the use and allocation of funds, will maintain sound business practices and procedures, and remain transparent in its operations.
Herbstman will oversee the annual budget development process and supervise procurement and accounting procedures at ACPS.
He assumes his new role on Monday, March 27, 2017.