en español (PDF) | አማርኛ (PDF) | بالعربية (PDF)
Day 55 — Learning from Home Experience
Today we are asking that you please take a moment to complete our second pulse survey.
We had a tremendous response to the first survey that we administered in May and the data we gleaned from families, staff and students is already being used as a guide for refining and planning our way forward through the end of the academic year, into the summer months and beyond. Your responses provided us with valuable insight and we learned so much about what was working, what wasn't working, and what we can do to assist further. Please take two to three minutes to answer our latest questions. 
You can also take the survey in Spanish, Amharic and Arabic.
We also want to keep you informed about our Continuity of Learning Plan 4.0, which focuses on reopening and re-imagining our schools. On Wednesday, June 10, we will share more details regarding our preparation and planning for reopening our schools in the fall. A group of experts within the city of Alexandria and ACPS have committed to becoming Thought Partners for ACPS as we embark on our journey to reopen and re-imagine our schools in the Fall. 
Our first meeting was held last Tuesday and we will be launching our reopening and re-imagining our schools webpage on ACPS-at-Home this week. Our goal is to keep you fully informed as we move toward the fall. We will be posting a recording of our meetings, minutes and research used for decision making to keep our community abreast of our efforts. 
We have also listened to your request regarding access to items left at school. Now that the Governor has begun Phase I of the reopening plans in the Commonwealth of Virginia, we have established procedures for collecting belongings in a safe and organized manner. More details are posted below.
Finally, we strongly encourage you to review our draft strategic plan, Equity For All 2025. We believe it is bold, courageous and aims to tackle our equity issues head-on. This plan could not be more timely or critical as our nation grapples with the action needed for anti-racism. The deadline for feedback is tomorrow, June 9. Also, tomorrow, June 9, there will be two virtual Zoom public hearings on the draft strategic plan held at 12:30 p.m. and at 7 p.m. Join us on Zoom at those times.
A friendly reminder that going forward, we will be producing two editions of Express each week, on Monday and Wednesday only.
Stay safe, stay healthy and stay informed! 
Sincerely,
Dr. Gregory C. Hutchings, Jr.
Superintendent of Schools
Help Shape Our Path Forward by Completing This Survey
It's been almost three months since we closed our school buildings in an effort to combat the spread of COVID-19 and adhere to our Governor's stay-at-home order. On Wednesday, we will begin the process of explaining how we are planning for the reopening of our schools. Your engagement is needed more than ever.
Last month we conducted our first pulse survey to help us assess how we continue to serve and meet your needs through the COVID-19 situation. We had over 11,000 responses and we would like to give a huge thank-you to everyone who was able to provide their feedback. Your responses have been invaluable. 
Today, we want to hear from you again. This survey provides the opportunity to give feedback about planning for the reopening of schools as well as about your school year before the COVID-19 crisis began. Please take time to complete our second survey which will take no more than five minutes.
The results will be used to help us assess whether we are meeting your expectations as well as how we can continue to support you and our students. The anonymous information you provide to us will directly impact the way we provide each of you and our students with the necessary support during these unprecedented times.
You can also take the survey in Spanish, Amharic and Arabic.
This survey link is only for ACPS parents/guardians/families. ACPS staff and students will receive different links to their versions of the survey. 
You have until next Monday, June 15 to complete this.
Collecting Student Belongings From School Buildings
It is that time of year when we would normally be preparing to return our school materials to our teachers. The school closures related to COVID-19 and the Governor's stay-at-home order have forced us to make an innovative plan of how we collect students' school materials and also allow our students to get personal belongings from their lockers or classrooms. 
Principals have been working collaboratively with the ACPS Educational Facilities, Operations, and Technology Services departments to devise plans that would make sure that everyone can do these functions safely. 
Given each school has slightly different ways of operating and different student needs, each principal will communicate a specific plan for their students to drop-off materials and collect belongings. However, there are some universal guidelines that will be in effect at every school site, no matter the location. Refer to the ACPS-at-Home website for the full details. 
Talking to Your Children About Race
The events over the last week have been traumatic for many in our community, particularly for those who identify as Black or African American. While race and systemic racism are a daily discussion in many houses, current events are raising questions throughout all corners of the ACPS community. Discussions of race can be difficult for some, particularly for those who grew up with silence on the topic. Thus, some may have questions about how to have conversations about race with their kids. Here is some advice from our school counseling team.
There are many different ways for families to have discussions about race, and there is no one set of tips that will apply in all instances. However, the below information might be helpful as guidelines:
Take a self-inventory:

As a parent or guardian, you are the model for your children. Think about how race was talked about when you were a child, or even if it was. What messages did you receive based on these discussions about race or by the silence? What are your own feelings, understandings and knowledge on race in the U.S.? This is a time to be reflective and honest with yourself.

Educate yourself and be open with your kids about your learning:

From your self-inventory, assess where you may have some gaps in information, such as the history of race in the U.S., what structural racism is, or why some phrases or actions are offensive.

Read books. Listen to podcasts. Watch videos

. Your own learning as a parent or guardian can become discussions for the whole family. 

Let go of "colorblindness" and assume and ensure your kids are aware of race:

Kids nor adults are colorblind. The idea that we "don't see color" is false and negates all aspects of a person's identity. Rather than having color silence, discuss what they know, what is happening in the world, and what you know. If you cannot answer the questions, it is an opportunity to

learn together with your child

. Engage in discussion about identity and what makes up one's identity. 

Challenge stereotypical practices in age-appropriate ways:

Many people of color can remember a time when they were excluded from play because of race. An example is being told that they can't be a princess, a king, a police officer, or a person of authority because of skin color or hair texture. When this occurs, focus on the feelings and fairness. Name the behavior. Share concrete examples that rebut the assertion or stereotype.    

Be proactive:

Build positive awareness of race and identity. Celebrate differences as well as similarities. Make sure that kids have access to books with diverse characters and heroes. Seek ways to broaden your own community circles and cultural experiences. 

You can talk about race, racism and systems of oppression.

The more you do it, the easier it becomes. Give concrete examples. Provide age appropriate information. Highlight examples of resistance as well as examples of people of different backgrounds working together to make the world a better place. 

Encourage your school community to support and infuse equity and fairness into the pedagogy and curriculum.

It is important to support your child's school in their own discussions about race, racism and equity. Be a voice in your school community that helps to inspire equitable practices and resources.
Resources for learning:
How to Activate P-EBT Cards 
Qualifying families have begun to receive their Pandemic Electronic Benefit Transfer cards through the mail.
If you need help activating them, the ACPS Family and Community Engagement team has created a video step by step guide to help.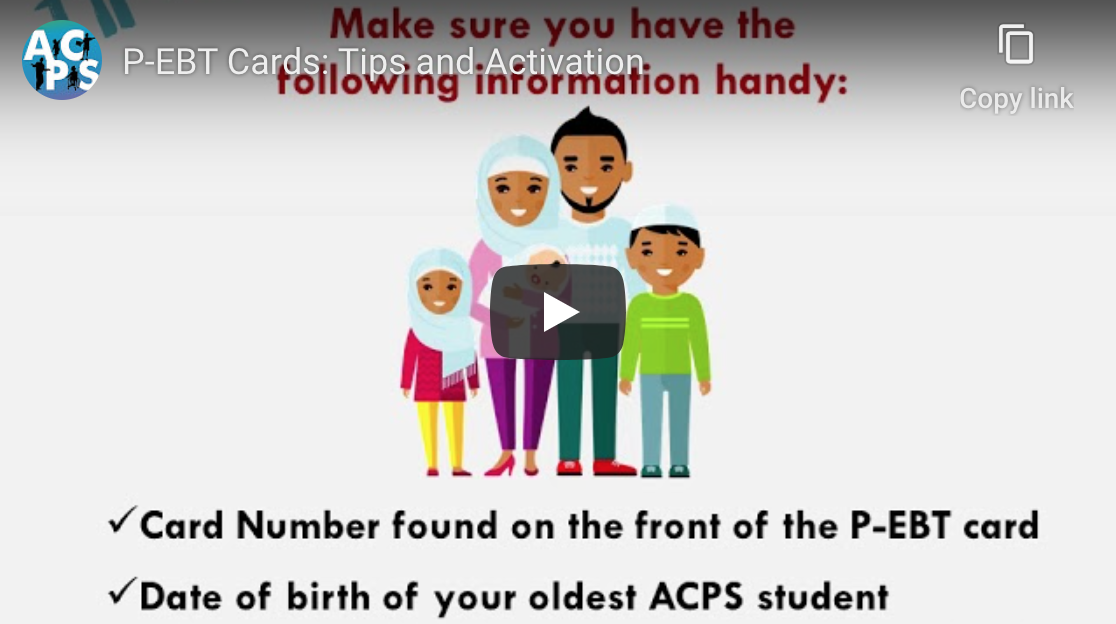 You can also watch the video in Spanish.
How to activate P-EBT card:
Call 1-866-281-2448.

Enter full card number (16 digits).

When you are asked for your social security number, enter: 0000

When you are asked for the date of birth of the oldest student. Enter the date by month-day-year.

Create a PIN.

Reenter the pin.

The card is now ready to use.
School Board Approves Revised Budget 
On Friday, June 5, the Alexandria City School Board approved the Revised Operating Budget for 2020-21 and the Capital Improvement Program budget for 2021-30.
As a result of an anticipated reduced revenue forecast due primarily to the COVID-19 pandemic, ACPS was required to reduce its original Operating Budget by $11.7 million. Reductions were made through the elimination of staff salary step increases, which typically afford them an increase in salary. All departments and schools also reduced their operating budgets by 5% and a hiring freeze for non-instructional vacancies has been put in place for the 2020-21 academic year.
This approach will mitigate the need for reductions in staffing levels across the division. To mitigate, and in some cases eliminate these salary reductions, ACPS has approved a one-time $150 payment for all staff, except those employee groups receiving the Market Rate Adjustment due to our employee compensation study in fall 2019.
ACPS' key priorities for students for the 2020-21 school year remain the same despite the budget reductions. The focus will continue to be on K-2 literacy and increased outreach to underserved communities to improve the graduation rate and reduce chronic absenteeism.
A total of $103.7 million originally allocated for the High School Project has been deferred. Efforts are being made, however, to keep the project on time. The construction of the new Douglas MacArthur Elementary School building will remain on schedule.
Please refer to the Revised Budget webpage for the full details.
Watch Friday's Board Meeting 
During the closure of school buildings, our School Board is meeting virtually each Friday at noon. 
If you missed it live, you can still watch it.
Watch the School Board meeting and see the agenda.
Information on how to give feedback to the School Board can be found on the School Board Meetings webpage.
Friday's Board meeting included:
Proposed revisions to the Board policy on Locally-Awarded Verified Credits

Adoption of the Final FY 2021-2030 Capital Improvement Program (CIP) Budget 

Adoption of the Final FY 2021 Combined Funds Budget
Want to give your feedback on the draft of the 2025 Strategic Plan? Tomorrow, there will be two virtual Zoom public hearings held at 12:30 p.m. and at 7 p.m. Join us on Zoom at those times. 
Your Questions Answered
In the last video Q&A, Superintendent Dr. Gregory C. Hutchings, Jr. answered questions about ACPS Summer Learning programs.
Is Summer Learning mandatory?
If there has been learning loss since schools closed, won't there continue to be learning loss in a virtual summer school?
Does the school year technically end and the student complete their grade in June or in August?
What do you recommend parents do in that instance where parents want kids to attend summer learning but cannot do all four weeks?
How are special needs students participating?
How will your instructional staff be supporting learners who function above grade level?
We apologize that the video is not available due to technical difficulties, however you may see answers to these questions in the updated FAQ, available in English, Spanish, Amharic and Arabic.
CONNECT WITH US
We want to hear from you! Send us a photo, video or story about your experiences while school is closed. Email us at news@acps.k12.va.us.
SHARE YOUR LEARNING!
Learning Together: At-Home Tips from One ACPS Family to Another
Have a learning tip that works well for your child, or a particularly interesting project or story you think others would enjoy? We invite you to share it with the entire ACPS learning community!
Upload your video or audio story or post it to the ACPS Facebook page.
See this great example from one parent and her son.
Food Distribution
ACPS has multiple distribution meal site locations throughout Alexandria for all ACPS students and children over the age of two.
GRAB-AND-GO MEAL LOCATIONS:
Grab and Go breakfast, lunch and snack meals are available Mondays, Wednesdays and Fridays between 9 a.m. and 12 p.m. at the following locations:
William Ramsay Elementary School
5700 Sanger Avenue, Alexandria, VA 22311
Francis C. Hammond Middle School
4646 Seminary Road, Alexandria, VA 22304
Cora Kelly School for Math, Science and Technology
3600 Commonwealth Avenue, Alexandria, VA 22305
Jefferson-Houston PreK-8 IB School
1501 Cameron Street, Alexandria, VA 22314
T.C. Williams High School
3330 King Street, Alexandria, VA 22304
And available at our "Pop-Up" sites located at:
Mason Apartments at South Reynolds Street, Alexandria, VA 22304
10:45 to 11:15 a.m. Mondays, Wednesdays and Fridays
Brent Place Apartments at 375 South Reynolds Street, Alexandria, VA 22304
11:20 to 11:50 a.m. Mondays, Wednesdays and Fridays
Ruby Tucker Family Center at 322 Tancil Court, Alexandria, VA 22314
10:45 to 11:15 a.m. Mondays, Wednesdays and Fridays
Community Lodgings at 607 Notabene Drive, Alexandria, VA 22305
10:45 to 11:15 a.m. Mondays, Wednesdays and Fridays
Old Towne West Apartments (parking lot) at 500 South Alfred Street, Alexandria, VA 22314
11:20 to 11:50 a.m. Mondays, Wednesdays and Fridays
Corner of Florence Drive and Four Mile Road, Alexandria, VA 22305
10:45 to 11:15 a.m. Mondays, Wednesdays and Fridays
The Fields at 4309 Duke Street, Alexandria, VA 22304
10:45 to 11:15 a.m. Mondays, Wednesdays and Fridays
Bennington Crossing Apartments at 441 North Armistead Street, Alexandria, VA 22312
11:30 a.m. to noon, Mondays, Wednesdays and Fridays
NO SIGN UP OR REGISTRATION IS REQUIRED TO RECEIVE MEALS. Meals consist of breakfast, lunch and snack and include, for example, fresh fruits and vegetables and sandwiches for multiple days.
NOTE: No food distribution will occur on Tuesdays or Thursdays. The limited days for distribution is to support the practice of social distancing and to limit social gatherings. Meals for two days will be provided on the pick-up days, (Monday/Wednesday/Friday).
Other Food Resources in the City of Alexandria
For food pantry locations and schedules in Alexandria, visit www.hungerfreealexandria.com or call ‪703-662-1067.
Questions? Or Need Translation?
Send us your question in Spanish, Arabic or Amharic:
Text ACPSMEALS to 797979 (English and Spanish)
Call or text 703-927-6866 (Amharic)
Call or text 703-927-7095 (Arabic)
OR
Call the FACE Center's Bilingual Parent Information Lines:
For Spanish, call 571-775-9719, Monday-Friday (9 a.m. — 5 p.m.)
For Amharic, call 703-927-6866, Monday-Friday (9 a.m. — 1 p.m.)
For Arabic, call 703-927-7095, Tuesday-Thursday (9 a.m. — 3:30 p.m.)
SAFETY REMINDER: Please remember to observe social distancing practices while at the food distribution site by maintaining six feet of personal space between you and other families or individuals.
Anyone exhibiting symptoms of a respiratory illness like fever, runny nose, sore throat, coughing or difficulty breathing on the day of food distribution or in the previous 24 hours should not visit a food distribution site but call a health care provider instead. If you do not have a primary care physician and are not enrolled in a clinic, you may CALL an urgent care center or emergency room.
TEEN WELLNESS CENTER IS OPEN
The Teen Wellness Center at T.C. Williams is still open regular hours Monday through Friday for all Alexandrians ages 12-19. All services are provided in the clinic and if the teen is ill with an elevated temperature (100.0 or more) we will see them through our telehealth video format. Make an appointment over the phone by calling 703-746-4776.
UPDATES FROM THE ALEXANDRIA HEALTH DEPARTMENT
The City of Alexandria and the Alexandria Health Department strongly urge everyone to follow state orders to STAY HOME except for essential trips such as food purchases and medical care, and keep 6 feet apart from others when in public. Your neighbors and loved ones are counting on you to stop the spread of COVID-19. For other questions about COVID-19, call the Alexandria COVID-19 Hotline at 703-746-4988, weekdays from 9 a.m. to 6 p.m.
Additional updates can be found at www.alexandriava.gov/Coronavirus.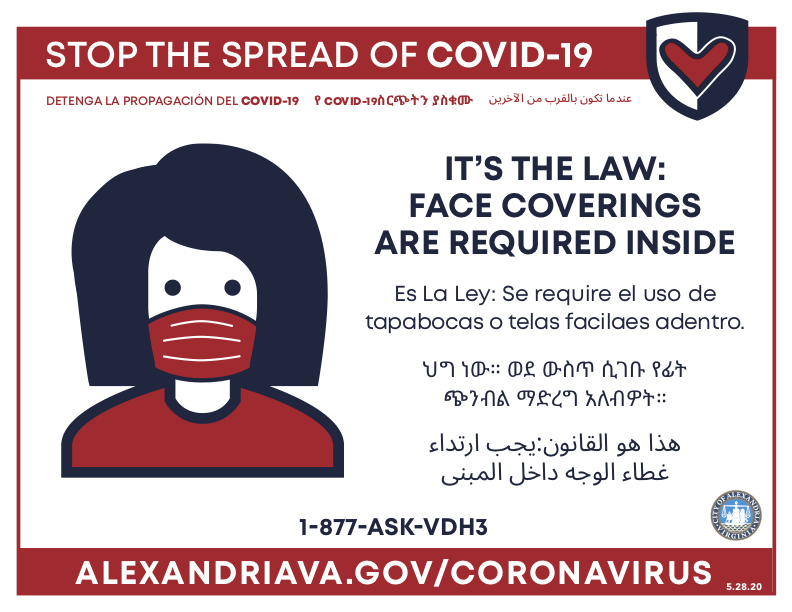 Coping with COVID-19 Fear and Uncertainty
Check out the City of Alexandria webpage Coping with COVID-19 Fear and Uncertainty which includes the COVID-19 Wellness Resource Guide.
WANT TO HELP?
Please consider donating through ACT For Alexandria and the COVID-19 Response Fund if you are able. 
Community members who would like to volunteer should reach out to www.volunteeralexandria.org or 703-836-2176 to register for any additional potential volunteer opportunities.
MENTAL HEALTH SUPPORT
Continuity of School Support and Academic Advisement
School Student Support Team staff, including school counselors, school nurses, school psychologists, and school social workers will be available during school hours throughout the closure. Monday — Friday between 8:30 a.m. and 3:30 p.m. staff will be connecting with students and their families. The Department of Student Services, Alternative Programs and Equity staff members are also available during this time and can be contacted by voicemail and at student_services@acps.k12.va.us.
Emergency Supports
If there is a crisis or emergency during the time of the closure, students and families can access the supports below:
Crisis Text and Crisis Link:

Text: CONNECT to 85511
Call: 703-527-4077
We know that this is a challenging time. ACPS will continue to share information through the ACPS website, social media, and email. Please don't hesitate to reach out to your student's school counselor or school social worker with any questions.
HEALTH REMINDERS
Don't Feel Well?
Contact your primary health care physician. Don't have insurance? Contact Neighborhood Health at 703-535-5568.
---
Have questions, concerns or feedback? Contact us.
Stay Healthy!
Wash your hands regularly. Regular soap is OK.