en español (PDF) | አማርኛ (PDF) | بالعربية (PDF)
Day 57 — Graduation Special
In just three days, our senior class will graduate in the most unexpected of circumstances against a backdrop of civil unrest and a global pandemic. This is definitely not how we imagined we'd be sending our Class of 2020 off into the world. However, this is our current reality and we know this Class is definitely ready to conquer the world.
When it became apparent that our school building would remain closed with virtual learning until the end of the academic year, our thoughts quickly turned to our senior class. Would they be able to participate in the senior year traditions that they rightly deserved? Would they be able to graduate at all? These agonizing questions kept all of us including principal Peter Balas up at night during those early weeks as we grappled with the enormity of the situation we were facing. For our seniors who were robbed of the opportunity to proudly walk across the stage in front of their loved ones, the crushing disappointment could only be imagined. The families and staff who supported them throughout their schooling, were also devastated.
This weekend, things will not be as we had hoped and expected but we will surely celebrate and we invite all in our city to join in congratulating this very special cohort of seniors.
Our virtual graduation ceremony on Saturday morning will be the culmination of much hard work, creativity and planning and we are confident that we have put together a program deserving of our seniors. You will see many familiar faces taking part including myself, Principal Peter Balas, Senator Mark Warner, and class president Amiya Chisolm. We are thrilled to have Class of 2016 Titan and Olympic hopeful, Noah Lyles as our keynote speaker.
We don't want anyone to miss out on this event so we have made sure there are multiple ways to view the ceremony: online, on TV, and through our Facebook pages. Please show your support by sharing photos and comments on our social media pages with the hashtags #TCW2020 and #TitansRising. On Saturday evening we want to see the entire city lit up in our Titan colors of red, white and blue. The George Washington Masonic Temple will lead the way. Please join in by lighting up your home.
Also today, I wanted to make sure you were a part of the very important discussions taking place around the reopening of our schools, which we all hope we will see in September. We want our families and staff to be well-informed and engaged in this complex and shifting process. We have launched our reopening and re-imagining our schools webpage to allow our community to remain informed about our efforts. Also, we have already established an exceptional team of Thought Partners who represent key elements of the school community. Last week, we had our first meeting to discuss our priorities for reopening and re-imagining our schools. We encourage you to view the presentation (PDF). 
Stay safe, stay healthy and stay informed! 
Sincerely,
Dr. Gregory C. Hutchings, Jr.
Superintendent of Schools
How to Watch Our 2020 Graduation Ceremony

Mark your calendars! On Saturday morning our Class of 2020 will graduate in a virtual ceremony that you will not want to miss. The action begins at 9:30 a.m. View the event program.
Here are all the ways you can watch it. Share the details with your families and friends wherever in the world they may be.
ACPS-TV cable Channel 71 in Alexandria
Captions will be provided in English, Spanish and Arabic on the website and on Facebook. For simultaneous audio interpretation in Spanish, Amharic and Arabic, call-in phone numbers will be provided on the website and on Facebook as well. For call-in phone numbers see the main Class of 2020 website.
During the ceremony share your photos of your decorated cap on Twitter and Facebook.
Use the hashtags #TCW2020 and #TitansRising to connect with ACPS. Tag us at @ACPSk12.
Missed it? Or want to watch it over again?
A recording of the ceremony will be available on the Class of 2020 website. 
Light-Up Alexandria
We are encouraging all in our city to join us as we Light-Up Alexandria in Titan colors of red, white and blue on Saturday night. Don't forget to illuminate your home. The George Washington Masonic Temple will be lit in honor of our graduates. Stop by and see it (please make sure you observe social distancing).
Look out for the Class of 2020 congratulations in The Zebra, Alexandria Times and Alexandria Gazette in the editions following graduation. 
Your Questions About Graduation Answered
In our last video Q&A, T.C. Williams High School Principal Peter Balas answered questions about the virtual graduation ceremony for the Class of 2020.
How is ACPS honoring the Class of 2020?
Who is the Keynote Speaker?
How can we watch the ceremony?
How can we watch in languages other than English?
Will my name be read aloud during the ceremony?
How can I interact with and connect with my classmates during the virtual ceremony?
If I can't watch the virtual graduation live on Saturday morning, can I view it another time?
Read the answers to these questions in our daily video transcripts, available in English, Spanish, Amharic and Arabic.
Watch the Q&A video or see answers to these questions in the updated FAQ.
Working on Reopening Our Schools
Behind the scenes we are working hard on plans to reopen our schools. While we hope with all our hearts that school will be back to normal in the fall, we have to be prepared to implement a variety of contingency plans depending on the situation in Northern Virginia.
How, when, and if our school buildings open in September 2020 are clearly decisions not to be taken lightly and require diligent and comprehensive consideration of multiple factors. ACPS has formed an exceptional team of Thought Partners and we will be seeking input from families and staff along the way. We will keep you informed as we progress through the summer months.
On June 26, 2020, we will be sharing the initial report of the outcomes of the work conducted by our Thought Partners during their three meetings on June 2, 10 and 16. We will be presenting to the school board on June 26.
View the Reopening of Schools planning page on the ACPS-at-Home website.
View the presentation (PDF) and video from the Thought Partners' inaugural meeting last week.
Senior Experience, 2020 Style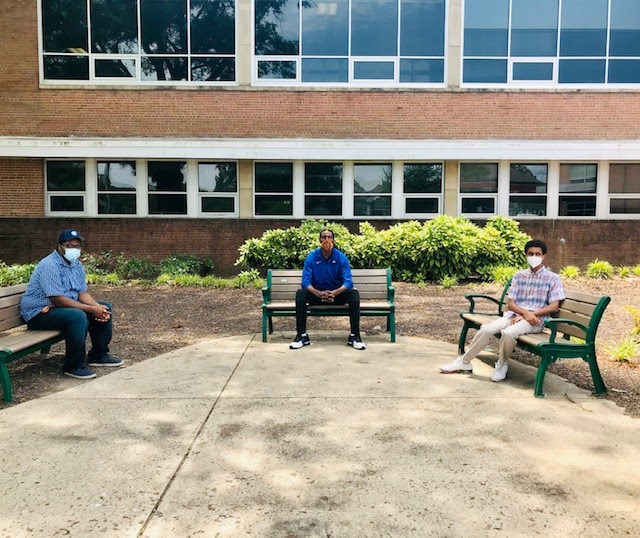 The opportunity to spend three weeks in the workplace is one of the highlights of the year for our graduating class, but the 2020 Senior Experience had to look a little different from what was expected.
For many, that unfortunately meant disappointment with most employers unable to accommodate a virtual experience.
What was on track to be the biggest cohort since the program began, with approximately 450 seniors expressing an interest, dwindled to spots for just 23 Titans.
But among those 23 were Joshua Cato and Ahadu Arefe-Aine, two young men who were able to benefit from the mentorship of Victor Powell, the principal of Matthew Maury Elementary School.
Mr. Powell had planned to have the students come into school to work with him and his staff, but when COVID-19 hit and our buildings closed, plans had to change.
Instead, he has spent the last three weeks virtually coaching skills that will help them both prepare for adult life.
He said, "For me, being part of this program is about paying it forward. You get dividends when you give."
"And this is what I enjoy doing, it's fun. I like talking to youth about their goals and how to work to achieve them."
He added, "I could have definitely benefited from a genuine mentorship from someone in the community when I was Joshua and Ahadu's age. Young people need encouragement from people around them."
"I remember what it felt like to not have it all together. I remember being in their shoes and not knowing what way I wanted to go or how."
"The fact that they have volunteered for this program told me a lot about their personality and dedication. I'm very proud of both of them."
Mr. Powell began by getting to know both students one on one, sharing stories about his journey and fostering a relationship built on trust.
After that, the students set the agenda, discussing topics such as how to present yourself in the workplace, organizational skills, and setting goals and figuring out how to reach them.
One message from their mentor that both students took to heart was "Never stop working."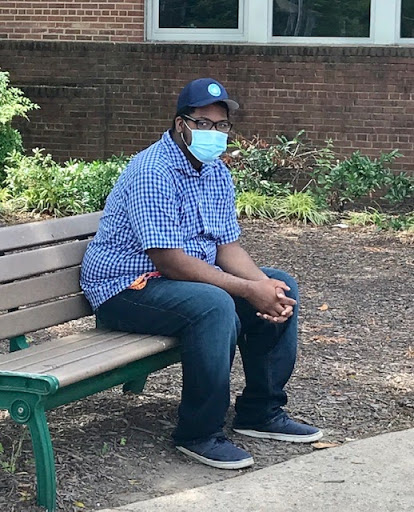 Joshua (above), who hopes to study business and sports management, said the experience gave him the self-belief that he could reach his goals.
"When Mr. Powell told me his story, it left me feeling, 'hey, maybe I could be a principal.' If I keep working, I can make things happen."
"I felt a little nervous at first but I appreciate how Mr. Powell listened to me and understood me. He has helped me in many ways, not just school life."
"We have been learning about being organized, setting a daily plan and just the fact that you need to be prepared for whatever life brings."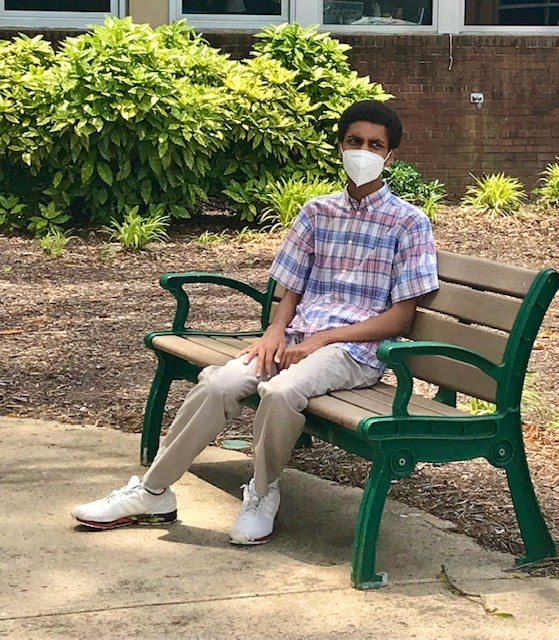 For Ahadu (above), who dreams of being a zookeeper, the experience was equally valuable.
"It was an experience that I think I needed and that a lot of other high school students around the U.S. could use. It helped me gain more knowledge. Not just knowledge about entering the workforce, but also knowledge I can use for the rest of my life."
Senior Experience is a program that has been running for more than ten years and is coordinated by Marianne Hawn from the T.C. Williams High School Counseling Department.
It is entirely voluntary but participation has grown from just a handful of Advanced Placement (AP) students in the early days, to this year, when approximately half the senior class expressed an interest in taking part.
Often students set up their own experience after identifying a suitable match, but Hawn has developed relationships across Alexandria and beyond over the years and is often able to connect students with potential mentors.
The diversity of those taking part these days is one of the aspects that makes Hawn particularly proud of the endeavor. 
"It used to be a tiny cohort of AP students but now it has become so inclusive. As long as a student remains in good standing at school, they can participate."
"Now we have Titans going out all over the city and sometimes the country representing T.C. Williams. And what is great is that Alexandria is really getting to know our students and we have so many repeat employers asking us each year to send more to them." 
She added, "When COVID struck and we knew our plans were going to have to drastically change, it was disappointing as this was set to be our biggest year ever. But then it became an exciting challenge to see what could be salvaged."
After the three weeks, the students would normally return to school and take part in an exit seminar where they are asked to reflect on their experience. This year that happened on Zoom.
"The kids are always so enthusiastic," said Hawn. "It's a wonderful thing to see."
Help Shape Our Path Forward by Completing This Survey
Last month we conducted our first pulse survey to help us assess how we continue to serve and meet your needs through the COVID-19 situation. We had more than 11,000 responses and we would like to give a huge thank-you to everyone who was able to provide their feedback. Your responses have been invaluable. 
Now, we want to hear from you again. 
As an organization we want to measure our progress throughout the current school closures. It is important to know that the Pulse Survey is intended to ask similar questions to determine if people's perspectives are changing over time and to provide us with insight regarding our progress in common areas. We are asking some of the same questions to allow results from this survey administration to be compared to results from early May to measure our progress.
In addition to having some of the same questions, we also added two very important questions focused on any feedback parents want to provide on their experiences this year before the school closures, and what ACPS needs to focus on in planning for the potential reopening of buildings. 
Please take time to complete our second survey, which will take no more than 2-3 minutes.
The anonymous information you provide to us will directly impact the way we provide each of you and our students with the necessary support during these unprecedented times.
You can also take the survey in Spanish, Amharic and Arabic.
This survey link is only for ACPS parents/guardians/families. ACPS staff and students will receive different links to their versions of the survey. 
You have until next Monday, June 15 to complete this.
CONNECT WITH US
We want to hear from you! Send us a photo, video or story about your experiences while school is closed. Email us at news@acps.k12.va.us.
SHARE YOUR LEARNING!
Learning Together: At-Home Tips from One ACPS Family to Another
Have a learning tip that works well for your child, or a particularly interesting project or story you think others would enjoy? We invite you to share it with the entire ACPS learning community!
Upload your video or audio story or post it to the ACPS Facebook page.
See this great example from one parent and her son.
Food Distribution
ACPS has multiple distribution meal site locations throughout Alexandria for all ACPS students and children over the age of two.
GRAB-AND-GO MEAL LOCATIONS:
Grab and Go breakfast, lunch and snack meals are available Mondays, Wednesdays and Fridays between 9 a.m. and 12 p.m. at the following locations:
William Ramsay Elementary School
5700 Sanger Avenue, Alexandria, VA 22311
Francis C. Hammond Middle School
4646 Seminary Road, Alexandria, VA 22304
Cora Kelly School for Math, Science and Technology
3600 Commonwealth Avenue, Alexandria, VA 22305
Jefferson-Houston PreK-8 IB School
1501 Cameron Street, Alexandria, VA 22314
T.C. Williams High School
3330 King Street, Alexandria, VA 22304
And available at our "Pop-Up" sites located at:
Mason Apartments at South Reynolds Street, Alexandria, VA 22304
10:45 to 11:15 a.m. Mondays, Wednesdays and Fridays
Brent Place Apartments at 375 South Reynolds Street, Alexandria, VA 22304
11:20 to 11:50 a.m. Mondays, Wednesdays and Fridays
Ruby Tucker Family Center at 322 Tancil Court, Alexandria, VA 22314
10:45 to 11:15 a.m. Mondays, Wednesdays and Fridays
Community Lodgings at 607 Notabene Drive, Alexandria, VA 22305
10:45 to 11:15 a.m. Mondays, Wednesdays and Fridays
Old Towne West Apartments (parking lot) at 500 South Alfred Street, Alexandria, VA 22314
11:20 to 11:50 a.m. Mondays, Wednesdays and Fridays
Corner of Florence Drive and Four Mile Road, Alexandria, VA 22305
10:45 to 11:15 a.m. Mondays, Wednesdays and Fridays
The Fields at 4309 Duke Street, Alexandria, VA 22304
10:45 to 11:15 a.m. Mondays, Wednesdays and Fridays
Bennington Crossing Apartments at 441 North Armistead Street, Alexandria, VA 22312
11:30 a.m. to noon, Mondays, Wednesdays and Fridays
NO SIGN UP OR REGISTRATION IS REQUIRED TO RECEIVE MEALS. Meals consist of breakfast, lunch and snack and include, for example, fresh fruits and vegetables and sandwiches for multiple days.
NOTE: No food distribution will occur on Tuesdays or Thursdays. The limited days for distribution is to support the practice of social distancing and to limit social gatherings. Meals for two days will be provided on the pick-up days, (Monday/Wednesday/Friday).
Other Food Resources in the City of Alexandria
For food pantry locations and schedules in Alexandria, visit www.hungerfreealexandria.com or call ‪703-662-1067.
Questions? Or Need Translation?
Send us your question in Spanish, Arabic or Amharic:
Text ACPSMEALS to 797979 (English and Spanish)
Call or text 703-927-6866 (Amharic)
Call or text 703-927-7095 (Arabic)
OR
Call the FACE Center's Bilingual Parent Information Lines:
For Spanish, call 571-775-9719, Monday-Friday (9 a.m. — 5 p.m.)
For Amharic, call 703-927-6866, Monday-Friday (9 a.m. — 1 p.m.)
For Arabic, call 703-927-7095, Tuesday-Thursday (9 a.m. — 3:30 p.m.)
SAFETY REMINDER: Please remember to observe social distancing practices while at the food distribution site by maintaining six feet of personal space between you and other families or individuals.
Anyone exhibiting symptoms of a respiratory illness like fever, runny nose, sore throat, coughing or difficulty breathing on the day of food distribution or in the previous 24 hours should not visit a food distribution site but call a health care provider instead. If you do not have a primary care physician and are not enrolled in a clinic, you may CALL an urgent care center or emergency room.
TEEN WELLNESS CENTER IS OPEN
The Teen Wellness Center at T.C. Williams is still open regular hours Monday through Friday for all Alexandrians ages 12-19. All services are provided in the clinic and if the teen is ill with an elevated temperature (100.0 or more) we will see them through our telehealth video format. Make an appointment over the phone by calling 703-746-4776.
UPDATES FROM THE ALEXANDRIA HEALTH DEPARTMENT
The City of Alexandria and the Alexandria Health Department strongly urge everyone to follow state orders to STAY HOME except for essential trips such as food purchases and medical care, and keep 6 feet apart from others when in public. Your neighbors and loved ones are counting on you to stop the spread of COVID-19. For other questions about COVID-19, call the Alexandria COVID-19 Hotline at 703-746-4988, weekdays from 9 a.m. to 6 p.m.
Additional updates can be found at www.alexandriava.gov/Coronavirus.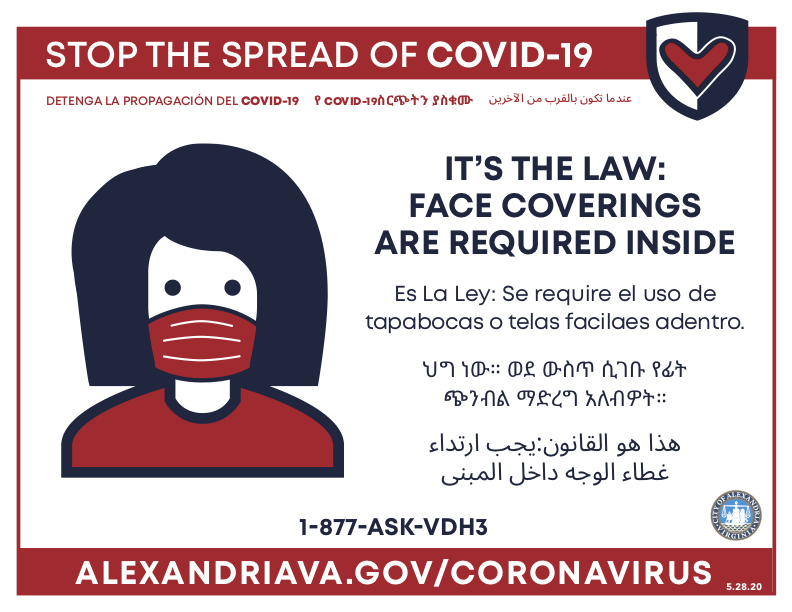 Coping with COVID-19 Fear and Uncertainty
Check out the City of Alexandria webpage Coping with COVID-19 Fear and Uncertainty which includes the COVID-19 Wellness Resource Guide.
WANT TO HELP?
Please consider donating through ACT For Alexandria and the COVID-19 Response Fund if you are able. 
Community members who would like to volunteer should reach out to www.volunteeralexandria.org or 703-836-2176 to register for any additional potential volunteer opportunities.
MENTAL HEALTH SUPPORT
Continuity of School Support and Academic Advisement
School Student Support Team staff, including school counselors, school nurses, school psychologists, and school social workers will be available during school hours throughout the closure. Monday — Friday between 8:30 a.m. and 3:30 p.m. staff will be connecting with students and their families. The Department of Student Services, Alternative Programs and Equity staff members are also available during this time and can be contacted by voicemail and at student_services@acps.k12.va.us.
Emergency Supports
If there is a crisis or emergency during the time of the closure, students and families can access the supports below:
Crisis Text and Crisis Link:

Text: CONNECT to 85511
Call: 703-527-4077
We know that this is a challenging time. ACPS will continue to share information through the ACPS website, social media, and email. Please don't hesitate to reach out to your student's school counselor or school social worker with any questions.
HEALTH REMINDERS
Don't Feel Well?
Contact your primary health care physician. Don't have insurance? Contact Neighborhood Health at 703-535-5568.
---
Have questions, concerns or feedback? Contact us.
Stay Healthy!
Wash your hands regularly. Regular soap is OK.