Who has an ACPS Canvas account?
All ACPS employees and students have a Canvas account. Parents also have observer accounts and can access Canvas via ACPS Academic Access (AAA).
How do I log into Canvas?
ACPS employees and students use their ACPS Google account to log into Canvas. If you are not already logged into Google, you will first be prompted for your ACPS Google credentials when attempting to access Canvas.
Employees and students can access ACPS Canvas at https://acps.instructure.com
If you have any problems logging in, please contact canvas@acps.k12.va.us.
How do I get help?
ACPS has purchased the Tier I support package from Canvas. This means that any ACPS employee can contact Canvas support directly via phone, online chat or email at any time (24/7/365) for assistance.  Just call 1-844-821-5454 or click the "Chat with Canvas Support" link in the help menu within Canvas.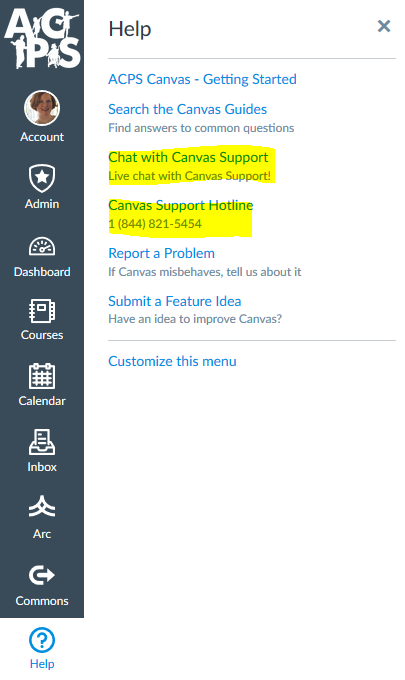 Questions?
Contact Technology Services at canvas@acps.k12.va.us or speak with the Technology Integration Specialist at your school if you have any questions.
Save
Save
Save
Save
Save
Save