There has been a lot going on this week at ACPS.
Firstly, I am delighted to tell you that tomorrow we will see the first of our students return to in-person learning. We will be starting with a small group of students with disabilities in kindergarten from our citywide program. It is important that we remain methodical and strategic with our transition into in-person learning with so many uncertainties. Our transition planning remains contingent upon staffing and building capacity. 
Last Thursday, we conducted a simulation of the new health and safety procedures with staff members at Jefferson-Houston PreK-8 IB School. We then invited a student from the citywide program to walk through the new procedures with us. As we transition some of our students to in-person learning, we must keep in mind that in-person learning during a pandemic is significantly different from our learning environment prior to closing our school buildings on March 13, 2020. You can read and watch a video about that exercise below.
For those waiting to transition back to our phased reentry, Learning Activity Packets for our preK-2 students are being distributed next week. These give our youngest learners a quality alternative if screen time is proving challenging. 
I am also delighted to announce that when the upgraded Parker-Gray Stadium opens early next year, our Titan athletes will benefit from permanent lights that will allow practices and events to be held in the evening, with certain conditions attached to ensure our neighbors living adjacent to the stadium face minimal disruption. This resolution, approved this Monday, has been a long time coming. I am very much looking forward to being able to attend Friday night lights at T.C. Williams High School for the first time in 55 years.
The School Board also approved a new Memorandum of Understanding between ACPS and the Alexandria Police Department which covers the role of school resource officers. The scope of the work of these armed school resource officers has been reviewed and amended following feedback from our students and the wider community.
Stay safe, stay healthy, stay informed.
Sincerely,
Dr. Gregory C. Hutchings, Jr.
Superintendent of Schools
Welcoming Back Our Students
Last Thursday, ACPS spent a rainy morning simulating every step of a school day as we plan for the phased reentry of our students into our school buildings. 
Our objective is to ensure a safe and healthy learning environment for our students, staff and families as we welcome you back. 
The simulation went well and staff felt reassured that we could make this work with our students. Schools will begin reopening Thursday, Nov. 5, starting with a small group of our most vulnerable students with disabilities in the citywide kindergarten program for students with autism and intellectual disabilities.
Before leaving home, students will complete a health questionnaire. Students will sit spaced out six feet apart on the bus, in line with the Centers for Disease Control and Prevention (CDC) guidelines. They will be met by their teacher, who will be in protective gear, including face coverings, overalls and gloves. All students must wear a face covering and everyone will stay six feet apart, work behind plexiglass screens and keep all equipment in bags. Cleaners will be on site throughout the day, ensuring high-touch areas are kept clean at all times.
ACPS has put together a video of the simulation to show you what a day will look like from a staff perspective. We have also put together a video of the simulation to show you what a day will look like for a student. 
This is not going to be easy, but we want to see our students back in the building as soon as possible, and we are working hard to make this happen.
Watch the video of the staff simulation: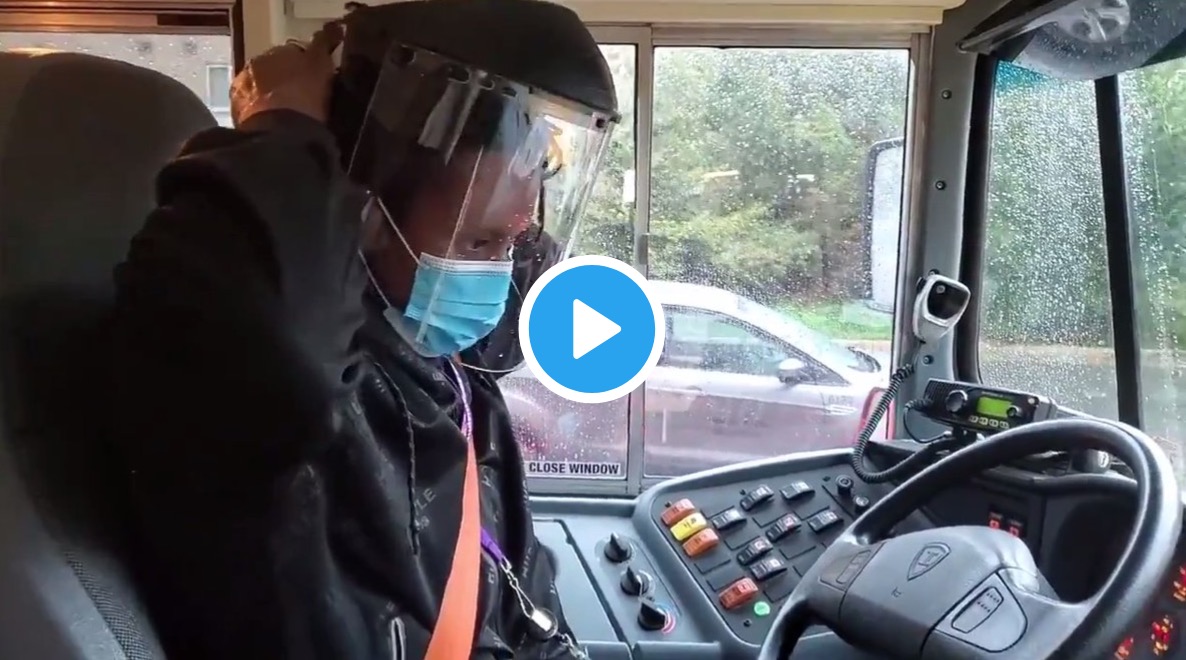 Watch the video of the student simulation: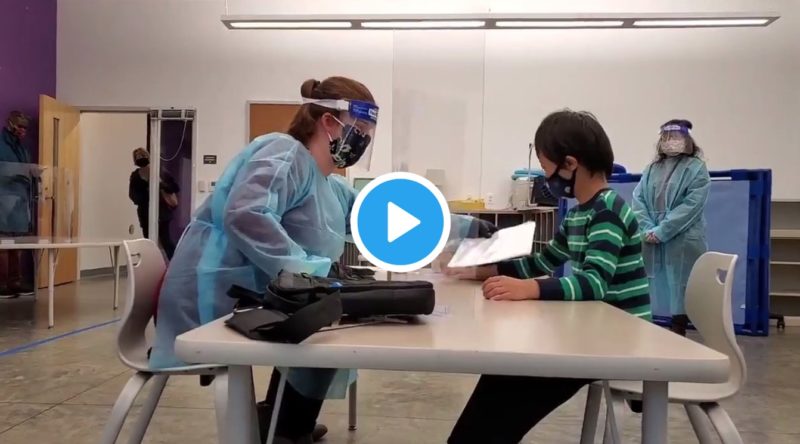 Need Interpretation for Virtual Parent-Teacher Conferences?
Elementary school parent-teacher conferences will be offered on Nov. 11, 12 and 13. If any of your students' families require live language interpretation for your virtual parent-teacher conferences, you have two options:
Telephone Language Line

Interpreter on the virtual call
See staff instructions for each of these interpretation options.
Learning Activity Packets Coming for Our Youngest Learners
In response to concerns from the families of our youngest students that there is too much screen time in the Virtual PLUS+ model, ACPS has created a set of Learning Activity Packets. These materials are designed to complement and support teacher-directed instruction and are aligned to Quarter 2 standards and lessons for grades preK-5.
Schools will distribute K-2 Learning Activity Packets during the week of Nov. 9. Grades 3-5 Learning Activity Packets will be distributed the week of Nov. 16. The resources in these packets will engage students off the screen while being able to practice and apply key academic skills and promote movement, self-expression, creativity, and language development during increased asynchronous time.
For our pre-K students who will begin the second quarter with an exploration of trees, the packets to be distributed on Nov. 9 will contain choice board activities designed to support teacher instruction. Activities will focus on developing math, science, language, literacy, and fine and gross motor skills in a fun way. Students will have the opportunity to investigate and learn about trees' characteristics, creatures living in trees, and the role trees play in our lives. Students will receive material kits during the second quarter to include counting cubes and children's books. We know our youngest learners will enjoy curling up with their new books.
Video Updates from the Superintendent
Superintendent Dr. Gregory C. Hutchings, Jr. is bringing back his video updates, starting with an update about our work to get students back into school. Watch now.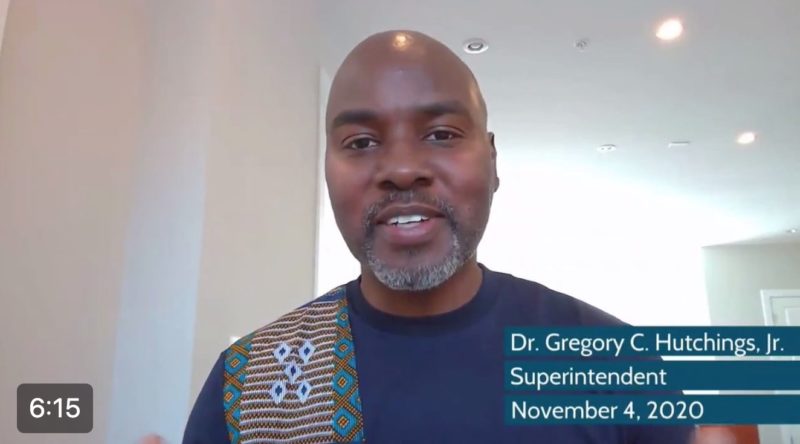 PowerSchool to be Offline Every Other Friday 6-9 p.m.
PowerSchool will be offline for ALL users (students, staff and families) from 6 to 9 p.m. every other Friday beginning this Friday, Nov. 6 for maintenance and upkeep.
Next Week is National School Psychology Week 
The National Association of School Psychologists has designated Nov. 9-13, 2020, as National School Psychology Week. This year's theme is the "Power of Possibility." At ACPS, school psychologists play a vital role in empowering children to further develop and enhance social skills, empathy, problem solving, goal setting and study skills. These characteristics are as important as ever as students navigate their way through virtual learning and the COVID-19 pandemic. Further, our psychologists continue to provide virtual and in-person assessments for students as part of the specialized instruction process. To learn more about ACPS school psychologists and how they support students, staff and families, visit the ACPS School Psychologists webpage. 
School Board Approves New Memorandum of Understanding with Alexandria Police Department
The Alexandria City School Board has approved a new Memorandum of Understanding (MOU) with the Alexandria Police Department (APD), taking into consideration community concerns raised about the role of resource officers in our schools and aiming to boost accountability and equity.
A newly worded School-Law Enforcement Partnership, which clarifies and refines the scope of the relationship between ACPS and the APD, was approved 6-3 by the School Board.
The adjustments are part of the review process for the partnership, which will occur every two years and exists to safeguard the safety and security of our students and staff. The new 2020-22 MOU between ACPS and APD will begin on Nov. 1 and run until Oct. 31, 2022. 
Before the agreement, ACPS conducted a far-ranging review process to consider concerns raised about the presence of armed police officers, known as school resource officers (SROs), in some of our school buildings.
Lights Approved at T.C. Williams Parker-Gray Stadium 
For the first time in its 55 year history, the Parker-Gray Stadium at T.C. Williams High School is set to get permanent lights, resulting from a collaborative process to resolve all outstanding complaints against the school division.
On Monday, Nov. 2, Circuit Court Judge Thomas Horne approved a consent decree memorializing the agreement that resulted from mediation between Woods Avenue and Bishop Lane residents, the City of Alexandria, and ACPS, allowing evening activities at the soon-to-be renovated Parker-Gray Stadium to be illuminated.
The agreement means that students at T.C. Williams will be able to enjoy Friday night lights, a U.S. high school tradition, and host games and practices after dark for the first time.
The Identity Project Update
Last week, the School Board held a public hearing on the renaming of our schools process. ACPS also held the third and final Community Conversation and a forum for Maury families. Next week we will share the feedback from the renaming survey as well as a video of the highlights of what we heard during this process. 
On Nov. 16, the Alexandria City School Board will hold a work session to review the results of the engagement process around the consideration to rename T.C. Williams High School and Matthew Maury Elementary School. Part of the presentation will include a recommendation from the superintendent on the name changes. The Board is scheduled to vote on whether to rename the two schools on Nov. 23.
Watch The Identity Project Community Conversation #3: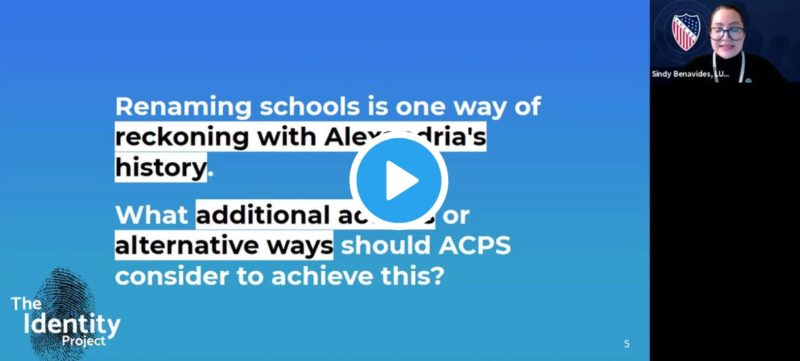 Watch the Maury Family Forum: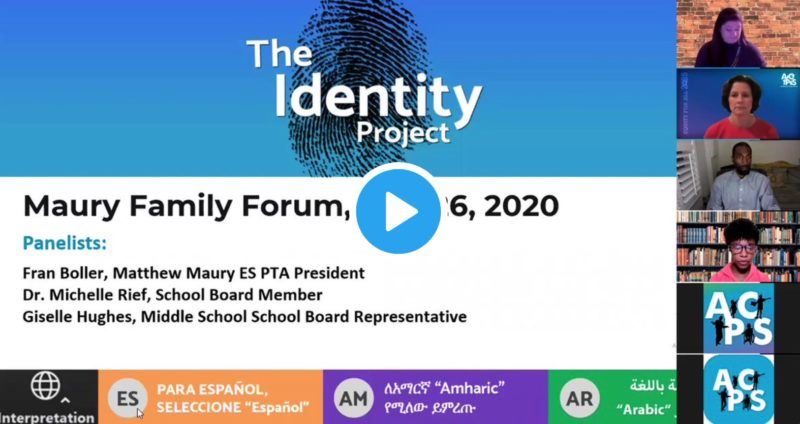 Temperature Screening at ACPS Buildings
Anyone requiring access to an ACPS facility or school will be required to undergo a temperature check to help prevent the spread of the coronavirus. Testing stations will be established at seven locations, at or close to ACPS meal distribution sites and locations where major summer construction will take place. Screening will take no more than three minutes to complete and will involve the use of a clinical forehead thermometer.
All those with a temperature of 100.0 degrees Fahrenheit or lower (per Alexandria Health Department guidelines) will be given a dated wristband and be cleared to work as long as they are in possession of appropriate personal protection equipment consisting of masks and gloves.
Should an individual record an elevated temperature, that person will be informed that they are unable to report to work at an ACPS site and will be advised to call his or her supervisor.
Find out more about this measure in this Board Brief.
HEALTH REMINDERS
Don't Feel Well?
Contact your primary health care physician.
---
Have questions, concerns or feedback? Contact us or contact your direct supervisor.
HR Questions? Contact hr@acps.k12.va.us.
Stay Healthy!
Wash your hands regularly. Regular soap is OK.