It is official! Yesterday, we launched our new school year with our Virtual PLUS+ model on the first day of a unique fall semester! Well done to our students, our families and our staff on an enthusiastic start to the 2020-21 academic year.
As we adapt to the new school year in a virtual environment, we know that there will be adjustments and uncertainties that we will all encounter in these first days. I am sure we will all have gotten into the swing of things by week's end.
This week marks the 100th anniversary of the Parker-Gray School — one of the first public schools for African Americans in Alexandria. Students at the Parker-Gray School barely had what they needed to learn. In fact, they were lucky to have any school books, chalk or chalk boards. Members of the community provided chairs and basic equipment, and any African American student who wanted to continue their education past eighth grade had to potentially walk to Washington, D.C., or at least 21 blocks to catch a bus to school and back home.
The story of Alexandria City Public Schools is long, complex and unique. Ours is a story of a community that faced adversity, racism, bigotry and neglect. With the odds against them, many of these early students went on to become champions for equality and civil rights, just as our students continue to do today. It is our duty to carry on their legacy. We must refuse to give up on any student and continue to fight for an equitable education for all regardless of their race, socioeconomic status, ZIP code, family circumstances and/or educational ability.
To do that we must acknowledge our racial inequities and also understand the history within our city that has contributed to the barriers that many of our young people still face today. On the first week of school for the 2020-21 academic year we welcomed students from 119 countries who speak 120 languages. We celebrate and honor our diversity. But the courageous fight for equity is far from over. In order to move on, we have to acknowledge that modern day segregation still exists and that our work is not yet done.
This is the legacy that we have a duty to fulfill for the sake of all our students, past, present and future.
Welcome to the new school year!
Stay safe, stay healthy, stay informed — and have a great first week of school.
Sincerely,
Dr. Gregory C. Hutchings, Jr.
Superintendent of Schools
Add the Equity for All 2025 Logo to Your Email Signature
We are asking all ACPS staff to update their email signature for the start of the academic year, by adding the Equity for All 2025 logo. Your email signature reflects the work we do as a school division to support students every day.
Please take three minutes to update your email signature today, following the instructions below. And help support the goals of ACPS by reminding other staff to do the same if you receive an email without the correct signature.
In addition to the Equity for All 2025 logo, please make sure your signature includes your full name, title and details of how to contact you while we are virtual.
How to add the Equity for All 2025 logo to your email signature:
Right-click on the Equity for All 2025 logo below, and choose 'Save Image As…' (or similar) to download and save the image to your computer.

In Zimbra, click on the 'Preferences' tab, the tab farthest to the right, located above the search bar.

Select 'Signatures' from the left hand menu.

Enter your signature text (name, title, contact information) in the text box.
Across from the box that says 'Name: Signature #1' there is a drop down menu. Select 'Format as HTML' from the drop down menu.


Place your text cursor on an empty line at the end of your signature text, where the Equity for All 2025 logo will go.
Click the 'Insert/Edit Image' icon on top of the signature text box.

Click the 'Choose File' button and find and select the Equity for All 2025 file you downloaded to your computer in Step 1 above.
Click the 'OK' button.
Click the 'Save' button.
Update Your Voicemail and Email Auto Reply Messages
Please make sure your office or school voicemail and email auto reply messages (if you use one) are updated.
Voicemails should include the fact that we are open and will be checking phone messages regularly. They can also remind parents about how to access the Virtual PLUS+ Helpline or other school resources.
Email auto reply messages should only be used when you are on vacation/leave, or when you receive a large amount of email and want the sender to know when you will be able to respond.
And don't forget to update your email signature! As a staff member you represent ACPS and we strive to provide Equity for All.
Watch the Superintendent's First Day of School Message
Welcome to the 2020-21 academic year! We hope you had a great first day of school. See the message below from Superintendent Dr. Gregory C. Hutchings, Jr.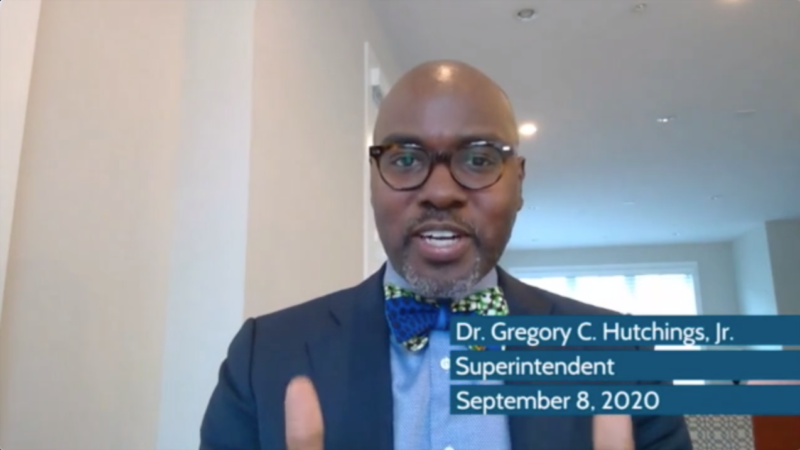 See How the First Day of Virtual PLUS+ Went
Yesterday was a historic day for ACPS, with 16,000+ students online for the start of Virtual PLUS+ learning. Take a look at our video of classes across the district!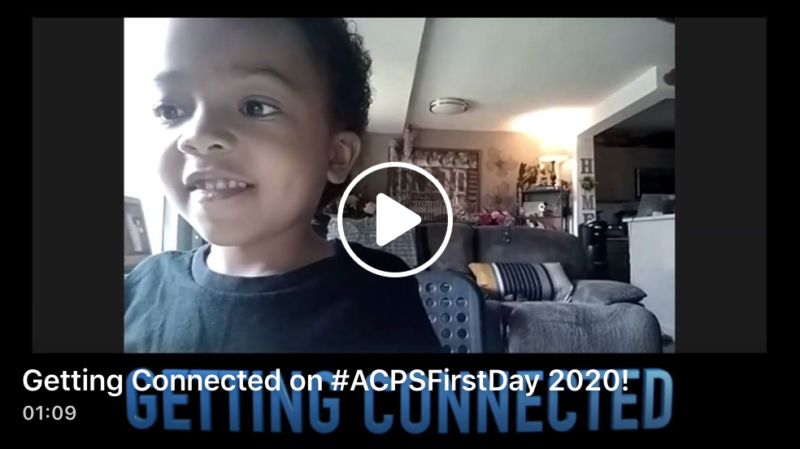 Support the Virtual PLUS+ Student Supply Drive
It is not too late to help make sure every child in our community has the materials they need to succeed this academic year.
This year, we are not asking for physical items to be donated due to the risk of COVID-19, but instead are appealing for financial assistance to support the following:
Virtual PLUS+ Basic Supply Kits

Technology Access

Teacher Designated Projects
Find more information and how to donate.
Free Coronavirus Testing
Coronavirus testing is available at various locations across Alexandria. See the COVID-19 Testing in Alexandria (PDF) flier for a list of locations and contact information.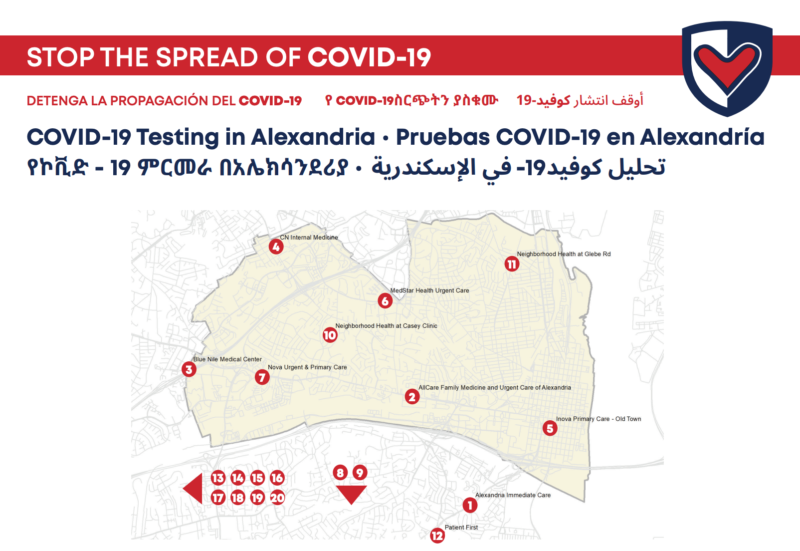 For more details see the Alexandria Health Department website. 
One Hundred Years Ago This Week, Parker-Gray Elementary School Opened 
On the morning of Sept. 8, 1920, Parker-Gray Elementary School opened its doors. It would later become the first high school in Alexandria to educate African American children, and it has left an indelible mark on our city. To celebrate this important anniversary, ACPS created a short film to commemorate those who battled for the right to a quality public education for those who had been denied.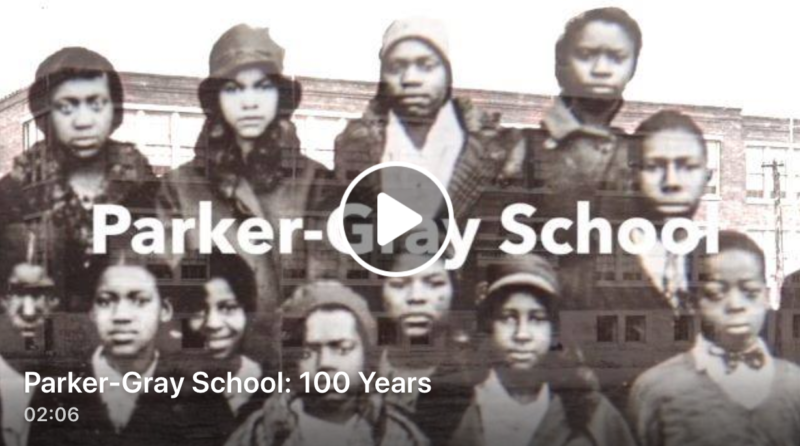 Read more about the history of Parker-Gray.
MacArthur Modernization One Step Closer
On Tuesday, Sept. 1, the Alexandria City Planning Commission unanimously approved the Development Special Use Permit (DSUP) to allow the modernization of Douglas MacArthur Elementary School to move ahead. The City Council will now consider the DSUP at a public hearing on Saturday, Sept. 12. You can register to participate in the hearing.
See more information on the Planning Commission hearing and Douglas MacArthur Modernization Project.
Temperature Screening at ACPS Buildings
Anyone requiring access to an ACPS facility or school will be required to undergo a temperature check to help prevent the spread of the coronavirus. Testing stations will be established at seven locations, at or close to ACPS meal distribution sites and locations where major summer construction will take place. Screening will take no more than three minutes to complete and will involve the use of a clinical forehead thermometer.
All those with a temperature of 100.0 degrees Fahrenheit or lower (per Alexandria Health Department guidelines) will be given a dated wristband and be cleared to work as long as they are in possession of appropriate personal protection equipment consisting of masks and gloves.
Should an individual record an elevated temperature, that person will be informed that they are unable to report to work at an ACPS site and will be advised to call his or her supervisor.
Find out more about this measure in this Board Brief.
HEALTH REMINDERS
Don't Feel Well?
Contact your primary health care physician.
---
Have questions, concerns or feedback? Contact us or contact your direct supervisor.
HR Questions? Contact hr@acps.k12.va.us.
Stay Healthy!
Wash your hands regularly. Regular soap is OK.