America's Supernanny Dr. Deborah L. Tillman, from the Parenting Movement Forum, told parents to first change their own behavior if they want to see their children change, at a session on good parenting at T.C. Williams High School on Wednesday.
The Supernanny, known as the modern-day American version of Mary Poppins, was part of a panel about parenting in the 21st century hosted by the Family and Community Engagement Center (FACE) in honor of National Family Engagement Month.
Dr. Tillman provided parents with tools, tips and strategies for parenting in the 21st century including looking at their own behavior first before they judged their children.
"There is no such thing as the perfect parent, but we have to be models for how we want our children to behave," Dr. Tillman told the audience.
She was part of a panel made up of ACPS executives an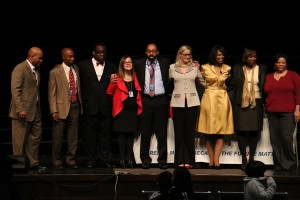 d staff, including Director of Counseling Dr. Marcia Jackson, Director of Alternative Programs and Equity Victor Martin and Coordinator for Positive Behavioral Interventions and Supports Sheri James, who answered questions from the audience on bullying, inclusion and on home schooling versus a public school education.
"We love having a star like America's Supernanny to talk about the thing that matters most to us all – our families and our children. Through the ACPS 2020 Family and Community Engagement Goal, we recognize that the education of our youth is a responsibility the school division shares with our families. Family and community engagement is about connecting with families and the community in educating Alexandria's young people and nurturing the vital role that families play. Our pledge is to stay connected so that every student can succeed," said Tammy Ignacio, who represented Superintendent Alvin L. Crawley at the event.