As the cold weather settles in and we brace for winter weather over the next few months, we would like to remind you of how to stay informed when weather emergencies surface.
Closings and Delayed Openings
If schools are to be closed or have a delayed opening, we will begin distributing that message by 5:30 a.m. Phone calls will NOT be made. Instead, please make sure your school registrar has the primary parent or guardian's correct cell phone number and email address in our system so that you receive our weather alerts by text message and email.
The message will also be shared on: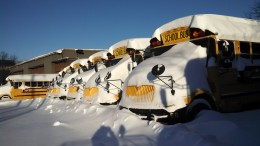 Early Dismissals
If schools will be dismissed early, we will distribute that announcement during the school day.
Opening as Regularly Scheduled
If schools are open as regularly scheduled, an announcement will not be made.
Weekend Closures
If ACPS closes any or all of its facilities over a weekend, activities and events at those facilities may also be cancelled or rescheduled. Before heading out, check the ACPS website.
Learn more about emergency closing and delay procedures on our website.
Now that everyone is informed and connected, bring on the snow!