en español (PDF) | አማርኛ (PDF) | بالعربية (PDF)
This Week's Headlines:
---
Dear ACPS Families and Community,
To create the best experience for our school communities, we appreciate your feedback on several vital initiatives. In this issue of Express, you will find important division-wide surveys which include the 2021 Equity For All Climate Survey, the online form on the Elementary and Secondary School Emergency Relief (ESSER) Fund III, and feedback on the ACPS Student Code of Conduct. Please take a few minutes to provide your feedback on these important surveys from the links below.
I am excited for the weekend, when we will host an outdoor graduation for the Class of 2021 on Saturday, June 12. This class has shown remarkable resilience over the past 15 months, as they navigated a dual pandemic related to the uncertainties of COVID-19 and racial inequities in our community and across the Nation. Attendance is limited, so please join us in celebrating their success through one of our livestream feeds on YouTube or Facebook or on ACPS-TV; interpretation is available in Spanish, Arabic and Amharic.
Along with families and ACPS staff, the Alexandria community plays a significant role in getting our students to this point in their lives. We are fortunate to have The Scholarship Fund of Alexandria (SFA) as an advocate for our children. The organization brings Alexandrian businesses and individuals together to provide financial support for ACPS graduates pursuing higher education. This year, SFA has announced $525,000 in need-based college scholarships, supporting 183 students. This community support is truly incredible and will make a lasting impact for these deserving students.
Lastly, I cannot say enough about our staff. Every day, ACPS staff members continue to embrace new challenges and opportunities to learn more and develop their skills. I am thrilled to congratulate nine incredible Food and Nutrition Services staff members, who took on a year-long professional development course on their own time to earn certification in the Guest Services Gold Program. Our staff continues to strive for excellence in all areas of education.
Dr. Gregory C. Hutchings, Jr.
Superintendent
Share Your Voice: Take the 2021 Equity For All Climate Survey by June 20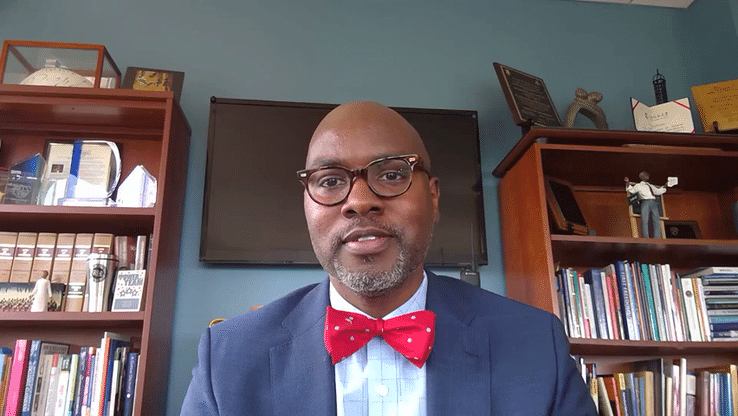 VIDEO: Learn more about the 2021 Equity For All Climate Survey
Thank you for sharing your voice by June 20, 2021, on the ACPS equity climate! We know you have taken many surveys, filled out numerous forms, and completed multiple polls over the course of this school year, and we greatly appreciate the information you have shared with us for planning purposes. Like all organizations, our constituency is our most valuable resource.
As a continuation of our five-year strategic plan, Equity for All 2025, we are asking all families, staff, and those students in grades 6-12 to participate in the 2021 ACPS Equity For All Climate Survey. Your candid feedback will inform ACPS about the racial and cultural climate in our schools and help our school division advance the goals in our strategic plan.
The survey is open through June 20, 2021, and is available online in English, Spanish, Amharic and Arabic.
Share Your Voice: Take the Survey Now >
Alexandria City Council Approves ACPS request for Additional Funding to Plan for a Pool at Minnie Howard Redevelopment
At its June 9, 2021, legislative meeting, the Alexandria City Council approved the ACPS request for additional funding to include an aquatic center at the redeveloped Minnie Howard campus. The aquatic center will feature a competition-size pool to accommodate the currently unmet needs of Alexandria swimmers, teams and clubs. The total construction cost estimate at the early concept design phase for the aquatic facility is $18.5 million to $19 million. The council approved an additional $12.5 million to supplement $6.5 million from ACPS's High School Project Budget to fund the aquatic center. ACPS and the City of Alexandria Department of Recreation, Parks and Cultural Activities (RPCA) will work collaboratively to create a proposed shared-use matrix for ACPS students and community members.
Alexandria School Board Chair Meagan Alderton said "We are thrilled that the Alexandria City Council approved additional capital improvement funding to plan for a pool at the redeveloped Minnie Howard campus. This project will benefit our community in so many ways, and my School Board colleagues, along with the superintendent, join me in thanking the City Council for supporting this request."
View the Swimming Pool Options (PDF)
The Scholarship Fund of Alexandria Awards $525,000 in Scholarships to the T.C. Williams Class of 2021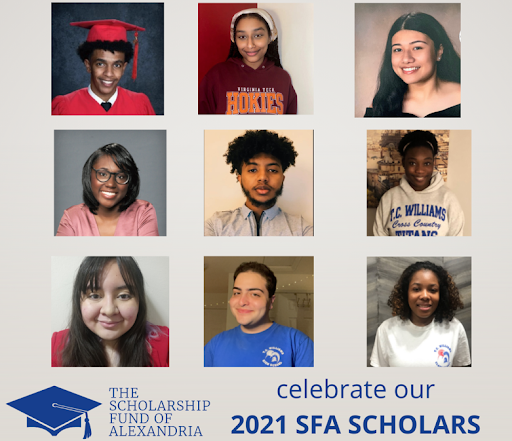 The Scholarship Fund of Alexandria (SFA) awarded $525,000 in college scholarships to 183 seniors in the T.C. Williams High School Class of 2021. This is the largest amount awarded for first-year scholarships in the organization's 35-year history.
The SFA scholarships support students throughout all four years of their college education. The SFA will also renew the three previous years' recipients, which will be distributed later this summer. In total, the SFA will award over $1 million in scholarships to T.C. graduates and alumni during 2021. More than half of the students receiving scholarships are the first in their family to attend college.
"This scholarship is very important to me and my family because we no longer have to worry about the financial aspect of college and I can be more focused on my studies," acknowledged Mikias Elias, who is headed to Virginia Tech to study mechanical engineering. Leonel Naves had that same sense of relief, "The scholarship will help me a lot because I can start college classes right away and not have to wait until I save enough money. I will begin my studies at NOVA and then transfer to George Mason University, where I plan to major in education."
The SFA is a nonprofit 501(c)(3) organization providing scholarships and financial aid advising to students of Alexandria City Public Schools. Since 1986, SFA has awarded $17 million in scholarships, making college dreams become reality for more than 5,000 students. Learn more about the 2021 scholarship recipients on the SFA website.
ACPS Seeks Community Feedback by June 18 on Elementary and Secondary School Emergency Relief (ESSER) Fund III
ACPS received funding through the American Rescue Plan (ARP) Act Elementary and Secondary School Emergency Relief (ESSER) III grant program. The purpose of the ARP ESSER III Fund is to help safely reopen and sustain the safe operation of schools and address the impacts of COVID-19 on the nation's students by addressing students' academic, social, emotional, and mental health needs.
This grant provides schools with funding to address the impact COVID-19 has had on services to students during school building closures. It also provides funding to develop and implement plans for the return to normal school operations. See more information on the ACPS website.
"As part of this process, it is important for ACPS to hear from our community members about how they would like to see this grant used in support of students, staff and school operations," said Superintendent Dr. Gregory C. Hutchings, Jr.
Members of the ACPS community can submit their input using the Online Feedback Form which is available in English, Spanish, Amharic, and Arabic with a deadline that has been extended through June 18, 2021. Community members can also provide comments at the 5 p.m. School Board Public Hearing on June 17, 2021, which is focused on the fall reopening; another public hearing on the ESSER III plan will be held in August 2021.
Online Feedback:
All members of the ACPS community are welcome to submit their input.
This online feedback form is open until 11:59 p.m. on June 18, 2021.
The feedback form is being shared with all ACPS families and staff in the ACPS Express and Insider, and is accessible online for all community members.
School Nutrition Services Staff Become Certified in Guest Services Gold Program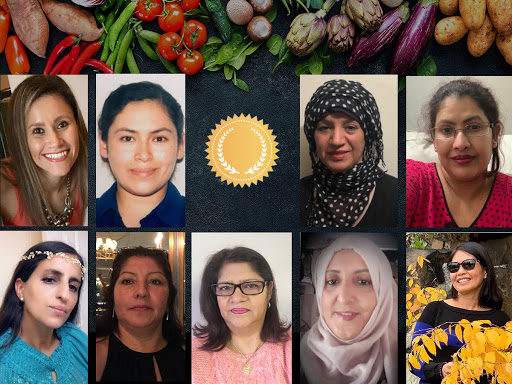 At the end of May, nine ACPS School Nutrition Services employees earned certification in the professional development Guest Services Gold Program, and eight of them went on to pass the national exam. "Our goal was achieved through contextualizing customer service, hospitality, English literacy, and computer skills into one program. The Guest Services Gold program fits perfectly with ACPS' core values of being more welcoming and empowering our workforce," said ACPS Director of Adult Education Learning Teri W. Barnett, M. Ed.
Newly certified staff member Mirtha Navarrete said she chose to take the course because, "You should never give up. If you ever feel like it's too late to pick up and learn something new, start anyway because you might surprise yourself and everyone." The nine women hail from six countries and have been in the U.S. for an average of 23 years; most said they sought to increase their English skills and be more professional in their daily work.
The ACPS School Nutrition Services Department encouraged staff to take part in this year-long professional development program made possible through a partnership between ACPS and the Alexandria Adult Learning Center, with support from the Literacy Council of Northern Virginia. The course was voluntary and required a commitment of 70 hours of virtual instruction outside of their normal working hours.
Congratulations, Meryame Bentaleb, Saeeda Abobakar, Zoubida becerra, Elvia Canales, Leslie Jaldin Zalles, Jenny Merino, Mirtha Navarrete, Hoang anh Nguyen and Zobaida Razzaque (Ruby)!
Titan Signing Day 2021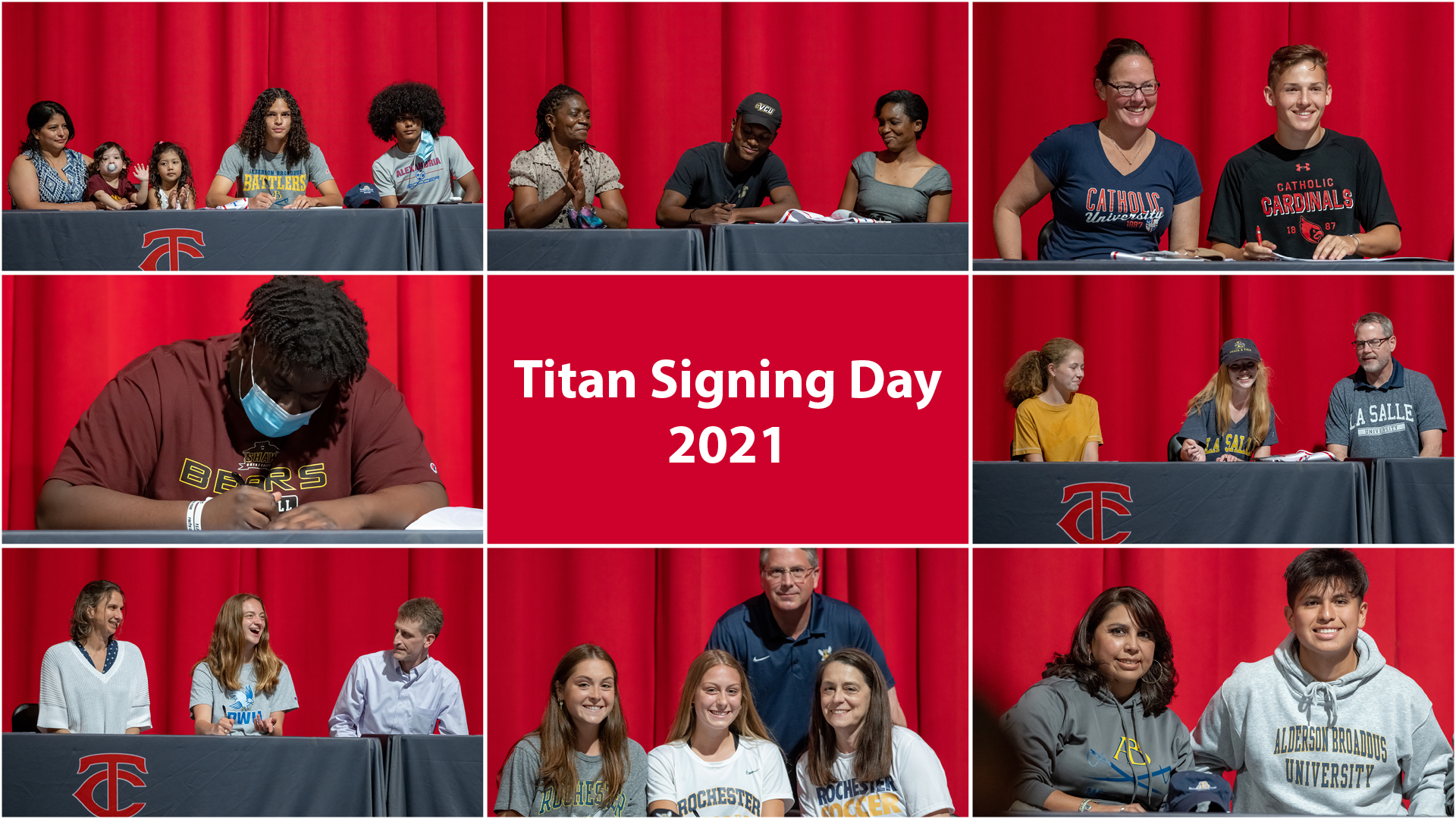 Photo credit: Anna Jaeger
Congratulations to our 30 Titan athletes who signed to compete in collegiate athletics. The official signing day was Friday, June 4. Athletes were able to sign their letters of intent with family members. Go, Titans!
Baseball: Tony Ignacio, Fairmount State • Josh Goodrich, Virginia Wesleyan
Crew: Braden Porterfield, Northeastern University • Cameron Bowman, University of Central Florida • Katie Dennis, Syracuse • Grace Yokitis, United States Coast Guard Academy
Lacrosse: Patrick Filios, Rollins College • Josh Collins, Clark University
Football: Alphonzo Baker, Shaw University • Chacai Campbell, Otterbein University • Michael Honesty, Vermillion College • John Kanu, Vermillion College • Jessie Bonilla, Vermillion College • Osman Kamara, Vermillion College • Kindo Kamara – Vermillion College
Soccer: Emma Bates, University of Rochester • Erika Harwood, Georgetown University • Dicarlo Peredo – Torrico, Alderson Broaddus University • Dereck Reyes, Alderson Broaddus University • Maximilian Penczar, The Catholic University of America • Juan Torres, St. Francis University • Charles Schweinefuss, Bridgewater College
Swimming: Abigail St. Jean, Roger Williams University • Quinn Hardimon, Hampden Sydney College • Ronan Lauinger, Colorado School of Mines • Myla Rice, Washington & Lee University
Track & Field: David Coles, Virginia Commonwealth University • Joshua Peterson, Virginia State University • Emma Reynolds, Lasalle University
Softball: Jahaira Medrano, Richard Bland College of William & Mary
Celebrate The Titans Class of 2021: Watch Graduation Live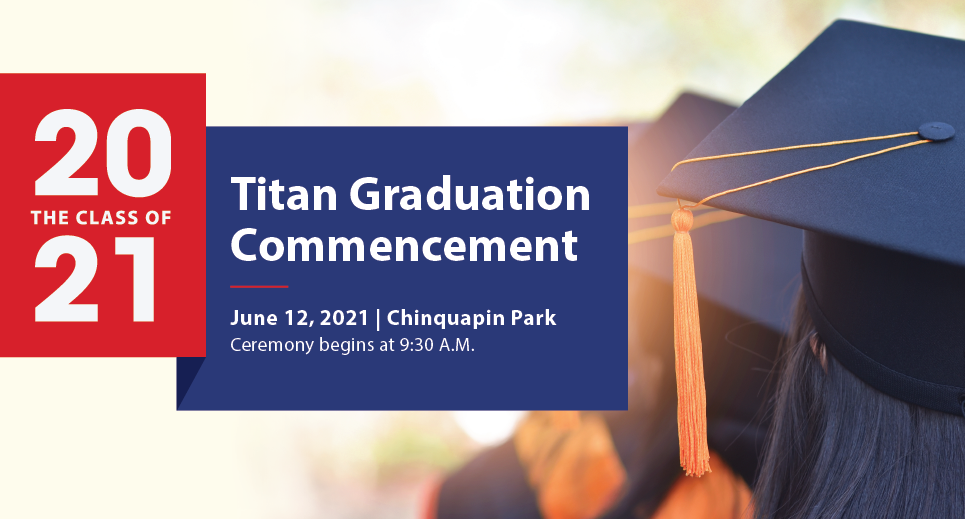 The T.C. Williams High School Class of 2021 graduation ceremony will be broadcast live beginning at 9:15 a.m. on Saturday, June 12, 2021.
Celebrate LGBTQ Pride Month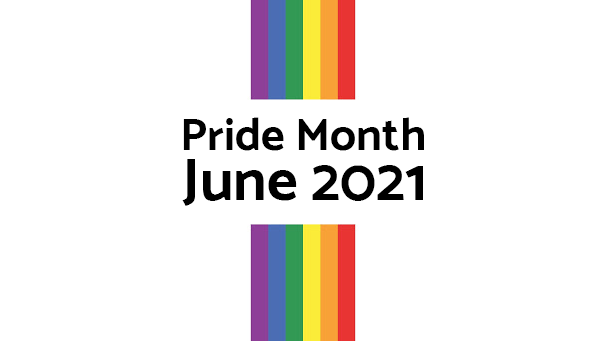 At ACPS, "Equity for All" is essential. Equity for All has five core values that ensure ACPS is welcoming, empowering, equity-focused, innovative and results-driven. We believe that education, awareness and action will allow all of our community members to feel empowered through equity and justice. This month, we recognize and celebrate Lesbian, Gay, Bisexual, Transgender and Queer (LGBTQ) Pride Month and encourage our community members to learn about the history and impact that the LGBTQ community has made across the world. Learn more on the Library of Congress website.
Feedback on the ACPS Student Code of Conduct
It is that time of year when we begin reviewing materials and we are seeking your feedback on the ACPS Student Code of Conduct. You can review the current 2020-21 Student Code of Conduct.
The Student Code of Conduct is a guide for students, families and staff that provides a uniform set of expectations for student behavior, attendance and academics. It also:
serves as a resource to promote positive school behavior;
describes the multi-tiered systems of support used to provide interventions to students in need of behavioral support;
outlines procedures for concerns such as reporting bullying; and
explains conduct that could result in specific disciplinary actions.
Please take a moment to share your feedback through the Student Code of Conduct Online Survey.
The survey should take about five minutes to complete and will close on June 30, 2021. If you have any questions, please contact Dr. Marcia Jackson at marcia.jackson@acps.k12.va.us.
SummerQuest: Alexandria Library's Virtual Reading Program

From June through August, visit Alexandria Library's Virtual Branch for music, magic, storytelling, reading, nature shows, hands-on activities and more! While the library is in phase three of the reopening plan, all of its events and programs will still be online. Scheduled events for this year's SummerQuest are listed on the Alexandria Library website.
Families Can Get Assistance With Monthly Internet Service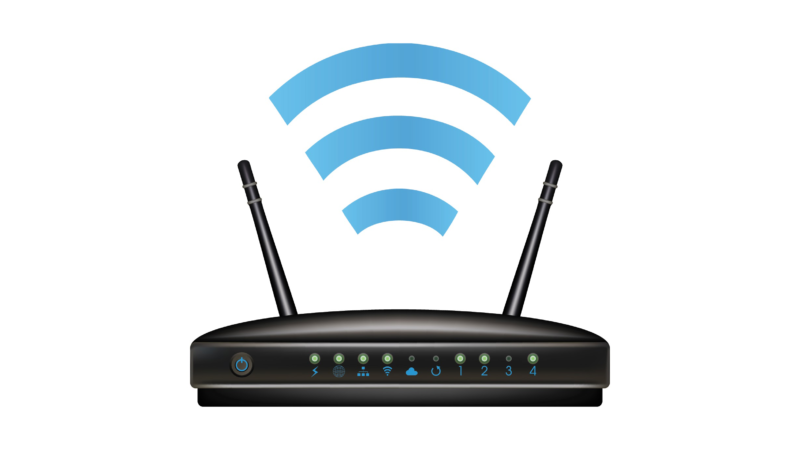 Families who need help with paying for internet service during the pandemic can find out if they are eligible for assistance from the Federal Communications Commission's (FCC) Emergency Broadband Benefit (EBB) program. The EBB is a temporary federal program to help families struggling to afford their monthly internet service. The program provides a monthly discount of not more than $50 on broadband service and associated equipment. Please visit the Virginia Department of Education website for detailed information on eligibility and how to sign up for the services.
ACPS Summer Food and Nutrition Services
ACPS will be distributing food over the summer months, with dates of service between June 24 and August 20, 2021, at five curbside-service locations and several pop-up food distribution sites. To find detailed information for meal distribution school sites and pop-up locations, days and times, visit the ACPS Food Services webpage.
Vote for Your Favorite Mascot and Colors for Naomi L. Brooks Elementary School
Help choose the new mascot and school colors for Naomi L. Brooks Elementary School. The poll will be open June 8-15, 2021. On July 1, 2021, the school will officially take on its new name of Naomi L. Brooks Elementary School. Now that we have secured the new name, it is time to choose the mascot and colors!
The students at the school submitted mascot ideas and colors that they feel best represent Mrs. Brooks and their school. Now, they need your help in choosing one from the finalists.