en español (PDF) | አማርኛ (PDF) | بالعربية (PDF)
Day 43 — Learning from Home Experience
It's always so wonderful when, during trying times, we are able to share good news and champion our staff. Over the past week, I've announced our ACPS Support Staffer of the Year, our Teacher of the Year and our Principal of the Year. All are truly worthy winners of this annual honor. The wonderful reactions from all winners, and those who supported them, have been a joy to witness. It is so important that we continue to recognize our exceptional employees. For a school division to be effective, it requires a staff who believe in the critical importance of our work. ACPS is fortunate to have that throughout.
Teachers are one of the chambers of the beating heart of our school division. I embrace and cherish this since I was one for many years and still fulfill my love for teaching even today. Teachers are our ambassadors, on our front line, and our benchmark for success. Teachers help us to shape the future of our nation, and their role cannot be underplayed.
Today, I would like to tell you a little more about Ashley Sandoval, our Cora Kelly School for Math, Science and Technology physical education instructor, named 2020 Teacher of the Year. Sandoval, affectionately known as Miss Sando, is the kind of teacher we all want for our children. In her five years at Cora Kelly, she has demonstrated both excellence and commitment that has put her in a class of her own. She is universally loved at Cora Kelly where she has thrown herself into every area of school life with such enthusiasm. Congratulations, Miss Sando, and we look forward to your continuing to be an ambassador for education as our 2020 Teacher of the Year!
Yesterday, T.C. Williams High School released plans for its alternative graduation plans for our seniors. Senior year of high school is one of the most important rites of passage in any student's academic career. While our school closures due to the COVID-19 pandemic have upended our traditional ending to a school year, our team has been hard at work trying to plan the most meaningful and special ways to recognize our seniors while also being responsible to ensure our duties to prevent the spread of any disease and ensure public safety and health.
We will be holding a virtual Class of 2020 graduation ceremony on Saturday, June 13, 2020 at 9:30 a.m., the same date and time as the original graduation ceremony. The ceremony will include a keynote graduation address delivered by T.C. Williams High School Class of 2016 graduate, Noah Lyles, who is part of Team USA and was originally scheduled to compete in the Olympics in Tokyo this summer.
Full details of the plans for graduation and senior celebration will be outlined in next Wednesday's ACPS Express. I hope you will all join me in celebrating the very special graduating Class of 2020!
Stay safe, stay healthy and stay informed!
Sincerely,
Dr. Gregory C. Hutchings, Jr.
Superintendent of Schools
Congratulations to Ashley Sandoval, ACPS 2020 Teacher of the Year!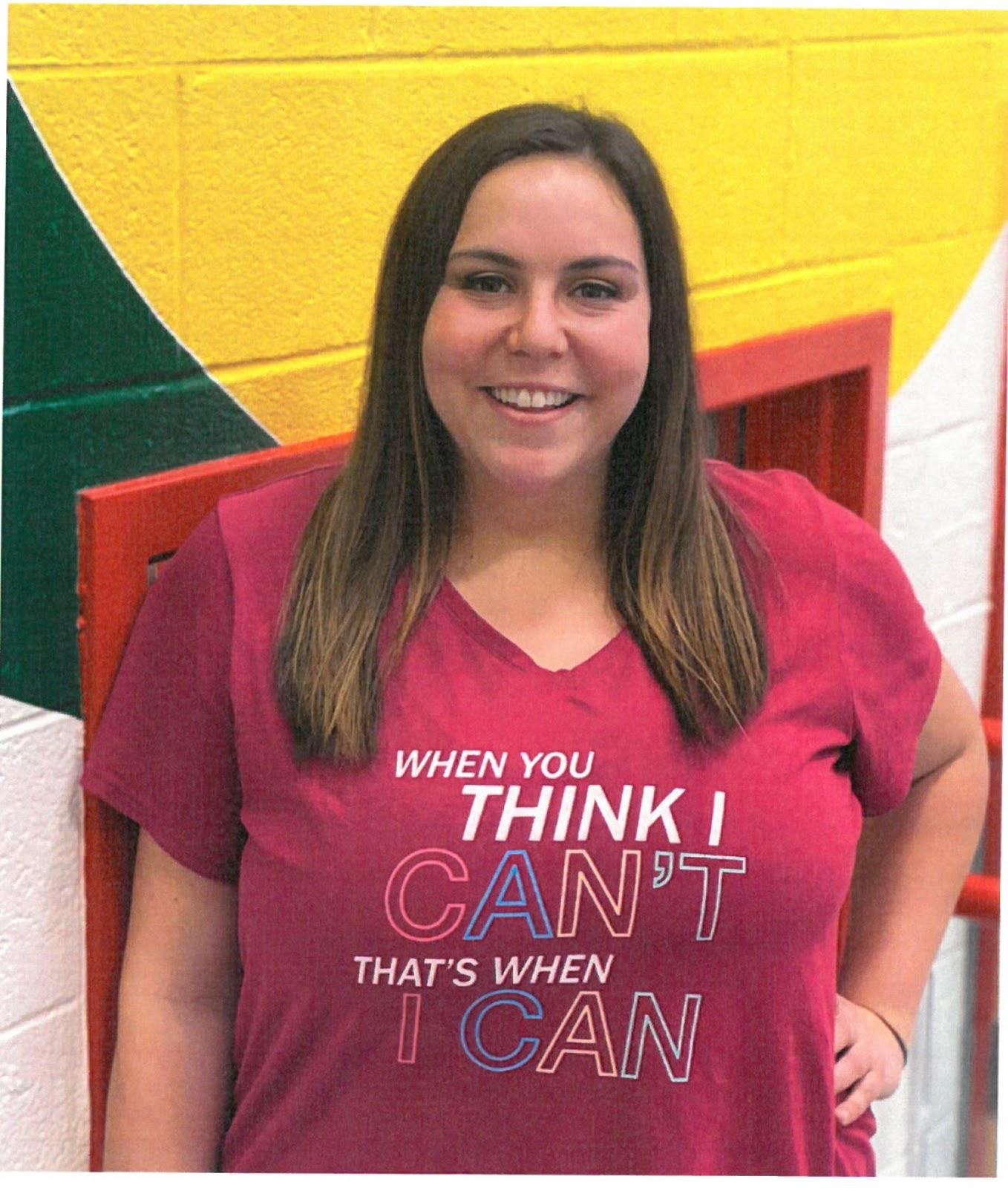 With so many wonderful teachers at ACPS, choosing just one each year is a challenging task. But we are delighted to announce that Ashley Sandoval, physical education teacher at Cora Kelly School for Math, Science and Technology, is the 2020 Teacher of the Year.
Sandoval, known to all as Miss Sando, is a much-loved and respected educator who goes above and beyond on a daily basis to support her students and her school.
She was told the good news on Monday morning and celebrated later during a virtual meeting of the ACPS principals, led by Dr. Hutchings.
Writing on Twitter afterward, she said, "I am in shock! I cannot believe I won teacher of the year in ACPS. I woke up to these awesome people and @DrHutchings on facetime in my living room!"
"A quick clothing change and I was happy to have this surprise. Thank you to everyone that has supported and nominated me."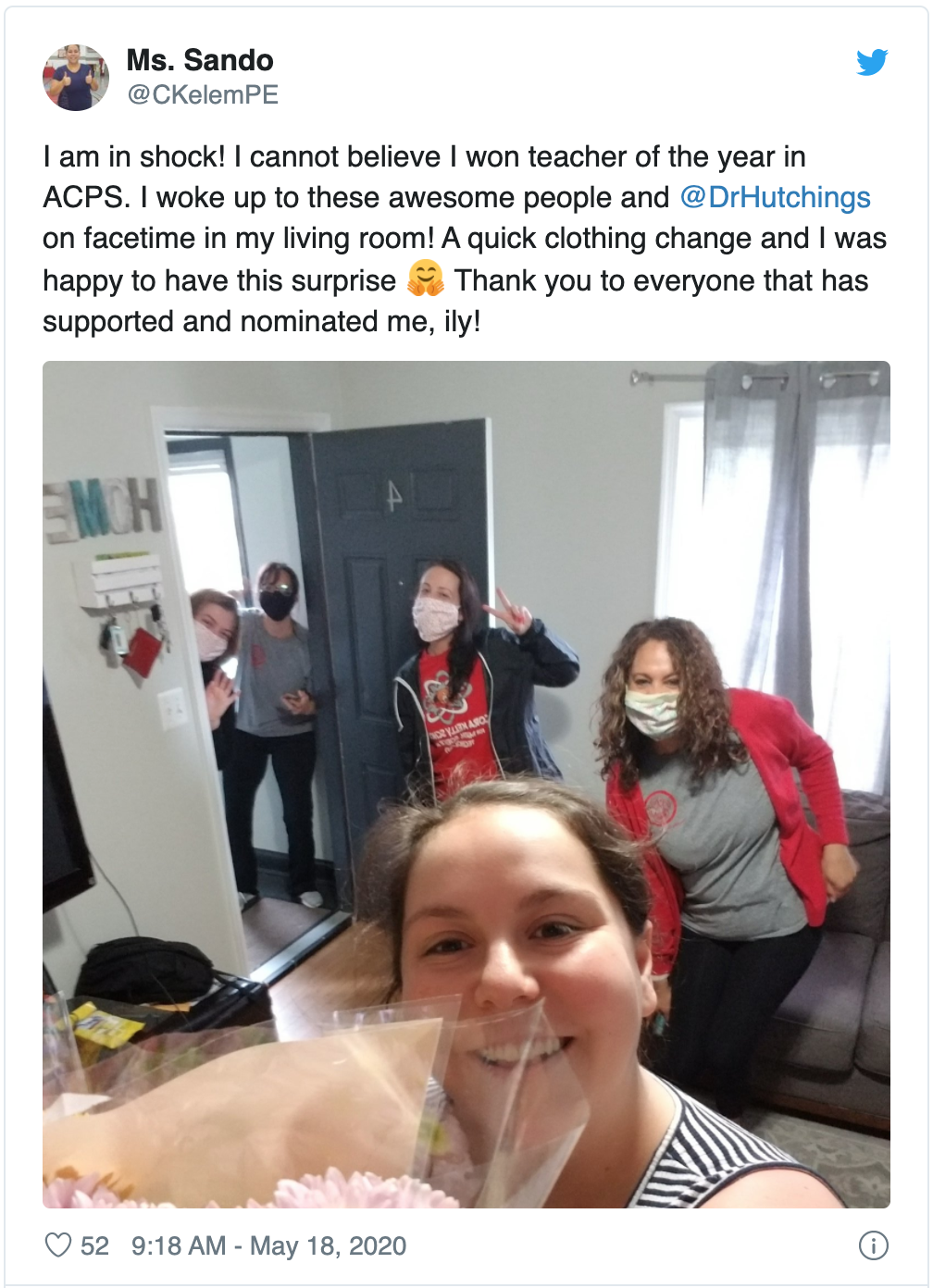 When earlier this year Sandoval was asked what teaching meant to her, she said she valued the opportunity to help prepare children for the future.
She said, "Teaching to me means creating the opportunity for students to grow their knowledge and skills to overcome any obstacles they may face in the future. As a health and physical education teacher, my teaching focuses on life, social, and physical skills needed for a student to be a valuable, safe, and healthy citizen in a community. I want my students to know and understand that they can achieve greatness in any dream or passion they may have through life."
Teachers, educators, students and parents at Cora Kelly gave their overwhelming support to her nomination.
Angie, a fifth grader, wrote about how much her teacher did to help at school. "I nominate Miss Sando for Teacher of the Year. I think she is great because of all the things she does for us here at Cora Kelly. She helps lead the safety patrols, she helps on announcements, and she also teaches us in gym with fun activities!"
Genesis, a fourth grader was grateful for all her teacher did to keep students safe. "I think she is great because every single school morning she stands outside so we can be safe. Another reason she teaches us biking, fitness, swimming, team work. She also helps the Safety Patrols get their job done."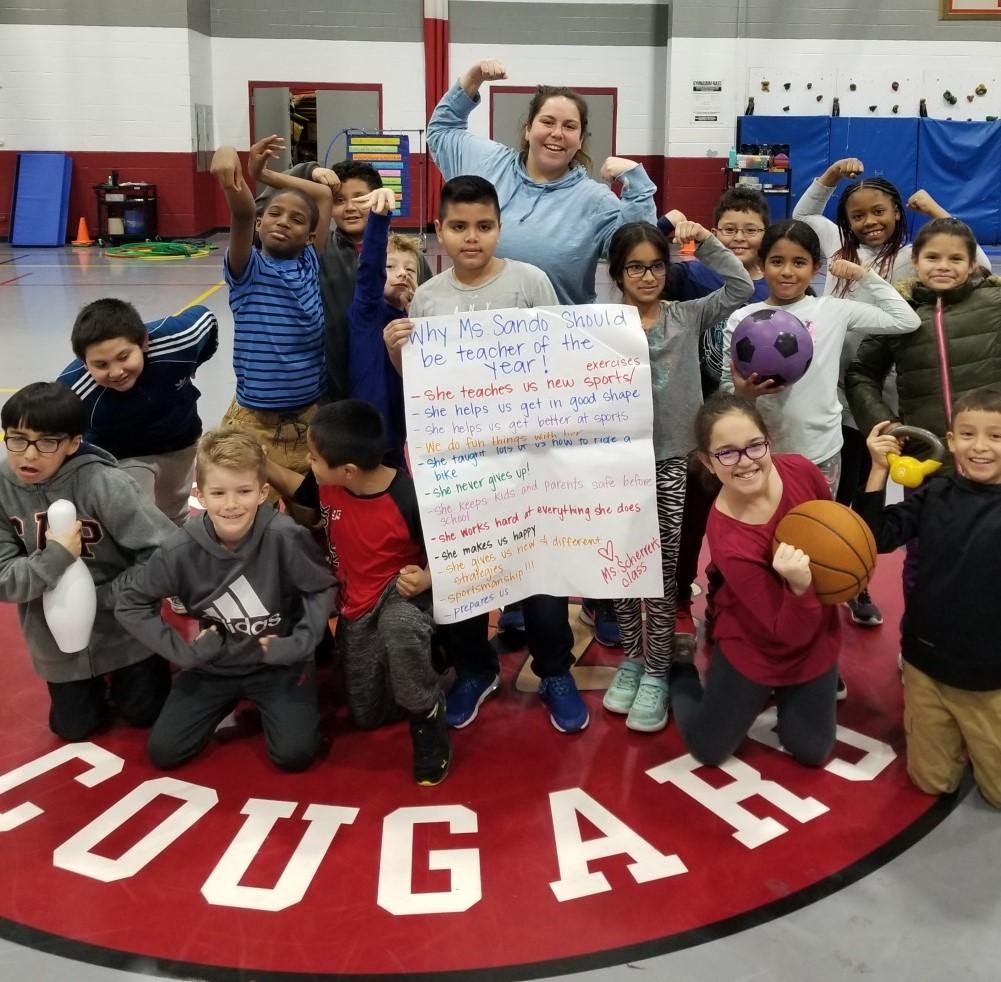 Sandoval has been at Cora Kelly since 2015 and along with her teaching responsibilities, she runs the Professional Learning Community (PLC) meetings for the encore team and is an active member of our Instructional Council and School Improvement Team.
This year, she worked to arrange swimming lessons for fourth graders at the Title I school.
Principal of Cora Kelly, Jasibi Crews, said Sandoval was a worthy winner.
"I could not think of a more deserving teacher," she said.
"The dedication she has for Cora Kelly staff, students, and the community is unquestionable. Ashley is more than just an exceptional physical education teacher. Ashley is the kind of teacher who jumps in to help a colleague in need of support, whether it is to help with a lesson, provide an idea, or connect with a student. Ms. Sando, as our Cora Kelly Cougar students call her, will volunteer her time to plan a fun end of the year talent show and will make sure that field day is unforgettable. She knows every student's name and embodies our inclusive, loving Cora Kelly way in all that she does."
Watch as Dr. Hutchings congratulates Miss Sando on Zoom, and Cora Kelly Principal Jasibi Crews surprises her at her home: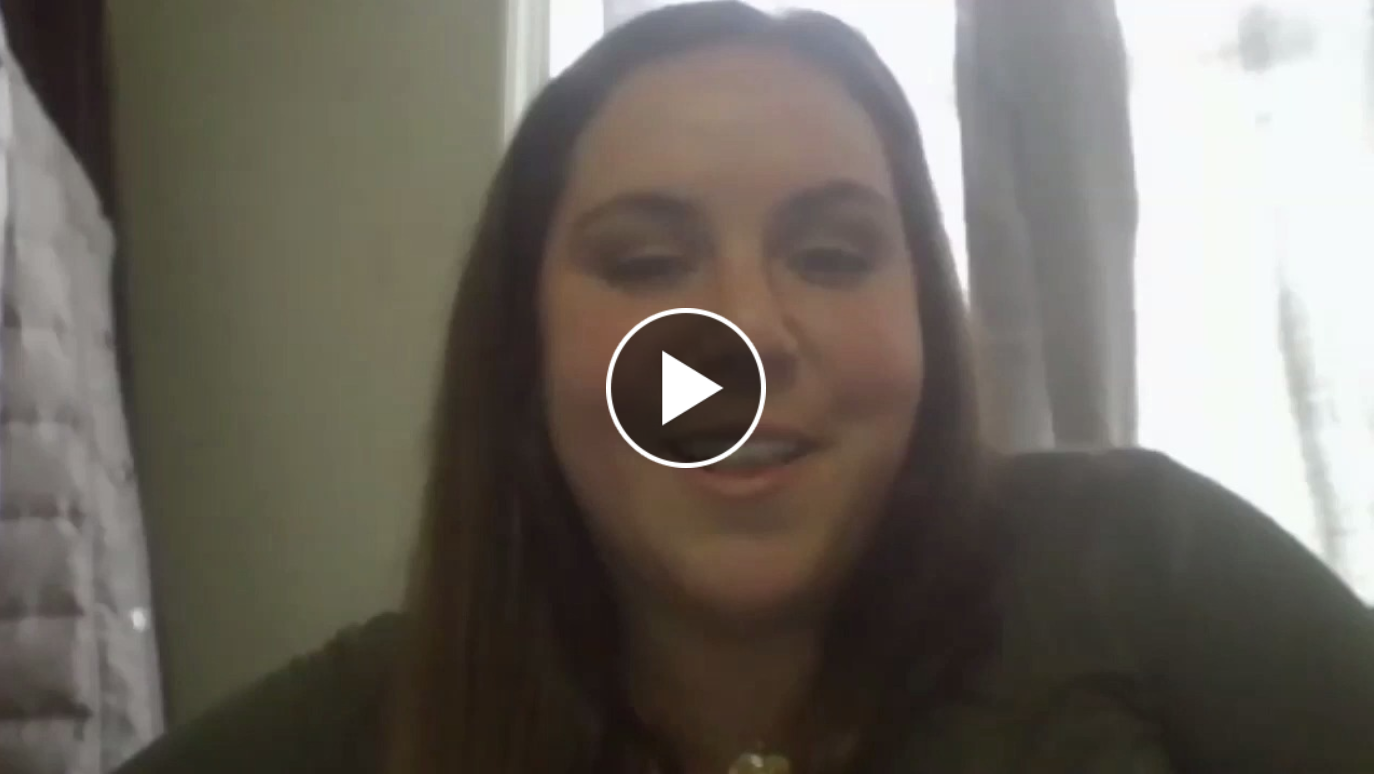 Your Questions Answered
In the last video Q&A, Superintendent Dr. Gregory C. Hutchings, Jr. answered questions on the school calendar and enrollment.
When is the last day of school? 
Have you considered ending the school year before the anticipated date?
Will Campagna or the Recreation Department's summer programming be allowed inside the school buildings?
Will you still have some version of Kindergarten Prep this summer?
Is Kindergarten Registration taking place as usual?
Read the answers to these questions in our daily video transcripts, available in English, Spanish, Amharic and Arabic.
Watch the Q&A video or see answers to these questions in the updated FAQ.
We welcome you to send us your questions.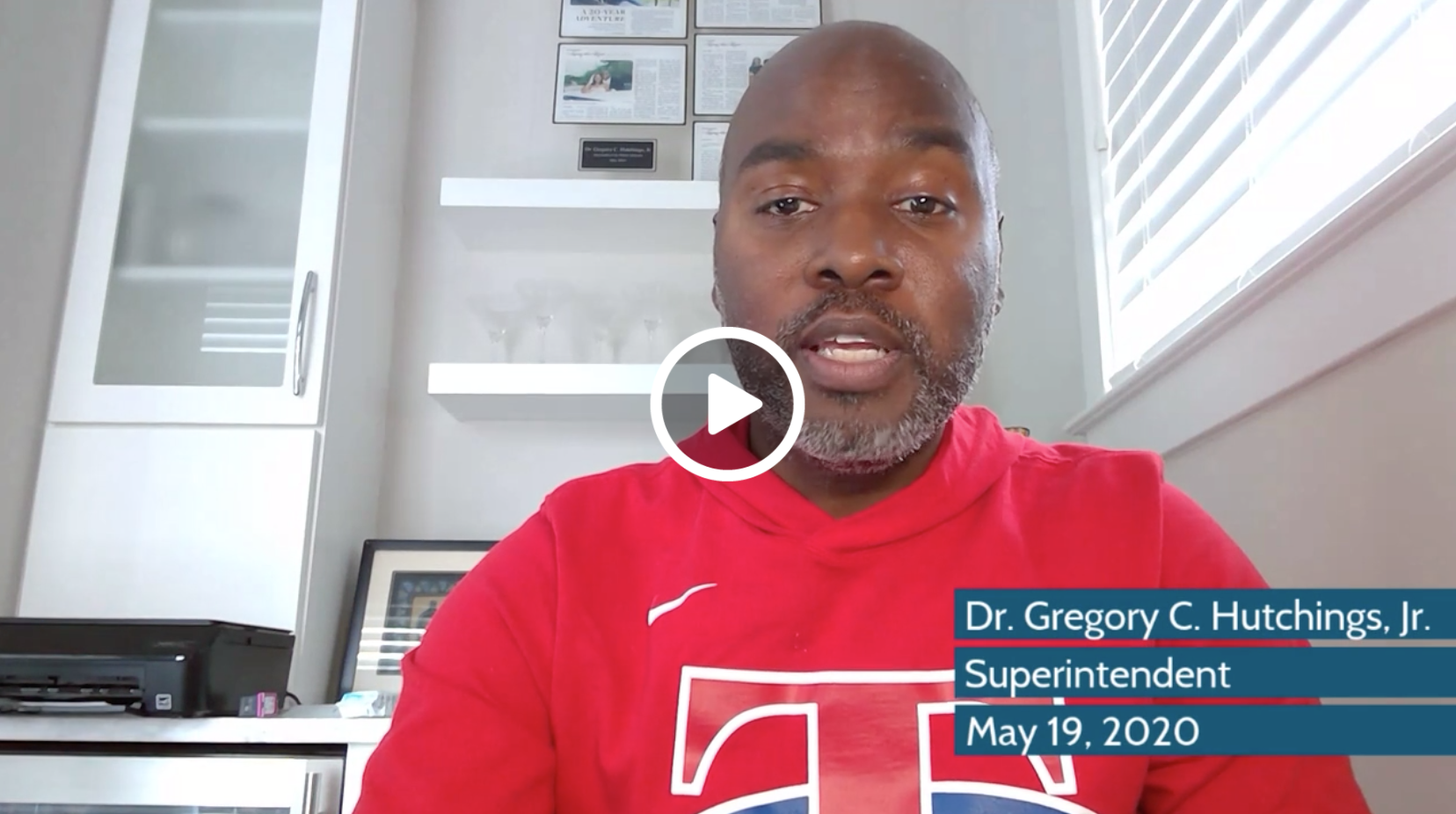 Important Food Distribution Changes for Memorial Day Weekend
All food distribution sites will be closed on Memorial Day: Monday, May 25.
On Friday, May 22:
At school sites we will be providing 4 days of meals, for Friday, Saturday, Monday and Tuesday.
At pop-up sites we will be providing 2 days of meals, for Friday and Saturday.
All meals consist of breakfast, lunch and snack.
Food distribution sites will reopen on Wednesday, May 27.
---
ACPS has multiple distribution meal site locations throughout Alexandria for all ACPS students and children over the age of two.
GRAB-AND-GO MEAL LOCATIONS:
Grab and Go breakfast, lunch and snack meals are available Mondays, Wednesdays and Fridays between 9 a.m. and 12 p.m. at the following locations:
William Ramsay Elementary School
5700 Sanger Avenue, Alexandria, VA 22311
Francis C. Hammond Middle School
4646 Seminary Road, Alexandria, VA 22304
Cora Kelly School for Math, Science and Technology
3600 Commonwealth Avenue, Alexandria, VA 22305
Jefferson-Houston PreK-8 IB School
1501 Cameron Street, Alexandria, VA 22314
T.C. Williams High School
3330 King Street, Alexandria, VA 22304
And available at our "Pop-Up" sites located at:
Mason Apartments at South Reynolds Street, Alexandria, VA 22304
10:45 to 11:15 a.m. Mondays, Wednesdays and Fridays
Brent Place Apartments at 375 South Reynolds Street, Alexandria, VA 22304
11:20 to 11:50 a.m. Mondays, Wednesdays and Fridays
Ruby Tucker Family Center at 322 Tancil Court, Alexandria, VA 22314
10:45 to 11:15 a.m. Mondays, Wednesdays and Fridays
Community Lodgings at 607 Notabene Drive, Alexandria, VA 22305
10:45 to 11:15 a.m. Mondays, Wednesdays and Fridays
Old Towne West Apartments (parking lot) at 500 South Alfred Street, Alexandria, VA 22314
11:20 to 11:50 a.m. Mondays, Wednesdays and Fridays
Corner of Florence Drive and Four Mile Road, Alexandria, VA 22305
10:45 to 11:15 a.m. Mondays, Wednesdays and Fridays
The Fields at 4309 Duke Street, Alexandria, VA 22304
10:45 to 11:15 a.m. Mondays, Wednesdays and Fridays
Bennington Crossing Apartments at 441 North Armistead Street, Alexandria, VA 22312
11:30 a.m. to noon, Mondays, Wednesdays and Fridays
NO SIGN UP OR REGISTRATION IS REQUIRED TO RECEIVE MEALS. Meals consist of breakfast, lunch and snack and include, for example, fresh fruits and vegetables and sandwiches for multiple days.
NOTE: No food distribution will occur on Tuesdays or Thursdays. The limited days for distribution is to support the practice of social distancing and to limit social gatherings. Meals for two days will be provided on the pick-up days, (Monday/Wednesday/Friday).
Other Food Resources in the City of Alexandria
For food pantry locations and schedules in Alexandria, visit www.hungerfreealexandria.com or call ‪703-662-1067.
Questions? Or Need Translation?
Send us your question in Spanish, Arabic or Amharic:
Text ACPSMEALS to 797979 (English and Spanish)
Call or text 703-927-6866 (Amharic)
Call or text 703-927-7095 (Arabic)
OR
Call the FACE Center's Bilingual Parent Information Lines:
For Spanish, call 571-775-9719, Monday-Friday (9 a.m. — 5 p.m.)
For Amharic, call 703-927-6866, Monday-Friday (9 a.m. — 1 p.m.)
For Arabic, call 703-927-7095, Tuesday-Thursday (9 a.m. — 3:30 p.m.)
SAFETY REMINDER: Please remember to observe social distancing practices while at the food distribution site by maintaining six feet of personal space between you and other families or individuals.
Anyone exhibiting symptoms of a respiratory illness like fever, runny nose, sore throat, coughing or difficulty breathing on the day of food distribution or in the previous 24 hours should not visit a food distribution site but call a health care provider instead. If you do not have a primary care physician and are not enrolled in a clinic, you may CALL an urgent care center or emergency room.
Graduation Plans Are Set!
In yesterday's T.C. Titan Newsletter, Principal Peter Balas announced the Class of 2020 Graduation Plans.
Stay tuned for next Wednesday's ACPS Express, when we will have a Special Graduation Edition with even more details about graduation and how we're celebrating our Class of 2020 Titans!
Health Insurance Assistance from Inova
Inova Partnership for Healthier Communities (PHC) wants to remind our families to reach out with questions or concerns about Medicaid health care, or if you wish to apply for coverage.
A hotline had been set up. Please call 703-698-2550 or text 703-479-0330.
A spokesperson said, "During these uncertain times, your family's health is more important than ever. The team at Inova's Partnership for Healthier Communities (PHC) is committed to providing free, one-on-one help to those who want to learn about, apply for, or renew Medicaid coverage. The PHC team is working as safely as possible during this health emergency, and will make sure your Medicaid application process goes as smoothly as possible, every step of the way."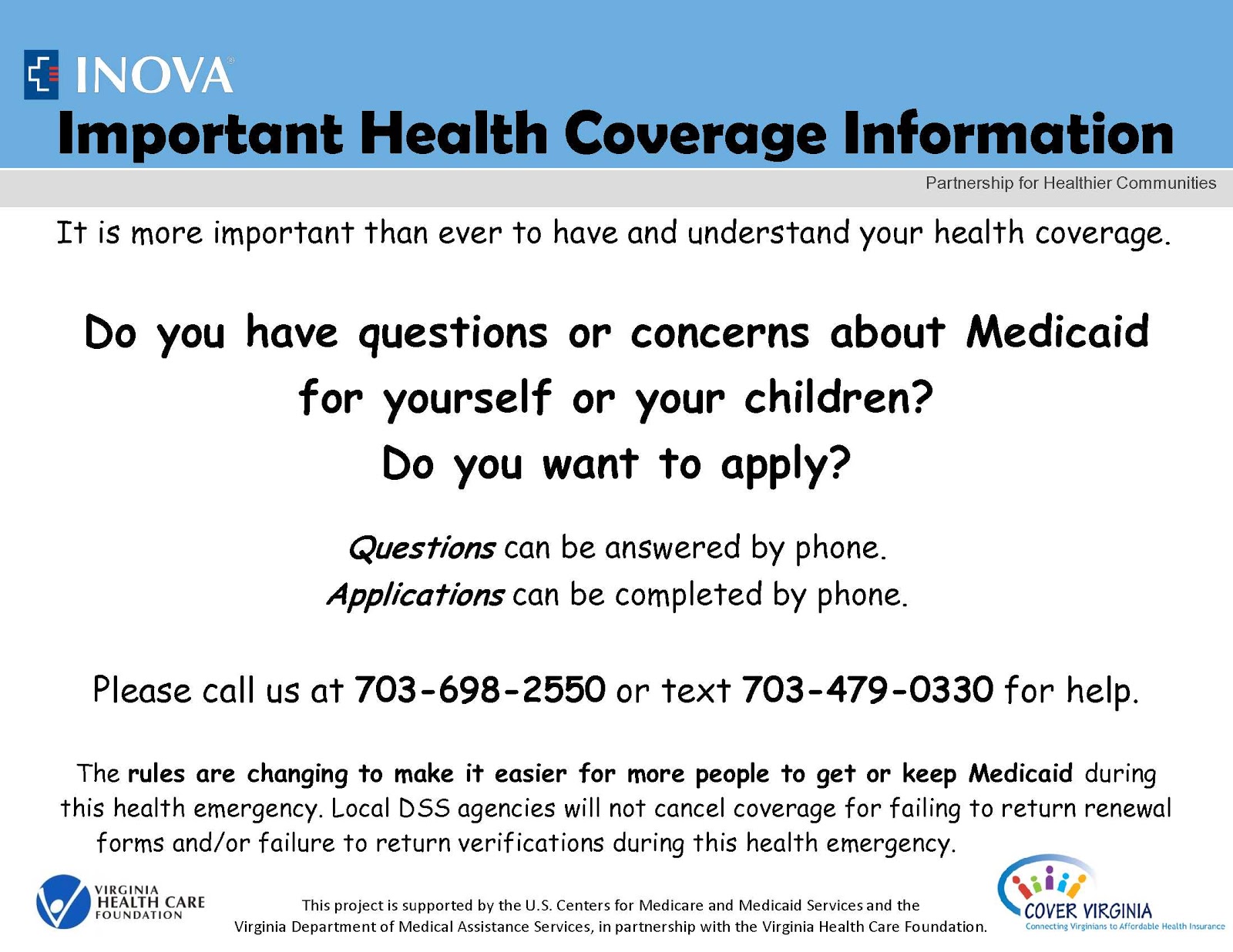 NO ACPS EXPRESS ON MONDAY, MAY 25
ACPS Express is taking a day off for the Memorial Day Holiday on May 25. We will return on Wednesday, May 27.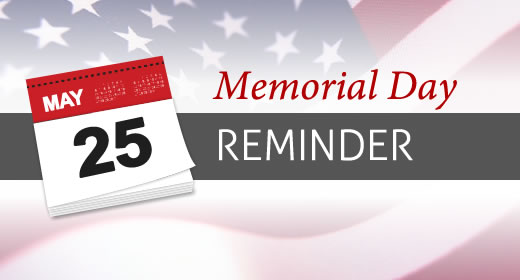 ELIGIBILITY FOR PANDEMIC-EBT CARDS
ACPS is collaborating with the state to ensure all families who need it have access to food.
Any family with a student in ACPS who is already approved for Free or Reduced Priced Meals (FARM) will automatically receive a Pandemic Electronic Benefit Transfer (P-EBT) card, which can be used to purchase food during the crisis.
If your financial situation has been impacted by the COVID-19 pandemic or for other reasons, and you were not previously receiving Free or Reduced Priced Meals, please make sure you complete a FARM application. These applications can be completed online or requested through food@acps.k12.va.us. Once the application is completed (preferably online) or by completing an application and forwarding to School Nutrition Services either by scanning or mailing to 1340 Braddock Place, Ste 220, Alexandria, VA 22314, we will process your application. If your family is eligible you will be added to our existing list of families to receive the EBT card payment.
Questions? For more information, please refer to the Food Access section of the ACPS-at-Home website or visit the VDSS Pandemic EBT website.
CONNECT WITH US
We want to hear from you! Send us a photo, video or story about your experiences while school is closed. Email us at news@acps.k12.va.us.
SHARE YOUR LEARNING!
Learning Together: At-Home Tips from One ACPS Family to Another
Have a learning tip that works well for your child, or a particularly interesting project or story you think others would enjoy? We invite you to share it with the entire ACPS learning community!
Upload your video or audio story or post it to the ACPS Facebook page.
See this great example from one parent and her son.
TEEN WELLNESS CENTER IS OPEN
The Teen Wellness Center at T.C. Williams is still open regular hours Monday through Friday for all Alexandrians ages 12-19. All services are provided in the clinic and if the teen is ill with an elevated temperature (100.0 or more) we will see them through our telehealth video format. Make an appointment over the phone by calling 703-746-4776.
UPDATES FROM THE ALEXANDRIA HEALTH DEPARTMENT
The City of Alexandria and the Alexandria Health Department strongly urge everyone to follow state orders to STAY HOME except for essential trips such as food purchases and medical care, and keep 6 feet apart from others when in public. Your neighbors and loved ones are counting on you to stop the spread of COVID-19. For other questions about COVID-19, call the Alexandria COVID-19 Hotline at 703-746-4988, weekdays from 9 a.m. to 6 p.m.
Additional updates can be found at www.alexandriava.gov/Coronavirus.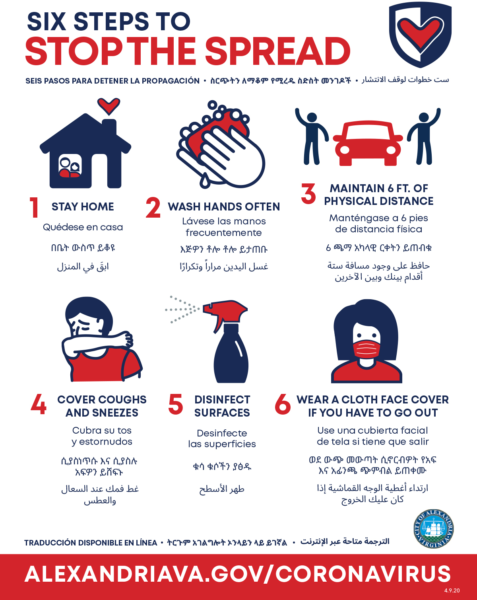 Coping with COVID-19 Fear and Uncertainty
Check out the City of Alexandria webpage Coping with COVID-19 Fear and Uncertainty which includes the COVID-19 Wellness Resource Guide.
WANT TO HELP?
Please consider donating through ACT For Alexandria and the COVID-19 Response Fund if you are able. 
Community members who would like to volunteer should reach out to www.volunteeralexandria.org or 703-836-2176 to register for any additional potential volunteer opportunities.
MENTAL HEALTH SUPPORT
Continuity of School Support and Academic Advisement
School Student Support Team staff, including school counselors, school nurses, school psychologists, and school social workers will be available during school hours throughout the closure. Monday — Friday between 8:30 a.m. and 3:30 p.m. staff will be connecting with students and their families. The Department of Student Services, Alternative Programs and Equity staff members are also available during this time and can be contacted by voicemail and at student_services@acps.k12.va.us.
Emergency Supports
If there is a crisis or emergency during the time of the closure, students and families can access the supports below:
Crisis Text and Crisis Link:

Text: CONNECT to 85511
Call: 703-527-4077
We know that this is a challenging time. ACPS will continue to share information through the ACPS website, social media, and email. Please don't hesitate to reach out to your student's school counselor or school social worker with any questions.
HEALTH REMINDERS
Don't Feel Well?
Contact your primary health care physician. Don't have insurance? Contact Neighborhood Health at 703-535-5568.
---
Have questions, concerns or feedback? Contact us.
Stay Healthy!
Wash your hands regularly. Regular soap is OK.