en español (PDF) | አማርኛ (PDF) | بالعربية (PDF)
Day 10 – Learning from Home Experience 
We made it though our second week of our new learning from home. This has been a new learning experience for all of us, and we are learning to be flexible and adapt fast as situations change. As we headed into the start of this past week, we assumed we would be back in our school buildings on April 13. Now we know we will be finishing out the end of the school year without returning to our classrooms.
This week, we saw 30,000+ new hits on the ACPS-at-Home website, our website for updates and resources for staff and parents during this period of school closures. This week, we added a Chromebook Help and Online Learning Hub. We have also added an ACPS Story Hour page under learning resources, which we will share more information about on Monday.  
We served 15,325 meals through T.C. Williams High School and our four new school-based meal distribution centers, and 2,019 meals through three new pop-up distribution centers. There were also 677 calls to the Spanish, Arabic and Amharic hotline over four days.
I want to thank you for tuning in 15,000+ times to get updates via my daily Q&A videos. And I want to acknowledge our teachers who have become overnight YouTube stars. George Mason band teacher Heather Rosner's home-made carrot clarinet video has been watched more than 6,700 times on Facebook.
Today, we are asking you to share your own learning tips with us in our new section on the website and social media: Learning Together: At- Home Learning Tips from One ACPS Family to Another. We will be posting your videos of your suggestions and ideas on our ACPS Facebook page and on the ACPS-at-Home website. We know you have incredible ideas and we want to be able to share these ideas with our entire community. We have created a VOICES  audio where one family with three boys shares details about the new schedule they have set up – and what it has taken to make learning work from home. You can share your ideas with us on the ACPS Facebook page or upload them to our form. 
This week has required initiative and creativity from everyone in our community. We want to see how you have adapted to these unprecedented circumstances. 
Next week, we will be sharing our plans with you to ensure continuity of learning after Spring Break. Rest assured, our staff is working hard to finalize these plans and we will be answering your questions on them all next week. In the meantime, take a break over the weekend and we will see you on Monday.
Stay Healthy!
Sincerely,
Dr. Gregory C. Hutchings, Jr.
Superintendent of Schools
YOUR QUESTIONS ANSWERED
In yesterday's video Q&A, Superintendent Dr. Gregory C. Hutchings, Jr. answered questions about Chromebooks and technology access and support.
How can I get technology help – specifically chromebook help?

What do I do if my child is having issues with their Chromebook?

My student does not have a charger. How do I acquire one?

I can't log into PowerSchool and Canvas. How do I receive help?

What kind of information about online learning can I find on the website?
You can find the answers to Chromebook, technology and online learning questions on the Chromebook help Hub on the ACPS-at-Home website. 
Watch the daily Q&A video, available at 3 p.m. or see answers to these questions in the updated FAQ.
We welcome you to send us your questions.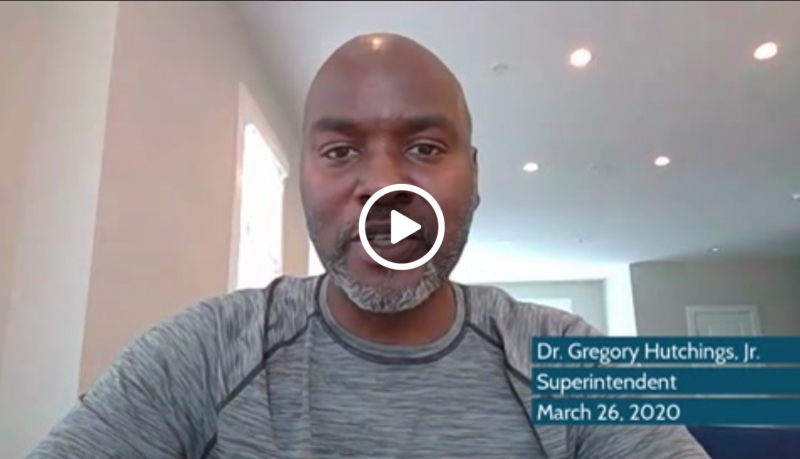 Learning Together: At-Home Tips from One ACPS Family to Another
Introducing a collection of home video and audio stories from our families and teachers. Got something that works well for your student, or a particularly interesting project or story you think others would enjoy? Then please share them with the entire ACPS learning community. 
You can upload your video or audio story here or to our Facebook page in the comments.
What makes a good video or audio story? Keep in mind your audience! 
Tell your audience what they're going to learn and why it's important.

Clearly illustrate what it is you're teaching step-by-step. 

Make it fun! Be creative.

Good light makes for good video.

Think about zooming in to show us details, backing up to give us a broader view, or finding a spot in the middle that shows the action.

Take our senses on a journey through great audio. What do you hear? Do you hear the birds singing, the cars going by, the whir of the mixer as you're making cookies, or the ice cubes being dropped into a glass? Yeah, you got it!

No copyrighted music, please. The copyright people don't like that. 

Make 'em laugh. Heck, maybe you'll have your own show after this!
Here's our story we want to share with you. We went to visit our neighbors to see how they're doing. Listen to the details in the audio. Do you hear the trampoline? Do you hear the screaming and laughter of brothers being brothers? Reminds you of your house maybe? Give a listen and enjoy!
VOICES: How One Family with Three School Boys is Coping in the Days of COVID-19
Meet the Jovovic Doussard family. They've three boys who are all ACPS students and range in ages from eight to thirteen. Cooped up together, they're learning to structure their learning day and to get along.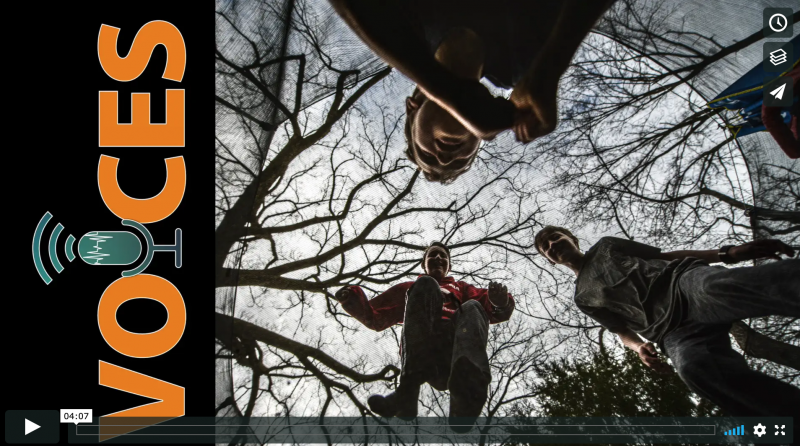 Five Podcasts to Help Your Elementary Student Continue Learning
Using a variety of learning activities and in differing formats will help to keep your student engaged.
Podcasts are a simple and free option – that will also give you a break from active teaching.
Here are some suggestions from NPR's Wow in the World series hosted by Mindy Thomas and Guy Raz aimed at our younger students.
Once upon a time, scientists believed that bees chose plants with the sweetest nectar. But new research shows that there's actually more to the story.  Join Mindy and Guy Raz for an epic tale of one Gramma BEE-Force, and a bunch of barf – for SCIENCE! It's the Who, What, When, Where, Why, How, and WOW of bumblebee vomit.
While trimming the family tree in the backyard one afternoon, Mindy learns that she might have one very special ancestor that relates her to almost 18% of the earth's population! Mindy, Guy and Reggie hop in the Wow machine to travel back along Mindy's family tree to find this common ancestor and the first person to ever be called baby blue! It's the Who, What, When, Where, Why, How, and Wow of blue eyes! 
Mindy is feeling the entrepreneurial spirit as she opens up a "Nit-Pickin'" stand to pluck the lice from her neighbors' heads. When Guy Raz asks her about her business model for this new enterprise, she replies by taking him on a wild under the sea adventure to explore the inspiration behind her nit-pickin' station. It's the Who, What, When, Where, Why, How, and Wow of cleaner shrimp and their clientele.
One of the brightest stars in the sky, Betelgeuse, has been getting dimmer and dimmer. Could this be a sign that the young star is about to explode? Join Mindy and Guy Raz as they travel light years into the future to see for themselves! It's the Who, What, When, Where, Why, How, and Wow in the world of a SUPERNOVA!
Guy and Mindy go on a home tour of some of the scientifically strangest homes and habitats in the animal kingdom. But the one that stops them in their tracks, was built with pee bubbles and butt breathing?! What creature would call such a place a home? Find out, as we dive deep into one of the weirdest nesting habitats in the natural world! 
See Our Week By Numbers
15,325 – meals through four new school-based meal distribution centers, and 
2,019 – meals through three new pop-up distribution centers.
30,000 –  hits on  ACPS At Home this week
6,700 (and counting) – views of Ms Rosner's video of Making a Carrot Clarinet on Facebook
15,000 + viewers have tuned into the daily Q&A videos
459 – Number of texts to the hotline. 
218 – Number of calls to the hotline.
STAY CONNECTED TO US!
We want to hear from you! Send us a photo, video or story about your experiences while school is closed. Email us at news@acps.k12.va.us.
THESE ARE THE KINDS OF LEARNING VIDEOS WE WANT YOU TO SHARE!
George Mason Elementary School Teachers Get Creative!
Making a Carrot Clarinet!
Ms. Rosner has gotten really creative at home. Check out how she makes a clarinet out of a carrot. Do not try this at home unless you are working with an adult!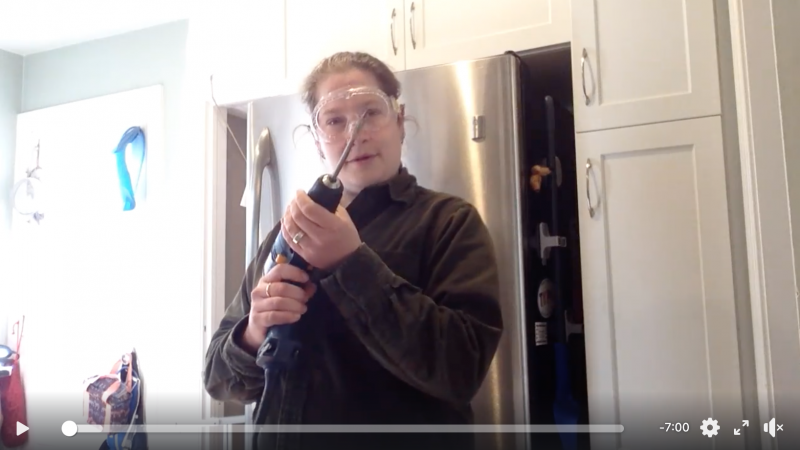 Ms. Carrick sings Somewhere Over the Rainbow!
FOOD DISTRIBUTION
ACPS is providing two days worth of breakfast and lunch meals free for any ACPS student on Mondays, Wednesdays and Fridays between 8 a.m. and 12 p.m. at the following locations:
William Ramsay Elementary School
5700 Sanger Avenue, Alexandria, VA 22311
Francis C. Hammond Middle School
4646 Seminary Road, Alexandria, VA 22304
Cora Kelly School for Math, Science and Technology
3600 Commonwealth Avenue, Alexandria, VA 22305
Jefferson-Houston PreK-8 IB School
1501 Cameron Street, Alexandria, VA 22314
T.C. Williams High School
3330 King Street, Alexandria, VA 22304
GRAB-AND-GO MEAL LOCATIONS:
ACPS has three "grab and go" meal locations for any ACPS student or child over the age of 2 to pick up breakfast and lunch.
The sites are:
Mason Apartments at South Reynolds Street, Alexandria, VA 22304
10:45 a.m. – 11:15 a.m. Mondays, Wednesdays and Fridays
Brent Place Apartments at 375 South Reynolds Street, Alexandria, VA 22304
11:20 a.m. – 11:50 a.m. Mondays, Wednesdays and Fridays
Ruby Tucker Family Center at 322 Tancil Court, Alexandria, VA 22314
10:45 a.m. -11:15 a.m. Mondays, Wednesdays and Fridays
NO SIGN UP OR REGISTRATION IS REQUIRED TO RECEIVE MEALS.
Meals consist of cold breakfast and lunch, including fresh fruits and vegetables and sandwiches for multiple days per the student's need.
NOTE: No food distribution will occur on Tuesdays or Thursdays. The limited days for distribution is to support the practice of social distancing and to limit social gatherings.
Other Food Resources in the City of Alexandria 
For food pantry locations and schedules in Alexandria, visit www.hungerfreealexandria.com or call ‪703-662-1067.
Questions? Or Need Translation?
Send us your question in Spanish, Arabic or Amharic:
Text ACPSMEALS to 797979 (English and Spanish)
Call or text 703-927-6866 (Amharic)
Call or text 703-927-7095 (Arabic)
OR
Call the FACE Center's Bilingual Parent Information Lines:
For Spanish, call 571-775-9719, Monday-Friday (9:00 a.m. – 5:00 p.m.)
For Amharic, call 703-927-6866, Monday-Friday (9:00 a.m. – 1:00 p.m.)
For Arabic, call 703-927-7095, Tuesday-Thursday (9:00 a.m. – 3:30 p.m.)
WANT TO HELP?
Please consider donating through ACT For Alexandria and the Covid-19 Response Fund if you are able. 
Community members who would like to volunteer should reach out to www.volunteeralexandria.org or 703-836-2176 to register for any additional potential volunteer opportunities.
UPDATES FROM THE ALEXANDRIA HEALTH DEPARTMENT
The City of Alexandria has taken measures to further reduce risk, and encourages organizations and individuals to take action, as well. The AHD is reminding the community of the importance of social distancing by maintaining six feet of personal space whenever possible, and frequently washing hands and using hand sanitizer. For other questions about COVID-19, call the Alexandria COVID-19 Information Line at 703-746-4988, weekdays from 9 a.m. to 6 p.m.
Additional updates can be found at www.alexandriava.gov/Coronavirus.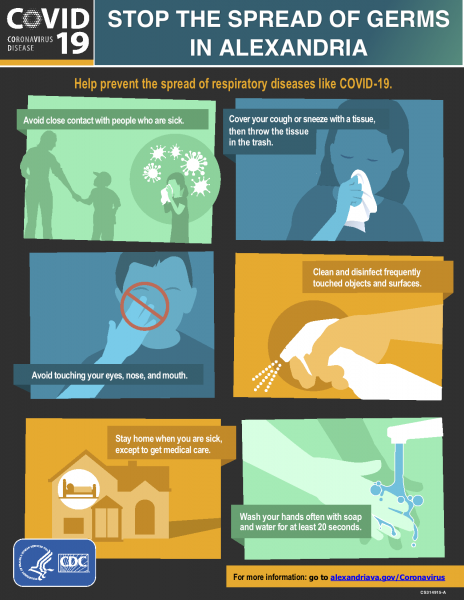 MENTAL HEALTH SUPPORT
Continuity of School Support and Academic Advisement
School Student Support Team staff, including school counselors, school nurses, school psychologists, and school social workers will be available during school hours throughout the closure. Monday – Friday between 8:30 a.m. and 3:30 p.m staff will be connecting with students and their families. The Department of Student Services, Alternative Programs and Equity staff members are also available during this time and can be contacted by voicemail and at student_services@acps.k12.va.us.
Emergency Supports
If there is a crisis or emergency during the time of the closure, students and families can access the supports below:
Crisis Text and Crisis Link:

Text: CONNECT to 85511
Call: 703-527-4077
We know that this is a challenging time. ACPS will continue to share information through the ACPS website, social media, and email. Please don't hesitate to reach out to your student's school counselor or school social worker with any questions.
LEARNING ON ACPS-TV
Monday through Friday while our schools remain closed, ACPS TV will be screening 90 minutes of educational programming from The Smithsonian's "Science How" and "Stem in 30" series in a loop all 24 hours. Use this series with your children to ensure continuity of education while schools are closed. See this week's schedule.
ONLINE LEARNING PACKETS
Our goal is to ensure continuity of learning while schools are closed. Download your learning packets.
HEALTH REMINDERS
Don't Feel Well?
Contact your primary health care physician. Don't have insurance? Contact Neighborhood Health at 703-535-5568.
---
Have questions, concerns or feedback? Contact us.
Stay Healthy!
Wash your hands regularly. Regular soap is okay.