In a colorful kindergarten class at John Adams Elementary School, three girls are holding hands and singing along to "Five Little Speckled Frogs" in front of a video showing words in both Spanish and English.
Down the hall, fourth graders are learning about the Earth's "rotación" and its gravitational pull on "la luna."
And next door students are demonstrating the use of an imaginary bow and arrow while listening to an English-speaking teacher talk about hunting for food in times gone by.
Look around these classrooms and you see the diversity that makes ACPS so special, and a program at work that teaches languages while also bridging gaps by the sharing of cultures.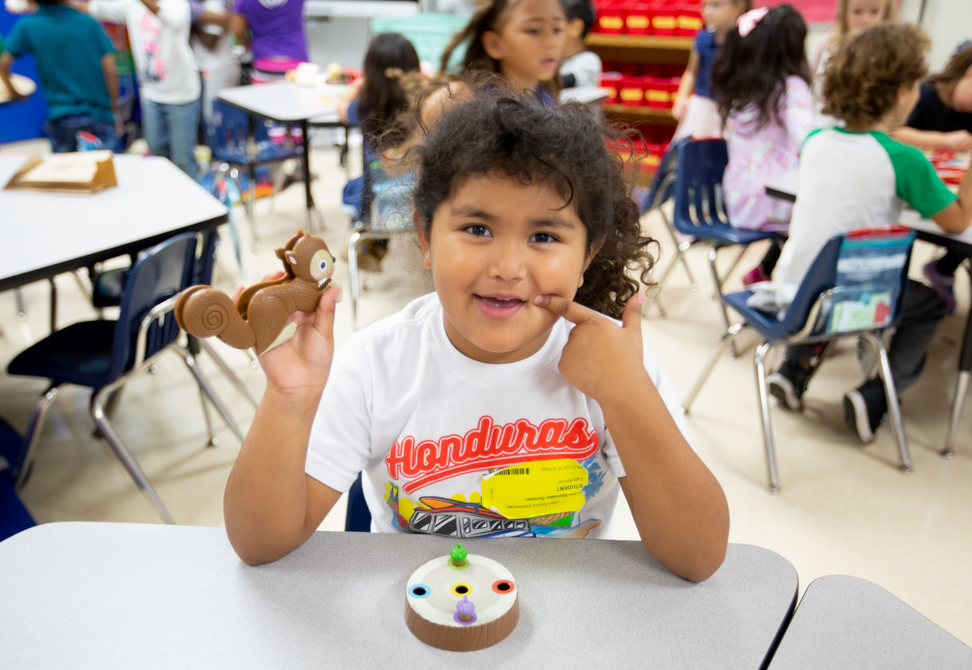 Our school division offers K-5 Spanish-English dual language programs at John Adams and Mount Vernon Community School. The John Adams program has been running for 27 years.
Unlike at Mount Vernon where every student participates, at John Adams the program is optional.
Currently about 40% of the student population is enrolled, according to principal Ginja Canton.
But did you know that if you live outside the attendance zone — and space allows — you can apply to transfer into the school's program?
I consider our dual language program to be one of the best kept secrets in Alexandria," says Canton, although she adds that was never the intention of the initiative. "It is often the case that people first learn about it through word of mouth."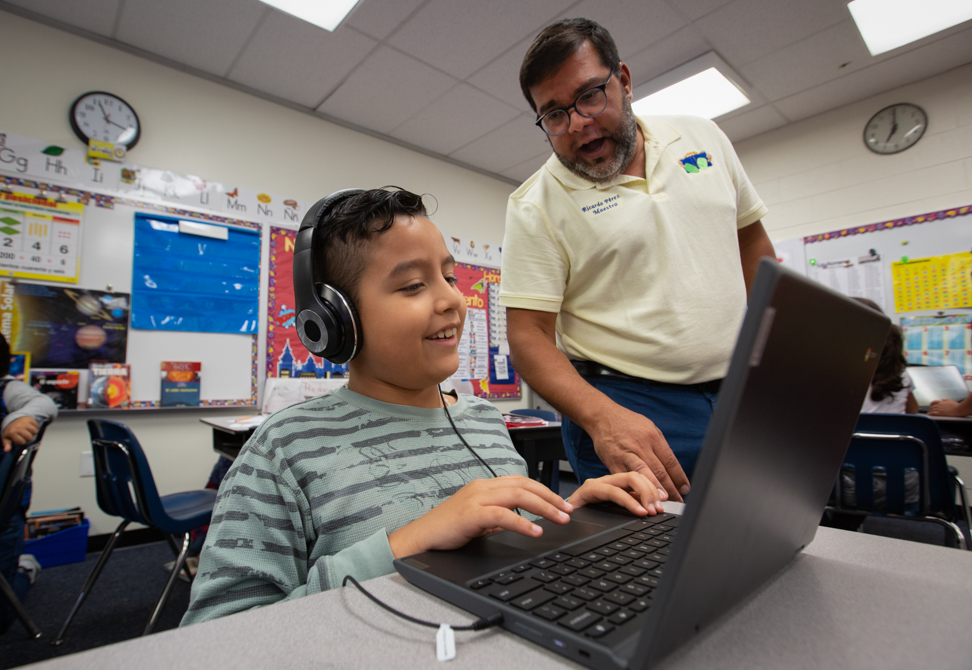 In Ricardo Perez's fourth grade class, he teaches science and math in Spanish during half of the day and his partner teacher Mrs. Thomas instructs the same students in English during the other half.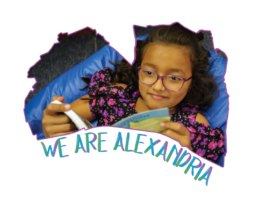 "I'm so lucky to be in this school with such diversity," said Perez, who hails from Puerto Rico and has been at John Adams for six years.
"I see at least seven different countries represented in this classroom. Wonderful," he said as he scans the room. "The kids love this program. I love this program."
Currently, there are two classes in each grade at the school in the West End of our city.
Administrators aim for a 50:50 split of native English and Spanish speakers. But increasingly here, there are children for whom Spanish or English is a third or even fourth language.
For Hispanic families, the syllabus ensures that culture and literacy in their native language is part of their child's education.
And as challenging as learning a new language is, the school has seen no evidence to suggest that the children lag behind their peers in the general education population. They follow the same curriculum and are subjected to the same standardized tests.
When the students join the program in kindergarten or first grade (subsequent years test in), they use songs, repetition, verbal cues, acting and sign language amongst other strategies.
Within weeks, learning is evident. At first in receptive language, later comes spoken.
"I compare the brain of children to a sponge, they absorb so fast," said Perez.
I have a student who came here from El Salvador one month ago with no English. Already she is able to participate in class," said Perez.
"And we create an environment where we aren't afraid to speak up. It is about creating a mindset that we can learn. My class motto is we are in the right place to make mistakes."
The mission of the ACPS Dual Language Program is to provide an enriched bilingual, biliterate, and culturally competent educational experience for all.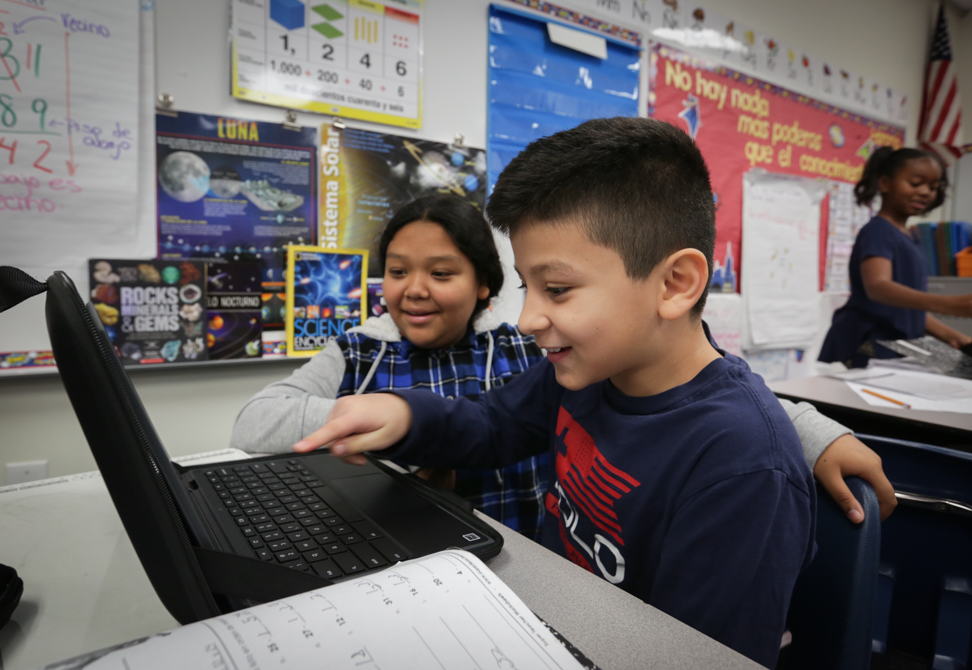 Collaboration between children is seen daily as native speakers learn from native speakers and a natural curiosity manifests itself in an interest in each other's background. This helps to foster a sense of community across cultures, staff believe.
Jon Espana, a fourth grader, knew little English when he started school but now is completely fluent in both languages.
"When I first started it was really hard for me. But my mom kept enrolling me in the dual language program," he explained.
"I started to understand what was being said more but it took longer to learn to speak English. Now, at home I speak Spanish, but with my friends I speak English."
For Brooke Hunnicutt, a fifth grader who has been in the program since kindergarten, the best thing about learning a language is "being able to communicate with other people around the world."
At first, I didn't understand anything, I'd only ever spoken English before so I used to copy from my friends' work. But now, if I don't understand a word at first, I can normally work it out or I ask."
Her mother Sally is part of the dual language PTA sub-committee at John Adams and is an enthusiastic proponent of the program.
She hopes it will be expanded so more children can take part.
"I have seen my kids blossom here. I know some parents are concerned that their children will fall behind academically because of the added component of learning another language. But I have not seen that happen."
"I think this program provides students with the skills to do well in an increasingly global world without borders but perhaps most importantly they have developed very strong cultural competency."
"It would be amazing if more kids in Alexandria could benefit."