Each year, the School Board votes on its priorities for the following budget year. ACPS staff then deliver on these budget priorities. However, ACPS staff also have to deliver measurable results set through the ACPS 2020 Strategic Plan.
ACPS is reviewing the alignment of the Board, Budget and Superintendent priorities to ensure the priorities work in tandem up front. This will make it not only more efficient to ensure delivery of the budget priorities but also help us better measure our outcomes.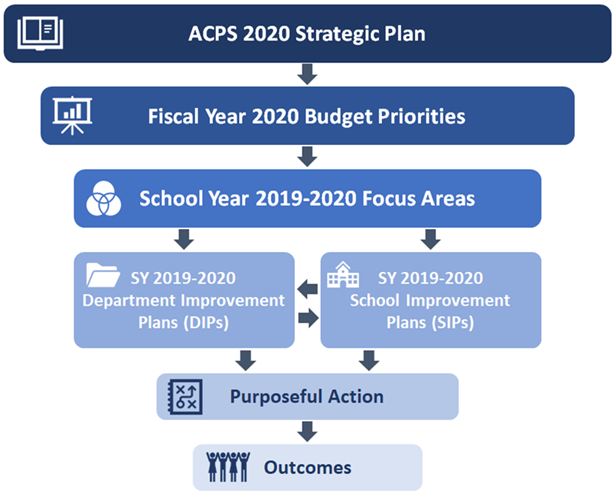 ACPS has six focus areas for the division for the 2019-20 school year based on the Board's FY2020 Budget Priorities.
These are:
Educational Equity

Divisonwide equity training for school staff, administrators and the School Board
Social, Emotional, and Academic Learning (SEAL), including Positive Behavior Intervention Supports and Restorative Practices – all of which support social, emotional, and academic learning using responsive instruction
Ensuring equity across all academic areas including:

division-wide instructional resources
testing systems
school start times

Budget Process

Ensuring an Academic-Return on Investment (A-ROI)
Ensuring an organizational structure aligned with the strategic planning goals
Capital Improvement Program (CIP) Budget revisions, additions and updates; security and technology upgrades
Delivering a fiscally responsible Operating Budget
Professional learning on the budget for School Board members and ACPS leadership

High School Project

Establishment of an Industry Advisory Board to ensure programming is aligned with the needs of the workforce
Use of an Educational Design Team to assist with the design of research-based programming
Site analysis
Cost analysis
Partnerships with higher education institutions
Concept selection

Douglas MacArthur Swing Space

Steering the process through the Development Special Use Permitting (DSUP) process
Ensuring all renovations are thought out and well implemented
Ensuring parking needs meet the building usage
Introducing staggered school start times
Ensuring high quality play areas
Development of a Relocation Plan

ACPS 2025 Strategic Plan

Developing a Mission, Vision and Core Values
Developing ACPS 2025 Strategic Plan goals through subcommittees
Developing metrics to measure progress
Ensuring robust community engagement
Completing a 2025 Strategic Plan ready for adoption by June 2020
Conducting a cost analysis on the requirements of fulfilling the 2025 Strategic Plan

Audit Updates

Monitoring of the implementation of recommendations from the 2015 Facilities Audit including: facilities updates, facilities webpages, facilities monitoring and management systems
Monitoring of the implementation of recommendations from the 2018 Human Resources Audit including: customer service, retention and recruitment plans, onboarding system
Monitoring of the implementation of recommendations from the 2016 Talented and Gifted Audit (TAG) including: identification tools, push/pull out recommendation, middle school program delivery refinement
Monitoring of the implementation of recommendations from the 2018 Students with Disabilities (SDW) Audit
Development of an action plan to implement recommendations that come out of the 2019 Communications Audit
Join Superintendent of Schools Dr. Gregory C. Hutchings, Jr. for a monthly chat on the 2019-20 ACPS Areas of Focus, starting on Tuesday, October 22, 2019. Attendees will have the opportunity to learn and ask questions about the 2019-20 ACPS Areas of Focus. All chats will be from 6 to 7 p.m. in the T.C. Williams High School Cafeteria. We hope you can join us for this important conversation. 
Read more about the ACPS Areas of Focus for 2019-20.
See how the Board's Budget Priorities (PDF) align with the ACPS Areas of Focus and school and department improvement plans.