If you were one of those people who did not want to come out in the rain to last Thursday's School Board meeting, don't worry, you can catch up on all the happenings here. After each Board meeting we will share a summary of the discussion points and decisions.
Don't forget that you can also watch all Board meetings live from the comfort of your sofa on ACPS-TV, local cable channel 71 and ACPS-TV online. You can also watch all meetings recorded online.
Watch the full October 11, 2018 School Board meeting.
Jack Taylor College and Career Center Wing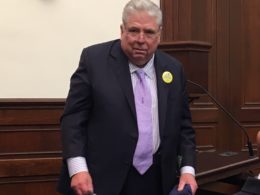 The School Board voted unanimously to name the college and career center at T.C. Williams the Jack Taylor College and Career Center Wing. Jack Taylor has donated more than a million dollars to the Scholarship Fund of Alexandria and to the school.
Topics on the 2019 Proposed Legislative Agenda
We are getting a lot more interest in education legislation in Richmond because there are more teachers in the legislature than ever before.
The General Assembly will be discussing possibly funding of school facilities through the collection of taxes on internet sales.
The Governor's wife is interested in preschool education, so there is a push to increase funding for preschool initiative funding to expand early childhood opportunities.
The state is looking at the correlation of testing between high schools and community college. Community colleges are looking to increase the fees they will be charging for dual enrollment, which may seriously impact students on free and reduced-price meals.
The state will be looking at the qualification for schools to open prior to Labor Day.
Read the entire legislative agenda (PDF).
View video of the presentation to the School Board.
HR Audit: How is Our HR Department Doing?
ACPS regularly conducts audits and evaluations of all its processes and departments to ensure it is maximizing efficiency. The human resources audit was conducted between February and September 2018.
T.C. Williams Parker-Gray Stadium Resolution
On Tuesday, October 2, the Alexandria Planning Commission approved the modernization of the Parker-Gray Stadium. As a result of the conditions from that hearing, all the School Board members signed a resolution to commit to upholding those conditions and be a good neighbor.
The resolution was part of the package presented to City Council on Saturday, October 13, when the stadium modernization was approved.
Read the resolution (PDF).