Last Tuesday, senior staff from ACPS took part in a congressional panel discussion around the need to support health and wellness as well as training around mental health needs in public schools.
Chief Academic Officer Dr. Terri Mozingo, Director of K-12 School Counseling Dr. Marcia E. Jackson and Instructional Specialist for Health and Physical Education and Family Life Education Michael Humphreys joined Shape America, the nation's largest membership organization of health and physical education professionals, on Capitol Hill. They all participated in a discussion with members of the Senate and Congress about the importance and benefits of helping to ensure students are healthy and ready to learn.
ACPS is a leader across the region in this area. The school division was the first in the state to adopt a specific goal around keeping students healthy in its ACPS 2020 Strategic Plan to promote efforts to enable students to be healthy and ready to learn.
During the discussion, ACPS shared the stories of students on the West End who were equipped with heart monitors to increase their awareness of their individual level of physical activity and to highlight the importance of regular physical activity in a fun and interactive way.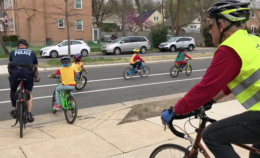 ACPS staff also shared about our highly successful Bicycling in the Schools program, through which physical education teachers lead upper elementary students through a comprehensive seven-session bicycling unit emphasizing appropriate safety and bicycling skills. They also shared about our swim skills and water safety program as part of the physical education curriculum. These programs help to ensure that students throughout the city have access to programs that teach technical and safety skills that will equip them to safely enjoy quintessential childhood experiences, like biking and swimming.
ACPS also shared initiatives designed to increase mental health awareness and support students socially and emotionally, such as the Positive Behavioral Interventions and Supports (PBIS) program. Through PBIS schools create and maintain safer and more effective learning environments by supporting students and helping them learn the social-emotional skills needed to be successful in school and beyond.
This is the second year in a row that ACPS has received funding specifically aimed at supporting the general health and well-being of Alexandria's students. The Title IV-A flexible block grant program has made $1.1 billion available to schools to support safe and healthy schools, well-rounded programs and the effective use of technology. The briefing on Capitol Hill was held by the Title IV, Part A Coalition to highlight how districts are using the Title IV, Part A funds.
If you are on Facebook, you can watch the video of the discussion.
Enjoy these Twitter highlights:
Today we are on Capitol Hill to ask Congress to fully fund the state block grant in Title IV, Part A of the Every Student Succeeds Act, supporting health and physical education in schools. https://t.co/ZGcyk824am

— Alexandria City Public Schools (@ACPSk12) September 25, 2018
Our Chief Academic Officer @ACPScao Dr. Mozingo knows that students do their best when they're active + healthy, and that's why we're on Capitol Hill advocating for #MoreTitleIV. https://t.co/WObQBoxFWm

— Alexandria City Public Schools (@ACPSk12) September 25, 2018
We know Congress is hearing from the #healthed + #physed community today!

Our Title IV-A Coalition's call to action from today's Congressional briefing: pic.twitter.com/l6T0NtPJ3P

— SHAPE America (@SHAPE_America) September 25, 2018
Dr. Terri Mozingo representing @ACPSk12 on today's Title IV-A Coalition Briefing to share the amazing health and wellness programs they are providing for students & teachers with their #MoreTitleIV funds pic.twitter.com/t2Flb897Qi

— SHAPE America (@SHAPE_America) September 25, 2018
We love #MoreTitleIV success stories! @ACPSk12 is using funds to purchase heart rate monitors & provide PD to PE teachers, to implement a fresh fruit & veggie program and to train #PBIS coaches in all schools pic.twitter.com/Z5tilSIVl9

— SHAPE America (@SHAPE_America) September 25, 2018
"This Title IVA funding has changed our conversation around academics from just core subjects to now include health and wellness for students and staff." – Dr. Terri Mozingo, Chief Academic Officer of @ACPSk12 🙌🙌🙌

— SHAPE America (@SHAPE_America) September 25, 2018
WATCH LIVE: We are on Capitol Hill to advocate for full funding of the Student Support & Academic Enrichment grant program under Title IV Part A of the Every Student Succeeds Act, essential to sustaining effective school health/phys ed programs. https://t.co/sBioKqQFQj pic.twitter.com/LN5WrWYDT3

— Alexandria City Public Schools (@ACPSk12) September 25, 2018
Thank you to @MarkWarner and his staff for giving us time to talk about the best ways to support students in the areas of health and fitness, and positive behavioral intervention supports today. #EveryStudent pic.twitter.com/NtVcPM9G8Y

— Alexandria City Public Schools (@ACPSk12) September 25, 2018