Educational Design Team Recommends Programming Options; Site Analysis Revealed
Bridgette Adu-Wadier
ACPS released four suggestions for high school programming, which the newly established 80-member Educational Design Team (EDT) created over the summer.
The High School Project began in the summer of 2018. On March 21, the School Board motioned for ACPS to continue the High School Project, the division's secondary school expansion plan. The decision advanced the Superintendent's plans on "the design and build of a new high school building on the Minnie Howard site" as part of the Connected High School Network. On May 23, the Board established the EDT to work on educational designs while being advised by business, government and higher education leaders.
About $119 million is set aside for the High School Project for Fiscal Year (FY) 2020 and FY 2021, according to the Proposed Superintendent's Capital Improvement Program (CIP). Budget requests have yet to be made.
The design recommendations are based off of two models — (1) a Connected High School Network, which the Superintendent recommended in January which would comprise of several satellite campuses dispersed throughout the city, and (2) a second comprehensive high school built. Two designs were created for each model.
Two High School Model Options A & B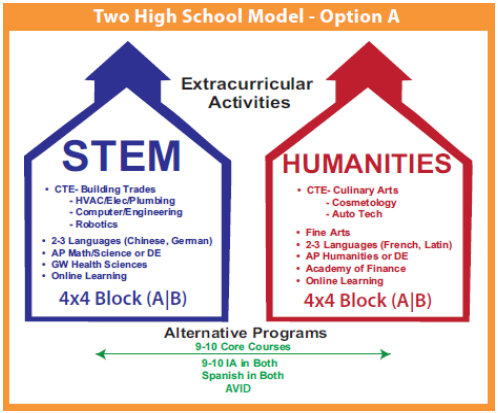 The first programming option (A) would break up the two schools with a science, technology, engineering and math (STEM) and a humanities approach.
Though core class offerings, AVID and English language learner programs would remain the same at both campuses, the schools would be specialized with regards to electives and Advanced Placement courses. At the STEM school, advanced and honors science classes would be offered, along with Career and Technical Education (CTE) classes that lean more towards the sciences.
This structure would follow a "four-by-four" schedule, in which students would have four class periods a day, but would still have the flexibility and opportunity to take advantage of T.C.'s course offerings.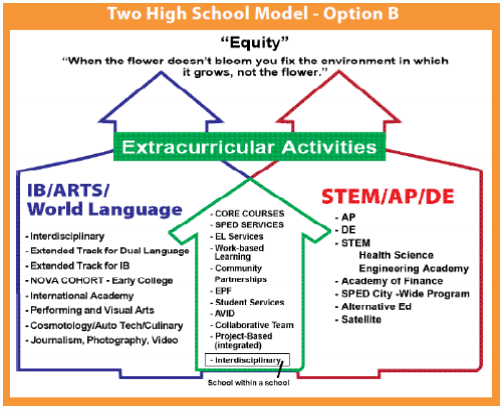 The second option (B) would include core courses, project-based learning, AVID, special education and student services at both campuses. The schools would be specialized similar to Plan A — one school housing the arts, foreign languages and humanities with the other focusing on STEM courses.
The humanities-focused school would expand on the dual language program seen at Mount Vernon Community School and create an International Baccalaureate program. It would also have the CTE, arts courses and interdisciplinary programs.
The STEM-focused school would have science, math and technology courses, along with the Health Sciences Academy and the Academy of Finance.
This approach would attempt to expand elementary school programs and create a stronger presence of alternative education and special education.
"We were thinking about expanding current pathways," said School Board member Megan Alderton, who, among others on the EDT, presented the recommendation. "We have dual language and we have International Baccalaureate, but they sort of end for students [in elementary school]. We're just thinking of using the High School Project as a way to expand our future."
Connected High School Network Models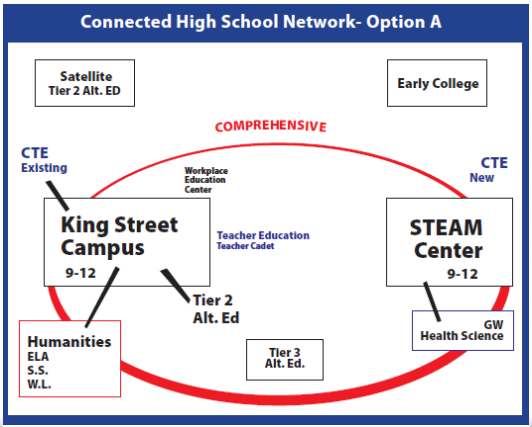 The first option (A) would have a science, technology, engineering, arts and math (STEAM) center that would also include CTE, health sciences and arts courses.
Arts courses would not be removed from the King Street Campus. STEAM would not be a separate track. All sites would be experienced by all students. Students and teachers may teach and go to school at different places.
"We see this as a way to maximize equity & opportunity. Every student would be able to access every program that we offer," said Sarah Wayland, Instructional Specialist for Social Studies in ACPS.
The main King Street campus would be tailored to the Connected High School Network. The EDT drew courses out from T.C. to create the educational opportunities at the STEAM center.
There would also be a building for career development, internships, community partnerships and the Scholarship Fund of Alexandria.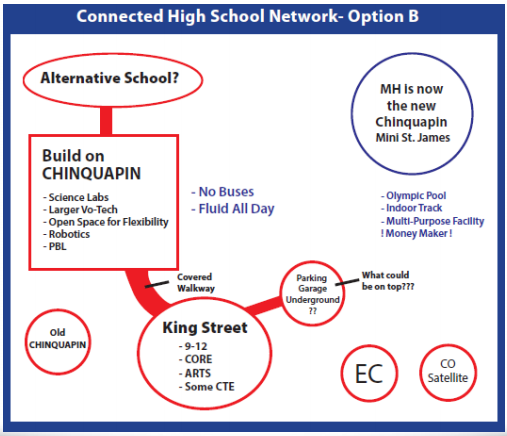 The second option (B) would comprise one community and one campus, building on facilities and land already available.
"We came together to figure out how we can all do this on one campus so that we have fluidity on one specific part of land and also eliminate the bussing between the Minnie Howard campus and King Street campus. [We were] thinking about what would happen if we just had one campus where kids could go back and forth but still be a part of one connected unit," said Rhea Butler, EDT member and AVID teacher at Minnie Howard.
All parts of the campus would be within walking distance, making it easy for students to switch between periods.
T.C. Art teacher and EDT member Beth Coast suggested burying the parking lot and building on top of it, or building on the field to create more space.
Keeping students together is important for preserving T.C.'s diverse student body, according to Hammond Middle School administrator Michael Diggins.
"If we're talking about a Connected High School Network, we want our students to be connected," he said. "That has been the source of our strength for T.C. Williams, speaking as an alumni and someone who worked there. Our shared values are best captured on one campus."
The Board and the EDT developed six core values — equity; community relationships; student academic choices; achievement; impact on student achievement; and access to extracurricular activities, support systems and programs — which were weighed on a rubric to use to rate the designs.
Site Assessment Results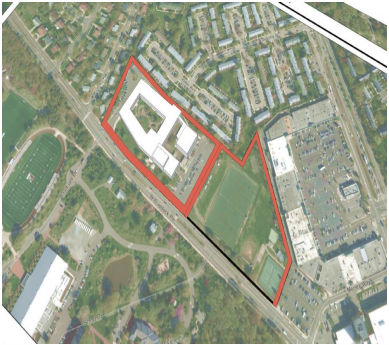 According to Project Director Dawud Abdur-Rahman, the school division hired Savills, a global real estate consulting firm to lead the site investigation process by conducting research to discover market opportunities for either of the two models under consideration.
On May 14, Savills published and shared an expression of interest via www.acps-eoi.com, a website detailing precise land and building information ACPS needed from partners and sellers. Savills also engaged real estate brokers, developers and large land-owning institutions in Alexandria. Savills had 175 unique site visits between May 14 and June 4, while also posting ads and contacting landowners.
They asked, among many other requests, if anyone was interested in a public-private partnership with the school system to create a new high school.
According to Rick Barnett, executive managing director at Savills, no response was received from private landowners either through public notice or direct contact with real estate brokers.
So, ACPS focused on land already under its control.The analysed sites for the two high school models include land on Minnie Howard, Francis C. Hammond and George Washington Middle Schools.
For the Connected High School Network, the division is considering Minnie Howard, the King Street campus and Potomac Yard.
The school administration will make a decision between the two high school models and the Connected High School Network at the Thursday, September 26 School Board meeting.