Senior Jonas Neidhardt Brings Beloved Sport to the City
Abigail St. Jean and Leigh Welther
Alexandria will soon be home to the fourth outdoor parkour park in the United States, thanks to T.C. senior Jonas Neidhardt. Neidhardt presented his idea to add a parkour park  to the city council in December 2017 and is currently awaiting construction. 
Neidhardt has been doing parkour for nine years. "I always liked climbing stuff and jumping around," Neidhardt said, "I've done basically every sport under the sun and nothing really stuck with me, until I found parkour" Neidhardt says the sport has helped him destress and allowed him to make friends in the parkour community. Now he wants to bring parkour to Alexandria. "I think giving [the community} an opportunity to exercise in a different and alternative way is very important not only for them but just for all of Alexandria."
Ewald Park, which is located just off of Duke Street,was ready for renovations when Neidhardt presented his idea to City Council. The process included meetings with council members and with Ewald Park managers. Since the initial meeting, Neidhardt has gone through about six or seven designs before settling on the final draft.
Ewald Park has "a great central location," as Neidhardt describes it. However, the park has been abandoned as it is rarely used by the community. Neidhardt describes the park in a "state of disarray." Currently the park houses an abandoned pool and pool house, desecrated tennis courts, and a rusty playground. "I'm hoping this [parkour] park will bring change to [Ewald] Park and activate it again." Neidhardt expects the park to be a hit, "There is a rather large parkour community in the DC metro area. Regardless, they would all be drawn to this because it is the only one."
An open house was held in November with obstacles set up and information about the park to introduce people to the idea of opening a parkour park in Alexandria. About 50-60 people showed up. Neidhardt says lots of the parents that attended the open house expressed their support, "A lot of parents come and say 'my kids would love to have something like this where they can come jump around on and climb.'"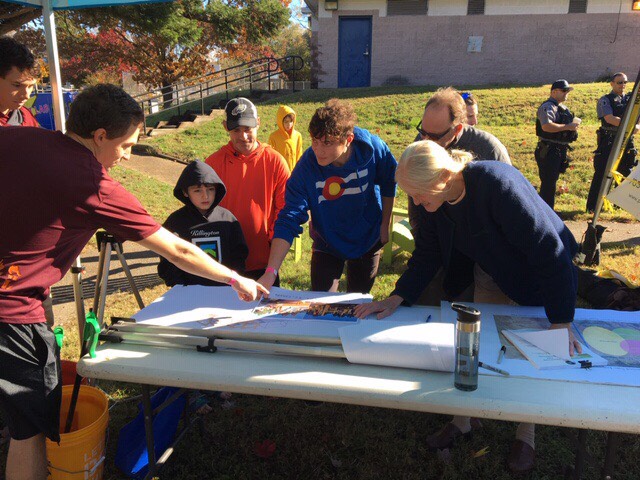 Neidhardt is currently in the process of working with contracting companies to build the parkour structures. "I want to have everything to be put in place and built before I go off to college in August." Neidhardt will attend University of Colorado Boulder next year and plans on majoring in Health Sciences. Neidhardt doesn't plan on this being his only parkour park project. "This is something that I want to continue with –the spread of parkour parks and parks education when I am an adult."
Neidhardt is currently in the process of working with contracting companies to build the parkour structures. "I want to have everything to be put in place and built before I go off to college in August." Neidhardt will attend University of Colorado Boulder next year and plans on majoring in Health Sciences. Neidhardt doesn't plan on this being his only parkour park project. "This is something that I want to continue with –the spread of parkour parks and parks education when I am an adult."