Thank you to everyone who was able to find the time to complete our survey about Virtual PLUS+ and to share your thoughts on the return to our school buildings. As I write, teams are analyzing the valuable data we have been able to collect and we look forward to sharing what we have learned in the coming weeks.
On Oct. 15, we will share our plans with the School Board for the second quarter of the 2020-21 academic year and the answers you have provided us will be key to our decision-making process. In addition to the survey results, we will use the following data to determine if it is feasible to transition into in-person learning for the second nine weeks: building capacity, staff availability, transportation, health mitigations and personal protective equipment (PPE), and the instructional model. As we have stated, the Virtual PLUS+ Learning approach is not ideal for all students and we will continue making the necessary adjustments when needed and feasible to accommodate our students. 
Our community outreach about the consideration of the process to change the name of T.C. Williams High School and Matthew Maury Elementary School continues this week with the first Student Conversation being held this evening from 6 to 7 p.m. More than anything, we want this process to be student-led, so please encourage your students to join this event to listen, to learn and to ask questions. Tomorrow evening, we have the final of three Community Read-Ins with Georgetown University professor Douglas S. Reed and Kennetra Wood, ACPS executive director of equity and alternative programs. Join us to find out the real story behind the Hollywood movie, "Remember the Titans." More than 3,000 people have engaged with The Identity Project webpage and/or viewed our read-ins so far.
Finally, Monday is a Professional Development Day for our staff. Students are not required to participate in asynchronous learning activities on that day.
Stay safe, stay healthy, stay informed.
Sincerely,
Dr. Gregory C. Hutchings, Jr.
Superintendent of Schools
Professional Development Day is Monday, Oct. 12
On Monday, Oct. 12, ACPS will hold a professional development day with Instructional Best Practices as the theme. We expect that school-based staff will benefit from the targeted professional learning workshops held on this day. This day will align with the division's goal areas of the new ACPS 2025 Strategic Plan: Equity for All, and focus on the goals of Systemic Alignment and Instructional Excellence. 
Administrators and staff can collaborate to ensure that every teacher and paraprofessional has registered for workshops using the Professional Learning Management System (PLMS). Sessions with less than 20% enrollment may be canceled after Oct. 7, 2020. The decision to cancel will be made by the instructor of the section. The earlier date will allow staff time to find another session that meets their needs. All staff should register for their sessions in PLMS as soon as possible.
For more information on this upcoming professional development day, please see the Professional Development Day Memo to School Leadership (PDF). If you have any questions, please contact Cory Kapelski at cory.kapelski@acps.k12.va.us.
Got Something to Shout About? Communications Ticketing System in Operation
The ACPS Office of Communications is relaunching the communication request form, initially launched just before the start of the pandemic.
From now on, you will be asked to submit all your communications requests through the Communications Support Request Form. This includes AV requests, media requests, ACPS Express and ACPS Insider requests, flier or video creation requests, and event support requests.
You can always access the Communications Support Request Form in Canvas by going to the ACPS Employee Resources course and then clicking on Communications under the Departments listing.
See the Communications Support Request Form.
All requests must come from or be sponsored by an ACPS staff member. This includes requests that are part of joint PTA or booster projects.
Your request will be fed directly into our internal system so that we can track our progress toward its delivery.
Our aim is to better partner on the delivery of services and to ensure that our requesters are also collaborating with us in achieving the best result possible.
This new process also requires us to operate in a slightly different way. Our goal is to collaborate with you to get you what you need. We will be asking you: What problem are you trying to solve?
This should get you thinking about who you are trying to impact or what data you are trying to move.
All requests will be assessed according to the annual ACPS Focus Areas. We are unable to deliver every task requested and may need to make decisions to deny requests. However, once we accept a project we aim to do it well — and deliver it on time — because we will have agreed with you that it fits within the annual focus areas and will deliver an impactful and measurable result. 
Sometimes a request may not fit within any of the annual focus areas. In this case, we apologize in advance, as the request may not make it to the top of our list or be accepted as an assignment at all.
Sometimes, the opposite will happen and a request for a flier will turn into a full communications campaign.
Free Chair Yoga Class for ACPS Employees
Join a free, one hour, virtual chair yoga class next Monday organized by Kaiser Permanente and open to all ACPS employees.
Chair yoga is one of the gentlest forms of yoga available and can be performed while seated at your home or office desk. No registration is needed.
Free Chair Yoga Class for Employees
Oct. 12 from 3:30 to 4:30 p.m.
Join online. Password: THRIVE123
To join by phone only, dial 408-418-9388, access code 133 983 3661. For technical support, contact robert.d.schmidt@kp.org.
The Identity Project: Community Read-Ins and Upcoming Engagement Sessions

Last Thursday evening, Georgetown University professor Douglas S. Reed and Kennetra Wood, ACPS executive director of equity and alternative programs, hosted the second of three community "Read-Ins" to help frame the public discussion around the possibility of renaming both T.C. Williams High School and Matthew Maury Elementary School.
Read-In #2: Alexandria's Role in Massive Resistance and School Segregation discussed the broader picture of Virginia's segregation and how what happened back then still impacts life today in our city. Watch a recording of Read-In #2 or see the highlights video.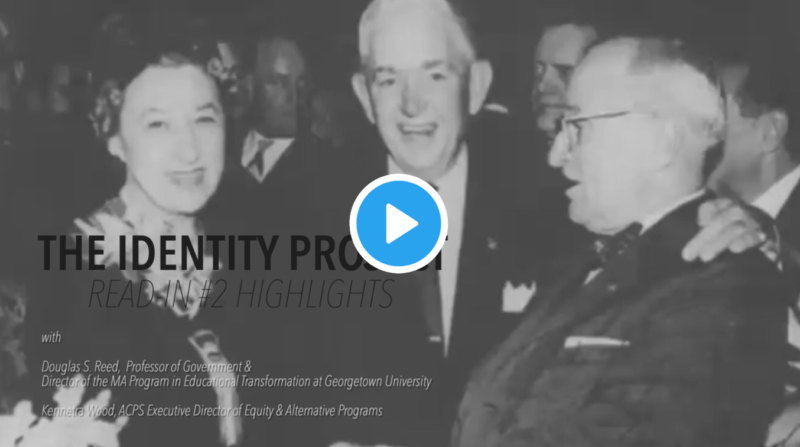 Also watch the first read-in, in which Dr. Reed discussed the seminal moments in the career of T.C. Williams.
Upcoming Identity Project Engagement Events
Join us for this week's two Identity Project events. See a list of all Identity Project Community Engagement events.
Student Conversation #1
Tonight (Wednesday) at 6-7 p.m.
Join us on Zoom. 
Read-In #3: The Real Story Behind "Remember the Titans"
Thursday, Oct. 8, 6-7 p.m. on Zoom.
Join us on Zoom
At the third and final Read-In of the series, Dr. Douglas S. Reed will present from his book, "Building the Federal School House" and put the "Remember the Titans" story into context, setting the stage by discussing riots, protests, systemic injustice, and the resulting civil rights crisis in Alexandria City. This is the un-Disneyfied tale of the merger of our black and white high schools, our integration plan, and a winning football team. ACPS Executive Director of Equity and Alternative Programs Kennetra Wood will co-host and identify ties to systemic racism rooted in our system. There will be a short Question and Answer period following the discussion.
This month also marks the twenty year anniversary of the Disney movie "Remember the Titans," which was released on Sept. 29, 2000. Read the The Washington Post article marking the anniversary.
Latinx Heritage Month at ACPS
Hispanic students make up 36% of all ACPS enrollment and we are celebrating Latinx Heritage Month from Sept. 15 to Oct. 15, 2020.
ACPS English Learner (EL) Inclusion Specialist Michelle Suchenski tells us that engaging in culturally responsive teaching practices requires knowledge about the background of the students and families that ACPS serves. Engaging in practices of equity requires knowledge of the personal and social circumstances our students and families have experienced. More importantly, it involves introspect, relating how our experiences impact our perception of the students we serve, and ultimately, our teaching.
Watch a short video that features moments from a daylong professional development event held for ACPS teachers at James K. Polk Elementary School in 2019. Featured are Ana Patricia Rodriguez, associate professor in the Department of Spanish and Portuguese and U.S. Latina/o Studies at the University of Maryland, College Park; Eric Hershberg, director of the American University Center for Latin American and Latino Studies; and Deborah Menkart, executive director of Teaching for Change. 
Watch two of the day's presentations: Root Causes of Central American Migration: An Examination of Conditions in the Region and Building Background Knowledge: History of Central America.
Mental Health Supports Available to Our Students 
Virtual PLUS+ has now been underway for four weeks, and students and teachers remain resilient, committed and engaged as we teach and learn together in this new environment.
Our ACPS Student Support Team (SST) made up of counselors, nurses, psychologists, and social workers continues to address any issues being faced, whether they be physical, social, emotional or academic.
In addition to helping ensure the basic needs of our families are being met, staff have also engaged with students at virtual lunch-bunches and have led mindfulness classes among other outreach opportunities.
As the school year progresses, please know that we are here to help offer supports in the following areas:
Academic advisement

Social, emotional, physical, and mental health needs

College and career exploration and planning
This month, SST will focus on two very important issues. October is National Bullying Prevention Month and ACPS is proud to partner with the City of Alexandria Mayor's Campaign to End Bullying to provide lessons, strategies and events that:
Help teach students about how to prevent bullying in their schools

Provide students with strategies to positively engage with their peers

Create safe and supportive school communities 
Friday, Oct. 9 is Unity Day in the City of Alexandria. Students, families, and staff are encouraged to wear green and share photos using the hashtag #BullyFreeStartsWithMe and tagging @BullyFreeAlexVa!
Also this month, in partnership with the Substance Abuse Prevention Coalition of Alexandria, ACPS will participate in the Red Ribbon Week Campaign encouraging children, families and communities to live healthy, happy and drug-free lives. Running from Oct. 23-31, this is the largest drug-use prevention campaign in the nation, and serves as a reminder that we are all empowered with shaping the communities around us through positivity, bravery and strength. 
ACPS will again be hosting a Red Ribbon Week Poster Contest (PDF) which gives students a chance to win a $100 gift card as well as have their artwork featured in next year's Red Ribbon Week campaign.
Poster entries may be submitted by Nov. 8 by emailing face@acps.k12.va.us.   
School Board Work Session on the APD/ACPS MOU
Thank you to all those who spoke at the School Board's online public hearing on the subject on Oct. 1. The Alexandria City School Board is holding a virtual work session on Oct. 15 to discuss the Memorandum of Understanding between ACPS and the Alexandria Police Department. Watch the work session on Zoom. 
Temperature Screening at ACPS Buildings
Anyone requiring access to an ACPS facility or school will be required to undergo a temperature check to help prevent the spread of the coronavirus. Testing stations will be established at seven locations, at or close to ACPS meal distribution sites and locations where major summer construction will take place. Screening will take no more than three minutes to complete and will involve the use of a clinical forehead thermometer.
All those with a temperature of 100.0 degrees Fahrenheit or lower (per Alexandria Health Department guidelines) will be given a dated wristband and be cleared to work as long as they are in possession of appropriate personal protection equipment consisting of masks and gloves.
Should an individual record an elevated temperature, that person will be informed that they are unable to report to work at an ACPS site and will be advised to call his or her supervisor.
Find out more about this measure in this Board Brief.
HEALTH REMINDERS
Don't Feel Well?
Contact your primary health care physician.
---
Have questions, concerns or feedback? Contact us or contact your direct supervisor.
HR Questions? Contact hr@acps.k12.va.us.
Stay Healthy!
Wash your hands regularly. Regular soap is OK.