Today, I am happy to share the results of our latest survey which canvassed opinion from students, families and staff on the return to school buildings and the success of the Virtual PLUS+ program.
This is the largest participation rate we have seen so far, with 15,451 responses: 7,439 from families and 5,952 from students. From our staff we received 2,060 responses, which represents 77% of our workforce. Some schools benefited from a 100% staff response rate. These figures speak directly to how engaged and committed our community is — something we can all be proud of.
I am pleased to say there is much to be encouraged by from the data we gathered. Of those who completed the survey, 93% of families, 82% of staff and 95% of students agreed that "I/my child has adequate technology." Access to technology was one of the major hurdles we had to overcome to create an equitable learning environment. Sixty five percent of families, 47% of staff and 58% of students who responded said we had the amount of teacher-led instruction "just right," and the vast majority appreciated the clear and timely communications we have been sending out. You can see more key data points below and in the Virtual PLUS+ Survey Results (PDF).
As we approach the end of the first quarter and look ahead to the next, it is hard to believe that we still live our lives in such a state of flux and that the coronavirus is still in our community and our world. But this is the current reality we must navigate. Much work continues to go on behind the scenes as we consider what is feasible for staff and students, all while keeping safety at the forefront of our decision making. If you are able to, please join me at the virtual School Board meeting tomorrow (Oct. 15) at 4 p.m. where you will hear more about our survey results as well as our proposal for operating through the second quarter of the academic year.
Stay safe, stay healthy, stay informed.
Sincerely,
Dr. Gregory C. Hutchings, Jr.
Superintendent of Schools
Survey Results Highlights
Thank you to all who responded to our survey about the reopening of schools and the Virtual PLUS+ program.
The participation was high with 7,439 family responses and 5,952 student responses, plus 2,060 staff responses, representing 77% of our workforce. In comparison to previous surveys, responses also continued to be increasingly reflective of our traditionally underrepresented populations.
64% of families and 56% of staff said they would be very likely or somewhat likely to return to school/work

93% of families, 82% of staff and 95% of students agreed that "I/my child has adequate technology"

80% of families, 77% of staff and 83% of students agreed that they were "satisfied with the academic support/instructional resources."

75% of families, 75% of staff and 78% of students agreed that they were "satisfied with the social and emotional support provided."

93% of families and 90% of staff agreed that they had received "regular and timely messaging about the Virtual PLUS+ plan."

There was a 45% reduction in families reporting a need for child care compared to the beginning of the school year. 
The biggest challenge for families (51%), staff (56%) and students (48%) was the amount of screen time. This was followed by distractions, staying on track during class, and virtual instruction not meeting individual needs.
Nearly two-thirds of families (64%) and more than half of staff (56%) reported that they were either very or somewhat likely to return if an in-person option was offered. There were differences, however, within the likely to return category with 43% of families responding "very likely" compared to 23% of staff. There was an increased likelihood to return in earlier grade levels for Students With Disabilities and English Learner families.
More than one-third of families reported the need for division support in recommended safety measures, including social distancing, face coverings and temperature taking before school. Thirty-one percent of families preferred ACPS transportation, with higher rates among families of English Learners (55%) and Students With Disabilities (38%).
See the full Virtual PLUS+ Survey Results (PDF).
Phased-In Reopening Plans Presented to School Board
Tomorrow, (Oct. 15) the Alexandria City School Board will hear our plans for the second quarter of the 2020-21 academic year. We hope to begin a phased-in reopening of our school buildings, beginning with a small cohort of Students With Disabilities enrolled in our citywide program starting Nov. 5.
Key Dates:
Beginning Nov. 5:

Phased reentry of Students With Disabilities currently in the citywide program.

Nov. 4 through January 2021:

Planning takes place for the reentry of all students preK-2.

January 2021:

Phased reentry begins for all students based on a

prioritization matrix (PDF)

. A virtual school learning option will be offered to all students who do not wish to return to in-person learning.
In the meantime, several other adjustments have been made to the Virtual PLUS+ model. These include:
An adjustment in the

K-2 schedule to offer three alternatives (PDF)

. Each school will select the schedule that best fits their student population.

Use of preK-5 Learning Instructional Packets

Clear definitions of "breaks" for families so that children do not sit on Zoom all day, even when they do not have classes

Staff instruction around virtual tactics, including breakout rooms and mini lessons

The provision of headsets for all English Learner students

The creation of assessment windows to monitor progress

Engagement during asynchronous time

Guidance for asynchronous time for teachers, students and families
Safety Measures in Place After Nov. 5 
Additional safety measures will be in place in schools after Nov. 5, when the first students in the citywide program return to buildings. These measures include: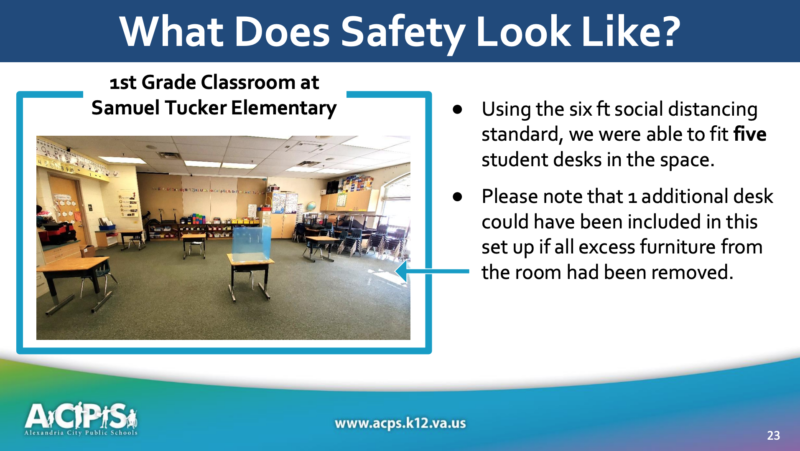 Tape to designate where a teacher may stand to teach: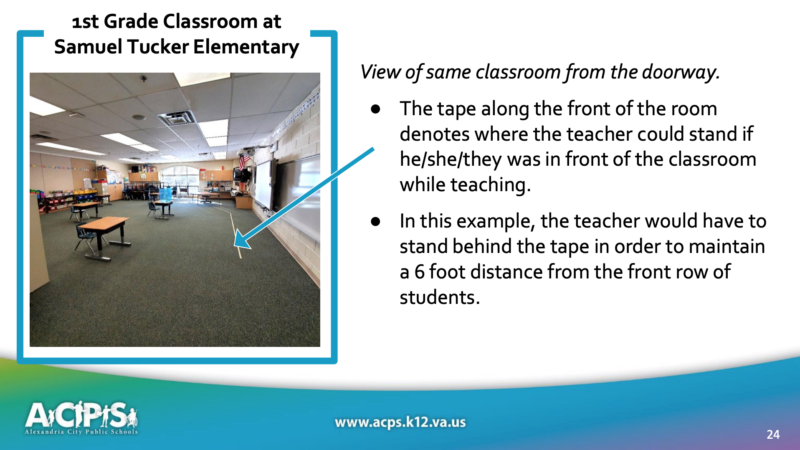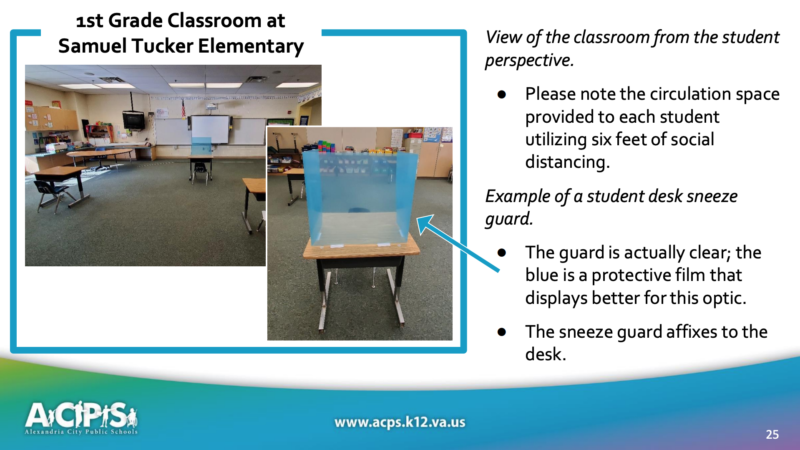 ACPS will be hosting simulations at a select group of schools with division and school leaders, to test preparations of safety measures; six-foot barriers; plexiglass; signs in schools; arrival to schools; health screenings; transitions in buildings; meals; and arrival and dismissal procedures. Before any building opening, simulations and practice runs will support smooth and safe transitions for staff and students. The Alexandria Health Department will be included in testing.
View the presentation for the Oct. 15 School Board meeting (PDF).
Join the meeting live tomorrow at 4 p.m. on Zoom.
The Identity Project: What's in a Name? Community Conversations Begin This Week

This week we begin a series of four community discussions around the consideration of changing the names of T.C. Williams High School and Matthew Maury Elementary School. Three of these sessions will be general discussions and the fourth will focus on Matthew Maury. More information on this session can be found below.
Thomas Chambliss Williams, who was the superintendent of ACPS from the mid-1930s until 1963, resisted desegregation and argued that Black and white students learned differently and should remain in separate schools.
Matthew Maury was an oceanographer who served the Confederacy. He helped oversee Virginia's military preparations and resistance to the Union, including improving the effectiveness of underwater torpedoes or mines. Matthew Maury Elementary School was named after him in the 1920s, as part of a movement to create an image of the war as a heroic narrative and justify the South's loss.
ACPS is critically aware that there is a pressing need in our schools, our community and our nation to find ways to talk about race constructively and respectfully. One of the ways that we can move forward is by acknowledging our own history, while refusing to allow that history to define who we currently are as a school division.
We hold our first Community Conversation tonight, Oct. 14. Join us on Zoom at 6:30 p.m. for a full and frank discussion of the issues with our panelists: 
Earl Cook, '71 Titan who served as the Alexandria Police Department chief of police for 37 years
Audrey Davis, director of the Alexandria Black History Museum 
Ramee Gentry, School Board member
Ashley Sanchez-Viafara, T.C. Williams High School student and representative to the School Board
Find a full list of our community engagement opportunities plus links to access the sessions.
In November 2020, the Alexandria City School Board will make a decision around the names of the two schools. To help inform the School Board's decision, please take 1-2 minutes to share your views with us by completing this very brief survey. The survey will close on October 28 at 11:59 p.m.
Maury Engagement Set for Oct. 26
Please take a few minutes to watch this video about Matthew Maury which will help to set the stage for our future discussions. On Oct. 26, we will host a Matthew Maury Family Forum. We would love to hear your views. Please join us on Zoom at 6:30 p.m. for an hour long discussion.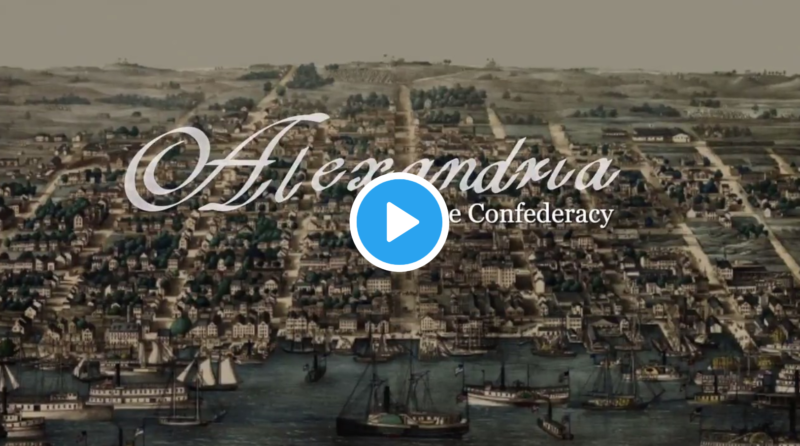 Highlights from Read-In #3: The Real Story Behind "Remember the Titans"
At the third and final Identity Project read-in, Dr. Doug Reed took a deeper dive into the Titan story, setting the stage by discussing riots, protests, systemic injustice, and the resulting civil rights crisis in Alexandria City. This was the un-Disneyfied tale of the merger of our black and white high schools, our integration plan, and a winning football team. ACPS Executive Director of Alternative Programs & Equity Kennetra Wood co-hosted and identified ties to systemic racism rooted in our system. Read more about the event.
Watch video of the entire program. (Mira el programa en español aquí)
See the highlights: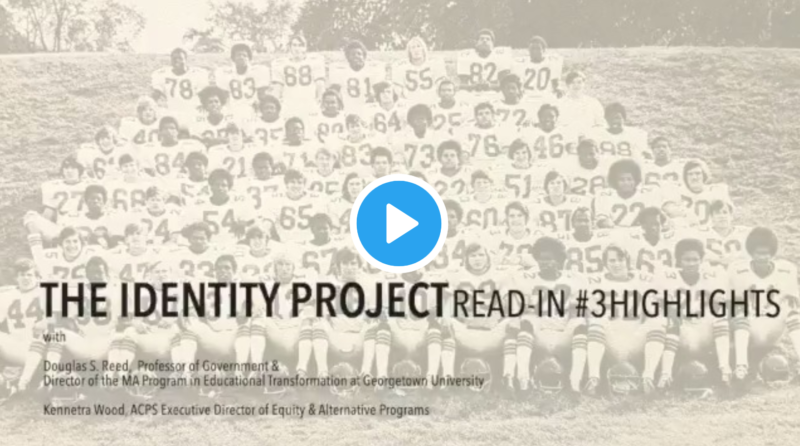 Highlights from The Identity Project Student Forum #1 
Our students held the first of three student forums around the possible name changes on Wednesday, Oct. 7. Their comments were directed at equitable practices across ACPS schools and their powerful insights made the media. Watch the entire session or see the highlights video: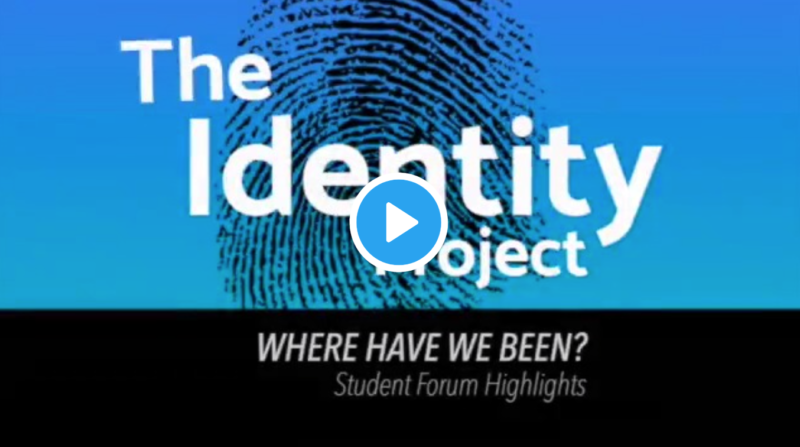 For more details on the topics covered in each read-in, student forum or to view any of the read-ins or engagement sessions, please visit The Identity Project: Renaming Our Schools page on the ACPS website.
City Considers Renaming Street After ACPS Basketball Legend
Earl Lloyd, who attended Parker-Gray High School and became the first African American to play in the NBA, may soon have a street named after him.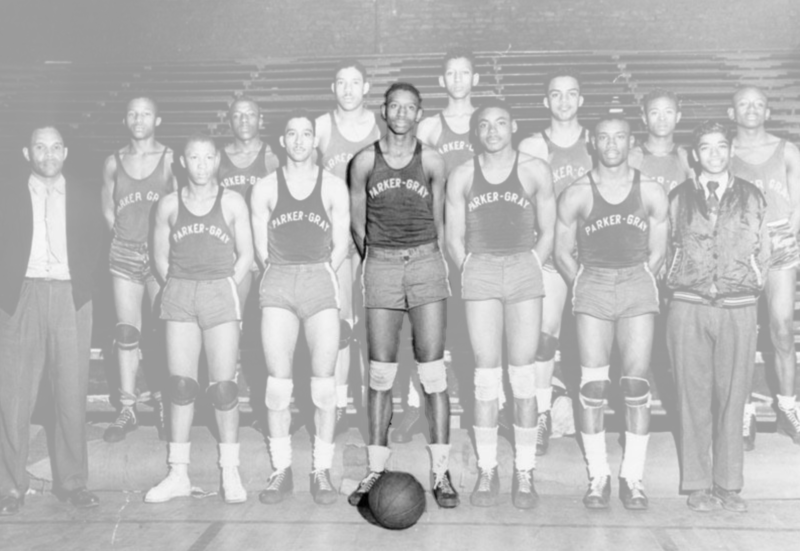 The City of Alexandria Planning Commission is considering a request by the Alexandria African American Hall of Fame, which this month plans to unveil a statue of Lloyd at the Charles Houston Recreation Center, where he played his first NBA game in 1950.
'Earl F. Lloyd Way' would be located in the Parker-Gray neighborhood in the 1000 block of Montgomery Street between N. Patrick Street and N. Henry Street.
Lloyd, who died in 2015 at the age of 86, was known on the court as "The Big Cat." After graduating from Parker-Gray, he went on to become an All-American basketball player at West Virginia State University and helped lead the Syracuse Nationals to the NBA Championship in 1955. He was inducted into the Naismith Basketball Hall of Fame in 2003.
Book Giveaways: Next PreK-5 Giveaway on Monday at Patrick Henry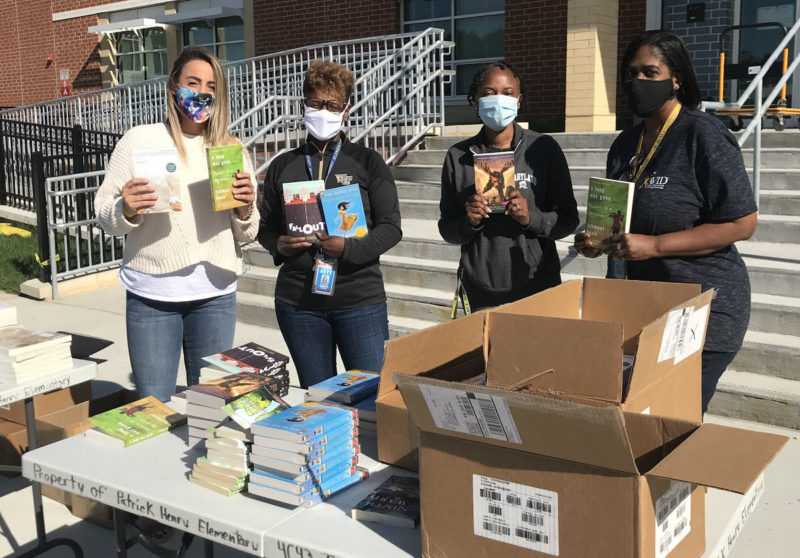 ACPS has been handing out hundreds of books to students to encourage time off from screens and on to pages instead.
At Patrick Henry K-8 School this month, principal Ingrid Bynum joined Middle School Literacy Coach Kelly Miller, Elementary School Interventionist Michelle Hogan and Assistant Principal Andaiye Cammon for a drive-by handout to middle school students.
Books to support the curriculum as well as pleasure reading were handed over to students and families.
Feedback has been so positive that Miller now plans to set up virtual book clubs for students to participate in. 
"We just really felt it was important for students to have books at home to read during the pandemic and to get physical books into the hands of students," said Miller, who has even delivered a couple of books to students at home. "It's important to get away from screens for a while and curl up with a good book."
She added, "We've had a great response. I've had many emails from students saying they can't put the books down, which is wonderful to hear."
Books were selected to ensure the diversity of the student population was reflected in the titles.
"We wanted our students to recognize themselves in the characters they were reading about," explained Bynum.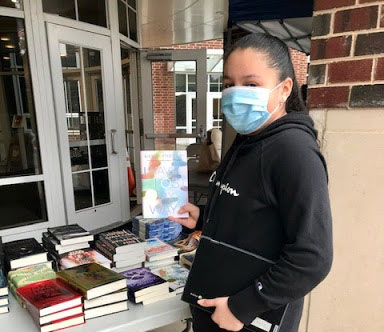 On Monday, T.C. Williams High School library staff greeted students in the rain as they distributed 900 new books to students in grades 9-12.
Thanks to a $1,500 grant from First Book, each student was able to select up to three books for pleasure reading. The 30 young adult titles included, "How Not to Disappear" by Clare Furniss, "Two Roads from Here" by Teddy Steinkellner, and "See All the Stars" by Kit Frick.
Librarians from James K. Polk Elementary School and Ferdinand T. Day Elementary School also had a selection of books to offer younger family members.
Sixth grade Francis C. Hammond Middle School student Genesis Pineda Alvarez swung by with her family and picked out "I Have Lost My Way" by Jacqueline Woodson.
She said, "Reading helps people to stay calm and it's nice to get off technology for a while."
ACPS Library, Media and Instructional Specialist Candace Pannell helped to coordinate the giveaway.
"We are trying to make e-books more accessible but there's nothing like having a real book in your hands that you can make a physical connection with," she said.
All ACPS students in preK-5 are invited to dress up as their favorite book character next Monday, Oct. 19 and visit Patrick Henry K-8 School where even more free books will be available for collection between 9 a.m. and noon.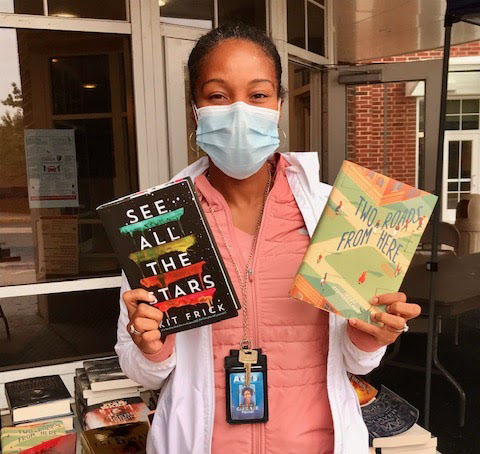 Disability Awareness Month
October is Virginia Disability History and Awareness Month, Learning Disabilities Awareness Month, and National Disability Employment Awareness Month. Take a look back at some of our stories about the work we do to celebrate and support our students with special needs.
ACPS Students to Benefit from Amazon Donation Made to Communities in Schools
Students in Alexandria will be helped by a $400,000 donation through Amazon's Right Now Needs Fund. 
The money, distributed through our Virtual PLUS+ Partner Communities in Schools, will provide students with immediate access to urgently needed items including food, clothing and school supplies across all 18 ACPS schools. 
ACPS social workers, in collaboration with Communities in Schools, will help identify students' needs and prepaid Education Assistance Product Vouchers will be given out to help with food, school supplies and clothing.
Using prepaid vouchers allows students and families to redeem much needed items in a dignified and convenient way.
"The start of this school year has been difficult for many families across our new home of Northern Virginia, and we are determined to provide support to the students who need it most," said Jay Carney, Amazon senior vice president, Global Corporate Affairs in a statement. 
"At Amazon, we are always looking for innovative solutions to tough challenges, and we are confident that the flexibility and speed built into our new Right Now Needs Fund will help ensure that more students from underserved communities can focus on their studies, and not fall behind as the COVID-19 pandemic continues."
Alexandria Symphony Orchestra Grant to Teach Students Tango
Orchestra students at Francis C. Hammond Middle School, George Washington Middle School and T.C. Williams High School will be taught to play a tango thanks to a grant from Virtual PLUS+ Partner the Alexandria Symphony Orchestra (ASO).
ASO awarded QuinTango, a D.C.-based community ensemble dedicated to the traditional Argentine music, one of seven micro grants from a program set up as part of its response to both COVID-19 and racial injustice. 
Students will review recordings of their parts and a complete performance by QuinTango. After coaching and practice, the students will perform their parts, virtually playing along live with QuinTango.
Several other projects that received funding will benefit our students through Sympatico, the music education program run as a partnership between the ASO and ACPS.
Veronica Jackson, T.C. Williams High School orchestra director said, "Alexandria is becoming a model of inclusion with music taking the lead."
Virtual PLUS+ Partner RunningBrooke's Fitness Cube Giveaway
Parents may request a free RunningBrooke Move2Learn-At-Home Toolkit for their children. The kit includes an easily assembled "fitness cube" and poster packed with home fitness activities to engage the body and mind, and an important parent how-to. 
Science shows that getting regular physical activity throughout the day is good for both mental and physical health, and academic success. 
Desks For Kids
ACPS is partnering with the Alexandria-based design company Building Momentum and the Eastern Atlantic States Regional Council of Carpenters to produce and deliver 100 desks each week to community centers that provide child care for some of our families.
The Desks for Kids program hopes to expand its reach to students at home who do not have a suitable place to participate in Virtual PLUS+.
Temperature Screening at ACPS Buildings
Anyone requiring access to an ACPS facility or school will be required to undergo a temperature check to help prevent the spread of the coronavirus. Testing stations will be established at seven locations, at or close to ACPS meal distribution sites and locations where major summer construction will take place. Screening will take no more than three minutes to complete and will involve the use of a clinical forehead thermometer.
All those with a temperature of 100.0 degrees Fahrenheit or lower (per Alexandria Health Department guidelines) will be given a dated wristband and be cleared to work as long as they are in possession of appropriate personal protection equipment consisting of masks and gloves.
Should an individual record an elevated temperature, that person will be informed that they are unable to report to work at an ACPS site and will be advised to call his or her supervisor.
Find out more about this measure in this Board Brief.
HEALTH REMINDERS
Don't Feel Well?
Contact your primary health care physician.
---
Have questions, concerns or feedback? Contact us or contact your direct supervisor.
HR Questions? Contact hr@acps.k12.va.us.
Stay Healthy!
Wash your hands regularly. Regular soap is OK.