Parents, guardians and community members, we need to hear from you! Today is the last day to take the ACPS 2020 survey and let us know how you think we are doing.
Does each student have opportunities to be challenged and supported?
Does ACPS employ staff that meets the needs of every student?
Does ACPS promote health and wellness to enable students to be ready to learn?
Let us know through the ACPS 2020 survey. Survey results will help us gauge our progress, identify our strengths and opportunities for improvement.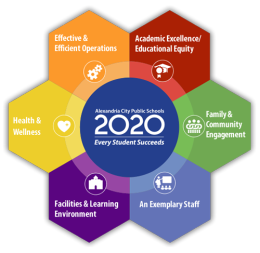 The survey focuses on the six main areas in the ACPS 2020 Strategic Plan that was adopted in June 2015: academic excellence, family and community engagement, high-quality staff, facilities and learning environment, health and wellness, and effective and efficient operations.
Take the survey online now in English, Spanish and Arabic from any internet-connected computer, tablet or smartphone. Paper copies are available in these languages, along with Amharic, at schools, recreation centers and libraries. To participate in the survey in another language, please call 703-619-8062. Participants are anonymous to ACPS and responses are strictly confidential.

Learn More About the ACPS 2020 Strategic Plan