It is that time of year when we begin reviewing materials that are distributed at the start of the new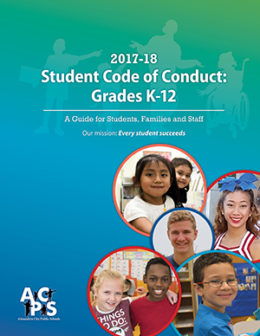 school year as part of the Welcome Packet. Today we are seeking your feedback on the Student Code of Conduct.
The Student Code of Conduct is a guide for students, families and staff that provides a uniform code of conduct that sets expectations for students for attendance and behavior. It also:
serves as a resource to promote positive school behavior;
describes the multi-tiered systems of support used to provide interventions to students in need of behavioral support;
outlines procedures for concerns such as reporting bullying; and
explains conduct that could result in specific disciplinary actions.
Please take a moment to share your feedback through a brief online survey. The survey should take about five minutes to complete and will close on May 15.
If you have any questions, please send an email to codeofconduct@acps.k12.va.us.