It's that time of year when ACPS calls on you — our students, parents, guardians, staff and community — to let us know how you think we're doing through the annual ACPS 2020 survey.
Many thanks to those who have taken the survey and shared your feedback on our progress toward the goals laid out in the ACPS 2020: Every Student Succeeds Strategic Plan.
Many voices remain to be heard before the survey closes on Monday, April 30. Be sure that your voice is among them!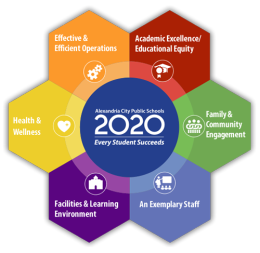 The survey focuses on the six main areas:
Check your email for an invitation from Interim Superintendent Lois F. Berlin that contains a link to the survey. Or take the survey online now in English, Spanish or Arabic. Amharic surveys in paper format are available at schools and in all languages at city libraries and recreation centers. If you need to take the survey in another language, please call 703-619-8062.
You can take the survey on any internet-connected computer, tablet or smartphone. Participants are anonymous to ACPS and responses are strictly confidential.

Read about ACPS 2020: Every Student Succeeds.
We look forward to hearing your feedback!