Alexa Lopez, a fourth-grade student at Lyles-Crouch Elementary School is a life-long vegetarian, litter fanatic, animal-lover and tree-hugger. She also genuinely believes that her actions can help save the planet.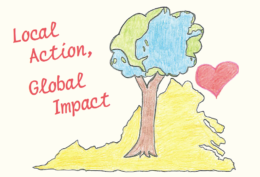 Last week, Alexa was named the winner of the City of Alexandria's Earth Day artwork contest for her poster, which combined her love of animals with her other love, art, to represent the theme "Local Action, Global Impact."
First I thought Virginia and then trees, since that's a big part of the planet, and then the earth. So, I did Virginia, the tree and then the earth kind of inside of the tree. I really like drawing and I really like trying to save the earth," said Alexa.
Her artwork demonstrates love for our city, state and world, and inspires us to take care of our environment," said Earth Day Planning Committee Member and Director of UpCycle Creative Reuse Center Kelley Organek.
The contest is an annual initiative of the City of Alexandria where all Alexandria students in grades K-12 are invited to design artwork to help publicize the city's Earth Day celebration. Alexa's artwork was selected from more than 300 submissions. It will be printed on Earth Day t-shirts, reusable shopping bags, posters and fliers.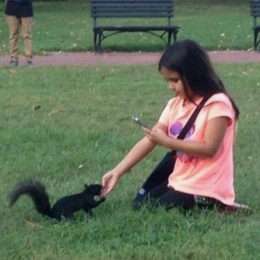 Alexa's message for the community is:
If you see litter or something pick it up and throw it away and you yourself shouldn't litter. And, just keep the earth clean. It's not the animals' fault and they just die because of what humans do to the earth, because of pollution and littering and things," said Alexa.
Alexa has been invited to attend the Proclamation Reading on Tuesday, April 10, at City Hall in City Council Chambers at 7 p.m. The winning artwork, along with the works of the other finalists, will be displayed at city hall from April 16-27 and at the Earth Day event on April 28.
Save the date for Alexandria's Earth Day celebration on Saturday, April 28 from 10 a.m. to 2 p.m. at Lenny Harris Memorial Fields at Braddock Park, 1005 Mt. Vernon Ave.