Mount Vernon Community School Principal Peter Balas has been named as ACPS Principal of the Year and a finalist for The Washington Post's 2017 Principal of the Year.
Balas, who will become principal of T.C. Williams High School in July, was given the award by Superintendent Alvin L. Crawley in a surprise ceremony. Staff and teachers joined members of the Central Office leadership team to honor Balas' achievements over the past five years as principal of Mount Vernon.
I am speechless. I want to say thank you to all my staff and students. This has been quite an extraordinary couple of weeks," said Balas.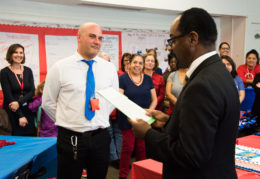 Balas has spent the last 15 years with Alexandria City Public Schools, including five years as an administrator at T.C. Williams High School. He spent two years as an Executive Associate Principal at T.C. Williams before leaving to transform Mount Vernon Community School into Alexandria's first full elementary Dual-Language Program school.
We all like to talk, but one of Principal Balas' attributes is that he is also a good listener. He builds relationships to create a positive schoolhouse environment and we all know he has a sense of humor. We want to thank you for your leadership, for helping make sure every student succeeds and for the work you do every day to touch the lives of our students," Dr. Crawley said.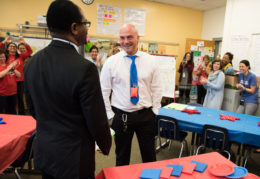 Teachers at the school credit Balas with being "every student's greatest advocate." Teachers say that his successful implementation of a series of policies and procedures at Mount Vernon helped to ensure an equitable educational experience for all and maximize student achievement.
Staff members praise Balas for being an exceptional administrator, effective liaison and enthusiastic cheerleader, while students attribute the positive and open learning culture at the school to his warm personality.
With his guidance and trust we were able to see drastic gains in our students' academic achievement in a very short time. We have been able to continue the momentum without losing ground to see our highest need students grow. He is an outstanding leader with a heart of gold. Mount Vernon would not be the place it is today without him," one staff member said.
Read what Principal Balas' students have to say about him:
"He has helped our school a lot in stuff like sorting out problems. He helps out kids a lot, but he also helps out teachers."
"He is funny, nice and hardworking. He cares about our whole school!"
"He makes the learning environment happy, like saying 'hi' and high-fiving the kids all the time."
"To be fair, he's just a nice guy to be around. He's great around kids and everyone loves him. He makes sure every student succeeds and he encourages kids to push themselves. Not too far, but to the point where they build up confidence."
"He puts his students first – and he makes sure we start the school year with a dunk tank!"
"When you are sad, he makes you laugh and feel well."
"Let's say that your mom told you to read but you want to finish the 75 level of Mario Bros, but then you remember last year getting dressed in shorts and a t-shirt and telling your mom that you will get to dunk Mr. Balas. When you hit the target, that was the best day ever!"
"Mr. Balas is just an amazing principal."