Matthew Maury Elementary School's music teacher Laura Koss has been named 2017 ACPS Teacher of the Year and finalist for The Washington Post Outstanding Teacher of the Year.
Koss, who joined Maury in 2007 and plays the horn and piano, was given the award by Superintendent Alvin L. Crawley who surprised her in the middle of one of her lessons.
I feel so honored to get this award. I cannot say how much it means to me and I want to thank all my students and colleagues for their nominations," said Koss.
Koss was selected from among a pool of extraordinary teachers from across the division who were nominated by their principal.
Ms. Koss is passionate about music. Her students know that music is a place where they can explore, create and be fully engaged and challenged no matter what their proficiency level is when they enter her class. One only has to be in her class for a second to see her bring music to life. She makes dreams come true through music," said Maury Principal Lucretia Jackson.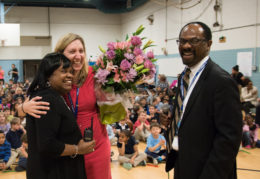 Koss creates musical assessments and uses differentiation strategies during instruction. She poses essential questions and mastery objectives in child-friendly language, communicates clearly, checks for understanding and routinely has students demonstrate their thought processes.
Maury students perform during PTA meetings and assemblies, and winter and spring concerts. They also sing at Hooray for Books! bookstore and Barnes and Noble as a way of getting performance exposure. Singing, playing instruments, moving to music and creating music enables students to acquire not just musical skills, but they also provide ways for students to express themselves.
I continue to be in awe of her ability to mold her students' understanding of and interest in music. I only wish I could have had a music teacher like her when I was younger," one staff member at Maury said.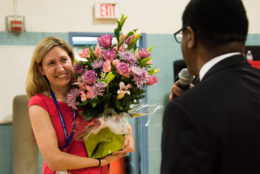 Koss is dedicated to both students' and staff members success. She serves as the chair of the Positive Behavior Intervention Support Committee, holding regular meetings to discuss behaviors and supports and has been a reasoned and welcome voice on the Maury Leadership Committee. She has been part of the ACPS Wellness Committee and coached Girls on the Run at Jefferson-Houston School.
Read what Laura Koss' students have to say about her:
"Ms. Koss was the best school music teacher ever. I learned the joy of music in her class, which lead me to joining the middle school choir. Her class helped me grow in confidence and embrace the love of music I now know I cannot live without."
"She is caring, energetic and thoughtful. I love how she takes so much time to pick out the best songs for us."
"When I came to kindergarten I didn't really like music. But on my first day of music class you made me LOVE music. I especially love your singing voice. Your singing voice is so smooth and lovely. I always wanted my voice to be like your beautiful singing voice, but my voice is my voice and your voice is your amazing voice."
"I always look forward to her classes."
"I had no idea how to play the flute or ukulele, but somehow she made me decent at both."
"She rocks like a rock star."
"She's the coolest teacher in the universe."
"Everybody in our school thinks that Ms. Koss is the king of music!"