Recent data shows that the Advancement Via Individual Determination (AVID) system is playing a key role in closing the achievement gap and ensuring that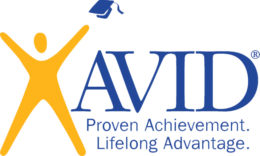 every student succeeds.
The AVID system has seen tremendous gains in growing participation rates in elementary through high school, increasing grade point averages (GPAs) and increased enrollment in rigorous courses.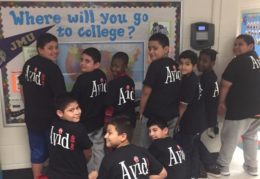 AVID is a system that enables college access for self-determined students who are typically underrepresented in four-year colleges, students in the academic middle and those who may be the first generation in the family to attend college. The program plays a critical role in preparing students for college readiness and involving families in the creation of pathways to success.
Students enroll in the year-long elective class, which focuses on writing, inquiry, collaboration, organization and reading strategies. They also receive in-class tutor support twice a week. Students are expected to enroll in at least one course of rigor and take a sequence of courses that meets four-year college entrance requirements. Students enrolled in four years of the elective in ACPS, on average, will visit more than 20 different college and universities.
The impact of the AVID system in our schools and on our students is really powerful. Through this program, a pathway to college has been created for students for whom a pathway may not have existed. With the depth of support provided to students and their families through the program and the opportunities to which they are exposed, students graduate from ACPS ready for college and equipped to succeed in a global society," said AVID Coordinator Jodie Peters.
More than 483 ACPS students are enrolled in the AVID elective course in five schools reaching students in grades 6 – 12 and the results from the past eight years are impressive:
More than 78 percent Free and Reduced Price Meals (FARM) students and approximately 70 percent of first-generation college-going students participate in the AVID elective.
Cohorts have doubled over time and retention in the elective course is at an all-time high of 80 percent.
Grade point averages (GPAs) have increased more than 0.5 percent in the high school grades and a majority of students are taking at least one course of rigor, including honors, advanced placement or dual enrollment courses.
More than 98 percent of middle school students are taking an honors course and are successfully completing Algebra in the eighth grade.
AVID seniors have boasted a 100 percent on-time graduation in and college acceptance rate for the past three years.
In 2016, AVID seniors collected more than $50,000 in scholarships. The class of 2017 is on track to collect more than $1.1 million in scholarships.
Contributing to the growing college-going culture and environment, more than half of the AVID tutors are ACPS AVID graduates who are currently enrolled in local colleges and continue to give back to their local community.
The AVID system, which is more than 35 years old, is being used to change the future and trajectory for more than 1.2 million students across 47 U.S. states and 17 territories in the world.
The AVID program exemplifies ACPS 2020 Goal 1 – Academic Excellence and Educational Equity: Every student will be academically successful and prepared for life, work, and college.