Congratulations to three ACPS teachers who have received or renewed their National Board Certification – the teaching profession's highest mark of accomplishment.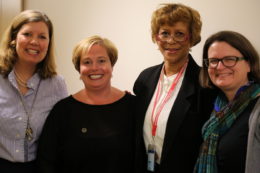 Steve Geter, Jennifer Lay and Melissa King were presented with a certificate at the School Board meeting on Thursday evening and praised for their dedication throughout the rigorous, performance-based peer-review program.
The National Board Certification is a voluntary, teache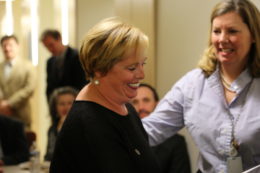 r-driven professional learning process from the National Board of Professional Teaching Standards. The qualification helps support teachers in developing and demonstrating the advanced knowledge, skills and practices required of an outstanding educator.
Higher standards for teachers means better learning for students. As part of its commitment in the ACPS 2020 Strategic Plan, ACPS pledges to develop an exemplary staff and ensure that there is a highly effective teacher in every classroom, ACPS provides on-going support to teachers who choose to pursue National Board Certification. Currently, ACPS has 67 National Board Certified teachers and counselors.
Steve Geter
Geter was raised in Alexandria and attended ACPS schools throughout his K-12 years. This is his ninth year teaching 11th-grade students mostly U.S. and Virginia History, including AP and Co-Taught Special Education. He graduated from James Madison University with a Master's Degree in Education in 2008, loves teaching in Alexandria and plans to spend the rest of his educational career nurturing his students' love of learning at ACPS.
Jennifer Lay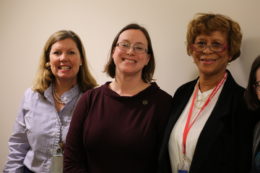 Lay began as a seventh-grade life science teacher at George Washington Middle School, taught Biology and Chemistry at Minnie Howard and finally transitioned to the King Street campus of T.C. Williams High School to restart the AP Chemistry program. With 18 years of teaching experience, she has been an avid fan of the Science Fair and a leader in her department.
Over the last seven years, she has served on committees to help implement and assess the 2010 Science Standards and draft the 2018 Science Curriculum Framework for the Virginia Department of Education. In November, Lay became the Secondary Science Instructional Specialist in the Office of Curriculum and Instruction, showing commitment to providing her students and her fellow science teachers with engaging, inquiry-based instruction.
Lay first became National Board Certified in Adolescence and Young Adulthood Science in 2007 and is renewing her certification.
Melissa King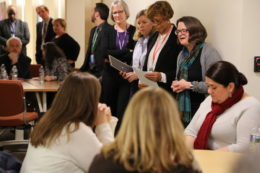 King, who has over 15 years of teaching experience, graduated from George Washington University, with a Masters in Elementary Education and PK-6 endorsement. After ten years of classroom teaching, King transitioned to Technology Services, where she currently supports Matthew Maury Elementary and Lyles-Crouch Traditional Academy in her role as a Technology Integration Specialist (TIS). In this role she draws upon her teaching expertise to support staff in using technology to strengthen instruction, coaching, co-planning and by modeling best practices for students, teachers and administrators. She also designs and facilitates new models of professional learning opportunities for all ACPS teachers including the Teacher Leadership Project (TLP) and Teacher Leadership Project-Collaborate (TLP-C).
King has been a member of the Board of Examiners for the National Council for Accreditation of Teacher Education (NCATE) since 2006 and is transitioning to the role of site visitor for the Council for the Accreditation of Educator Preparation (CAEP), conducting reviews of college and university education programs and preparing accreditation reports.
She first became a National Board Certified Generalist in Early Childhood in 2007 and is a Candidate Support Provider for ACPS' National Board cohort for full candidates and renewal candidates.