Alexandria City Public Schools inducted five outstanding athletes into the Athletic Hall of Fame on Friday night, including a star player in the 1971 State Championship football team memorialized in Remember the Titans and a student from the all-black Parker-Gray High School who went on to coach football for the Olympics.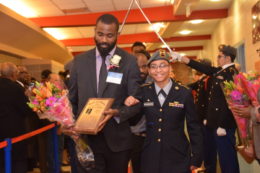 The Hall of Fame, now in its third year, also honored a highly successful track coach and former Athletic Director of T.C. Williams High School in a glittering ceremony with saber-bearing JROTC cadets and a trumpet fanfare.
This year's inductees include Frankie Glascoe, Captain of the 1971 State Championship football team, memorialized in the Disney movie Remember the Titans. Glascoe still holds the T.C. Williams High School record in the triple jump that he set 44 years ago, when he was ranked third in the nation in the triple jump and fourth in the long jump. He currently serves on the Board of the 1971 Titans Foundation that provides financial assistance to students at T.C. Williams who may not otherwise be able to afford college.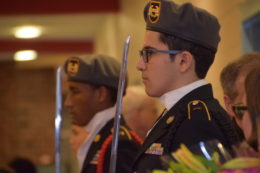 Also inducted was Walter Oreal Griffin Sr., the only person to be named Washington Post All Metropolitan Basketball Player from the historically all-black Parker-Gray High School. His Parker-Gray High School basketball team won 38 consecutive games and three consecutive state titles between 1955 and 1957 and finished third in the nation in 1957. Oreal Griffin Sr. was one of the first black players from a segregated school in the United States to receive a scholarship to a major four-year university for basketball.
Jimmy Lewis was the first African-American Men's Basketball Coach at Duke University in 1971, first head coach of the Washington Mystics in the Women's National Basketball Association and the coach with the highest number of wins for either men's or women's basketball at George Mason University. At the national level, Lewis was a member of the coaching staff for four U.S. National Basketball teams that between them won three gold medals and one silver medal.
Tony Hunt finished his Penn State career with the second highest number of career rushing yards of any Penn State running back and went on to become only the fifth Penn State player ever to rush for 1,000-yards two years in a row and to rush for more than 3,000 career yards. He was named the Most Valuable Player of the 2007 Senior Bowl, after leading all running backs in total yards, named the 2007 Outback Bowl Most Valuable Player in 2007 and was drafted in the third round by the Philadelphia Eagles.
Dawn Ingram was a star of the girls' basketball team at T.C. Williams and Temple University. She was named to the Second Team All Big 5 Conference, Defensive Player of the Year and Most Valuable Player. Ingram then went on to pursue her Doctorate Degree in Physical Therapy.
In addition to the five athletes, the Hall of Fame honored Aly Khan Johnson, who, during his 33 year career as a coach and Athletic Director at T.C. Williams, helped the Cross Country, Indoor and Outdoor Track and Field teams to six consecutive and nine overall State Championships. Johnson earned Coach of the Year honors from several organizations including the Washington Post which honored him a record seven times.
Inductees were selected in a rigorous process by the Hall of Fame Advisory Committee and approved by the School Board on December 1.
In previous years, ACPS saw 20 athletes inducted into its inaugural Hall of Fame in 2014 and a further nine more in 2015. Last year, 1971 State Championship team coaches Herman Boone and Bill Yoast memorialized in Remember the Titans were honored.
View a photo gallery of the Hall of Fame on the ACPS Facebook page.