The Alexandria City School Board has voted on new elementary school attendance boundaries across Alexandria.
The change will impact an estimated 474 students who will be required to move schools when the new boundaries are implemented in the fall of 2018. A timeline for public notification about the boundary changes will be published in the next few weeks. It will include a plan to ease the transition process, including open houses at elementary schools, opportunities for families to meet their new teachers, staff and the PTA.
The new boundaries represent the best balance of all the redistricting criteria across the division. They impact only a small percentage of our total school population, while beginning to resolve some of the capacity issues facing ACPS. We would like to recognize the contributions of the Alexandria community and the Redistricting Review Committee during this process. It has taken us longer than we originally anticipated to get to this stage, but it was critical to listen to input and feedback and make sure that it was incorporated into the end result," said School Board Chair and Chair of the Redistricting Steering Committee Ramee Gentry.
Gentry added that although not everyone may be happy with the new boundaries, the community engagement process ensured that everyone had a chance to make their voice heard.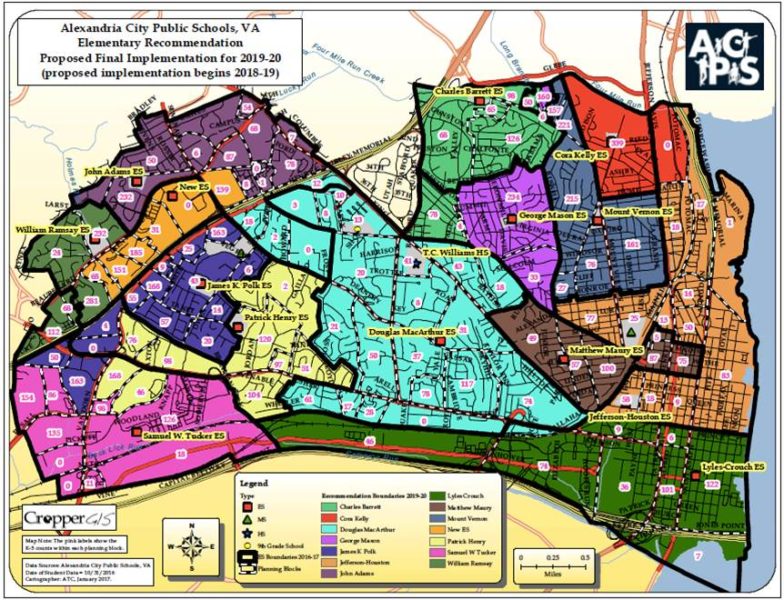 This has been challenging at times, but the division's approach to redistricting allowed room for genuine community engagement throughout the process, as well as subsequent alterations to the options based on that engagement," said School Board Vice Chair Cindy Anderson.
This is the first boundary change in more than 16 years for Alexandria City Public Schools. The previous school boundaries were established in 1999. Since that time, ACPS has seen enrollment grow by up to 500 students per year – equivalent to the capacity of an elementary school. This has required ACPS to bus students on a regular basis to other elementary schools across the division, to the extent that approximately a thousand students each year are not able to attend their neighborhood school.
The overarching goal of the redistricting process, as established by the School Board, is to enable students to attend their neighborhood school with equitable access to instructional programs and services, in a cost effective manner, unless there is a demonstrated need or desire to attend a designated citywide program.
The new boundaries lower the number of students who require transportation across the division as a whole. The numbers of students able to walk to school increases from 3,380 to 4,992 students. The new boundaries also retain the diversity of ACPS elementary schools as far as is geographically possible.
The new boundaries ensure that all elementary schools except Mount Vernon Community School and George Mason Elementary School fall within the optimal 90 to 110 percent utilization rate of students living within the attendance boundary. Mount Vernon will have a 114 percent live-in utilization, while George Mason will be at 117 percent in fall 2018. Prior to the boundary changes, six schools exceeded the optimal live-in utilization rate, with Samuel Tucker Elementary School at 170 percent, William Ramsay at 136 percent, George Mason at 154 percent, Douglas MacArthur at 122 percent and John Adams at 120 percent utilization. Increasing enrollment would have seen these rates rise still further over the next five years.
Last week, the School Board voted to allow all fourth- and fifth-grade students as of fall 2018 and their siblings to stay at the school they currently attend for a maximum of two years to help ease the transition.
Siblings of fourth- and fifth-grade students as of fall 2018 have the option of attending their newly zoned school or remaining at the previously zoned school until the older sibling transitions to middle school. Transportation will be provided for both the fourth-and fifth-grade students and their siblings.
Families wishing for fourth- or fifth-grade students and their siblings to remain at their current school must submit a Notice of Intent to Stay form by January 15, 2018. The new boundaries will go into effect at the start of the school year 2018. All students will attend their elementary school in their newly established attendance zone unless they qualify for one of the exemptions outlined in Regulation JCE-R.
Students currently enrolled in a dual-language, K-8 or modified calendar program will be allowed to continue in the program until its completion.
A redistricting implementation transfer application process will be available for the 2017-18 school year. These transfers are offered to families who have been rezoned and would like their child(ren) to begin attending the newly zoned school prior to full redistricting implementation. Transfers will be reviewed and approved based on available capacity at the requested grade level. For these transfers, transportation will be provided for students who meet the requirements for transportation outlined in Policy EEA.
For full details of how the policy changes impact programmatic transfers and exemptions as well as administrative transfers, please see Policy JCE and Regulation JCE-R.