Students across ACPS have been finding ways to honor and learn about Dr. Martin Luther King in celebration of Martin Luther King Day.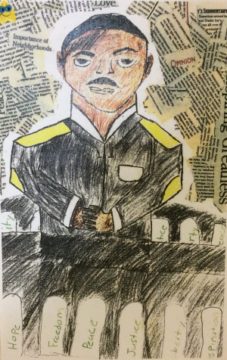 Schools participated in the student poster competition sponsored by the Alexandria Society for the Preservation of Black Heritage, Inc. and the Alexandria Black History Museum. Students were invited to create original artwork based on the theme, Stand Up, Shout Out! Who Inspires You? A recognition program and reception was held on Monday at City Hall, where the artwork that was selected by each school for the exhibit is on display.
Here is a peak at some of the enrichment and reflective activities taking place in our schools.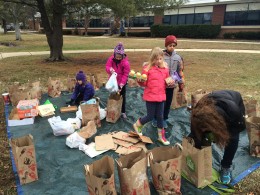 Douglas MacArthur Elementary School students participated in the annual Day of Service by organizing a local food drive to help stock the Alexandria Carpenter's Shelter. Students helped unload dry goods from cars that pulled up outside the school and then delivered them to the shelter.
Charles Barrett Elementary School students engaged in readings, viewed online videos and wrote about their understanding of Dr. King. Some students listened to clips of Dr. King's, "I Have a Dream" speech and created their own speeches. Students wrote thank you cards to Dr. King and discussed his work and how the world might be different without his dedication to the Civil Rights Movement.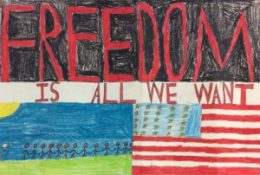 Cora Kelly students used multi-colored eggs to illustrate that you cannot determine the character of a person based on what is on the outside. They also posted quotes from Dr. King around their classrooms and wrote about the quotes mean to them, as well as completing reading and writing activities related to Dr. King's "I Have a Dream" speech and "Martin's Big Words."
Students and parents at Lyles-Crouch Traditional Academy delivered Meals on Wheels on MLK day. Students also participated in the MLK Day poster contest and reception yesterday.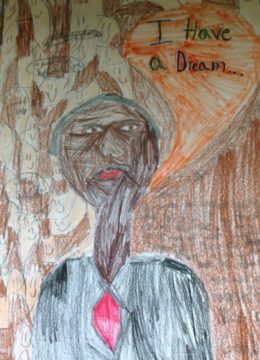 This week, George Mason Elementary School students will read "Martin's Big Words" and will use the multi-color egg activity to discuss how on the outside we are different, but on the inside we are the same. Some students will complete a puzzle portrait of Dr. King, watch the "I Have a Dream" speech, write their own speeches and engage in daily readings. Older students will analyze excerpts from "I Have a Dream."
Matthew Maury Elementary School students read the story "Martin's Big Words" and wrote about their dreams to make the world a better place.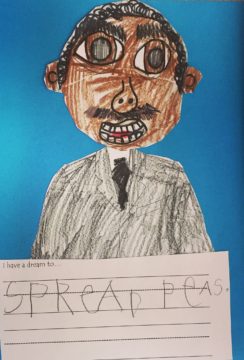 At Mount Vernon Community School, grade 4 and 5 visual art classes participated in the annual MLK Poster Contest, creating art work of figures like Dr. King, presidents, politicians, teachers, athletes, mentors, family members and friends. The Student Council came up with the idea of an MLK Day of Peace to be celebrated on Wednesday, January 18. This day was intentionally chosen to fall between the Martin Luther King Holiday and Election Day as a way to promote peace, diversity and unity in our community. Student Council officers will promote the Day of Peace on the morning news and encourage students to do something kind in honor to this day of peace to celebrate diversity and build community.
At James K. Polk Elementary School, first-grade students were treated to a special reading of Dr. King's I have a Dream" speech by Justin Cox, the son of first-grade teacher, Jeanette Cox. Some students read about Dr. King and did writing exercises based on what they learned. And, some student participated in the MLK Day poster contest and reception yesterday.