Technology Helps to Reduce Local Spread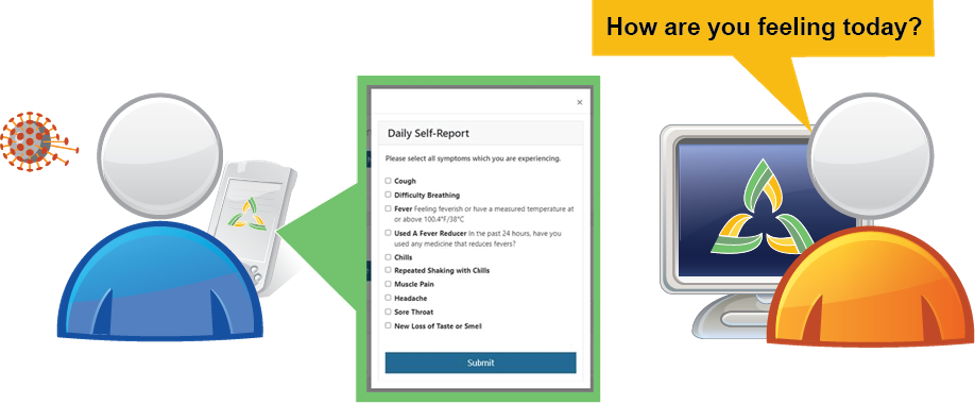 The Alexandria Health Department (AHD), along with hundreds of other local health departments, uses a tool called Sara Alert™, designed in early 2020 to support contact tracing. This system enrolls individuals exposed to or infected with COVID-19, which helps AHD to provide guidance about when it's safe to discontinue isolation or quarantine. Once enrolled, individuals enter their symptoms daily via email, text, or phone call, providing public health professionals real-time insights into disease spread and allowing AHD staff to quickly follow up with Alexandrians to ensure that they have all of the needed resources.
Neither the Sara Alert system nor AHD contact tracers will ever ask individuals for social security numbers, bank account or credit card information, passwords or answers to security questions. Sara Alert will only contact enrolled individuals from (844) 957-2721 or notifications@saraalert.org. AHD encourages residents to always verify phone numbers and email addresses to confirm that a message is from Sara Alert before responding.
Deadline Extended: 2022-2024 School Year Calendar Survey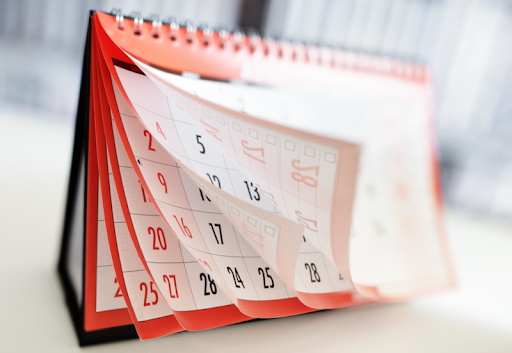 The deadline has been extended to Nov. 7, 2021, for an ACPS survey for families, staff, and community members to provide input on the development of the 2022-24 school year calendars.
The Academic Calendar Committee met in May and June and reconvened again in September to review community input from families, staff and community members from the public comment period in May 2021. This input was used to develop the proposed 2022-2024 school year calendars. The calendar committee is composed of the following members:
Representatives from elementary, middle and high school principals
Representatives from the PTA Council
Representatives from parents of elementary, middle and high school students
ACPS teachers, staff and administration representatives
Key features of the proposed 2022 – 2024 school year calendars include:
Pre-Labor Day start to the school year to support student success and reduce summer learning loss while providing the most classroom time before Advanced Placement (AP) exam testing
Recognition of diverse holidays in alignment with the 2025 "Equity for All" Strategic Plan, including racial equity in the designated holidays for students and staff
Fall full-day conferences and two half-day spring conferences with differing conference dates for elementary school, middle school and high school
Eight professional development days
More than the minimum 990 instructional hours to support unexpected closings (such as snow days)
195 teacher days to meet contractual requirements
The proposed school year calendars encompass two school years: 2022 – 2024.  A two-year calendar cycle improves long-range plans for school programs, facilities projects and operational services. Families will also be able to better plan and schedule family activities.
Please take the opportunity to review and comment on the proposed options for the Traditional Academic Calendar and the Samuel Tucker Modified Academic Calendar for 2022 – 2024 located on the ACPS Calendars webpage.
The poll will be open for comment through Sunday, Nov. 7, 2021.
The Academic Calendar Committee and ACPS administrators will review the responses to determine the general sentiment in support of the proposed 2021-2024 school year calendars and the recommended changes for each school year. A calendar recommendation will then be made to the superintendent.
The superintendent will present the recommended calendar for School Board approval at a December 2021 Board meeting. Once approved, the adopted calendars will be posted on the ACPS website and published in ACPS Express, ACPS Insider and on social media.
BITS – Empowering Students Through Biking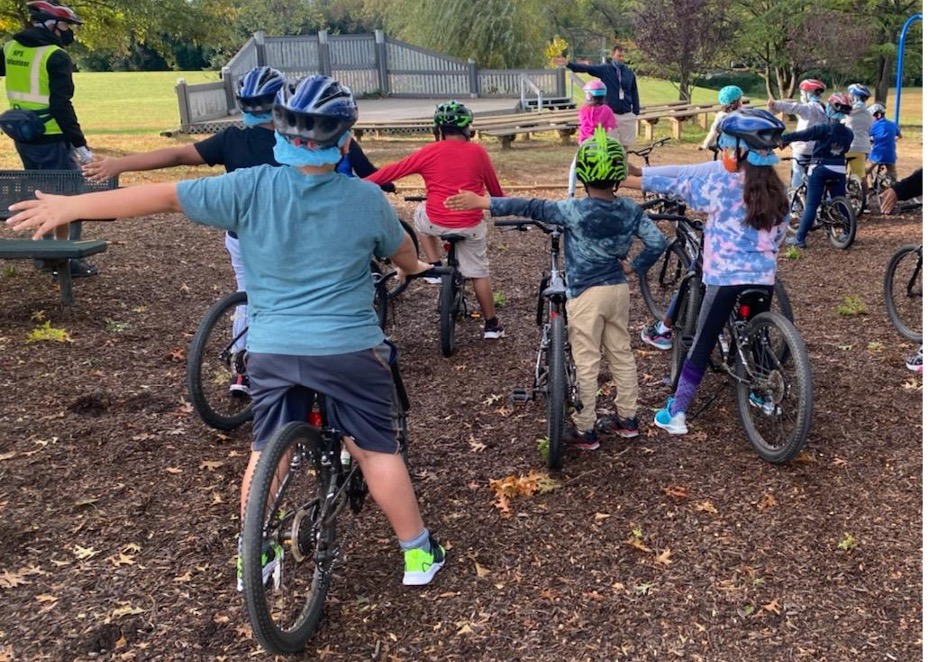 Learning how to ride a bike has long been a rite of passage for young people, giving them a sense of accomplishment and freedom. The Safe Routes to School (SRTS) Bicycles in the Schools program (BITS) provides that opportunity for ACPS students; many of whom do not have a bike at home or a safe place to ride.
SRTS BITS supports ACPS physical education instructors to teach biking in our elementary and middle schools during their Physical Education (PE) classes. The program runs in the fall and spring to provide students with important safety lessons and road safety skills.
"There is nothing quite like the children learning to balance and ride for the first time and those triumphant grins and supportive cheers amongst classmates as they take off," said BITS volunteer Eldon Boes.
BITS is supported by volunteers from Alexandria's Bicycle and Pedestrian Advisory Committee (BPAC) who travel among ACPS schools to assist division instructors. ACPS has a fleet of bikes and trailers that rotate between schools to allow every child from third grade and above the opportunity to learn cycling skills. ACPS also has a variety of adapted bikes to allow our students with special needs to fully participate with their peers.
"We want to ensure equity with the program across all schools within ACPS," Kristin Donley, Health, Physical Education, and Family Life Education instructional specialist said. "The BITS program helps achieve one of ACPS' core strategic objectives: to promote lifelong commitments to active healthy lifestyles," added Donley.
The program was established in 2016 at Mount Vernon Community School (MVCS) in partnership with BPAC. Kristin Donley was a physical education teacher at MVCS at the time and helped launch the BITS program. She now supervises it across all ACPS schools.
Thanks to the BITS program, students have conquered another life skill during PE class. "I am so proud of myself, I feel like I can fly," one third-grade student said after taking part in BITS at Ferdinand T. Day Elementary School.
To help support funding for the program, visit the ACPS donation webpage. For more information about the BITS program, contact ACPS Safe Routes to School Specialist jane.davis@acps.k12.va.us.
Live Performances Return to ACHS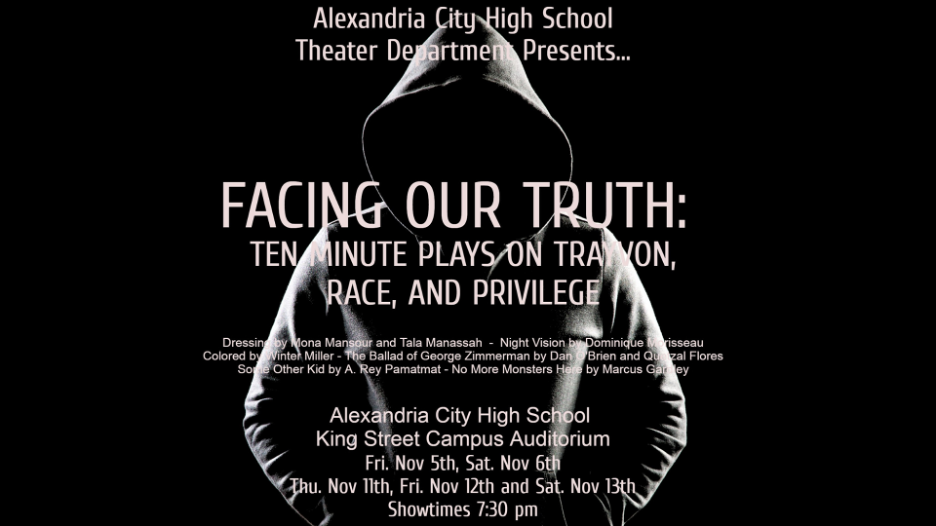 Amid much excitement, the Alexandria City High School (ACHS) Theater Department is hosting its first live performance since Fall 2019. The Fall show, "Facing Our Truth: 10 Minute Plays On Trayvon, Race, and Privilege," is open to the public and premieres at 7:30 p.m. on Friday, Nov. 5. It is a collection of 10-minute plays written by six very diverse playwrights to generate serious discussion in our collective communities around the urgent issues of race and privilege. All performances take place in the ACHS auditorium at 7:30 p.m.; in addition to the Nov. 5 premiere, there are performances on Nov. 6, Nov. 11, Nov. 12 and Nov. 13.
Tickets are on sale for $5 for ACPS employees, students and senior citizens. General Admission tickets are $10 per person. Tickets are available online. Please note that facial masks are required on school property and some seating may not be available due to health and safety protocols. More information is available online.
November Calendar Reminders
Native American Heritage Month: This month focuses on the significant contributions made by the first Americans to our nation. It is a time to recognize the rich ancestry and traditions of Native Americans.
Nov. 7: Daylight Saving Time ends at 2 a.m.
Nov. 8-12: National School Psychology Week. This year's theme is "Let's Get in Gear." The week highlights the important work that school psychologists and other educators do to help students thrive.
Nov. 11-12: Parent-Teacher conferences for elementary school students. There will be no classes for elementary students on Nov. 11/Veterans Day. There will be an early dismissal on Nov. 12 for elementary school students.
Nov. 22-26: Thanksgiving week – ACPS offices and schools will be closed.