en español (PDF) | አማርኛ (PDF) | بالعربية (PDF)
This Week's Headlines:
---
Dear ACPS Families and Community,
On Tuesday, we sent you an important email message asking you to fill out the Learning Choice Form for your child(ren) about your preference for summer and fall learning. The information we receive from this form is vital to opening school five days a week in the fall for all ACPS students, and provides us with information about families who choose a 100% virtual option with Virtual Virginia. Getting this information from our families will help us prepare for the new school year and be ready to welcome all of our students. Please see the information below to help with your selections.
I am incredibly proud of our middle school students who participated in the Virginia History month competition. We are excited to have six students from George Washington Middle School and Francis C. Hammond Middle School advancing to the national round in June. I wish them well as they prepare their projects for a national audience.
Students throughout our schools benefit from our dedicated staff. This week, we celebrated National School Nurse Day, and I hope you will join me in thanking our school nurses and health care associates. Also, our teachers always bring their best to our children. Learn more about how ACPS teachers have garnered more than $100,000 in funds to support classroom initiatives this year. 
And finally, one last reminder to please vote by May 17 for your favorite logo concept for the newly-named Alexandria City High School. 
Dr. Gregory C. Hutchings, Jr.
Superintendent
Due May 24: Learning Choice Form for Summer Learning and Fall 2021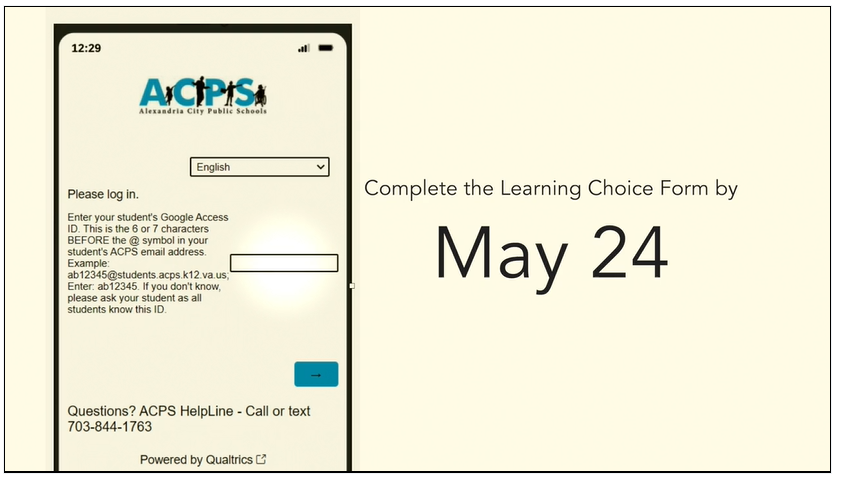 The Learning Choice Form was sent to families by email on Tuesday, May 11, 2021. Families should complete the Learning Choice Form one time per child attending an ACPS school. The Learning Choice Form will close at 11:59 p.m. on May 24, 2021. Help with the Learning Choice Form is available by calling the ACPS Helpline. 
VIDEO: Learn more about the Learning Choice Form and your Summer and Fall 2021 options:
Video in Spanish  |  Video in Amharic  |  Video in Arabic
On the Learning Choice Form, there are two important questions that every ACPS family must answer for each student:
Summer 2021: Will your child(ren) participate in the Summer Learning for All program?

The program will be offered

July 6-July 30, with a two-week extended virtual program Aug. 2-12 for students invited to participate.
PreK-8th grade:

9 a.m.-1 p.m. Monday through Thursday

High school:

7:45 a.m.- 2:30 p.m. Monday through Friday
Fall 2021: For the 2021-22 school year, would you like for your child(ren) to participate five days a week in either ACPS in-person learning OR 100% virtual learning through Virtual Virginia? Learn more about each of these options.
The decision you make now for the fall semester of 2021-22 is important to our comprehensive planning. If you need to change your response after submitting it and before the deadline of May 24, please call your school so that your selections can be updated in PowerSchool.   
May 24, 2021 is the last day for families to inform ACPS of your selection for the 2021-22 school year. If a family does not make a selection before the deadline, then their child will be automatically  enrolled in in-person learning for the first semester of the school year. Please refer to the Frequently Asked Questions (FAQ) to help answer your questions.
Eight Students Excel at Virginia History Day Competition

For two weeks, George Washington and Francis C. Hammond middle school students competed at the Virginia History Day competition. Their hard work paid off as five GW students and three Hammond students advanced to the National History Day Competition, which will be held in College Park, Maryland, from June 13-17. Top finishers in each category earn prestigious awards and scholarships.
The advancing students and their projects include:
Julia Ware (pictured above, on the right), GW 6th grader :

"The Wings of War"




"When the NHD theme Communication in History came up, I thought it would be nice to explore something that most people took for granted during the wars: carrier pigeons."
Sam Reiss and Isaac Meyers, GW 7th graders:

"Alone and a Long Way to Run"

 
Shanaya Kamal (pictured above, on the left) and Nina Wolf, GW 7th graders:

Their "Marie Curie"

project is advancing to the Nationals, and also won the MCV Foundation Medical History Award. Shanaya said, "I can't think of anything bigger than participating in National History Day during a historical event, the COVID-19 pandemic."

Simge Gerdaneri, Angel Martin and Mahider Mengistu, Hammond 7th graders:

"The Beautiful City To The Ugly Truth – The Tragic Story Of Toxic Love Canal And Its Mystifying Communication"   
 Congratulations and good luck!
We Appreciate ACPS School Nurses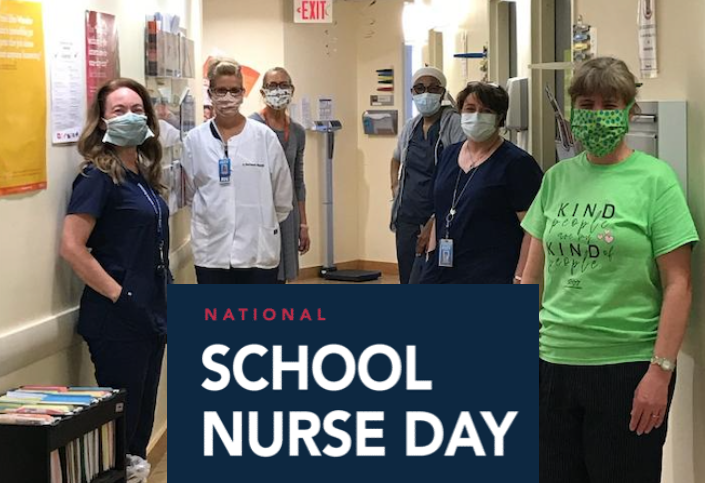 This Wednesday was National School Nurse Day, and ACPS celebrated and recognized the contributions that our School Health Services staff make to the health and learning of ACPS students. ACPS School Health Services staff have played a crucial role in supporting our students and staff and the entire ACPS community this year. Since the COVID-19 pandemic began in March 2020, our school nurses have maintained close connections with students and families and help ensure safe environments for all who enter our buildings. 
Beyond this, many ACPS school nurses have also supported public health efforts, both through contact tracing and through immunization clinics. Several of them volunteer on weekends to help area public health colleagues provide as many doses of the vaccine as possible. We are grateful for our passionate and committed health care staff. Thank you! 
ACPS Teachers Receive More Than $100,000 in Grants for Classroom Initiatives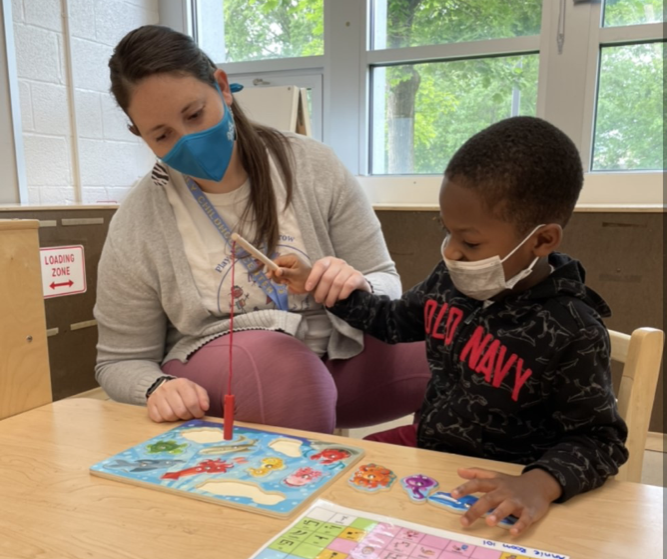 This school year, ACPS teachers have earned $100,816 in classroom grants through the Donors Choose program that allows them to procure classroom supplies, technology and curriculum enhancements. The projects awarded to teachers include math, science, literacy, language, music, arts, history, civics, special needs, health, sports and technology for the classroom and virtual support. Pre-K Special Education Teacher Andrea Handel said, "I have been able to provide my students with individual learning kits during virtual learning that focus on developmentally appropriate activities." 
Teachers are known for spending their own hard-earned money to supplement supplies in their classrooms. ACPS Manager of Grants and Partnerships Dr. Greg Tardieu said, "It is important that we continually look for support opportunities so that teachers do not need to spend their money for supplies. With Donors Choose, teachers can submit a proposal when a new idea or opportunity comes along and get it posted right away for support." 
ACPS is proud to be part of the Donors Choose program. All contributions are sent directly to ACPS and allocated to the teacher's specific project without causing tax implications to the teacher. This platform is also tax-deductible for the donors, and the supplies become the property of ACPS. 
See the list of ACPS Donors Choose projects and support ACPS teachers with tax-deductible contribution today!
City of Alexandria Opens Pfizer Vaccination to Ages 12 and Older
The Alexandria Health Department (AHD) and other providers in Alexandria are now offering COVID-19 vaccinations to residents ages 12 and older. The Pfizer-BioNTech vaccine was previously approved for use in those aged 16 and older, and the Moderna and Johnson & Johnson vaccines are currently only available for ages 18 and older.
AHD recommends that everyone ages 12 and over receive a COVID-19 vaccine. Vaccines are safe, effective and free. Get vaccinated to protect our families, schools and the community from COVID-19. No pre-registration, ID or insurance is required.
AHD is coordinating with ACPS to host vaccine events for both public and private school families. A parent or guardian must provide consent for children aged 12-17 by filling out one of the appointment scheduling links below. If the form is completed by a parent before the event, any responsible adult may bring the child to their appointment. Additionally, walk-up appointments will be accepted at the June 5 event, but a parent or guardian must accompany their child to provide consent on site. 
The two AHD clinics held in ACPS schools are:  
Pfizer Vaccine (First Dose, Ages 12+)


Saturday, May 22, 1:00-3:30 p.m.




Provider: Alexandria Health Department




Location: George Washington Middle School, 1005 Mount Vernon Ave, Alexandria, VA 22301

Schedule Now – By Appointment Only
For information on additional AHD vaccination clinics and providers, visit The City of Alexandria website. 
Final Call to Vote For Your Favorite Logo Design Concept for Alexandria City High School

Last chance: The High School Logo Poll Closes on Monday, May 17, 2021!
The community is invited to help ACPS choose the design concept for the official logo for Alexandria City High School, which will replace the name of T.C. Williams High School on July 1, 2021. 
The Superintendent's Titan Logo Review Committee met the week of May 4 to review the 80+ design concepts submitted by students for the new logo for Alexandria City High School. The committee was composed of school staff, students, community, and an ACPS School Board member. Our process included reviewing the original guidelines, voting and discussion based on basic categories, and final selection of the top four design concepts, which we are sharing with you for your input. 
As you review the top four designs for the new logo, please understand that we are asking you to choose your favorite design concept, which will then be enhanced and finalized. These are NOT the final versions of the logos, these are just concepts. Based on the top selections, we may also choose to combine concepts. As you make your selection, please keep in mind that the logo should capture school name/initials and Titan pride. 
We have some talented students who submitted creative designs and it was challenging for the committee to narrow down the concepts. Thanks to all the students who submitted designs for consideration! 
Take the High School Logo Community Poll by 11:59 p.m. on May 17 >
FOOD ACCESS
ACPS has multiple distribution meal site locations throughout Alexandria for all ACPS students and children over the age of two. See a map and list of food distribution locations and times.