en español (PDF) | አማርኛ (PDF) | بالعربية (PDF)
This Week's Headlines:
---
Dear ACPS Families and Community,
This week, we celebrated National Teacher Appreciation Week. This year, it is more important than ever that we thank our teachers for continuing to give our children an innovative and rewarding educational experience. Navigating teaching during the turbulence of the dual pandemic of COVID-19 and systemic racism has made this one of the most turbulent years, by far, for those in the teaching profession. Yet, our teachers step up to the challenge every day. We have seen how they are a lifeline for students and families for more than just their academic instruction.
Today (May 7), we also celebrate our school lunch staff for School Lunch Heroes Day. These behind-the-scenes champions make sure all students are fed and nourished in a safe environment, and they do it with a smile. They have prepared and packaged millions of meals for food distribution sites throughout the pandemic and continue to serve our students every day. 
Also being celebrated are T.C. Williams seniors Ashley Sanchez-Viafara and Lorraine Johnson. I have had the great pleasure of working with our two student School Board representatives this past year and want to congratulate them for a well-deserved recognition as they have been named to the Alexandria Chamber of Commerce's 40 Under 40. They are the first students in history to be a part of this prestigious honor. They are leaders in our community as well as within ACPS.
Coming up for next week, I want to ask our families to look for an important message we will send you on May 11. All ACPS families will receive an online form to complete and tell us your Summer Learning 2021 and Fall 2021 learning preferences. For Fall 2021, families can choose five days a week of in-person learning or five days a week of virtual learning through the Virtual Virginia program. Please take a moment to read the information below and watch for this important message next week so we are informed about your family's choices for Summer Learning and Fall 2021.
Finally, I want to address the questions from many of you about whether there will be an in-person graduation ceremony for the class of 2021. Graduation will be held outdoors on June 12 at 9:30 a.m. at Chinquapin Park. Watch for more details as we finalize plans in the next couple of weeks. 
Dr. Gregory C. Hutchings, Jr.
Superintendent
Thank Your ACPS Teachers!
In honor of Teacher Appreciation Week, watch this video of our ACPS teachers and staff in action!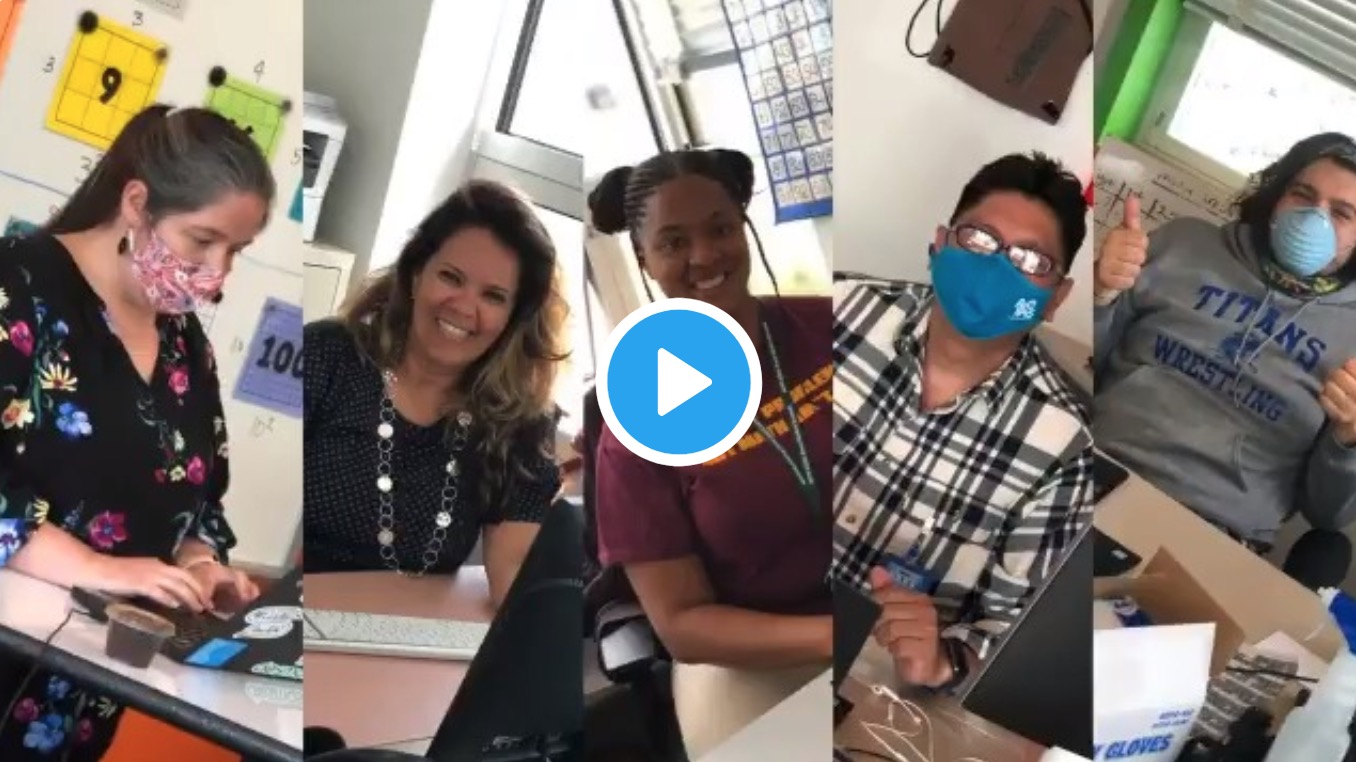 We asked the ACPS community to tell us about your favorite teachers on Facebook, Twitter and Instagram, and these are just a few of the comments shared.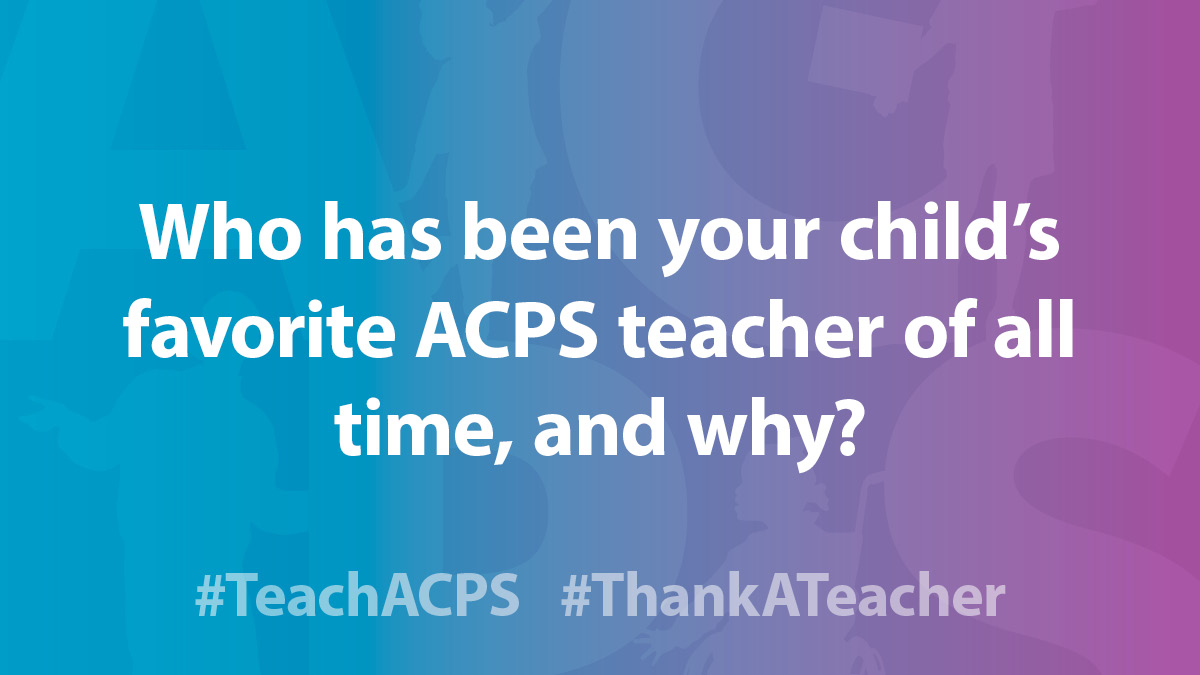 "Hard to do a shoutout to individuals, but both of my boys have benefited from the great music programs available, modern languages, passionate English teachers, patient math teachers, and so much more! Thank you, teachers, for all you do with patience, grace, expertise and eternal patience!" — Claire Haymes
"I am sure my daughter's love of reading was fed and nurtured by Amy Christensen, and Ms. Hanna and her first-grade team at Jefferson-Houston have done amazing things this year keeping kids engaged and learning!" — Sarah Row Mehaffey
"So many great teachers: Heather Rosner, Denise Santiago, Ruth Brannigan, Anna Harvin, Peggy Lopez, Matthew Zahn and Ms. Kiyak. I'm sure the kids would add to my list." — Karla Harr
"We're grateful for so many wonderful Tucker teachers…. but to name just a few: Christina Bohringer, John Lin, Heather Kolovos, Addison Aubry, Jackie Booe. And Mrs. Dua loves all children like they are her own!" — Amy Slavin
"Mary Davis at MacArthur taught two of my kids, and we all love her. She is the calmest teacher I have ever met and so wonderfully inclusive. She always reminds her past and present students that 'once a Davis kid, always a Davis kid,' and with both kids, she turned around the elementary school experience so that what had been a mostly negative experience for them up to that point became positive. Mr. Harris, the head PE teacher at MacArthur, knows the name of every child in the school and greets them all with a smile every morning. Some other standout teachers my kids have had include Whitney Greisinger, Caitlin Bousquet, and Leigh Dugan at MacArthur, Evan Sonoda, Donald Brown, Jonathan Vega, and Tressa Peacher at GW, and Sean Fredericks at Minnie Howard. Last but not least, the incomparable Mr. Jonathan Jones, who teaches orchestra at GW. There is no one quite like him!" — Elizabeth Salgado
"Our three children went all the way through ACPS (youngest is a senior at TC), and they've had many outstanding teachers, too many to list, and we appreciate them all!" — Jasmine Malone
It is never too late to thank a teacher as they continually go above and beyond every single day of the year. Let's all share our appreciation!
Let's Thank Our School Lunch Heroes!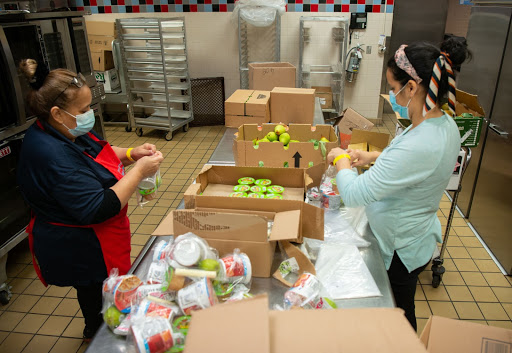 Today, May 7, is School Lunch Heroes Day. This day is dedicated to the men and women who make the cafeterias and schools safe, healthy and nourishing for our students and staff. Inspired by Jarrett J. Krosoczka, author and illustrator of the popular "Lunch Lady" graphic novel series, this day celebrates and honors the hardworking teams in our school cafeterias who support our schools and community. 
While buildings were shuttered during the pandemic, the ACPS School Nutrition Services (SNS) team continued to prepare meals, drinks and snacks for the ACPS Meal Distribution program that delivered more than three million nutritious meals to students in our community. 
"Since March 2020, the ACPS cafeteria staff has been preparing to distribute meals three times a week to families. Fully-masked and gloved, our heroes prepared grab-and-go meals (breakfast, lunch, snacks, dinners) seven days a week. In some instances, the staff boarded school buses to distribute meals directly to families throughout our community," reported Cynthia Hormel, director of school nutrition services. 
"Our cafeteria workers, often putting their health and that of their families at risk, understand that hunger is a real and prevalent issue in our communities. Schools are an anchor, a safety net for families in so many ways. The school nutrition services team has continued showing up; they understand this work cannot stop. Our cafeteria staff members are truly unsung heroes, and it is a continued honor and pleasure to lead this team."
Since the pandemic began in March 2020, our school nutrition staff have prepared and distributed the following:
765,444 cartons of orange juice

1,635,726 cartons of milk and nonperishable dairy drinks

3,238,823 individual meals (breakfast, lunch, dinner and snacks)

402,560 lbs. of fresh fruit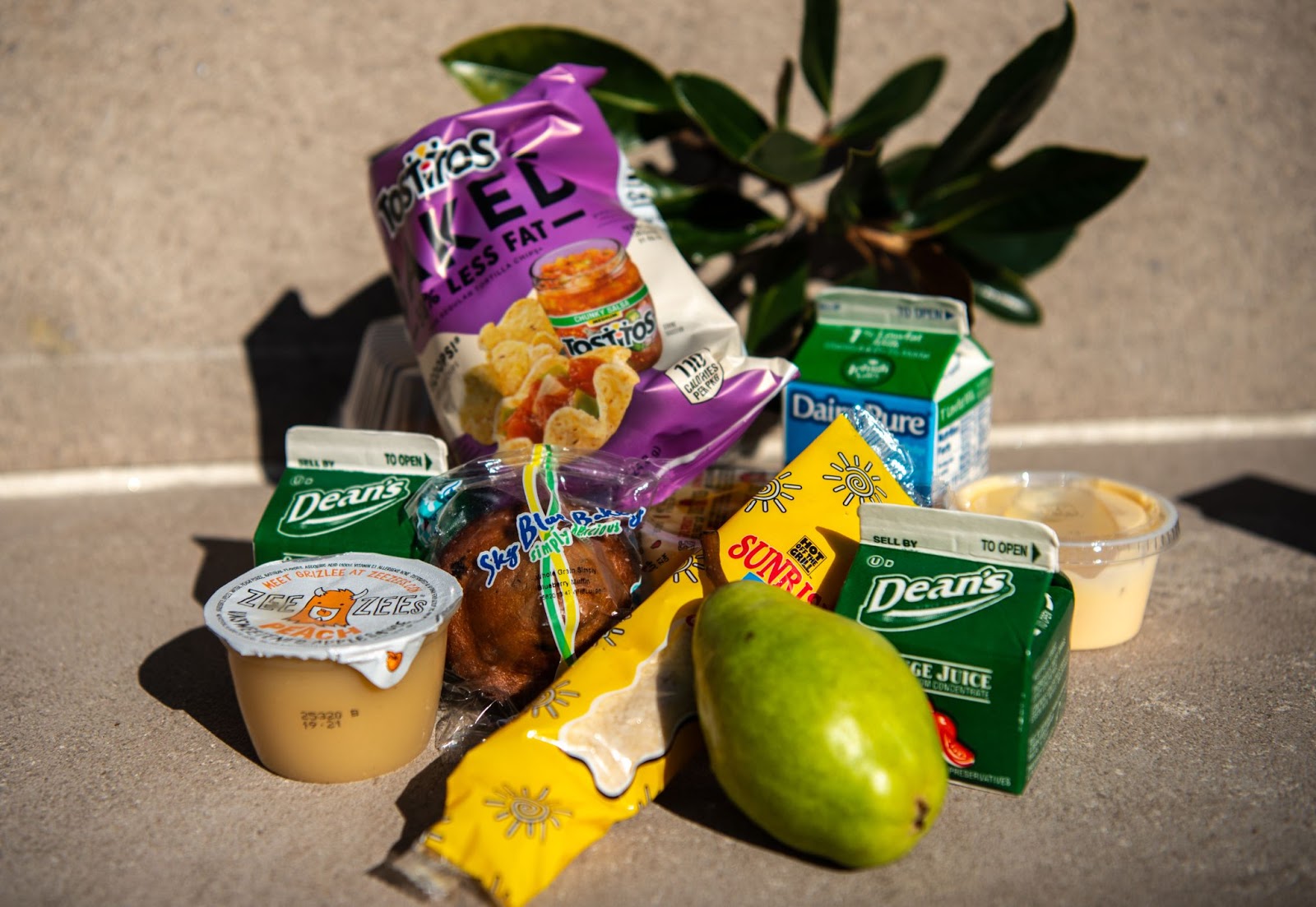 Please show your support by honoring your school cafeteria workers in recognition of National School Lunch Hero Day! Watch this fun video highlighting the daily work our school lunch heroes have been doing this past year. And, they have fun doing it! 
Here are just a few comments from our school lunch heroes about why they love their job.
"What I love about the job is the kids — just seeing their happy faces every day I work." — Dawn Lendino, SNS manager at Charles Barrett Elementary School.
"I love my job because I love interacting with people and serving them food with care. Taking care of my students and customers is my priority." — Mirtha Navarrete, SNS manager at George Washington Middle School
"I've been at ACPS for 18 years. Never once has it felt like work. These kids and staff are our pride and joy. We are family." — Elsa Rodriguez, SNS manager at Jefferson-Houston PreK-8 IB School.
Summer Learning and Fall Opening 2021: Learning Choice Form

Next week, all ACPS families will receive an online form to complete and tell us your Summer Learning and Fall 2021 learning preference for each child in your family. The Learning Choice Form will be open from May 11-24, 2021. 
There are two important questions that every ACPS family must answer for each student:
Summer 2021: Will your child(ren) participate in the Summer Learning for All program?

The program will be offered

July 6-July 30, with a two-week extended virtual program Aug. 2-12 for students invited to participate.

Fall 2021: For the 2021-22 school year, would you like for your child(ren) to participate in ACPS in-person learning OR 100% virtual learning through Virtual Virginia?

Both options will be five days a week.

Learn more about each of these options.
The decision you make now for the fall semester of 2021-22 is important to our comprehensive planning. The Learning Choice Form will be sent to families by email on May 11, 2021. May 24, 2021 is the last day for families to inform ACPS of your selection for the 2021-22 school year. If a family does not make a selection before the deadline, then their child will automatically be enrolled in in-person learning for the first semester of the school year.
Vote For Your Favorite Logo Design Concept for Alexandria City High School

The High School Logo Poll Opens today and runs through May 17, 2021.
The community is invited to help ACPS choose the design concept for the official logo for Alexandria City High School, which will replace the name of T.C. Williams High School on July 1, 2021. 
The Superintendent's Titan Logo Review Committee met the week of May 4, 2021 to review the 80+ design concepts submitted by students for the new logo for Alexandria City High School. The committee was composed of school staff, students, community, and an ACPS School Board member. Our process included reviewing the original guidelines, voting and discussion based on basic categories, and final selection of the top four design concepts, which we are sharing with you for your input. 
As you review the top four designs for the new logo, please understand that we are asking you to choose your favorite design concept, which will then be enhanced and finalized. These are NOT the final versions of the logos, these are just concepts. Based on the top selections, we may also choose to combine concepts. As you make your selection, please keep in mind that the logo should capture school name/initials and Titan pride. 
We have some talented students who submitted some creative designs which made it challenging for the committee to narrow down the concepts. Thanks to all the students who submitted designs for consideration! 
This community poll will close on May 17, 2021 at 11:59 p.m. 
Take the High School Logo Community Poll Now >
Changes to 2020-21 Grading for Middle and High School Students 
In response to the unprecedented challenges faced by students this year, the following changes to secondary grading practices will be made to ensure maximum flexibility and benefit for middle and high school students, effective today. The changes expand the opportunities for reassessment and submitting late work, and that final exams will only count this year if it raises the student's grade.
Changes for Semester 1 — High School Credit-Bearing Courses only:
Final Exams and Final Grades
Schools will review grades from courses that ended at the first semester to determine whether omitting the student's final exam would have resulted in a higher grade. If so, the final exam grade will be deleted, the final grade recalculated, and a grade change completed. School administrators will work with central office staff to conduct this review by May 28, 2021. 
Changes for Semester 2 — All Secondary Students:
Final Exams and Final Grades
Final exams for a year-long or second semester course will only be counted if it raises the student's final grade for the course:
The lowest grade that may be awarded on a final exam at the end of the 2020-21 school year is a 50%.

Final exams may be project-based or performance-based opportunities that include components begun prior to the final exam date. 
For courses in which a final exam is not given, the formula for final grade calculation will be:
25% per quarter for year-long courses

50% per quarter for semester long courses
Reassessment and Make-Up Opportunities
Third Quarter: Students will be allowed to complete any reassessments (up to a maximum revised grade of 80%) and makeup work (without penalty) by Friday, May 21, 2021.
Third and Fourth Quarters: Students will be provided with an automatic opportunity for reassessment on any assessments for which a grade of D or less was earned. This could result in a maximum revised grade of 80% (e.g., test corrections, remediation, completion of the retake, etc.). 
Fourth Quarter:
Seniors will be allowed to complete any reassessments (up to a maximum revised grade of 80%) and make-up work (without penalty) by Wednesday, June 2, 2021.

Students in grades 6 through 11 will be allowed to complete any reassessments (up to a maximum revised grade of 80%) and make-up work (without penalty) by Friday, June 18, 2021. 

Schools will ensure that any heavily weighted grading category (such as summative assessments) has four or more entries to properly reflect mastery.
These changes are aligned with School Board Regulation IKC-R (PDF).
Suzanne Hess Named Inaugural Principal for Naomi L. Brooks Elementary School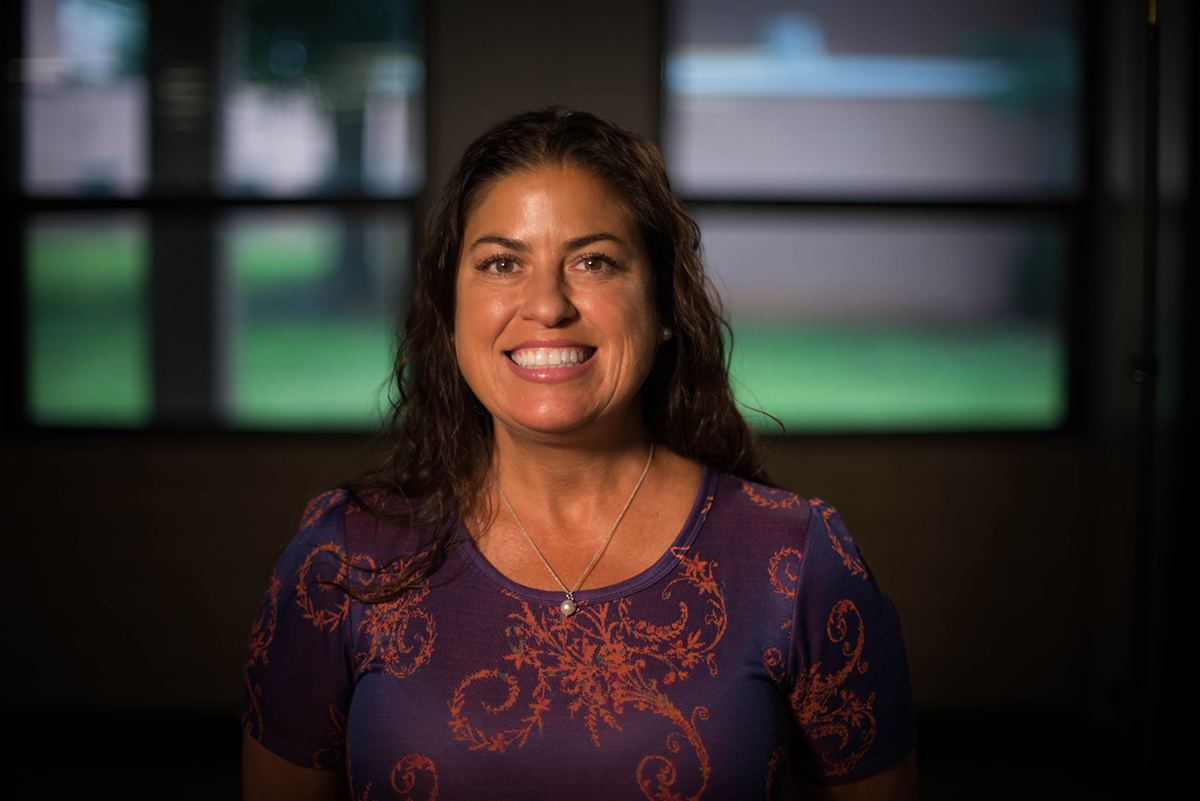 Suzanne Hess has been named as the principal of Matthew Maury Elementary School and will serve as the inaugural principal of Naomi L. Brooks Elementary School, when the school's new name takes effect as of July 1, 2021.
Hess is committed to Mrs. Brooks' legacy, "Bloom where ye are planted," as a lifelong learner and educator in the ACPS system. She began her career in 2001 at John Adams Elementary School. During her 13-year tenure at John Adams Elementary School, she taught multiple grade levels, held numerous leadership roles and ended her time there as an English Learners specialist and Department chair. 
Following John Adams, Suzanne was promoted to assistant principal at Matthew Maury Elementary School in 2015, where she has served the students and community that she loves. Hess holds a Masters of Educational Leadership Administrative Supervision and Instruction K-12 from George Mason University and a Bachelor of Arts in Elementary Education from Florida Atlantic University. She also holds professional licenses and endorsements from the State of Virginia in Early/Primary Education, Elementary Grades K-6, and Administrative Supervision and Instruction Pre-Kindergarten-12th Grade. Suzanne is fluent in both Spanish and Italian.
Hess shared her enthusiasm, "As a committed instructional leader who has served the students, staff, families and community of our school for the past six years; it is with abundant pride and a great sense of honor that I serve as the first Principal of Naomi L. Brooks Elementary School. I am humbled by this historic appointment and intend to honor Mrs. Brooks' legacy."
"It is my purpose to collaborate, motivate and support each and every member of our school family with passion, energy and a dedication toward continual excellence and equity for all. The extraordinary ability of our educators to produce learners and leaders who refuse to be average, overcome obstacles, and are resilient to life's challenges, positively impacts our community and beyond. I am excited about the personal and professional challenge that awaits us along this journey. I am steadfastly devoted to empowering all of our students to thrive in a diverse and ever-changing world."
Two ACPS Students Chosen for Prestigious 40 Under 40 Awards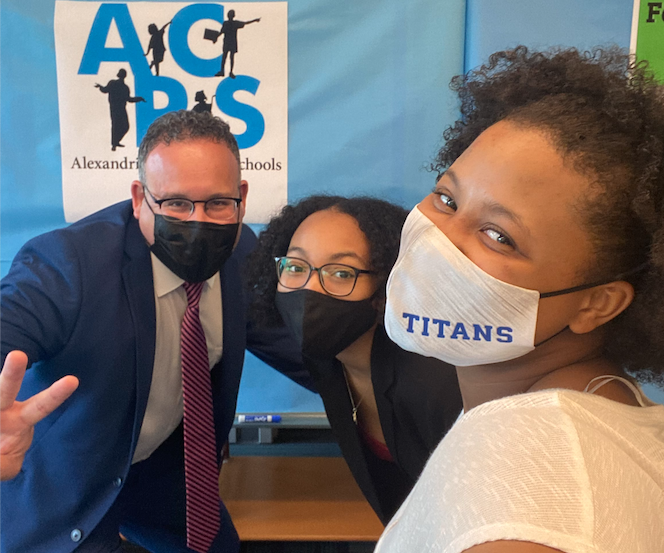 Photo: Ashley Sanchez-Viafara and Lorraine Johnson meet U.S. Secretary of Education Dr. Miguel Cardona when he visited Ferdinand T. Day Elementary School last week.
Congratulations to T.C. Williams High School seniors Ashley Sanchez-Viafara and Lorraine Johnson for being selected as the first two high school students to ever be presented with The Alexandria Chamber of Commerce (Chamber ALX) 40 Under 40 Award. 
Ashley commented, "As a student School Board representative for this school year, it has been my focus to include the voices and opinions of those most affected by injustices and racial disparities to ensure the journey toward a more equitable division creates positive outcomes for all students. Being selected as a 2021 40 Under 40 Honoree symbolizes the collective efforts made by all students utilizing their voice, and refusing to permit silence and invisibility to define their impact within our community."
Lorraine said, "I became a 'leader' for students by listening and sharing their opinions with the adults in charge. Being on the School Board was a perfect opportunity because I got to do what I did best, communicate the student voice loud and clear." 
The Chamber ALX reported, "Over the last year, we have received a number of nominations of deserving high school students. As a result, we are pleased to share that in addition to our outstanding 40 individuals actively working in business throughout the DMV, we have also selected two amazing students to receive our first ever Youth Honoree awards." 
Supporters can purchase tickets to the July 15 virtual awards event through the chamber. The honorees will receive their awards in-person while the virtual event is open to the public. 
Class of 2021 Titans to Graduate at Chinquapin Park on June 12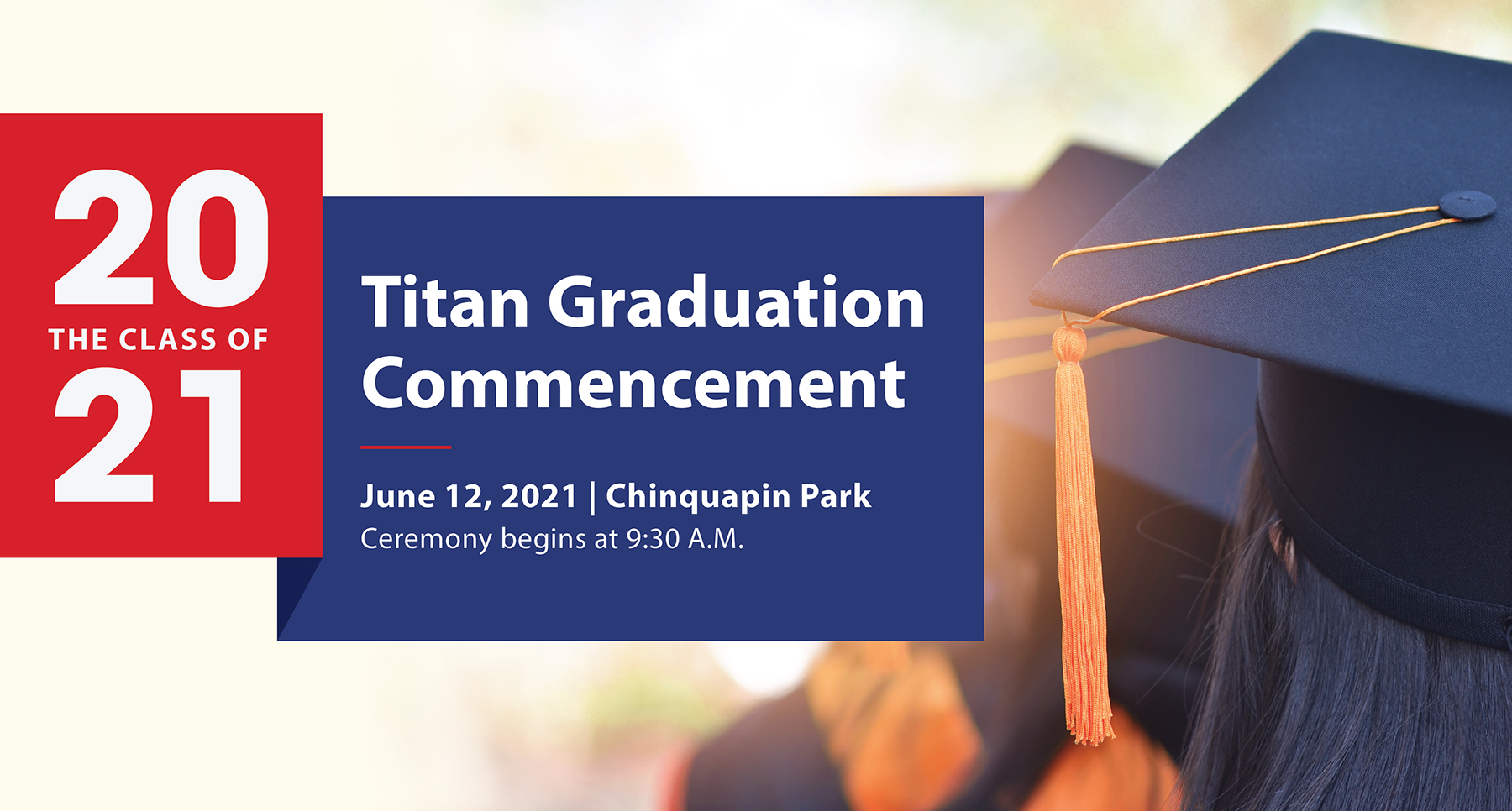 The T.C. Williams High School commencement ceremony will be held at Chinquapin Park on June 12 at 9:30 a.m. More details will be shared in the coming weeks.
Kindergarten Registration for the 2021-22 School Year is Now OPEN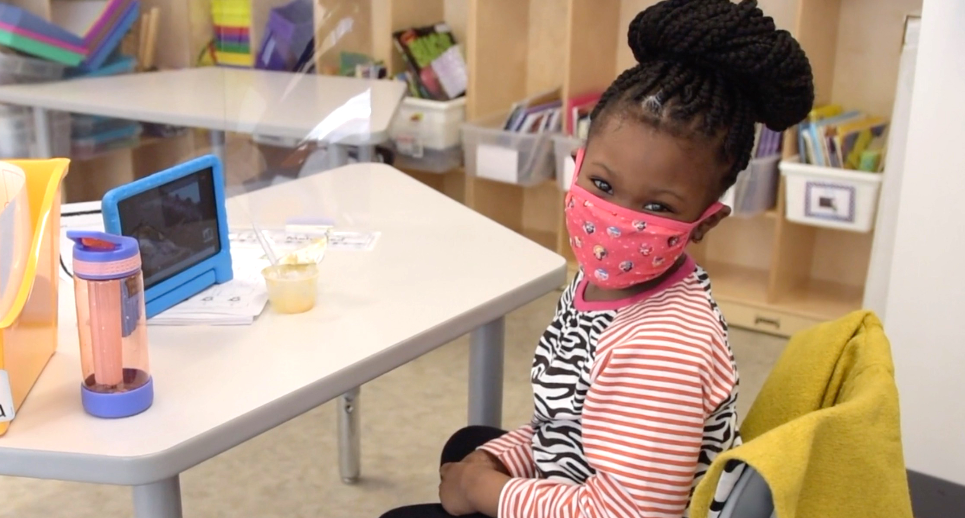 Find out about the registration process and get your documentation ready. Learn more about kindergarten at our schools by attending one of our school Kindergarten Open House and Webinar events.
$450,000 Raised to Send Titans to College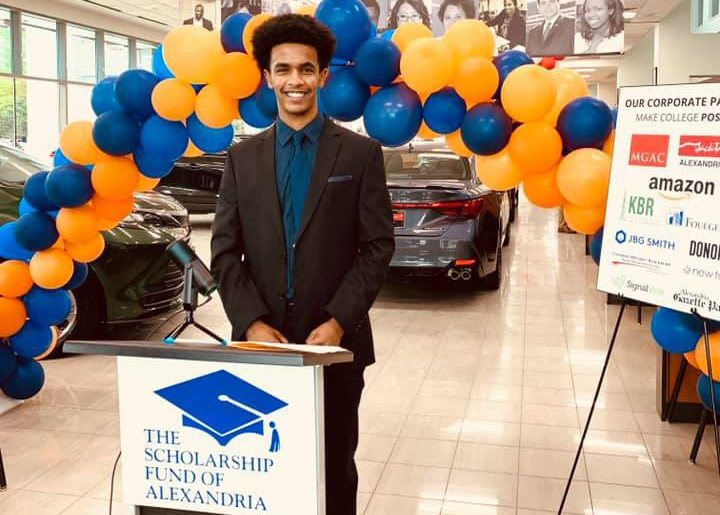 The Scholarship Fund of Alexandria (SFA) held its 35th Anniversary Spring Benefit Gala and Auction "GALA 35" virtually on Saturday, April 24, 2021. The Gala events raised $450,000 to support Alexandria students with need-based college scholarships. Many scholarships were given out including the $40,000 SFA Collis Warner scholarship to Mikias Elias who will study in the College of Engineering at Virginia Tech next fall. Mikias said, "On behalf of the Class of 2021 Scholarship awardees, I'd also like to say we are all relieved to know that we have financial support, and we are so proud that you believe in us."
The three "Portraits of Success" ACPS alumni honorees at the Gala include:
Dr. Merkeza Grant

, emergency medicine physician at Kaiser Permanente Advanced Urgent Care; T.C. Williams High School Class of 2001; B.S., Biology, Cornell University, 2005; D.O., Philadelphia College of Osteopathic Medicine, 2009

Patrice Green

, program officer, Inclusive Economies, Surdna Foundation; T.C. Williams High School Class of 2001; B.A., Political Science, University of Pennsylvania, 2005; M.G.A., University of Pennsylvania, 2007

Todd Sandoz

, managing director and co-head of equities at Barclays Investment Bank; T.C. Williams High School Class of 1989; B.A., Economics, Yale University, 1993
Since 1986, the SFA has awarded more than $17 million in scholarships and helped send more than 5,000 Alexandria students with financial need to college. 
Celebrating Asian American and Pacific Islander Heritage Month
At ACPS, we are committed to Equity for All through our core values of being welcoming, empowering, equity-focused, innovative and results-driven, and we recognize each and every individual in our community. 
During the month of May, we celebrate Asian American and Pacific Islander Heritage Month. A congressional resolution signed by President Jimmy Carter in October 1978 officially recognized this weeklong event, and then the month of May was selected in 1992 as Asian Pacific American Heritage Month. This month commemorates the first Japanese immigrants who came to the United States in May 1843. Also, many Chinese immigrants worked on the transcontinental railroad which was completed in May 1869. Learn more about Asian Pacific American Heritage Month. 
COVID Vaccines Available for Ages 16+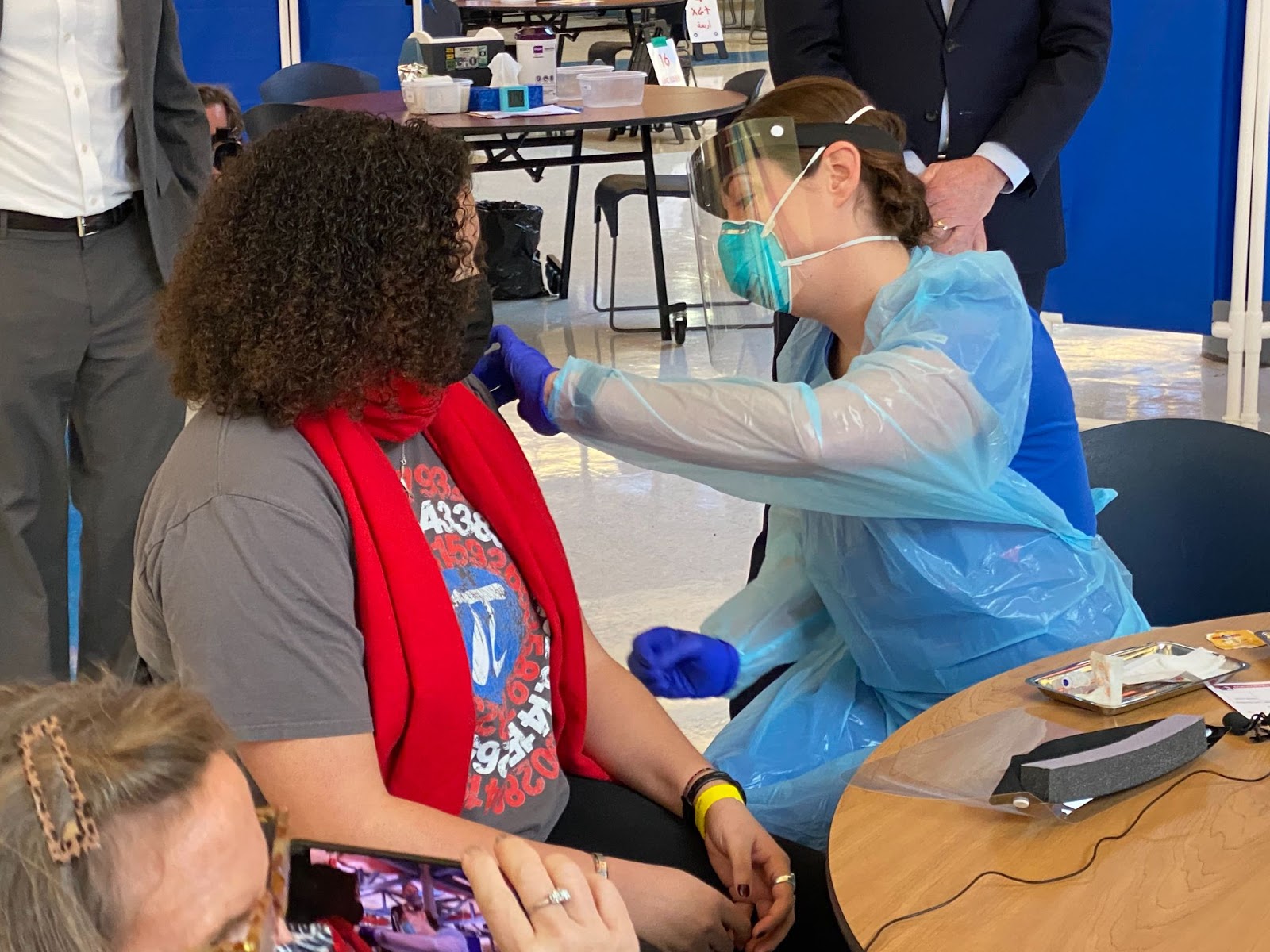 The Alexandria Health Department (AHD) recommends vaccination against COVID-19 for everyone who is eligible and willing. COVID-19 vaccines are safe, effective and free. The Pfizer vaccine is authorized for people 16 years of age and older. AHD does not require an identification or proof of insurance. For anyone under 18 years old, a parent, guardian, or other responsible adult must accompany the minor to the vaccine clinic. Please help us keep our community safe from COVID-19.
The AHD and their vaccinating partners are currently offering both walk-ins and vaccine appointments. Spread the word and find an appointment at alexandriava.gov/Vaccines or call 703-746-4988. Se habla español.
FOOD ACCESS
ACPS has multiple distribution meal site locations throughout Alexandria for all ACPS students and children over the age of two. See a map and list of food distribution locations and times.