en español (PDF) | አማርኛ (PDF) | بالعربية (PDF)
Day 96 — Virtual PLUS+ Details
I hope by now you have all taken some time to become familiar with our Virtual PLUS+ recommendation to the School Board for how ACPS plans to reopen our schools in the 2020-21 academic year.
The Virtual PLUS+ model is the most feasible reopening approach at this time. It is academically thorough and safe.
Given the positive responses we have received from our students, staff and families, it is clear that our reopening approach is overwhelmingly supported by our school and community stakeholders.
However, I know there are also many that would like to have seen an element of in-person learning, for at least some of our student population. Let me reassure you that as we head toward the first day of the fall semester, we will continue to study this possibility. Virtual PLUS+ is designed as an evolving model, one that allows us flexibility to pivot, adjust and expand.
As soon as it is deemed feasible, we will begin to adapt. Learning is certainly most effective in a classroom environment with in-person teacher/student engagement daily. A return to that is our goal when it is most feasible. However, at the moment it is simply not feasible.
The School Board is holding two online public hearings this week to consider our proposal before we submit our plans to the Virginia Department of Education by Aug. 14. See below for more information and how to sign up to speak at the hearings.
Today, ACPS Express and ACPS Insider are dedicated to answering your most pertinent questions about Virtual PLUS+. More details of our "PLUS+" added services will come this Friday during the School Board meeting and in special editions of ACPS Express and ACPS Insider that afternoon.
Stay safe, stay healthy, stay informed.
Sincerely,
Dr. Gregory C. Hutchings, Jr.
Superintendent of Schools
School Board Public Hearings on the Reopening Plan
The Alexandria City School Board will hold two online public hearings on the ACPS proposed feasible model for the reopening of our schools during its Virtual Special Called School Board Meetings:
School Board Public Hearing: Thursday, Aug. 6 at 7 p.m. —

Join on Zoom

School Board Public Hearing: Friday, Aug. 7 at noon —

Join on Zoom
For more information or to sign up to speak at the hearings, please contact the Clerk of the Board at 703-619-8316 or email boardclerk@acps.k12.va.us. You can also sign up to speak online.
Your Initial Questions on Virtual PLUS+ Answered

We thank you for your feedback on our Virtual PLUS+ model for the fall. We have answered some of your initial questions in our FAQ. 
See our Frequently Asked Questions.
Watch the Superintendent's Q&A Video.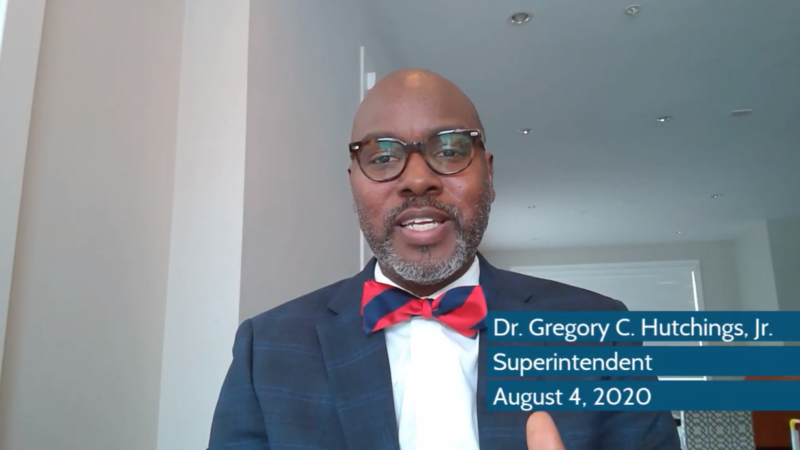 Take the Fall 2020 Virtual PLUS+ Reopening Support Poll
ACPS needs to know what support you will need under the Virtual PLUS+ model. Will you need child care, technology support, meals, or additional instructional support? Please tell us by taking the Fall 2020 Virtual PLUS+ Reopening Support Poll:
Please take two to three minutes to express any additional supports you may need under this model as well as any additional feedback. See the blueprint of Virtual PLUS+.
This poll link is for ACPS parents, guardians, students, families and staff. You have until Sunday, Aug. 9 at 11:59 p.m. to complete this.
Congratulations to our Class of 2020 Advanced Placement (AP) Capstone Graduates
T.C. Williams High School is celebrating after 24 Class of 2020 graduates were awarded Advanced Placement (AP) Capstone Diplomas.
The AP Capstone course is one of the most demanding academic programs offered in U.S. public schools. Most years, no more than a handful of students at T.C. complete the rigorous two-year course which consists of AP Research and AP Seminar courses, and involves producing a 25- to 50-page thesis project. To receive the Capstone Diploma, students must achieve scores of more than three or higher on both AP Seminar and AP Research exams, and on four additional AP exams of their choosing.
More than 1,900 schools participated in the AP Capstone program worldwide during the 2019-20 school year, and approximately 9,800 students earned the AP Capstone Diploma.
Teacher Sarah Kiyak said, "We are so excited to see the Capstone program grow. The class of 2020 was our biggest to date, and I am thrilled with how the students performed on their AP Research dissertations. This fall, we will have about 45 students enrolled in AP Research and over 30 in AP Seminar. These students are motivated by the rigorous course load as well as its preparation for college. Congratulations to all."
In May, Ms. Kiyak organized a surprise drive-by celebration to congratulate this hardworking class. Along with Principal Peter Balas and Mayor Justin Wilson, she went from house to house to hand out Capstone stoles and congratulate the students. See the story in The Washington Post.
Say Hello to our New School Board Student Representatives
Ashley Sanchez-Viafara and Lorraine Johnson have been selected as our new School Board student representatives for the 2020-21 academic year. The T.C. Williams seniors went through an exhaustive and competitive process that culminated in their appointment by the chair and vice chair of the Alexandria City School Board.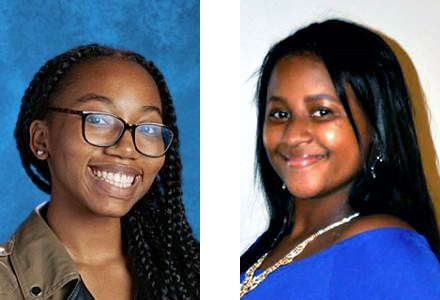 The pair have already had a great start, helping the superintendent moderate our student reopening community chats last week and catching the eye of local TV news.
Watch Lorraine and Ashley on ABC7 WJLA. 
Ashley already has an impressive track record representing her peers and advocating for others through both the City and through her church. She serves as a student representative for the Parks and Recreation Commission for the City of Alexandria and the 'Care for Creation' Sustainability Committee. She has undertaken numerous volunteering opportunities including organizing a drive to collect baby items for mothers in need and also each year she takes part in a missionary trip to the Dominican Republic. In college she hopes to major in Public Policy or International Affairs. 
Lorraine has a great role model in education — her mother PreeAnn Johnson is the much-loved principal at James K. Polk Elementary School and ACPS 2020 Principal of the Year. Lorraine attended Douglas MacArthur Elementary School and has been an active part of T.C. Williams for the past few years.
She said the experience of standing up and addressing the School Board to fight to keep one high school in Alexandria was what inspired her to apply to become the student representative.
"It took me a couple of days to write my speech because I knew that I only had one shot at persuading the Board in the students' favor. That night of the meeting, I put my heart and soul in my speech to the Board because I wanted the young children of ACPS to be able to be a part of something that has never been done before. The high school students of Alexandria did not want to be divided because we wanted to hold on to that diversity and history that put T.C. Williams High School on the map."
Each year, rising juniors and seniors may apply to serve an annual School Board student representative term from July through the following June.
Kindergarten Prep is now 'Kindergarten Kickoff'
ACPS is adjusting the format of the traditional Kindergarten Prep summer session in response to the current pandemic.
To meet the needs of incoming new families, this August all schools will offer "Kindergarten Kickoff" virtual one-on-one sessions where parents can ask questions and discuss their individual child's needs.
If your child is already registered for kindergarten in the fall, you will be contacted by your school soon to schedule your Kindergarten Kickoff session.
Interpreters will be available and families will have a chance to sign up for a session that is convenient for them.
Please complete the enrollment process for your child's school to take part in Kindergarten Kickoff.
FOOD ACCESS
ACPS has multiple distribution meal site locations throughout Alexandria for all ACPS students and children over the age of two.
GRAB-AND-GO MEAL LOCATIONS:
Grab and Go breakfast and lunch meals are available Mondays, Wednesdays and Fridays between 9 a.m. and 12 p.m. at the following locations:
William Ramsay Elementary School
5700 Sanger Avenue, Alexandria, VA 22311
Francis C. Hammond Middle School
4646 Seminary Road, Alexandria, VA 22304
Cora Kelly School for Math, Science and Technology
3600 Commonwealth Avenue, Alexandria, VA 22305
Jefferson-Houston PreK-8 IB School
1501 Cameron Street, Alexandria, VA 22314
T.C. Williams High School
3330 King Street, Alexandria, VA 22304
And available at our "Pop-Up" sites located at:
Mason Apartments at South Reynolds Street, Alexandria, VA 22304
10:45 to 11:15 a.m. Mondays, Wednesdays and Fridays
Brent Place Apartments at 375 South Reynolds Street, Alexandria, VA 22304
11:20 to 11:50 a.m. Mondays, Wednesdays and Fridays
Ruby Tucker Family Center at 322 Tancil Court, Alexandria, VA 22314
10:45 to 11:15 a.m. Mondays, Wednesdays and Fridays
Community Lodgings at 607 Notabene Drive, Alexandria, VA 22305
10:45 to 11:15 a.m. Mondays, Wednesdays and Fridays
Old Towne West Apartments (parking lot) at 500 South Alfred Street, Alexandria, VA 22314
11:20 to 11:50 a.m. Mondays, Wednesdays and Fridays
Corner of Florence Drive and Four Mile Road, Alexandria, VA 22305
10:45 to 11:15 a.m. Mondays, Wednesdays and Fridays
The Fields at 4309 Duke Street, Alexandria, VA 22304
10:45 to 11:15 a.m. Mondays, Wednesdays and Fridays
Bennington Crossing Apartments at 441 North Armistead Street, Alexandria, VA 22312
11:30 a.m. to noon, Mondays, Wednesdays and Fridays
NO SIGN UP OR REGISTRATION IS REQUIRED TO RECEIVE MEALS. Meals consist of breakfast and lunch, and include, for example, fresh fruits and vegetables and sandwiches for multiple days.
NOTE: No food distribution will occur on Tuesdays or Thursdays. The limited days for distribution is to support the practice of social distancing and to limit social gatherings. Meals for two days will be provided on Mondays and Wednesdays, and meals for three days will be provided on Fridays.
Other Food Resources in the City of Alexandria
For food pantry locations and schedules in Alexandria, visit www.hungerfreealexandria.com or call ‪703-662-1067.
Questions? Or Need Translation?
Send us your question in Spanish, Arabic or Amharic:
Text ACPSMEALS to 797979 (English and Spanish)
Call or text 703-927-6866 (Amharic)
Call or text 703-927-7095 (Arabic)
OR
Call the FACE Center's Bilingual Parent Information Lines, available Monday-Friday, from 9 a.m. to 1 p.m.:
For Spanish/English, call 571-775-9719
For Amharic/English, call 703-927-6866
For Arabic/English, call 703-927-7095
SAFETY REMINDER: Please remember to observe social distancing practices while at the food distribution site by maintaining six feet of personal space between you and other families or individuals.
Anyone exhibiting symptoms of a respiratory illness like fever, runny nose, sore throat, coughing or difficulty breathing on the day of food distribution or in the previous 24 hours should not visit a food distribution site but call a health care provider instead. If you do not have a primary care physician and are not enrolled in a clinic, you may CALL an urgent care center or emergency room.
TEEN WELLNESS CENTER IS OPEN
The Teen Wellness Center at T.C. Williams is still open regular hours Monday through Friday for all Alexandrians ages 12-19. All services are provided in the clinic and if the teen is ill with an elevated temperature (100.0 or more) we will see them through our telehealth video format. Make an appointment over the phone by calling 703-746-4776.
UPDATES FROM THE ALEXANDRIA HEALTH DEPARTMENT
The City of Alexandria and the Alexandria Health Department strongly urge everyone to follow state orders to STAY HOME except for essential trips such as food purchases and medical care, and keep 6 feet apart from others when in public. Your neighbors and loved ones are counting on you to stop the spread of COVID-19. For other questions about COVID-19, call the Alexandria COVID-19 Hotline at 703-746-4988, weekdays from 9 a.m. to 6 p.m.
Additional updates can be found at www.alexandriava.gov/Coronavirus.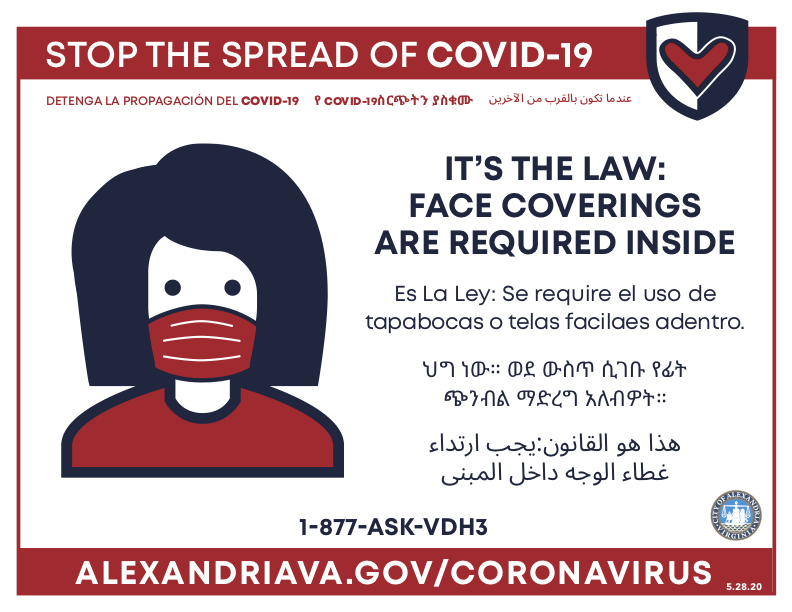 Coping with COVID-19 Fear and Uncertainty
Check out the City of Alexandria webpage Coping with COVID-19 Fear and Uncertainty which includes the COVID-19 Wellness Resource Guide.
WANT TO HELP?
Please consider donating through ACT For Alexandria and the COVID-19 Response Fund if you are able. 
Community members who would like to volunteer should reach out to www.volunteeralexandria.org or 703-836-2176 to register for any additional potential volunteer opportunities.
MENTAL HEALTH SUPPORT
Continuity of School Support and Academic Advisement
School Student Support Team staff, including school counselors, school nurses, school psychologists, and school social workers will be available during school hours throughout the closure. Monday — Friday between 8:30 a.m. and 3:30 p.m. staff will be connecting with students and their families. The Department of Student Services, Alternative Programs and Equity staff members are also available during this time and can be contacted by voicemail and at student_services@acps.k12.va.us.
Emergency Supports
If there is a crisis or emergency during the time of the closure, students and families can access the supports below:
Crisis Text and Crisis Link:

Text: CONNECT to 85511
Call: 703-527-4077
We know that this is a challenging time. ACPS will continue to share information through the ACPS website, social media, and email. Please don't hesitate to reach out to your student's school counselor or school social worker with any questions.
HEALTH REMINDERS
Don't Feel Well?
Contact your primary health care physician. Don't have insurance? Contact Neighborhood Health at 703-535-5568.
---
Have questions, concerns or feedback? Contact us.
Stay Healthy!
Wash your hands regularly. Regular soap is OK.