en español (PDF) | አማርኛ (PDF) | بالعربية (PDF)
Day  28 – Learning from Home Experience 
We've made it to our sixth week of teaching and learning from home. I will continue to praise our staff for your hard work and dedication as we continue to educate our young people each day during the COVID-19 pandemic. They are the epitome of vision, integrity and passion (VIP) and we are so fortunate to be a part of a school division that's making it happen on behalf of our students. 
This week, it was great to see our George Washington Middle School teacher, Colleen McEnearney, featured in a Washington Post article chronicling her typical working day. If you haven't already read the article, please take a moment to read Live vs. tape-delayed: How two approaches to online learning change life for teachers and students. 
Tomorrow evening, Dr. Elizabeth Hoover, our Chief Technology Officer, will be appearing on Zebra TV talking about our technology efforts to ensure our students are able to successfully engage in learning from home. 
Speaking of TV, students can now access our original learning shows created by our educators "on demand". The content, aimed at children in preK-2, is available on our ACPS-at-Home website. 
Finally, please join me in welcoming our newest Chief, Julia A. Burgos, who will join ACPS on July 2, 2020 from Arlington Public Schools where she has been chief of staff since 2013. Mrs. Burgos will be taking on the new role of Chief of School and Community Relations and will be overseeing the merger of two of our departments: the Office of School, Business and Community Partnerships and the Office of Communications. We are so excited to have her join our team and look forward to her leadership in ACPS. 
Stay safe, stay healthy and stay informed! 
Sincerely,
Dr. Gregory C. Hutchings, Jr.
Superintendent of Schools
Catch our Homegrown TV Content Online Anytime
For a few weeks now, our teachers have been busily turning into TV stars for our younger students in grades pre-K through 2nd grade. 
To supplement our elementary level educational packets and homeroom teacher guidance, many of our educators have also thrown themselves into recording engaging and fun thirty minute lessons.
Lesson's include "Rhyming Fun with Ms. Nelson" and "Ms. Gore's Color Lesson" aimed at PreK and Kindergarten.
Those in first and second grade have been invited to watch "Mr. Humphrey's Underhanded Throwing Technique" and "Fractions with Miss Martin" amongst other topics.
Up until now, the shows have only been available to watch on set schedules on our ACPS-TV channel and the City of Alexandria's AlexTV channel, as well as on our website.
But now, they are available for your children to view repeatedly at your convenience through links on the ACPS-at-home webpage.
Check out the recorded lessons aimed at students in PreK and Kindergarten at Pre-K and Kindergarten Learning from Home and in First and Second Grade Learning from Home. 
You can still tune in between 8 to 11:30 a.m each day for the latest content on AlexTV Cable Channel 70 (PreK-K) and ACPS-TV Cable Channel 71 (Grades 1 and 2) if you have a Comcast package.  
This will include:
90 minutes of new lessons taught by our teachers every day. These lessons will include read-alouds and learning activities taught by ACPS teachers and administrators.

1 hour of exercise that can be done at home

1 hour of age appropriate educational shows
Call for Entries: "Everybody's the Graduation Speaker" Video Contest
We all know graduation is likely to look a bit different this year but here's a fun and memorable way to have our seniors mark the occasion.
U.S. Senator Tim Kaine of Virginia is asking for our Class of 2020 seniors to record and submit an original speech they would like to give at graduation. 
He will then select speeches to feature on his Facebook page and U.S. Senate website during May and June to celebrate the graduates.
"One of the many groups of Virginians I've been thinking about during this challenging time is the graduates of the Class of 2020, many of whom won't have the graduation experience they've been planning for a long time."
"I feel a sense of loss about that, so I want to do something fun for them and give all high school seniors the chance to be a graduation speaker. I look forward to hearing the wisdom Virginia's future leaders have to offer and sharing their inspiration with others. Let's show Virginia what the Class of 2020 is all about," he said.
Watch the announcement of 'Everybody's The Graduation Speaker' Video Contest.
Videos of speeches must be 10 minutes or less and can be recorded on platforms such as Facebook or YouTube with links submitted to gradspeech@kaine.senate.gov by May 15. Recordings can also be sent by Dropbox.
ACPS Hires New Chief of School and Community Relations to Oversee Departmental Restructuring
Alexandria City Public Schools would like to welcome Julia A. Burgos who is joining the division in the new position of Chief of School and Community Relations on July 2, 2020.
Mrs. Burgos has been brought in to merge the Office of School, Business and Community Partnership and the Office of Communications into one department. She brings with her over 28 years of government, public relations, non-profit and program administration experience. 
She joins ACPS from Arlington Public Schools where she had held the position of Chief of Staff since 2013. Prior to her role at APS, Mrs. Burgos worked in communications at the MLSGroup, where she saw grassroots communications for General Motors. 
A New York native, early in her career she served as the Marketing and Advertising Program Director for the New York City Mayor's Office of Health Insurance Access where she helped to establish Mayor Rudy Giuliani's HealthStat Program. During her tenure, she was instrumental in facilitating the enrollment of over 350,000 children and adults into public health insurance programs.  Mrs. Burgos holds a Master's Degree in Public Relations and Corporate Communications from Georgetown University and a Bachelor's Degree in Communications and a minor in Spanish from Iona College.
ACPS is Making Headlines
Did you see our very own George Washington Middle School Algebra teacher Colleen McEnearney featured in the Washington Post? Her great work was profiled on Monday along with student Madeline Arnold. 
Please take a moment to read Live vs. tape-delayed: How two approaches to online learning change life for teachers and students. 
And be sure to check out Zebra TV's Facebook page at 7 p.m. tomorrow to see Dr. Elizabeth Hoover, ACPS Chief Technology Officer, interviewed about all the work that has gone on to ensure our students are equipped for online, remote learning.
YOUR QUESTIONS ANSWERED
In the last video Q&A, Superintendent Dr. Gregory C. Hutchings, Jr. answered questions about opportunities and supports for students:
What is Northern Virginia Community College (NOVA) Offering? 
Will taking a NOVA online course help me get into college?
How many courses can I take during the June-July term?
Will the credits be transferable to any college in the US?
Where can middle and high school students go for extra support during the closure?
In what subjects does ACPS offer tutoring?
Does Tutor.com offer this online tutoring in Spanish?
If we miss a lesson on television, or we don't have cable, is there a way to still view it?
Read the answers to these questions in our daily video transcripts, available in English, Spanish, Amharic and Arabic.
Watch the Q&A video or see answers to these questions in the updated FAQ.
Food Distribution
ACPS has multiple distribution meal site locations throughout Alexandria for all ACPS students and children over the age of two.
GRAB-AND-GO MEAL LOCATIONS:
Grab and Go breakfast, lunch and snack meals are available Mondays, Wednesdays and Fridays between 9 a.m. and 12 p.m. at the following locations:
William Ramsay Elementary School


5700 Sanger Avenue, Alexandria, VA 22311

Francis C. Hammond Middle School


4646 Seminary Road, Alexandria, VA 22304

Cora Kelly School for Math, Science and Technology


3600 Commonwealth Avenue, Alexandria, VA 22305

Jefferson-Houston PreK-8 IB School


1501 Cameron Street, Alexandria, VA 22314

T.C. Williams High School


3330 King Street, Alexandria, VA 22304
And available at our "Pop-Up" sites located at:
Mason Apartments at South Reynolds Street, Alexandria, VA 22304


10:45 to 11:15 a.m. Mondays, Wednesdays and Fridays

Brent Place Apartments at 375 South Reynolds Street, Alexandria, VA 22304


11:20 to 11:50 a.m. Mondays, Wednesdays and Fridays

Ruby Tucker Family Center at 322 Tancil Court, Alexandria, VA 22314


10:45 to 11:15 a.m. Mondays, Wednesdays and Fridays

Community Lodgings at 607 Notabene Drive, Alexandria, VA 22305


10:45 to 11:15 a.m. Mondays, Wednesdays and Fridays

Old Towne West Apartments (parking lot) at 500 South Alfred Street, Alexandria, VA 22314


11:20 to 11:50 a.m. Mondays, Wednesdays and Fridays

Corner of Florence Drive and Four Mile Road, Alexandria, VA 22305


10:45 to 11:15 a.m. Mondays, Wednesdays and Fridays
NO SIGN UP OR REGISTRATION IS REQUIRED TO RECEIVE MEALS.
Meals consist of breakfast, lunch and snack and include, for example, fresh fruits and vegetables and sandwiches for multiple days.
NOTE: No food distribution will occur on Tuesdays or Thursdays. The limited days for distribution is to support the practice of social distancing and to limit social gatherings. Meals for two days will be provided on the pick-up days, (Monday/Wednesday/Friday).
Other Food Resources in the City of Alexandria
For food pantry locations and schedules in Alexandria, visit www.hungerfreealexandria.com or call ‪703-662-1067. 
Questions? Or Need Translation?
Send us your question in Spanish, Arabic or Amharic:
Text ACPSMEALS to 797979 (English and Spanish)

Call or text 703-927-6866 (Amharic)

Call or text 703-927-7095 (Arabic)
OR
Call the FACE Center's Bilingual Parent Information Lines:
For Spanish, call 571-775-9719, Monday-Friday (9:00 a.m. – 5:00 p.m.)

For Amharic, call 703-927-6866, Monday-Friday (9:00 a.m. – 1:00 p.m.)

For Arabic, call 703-927-7095, Tuesday-Thursday (9:00 a.m. – 3:30 p.m.)
SAFETY REMINDER:
Please remember to observe social distancing practices while at the food distribution site by maintaining six feet of personal space between you and other families or individuals.
Anyone exhibiting symptoms of a respiratory illness like fever, runny nose, sore throat, coughing or difficulty breathing on the day of food distribution or in the previous 24 hours should not visit a food distribution site but call a healthcare provider instead. If you do not have a primary care physician and are not enrolled in a clinic, you may CALL an urgent care center or emergency room.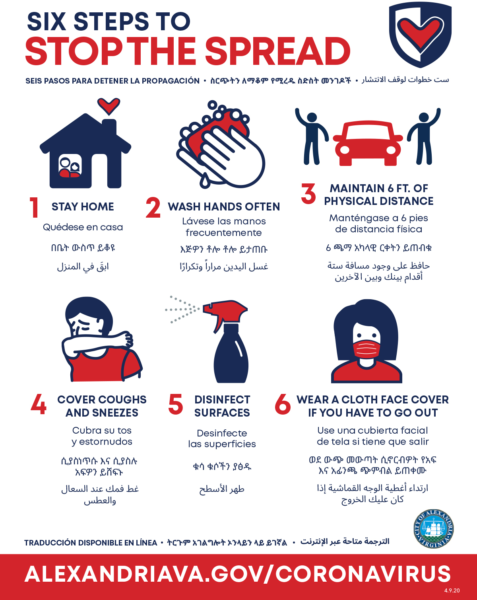 CONNECT WITH US
We want to hear from you! Send us a photo, video or story about your experiences while school is closed. Email us at news@acps.k12.va.us.
SHARE YOUR LEARNING!
Learning Together: At-Home Tips from One ACPS Family to Another
Have a learning tip that works well for your child, or a particularly interesting project or story you think others would enjoy? We invite you to share it with the entire ACPS learning community! 
Upload your video or audio story or post it to the ACPS Facebook page.
See this great example from one parent and her son.
Coping with COVID-19 Fear and Uncertainty
Check out the City of Alexandria webpage Coping with COVID-19 Fear and Uncertainty which includes the COVID-19 Wellness Resource Guide.
WANT TO HELP?
Please consider donating through ACT For Alexandria and the Covid-19 Response Fund if you are able. 
Community members who would like to volunteer should reach out to www.volunteeralexandria.org or 703-836-2176 to register for any additional potential volunteer opportunities.
UPDATES FROM THE ALEXANDRIA HEALTH DEPARTMENT
The City of Alexandria has taken measures to further reduce risk, and encourages organizations and individuals to take action, as well. The AHD is reminding the community of the importance of social distancing by maintaining six feet of personal space whenever possible, and frequently washing hands and using hand sanitizer. For other questions about COVID-19, call the Alexandria COVID-19 Information Line at 703-746-4988, weekdays from 9 a.m. to 6 p.m.
Additional updates can be found at www.alexandriava.gov/Coronavirus.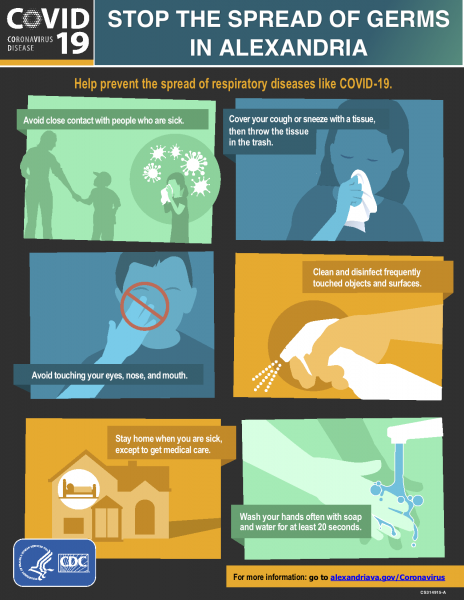 MENTAL HEALTH SUPPORT
Continuity of School Support and Academic Advisement
School Student Support Team staff, including school counselors, school nurses, school psychologists, and school social workers will be available during school hours throughout the closure. Monday – Friday between 8:30 a.m. and 3:30 p.m staff will be connecting with students and their families. The Department of Student Services, Alternative Programs and Equity staff members are also available during this time and can be contacted by voicemail and at student_services@acps.k12.va.us.
Emergency Supports
If there is a crisis or emergency during the time of the closure, students and families can access the supports below:
Crisis Text and Crisis Link:

Text: CONNECT to 85511
Call: 703-527-4077
We know that this is a challenging time. ACPS will continue to share information through the ACPS website, social media, and email. Please don't hesitate to reach out to your student's school counselor or school social worker with any questions.
HEALTH REMINDERS
Don't Feel Well?
Contact your primary health care physician. Don't have insurance? Contact Neighborhood Health at 703-535-5568.
---
Have questions, concerns or feedback? Contact us.
Stay Healthy!
Wash your hands regularly. Regular soap is okay.