en español (PDF) | አማርኛ (PDF) | بالعربية (PDF)
Day 30 – Learning from Home Experience
I would like to dedicate today's message to our class of 2020! It's May 1 and we are asking all seniors to take a video on their phones answering three questions: What do you love? What do you fear? What do you hope for? 
As we begin to grapple with innovative alternatives to our traditional graduation and senior year experiences, this is one project that will create a lasting memory for all 850+ seniors well into the future. T.C. Williams principal, Mr. Peter Balas, along with seniors TJ Horton and Amiya Chisolm who is also our Class of 2020 President, introduced this project live on Fox5 on Wednesday morning. Watch "T.C. Williams Class of 2020 plan a documentary." 
Anytime before 11:59 p.m. today, we want every single one of our seniors to answer these questions in three short videos of up to 60 seconds each. The footage will be woven into an incredible visual project inspired by Ridley Scott's Life in a Day. This opportunity is for one day only! If you have a senior at home, please make sure they participate in this today. This will make a lasting memory that, although may not be the one they expected or hoped for, will surely bring our seniors joy and comfort as well as plenty of Titan Pride.
Today, I would also like to highlight the work of our team from School Nutrition Services on this, School Lunch Hero Day. As I've shared with you before, from the very moment we made the decision to close our school buildings, feeding our students has been one of our top priorities. To effectively relocate our school cafeterias from inside our buildings to hastily-arranged outdoor sites across our city certainly took something close to superhuman powers to pull off. 
It seems like such a long time ago that I arrived at door 14 of T.C. Williams High School on the Monday lunchtime after our division announced closure, pulled on blue plastic gloves and joined the team distributing bags of food to our families. I've observed with immense pride how this program has grown exponentially over the weeks. A huge thank you to our School Nutrition Services team and other essential staff led by our director, Cindy Hormel, for their flexibility, innovation and commitment on behalf of our students. To think we are approaching 200,000 meals distributed is nothing short of remarkable. I know how much our families appreciate their hard work. Today, if you visit one of our distribution sites or happen to be driving by in the neighborhood, please be sure to give thanks with a wave or a smile or a honk of your car horn. 
Stay healthy, stay safe and stay informed
Sincerely,
Dr. Gregory C. Hutchings, Jr.
Superintendent of Schools
T.C. Seniors, Today is THE Day! You're Making a Documentary Film Today! 
Seniors! You, the class of 2020 are making a documentary! Don't miss this opportunity to be part of Titan history. Across the city of Alexandria, Titan seniors will be recording their stories all on the same day, TODAY. 
Here's how it will work: 
Anytime between 12:00 a.m. and 11:59 p.m., we ask every single one of you to answer these questions in three short videos of up to 60 seconds each: 
What do you love? 
What do you fear? 
What do you hope for? 
These videos will form part of your graduation ceremony. Please don't miss out.
Send in your video using this form no later than 12 p.m. on Monday, May 4.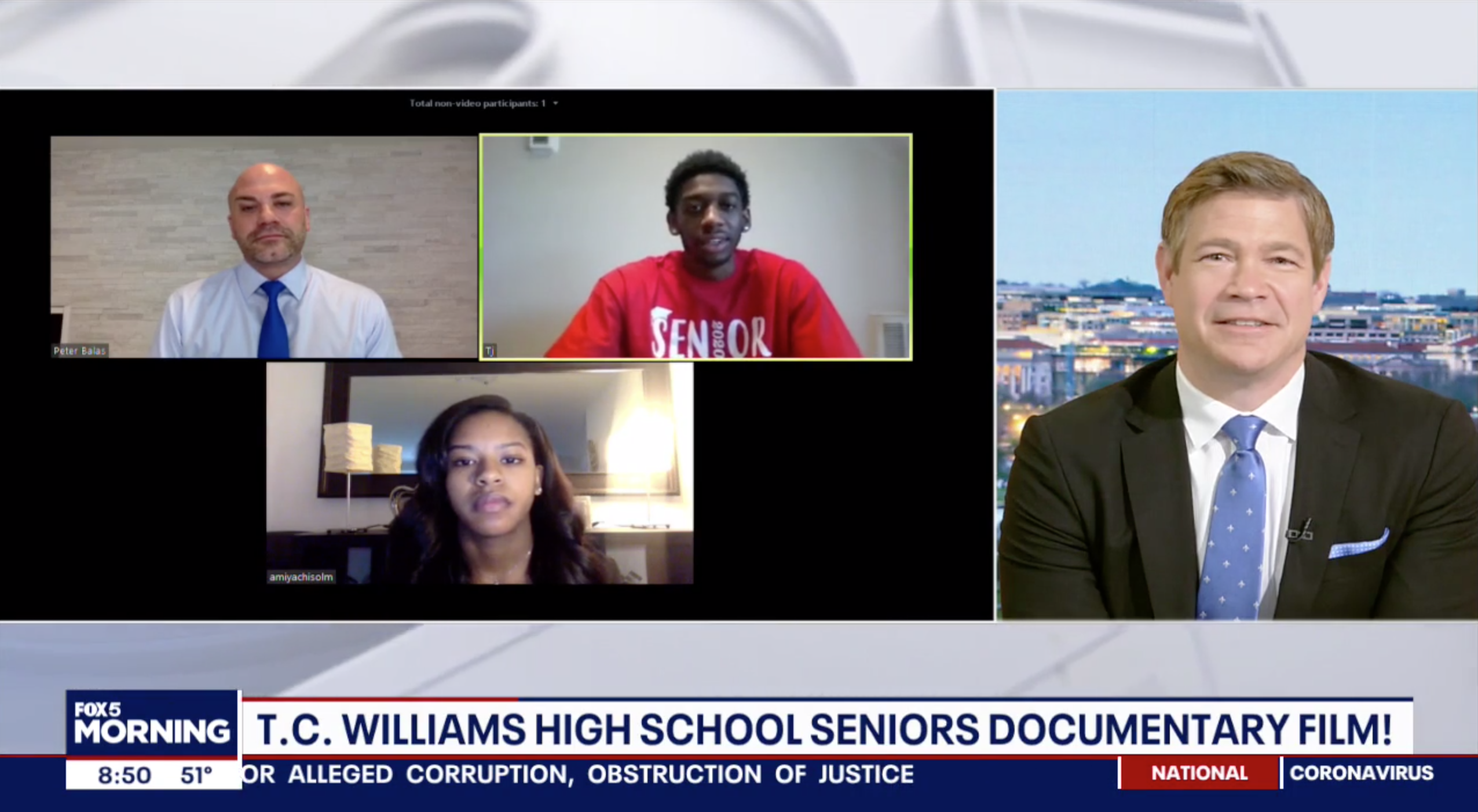 School Lunch Hero Day
Today, on School Lunch Hero Day, we celebrate our amazing team in School Nutrition Services (SNS) that has been pivotal to the success of ACPS during the COVID-19 crisis.
From the day our buildings closed, staff put into action a hastily-arranged plan to ensure that students, who depend on school for much of their nutritional needs, would not miss out.
Week in, week out, the team continues to provide substantial and healthy meals to any ACPS student, and children over the age of two.
Cynthia Hormel, SNS director, paid tribute to the extraordinary efforts of her team.
She said, "We have a very dedicated team that works hard, collaboratively, for the common goal of ensuring 'No Child Goes Hungry'."
"Our goal today, and every day, is to provide nutritious meals that set our students up for a successful day of learning. A hungry child cannot focus on learning."
To date, ACPS has provided close to 200,000 meals distributed from ten sites around our city.
This could not have been done without mobilizing an army of essential workers that stepped into roles on the front line at distribution sites and behind the scenes in school kitchens. The initiative has also been supported, at times, by the City of Alexandria, numerous volunteers, as well as local nonprofit organizations.
The work continues with staff constantly monitoring demand and efficiency on a daily basis and working with flexibility to open more sites, if a demand is identified.
Hormel added, "We have leaned on our staff a great deal since the beginning of the coronavirus response, but I believe our greatest achievement was getting the call on Friday, March 13 at 2:00 p.m. and having a system in place to begin serving meals the following Monday at T.C. Williams."
Be sure to give them an extra special thank you at our distribution sites today – honk your horn, give them a wave and a smile and let them know you appreciate their heroic efforts.
For more information, visit Food Access During School Closures.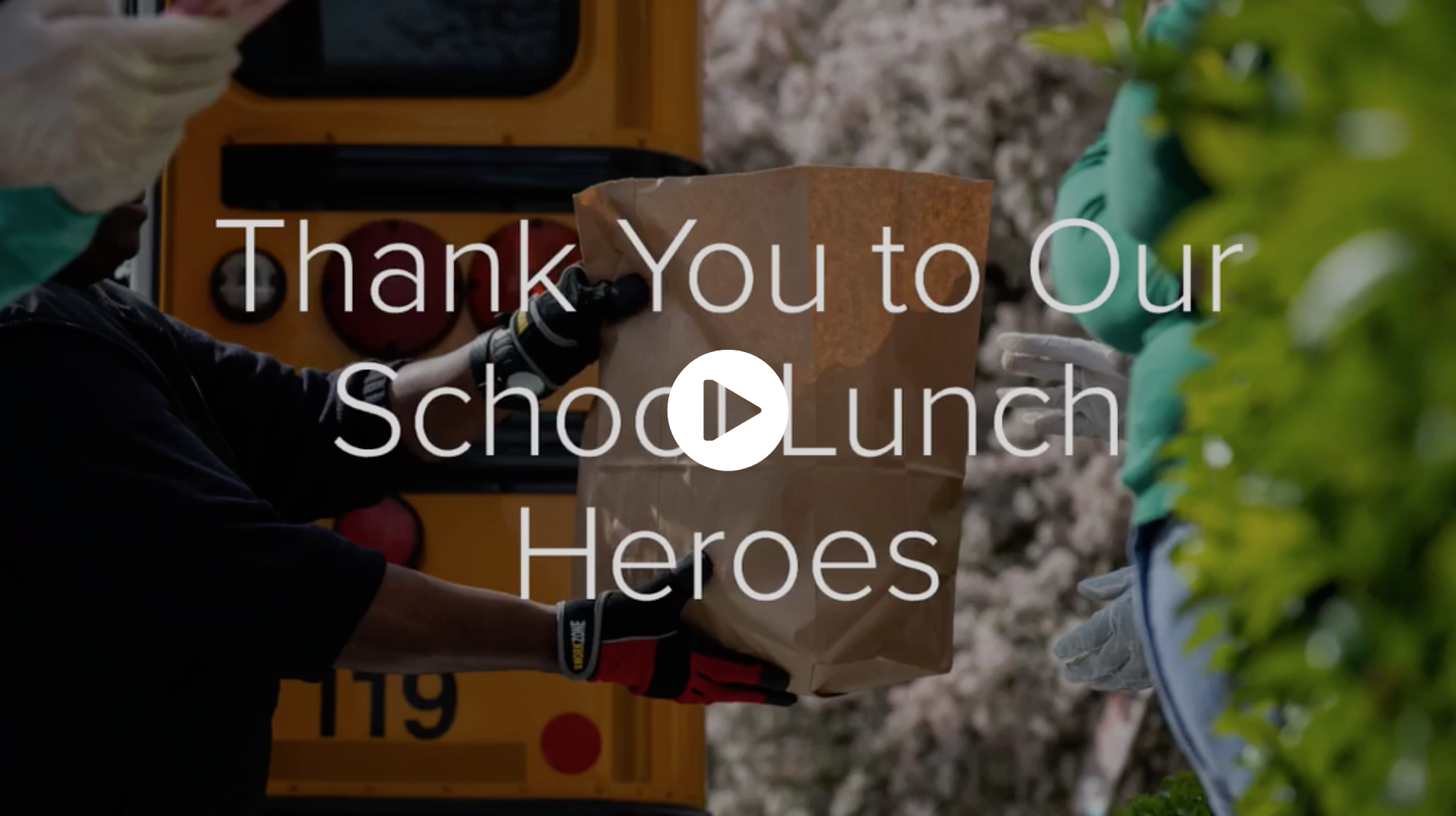 IMPORTANT ACPS MAILING AND REPORT CARD INFORMATION
ACPS has always understood the importance of having updated contact information on file for each of our students. Since the closure of school buildings on March 13, this has become especially important. 
Please watch for a mailing from ACPS with a print out of the contact information that we currently have on file for your child. It is critical that you please review this carefully. If it is all correct, no action is needed. 
If any of the information on the form is missing or incorrect, please correct it and mail the form back to us in the provided envelope. No postage is necessary.
Having correct contact information is the only way that ACPS can ensure we are getting vital information, documents, learning packets, Chromebooks, and mobile hotspots to your child to help them continue learning. ACPS will also distribute report cards using this contact information. 
Although the Virginia Department of Education has recommended to not grade work completed during the COVID-19 pandemic, ACPS will provide progress reports and grades for work completed prior to March 13, 2020, the day that Governor Ralph Northam extended his order to close all schools for the remainder of the 2019-20 school year.
ACPS will distribute progress reports and report cards for the third quarter as follows:
Pre-K Progress Reports will be communicated by the student's teacher to families individually through email and phone calls.
K-5 Progress Reports will be distributed via U.S. mail and available to parents/students through Parent Access (PowerSchool) the week of May 4. If there are any mailing address changes, please contact your school principal as soon as possible. It is critical that schools have your correct and current address on file so that progress reports are deliverable. Kindergarten teachers will be reaching out personally to parents to share additional information usually included on kindergarten report cards.
Grades 6-12 Report Cards will be available to parents/students by logging in to Parent Access (PowerSchool). 
If there are any questions regarding your child's learning, please contact your student's teacher.
New Learning Packets Coming Your Way
Families of students in pre-K through 2nd grade, keep an eye on your mailbox next week for your latest learning packets. We hope your child finds them full of fun activities to keep them learning.
YOUR QUESTIONS ANSWERED
In the last video Q&A, Superintendent Dr. Gregory C. Hutchings, Jr. answered questions about the status of ACPS Capital Improvement Projects.
Has the COVID-19 closures affected school building projects?
Why have some projects been able to be advanced while others have been delayed?
What projects could be expedited?
Are facilities issues like lead or copper in the water being addressed during the closure, or are those projects on hold to reduce the number of people in the buildings?
Will the new building for Douglas MacArthur Elementary School continue to move forward?
What will happen to the funding for a new high school building on the Minnie Howard campus? 
Watch the twice-weekly Q&A video.
Read the answers to Frequently Asked Questions in our FAQ web page or in our video transcripts, available in English, Spanish, Amharic and Arabic.
We welcome you to send us your questions.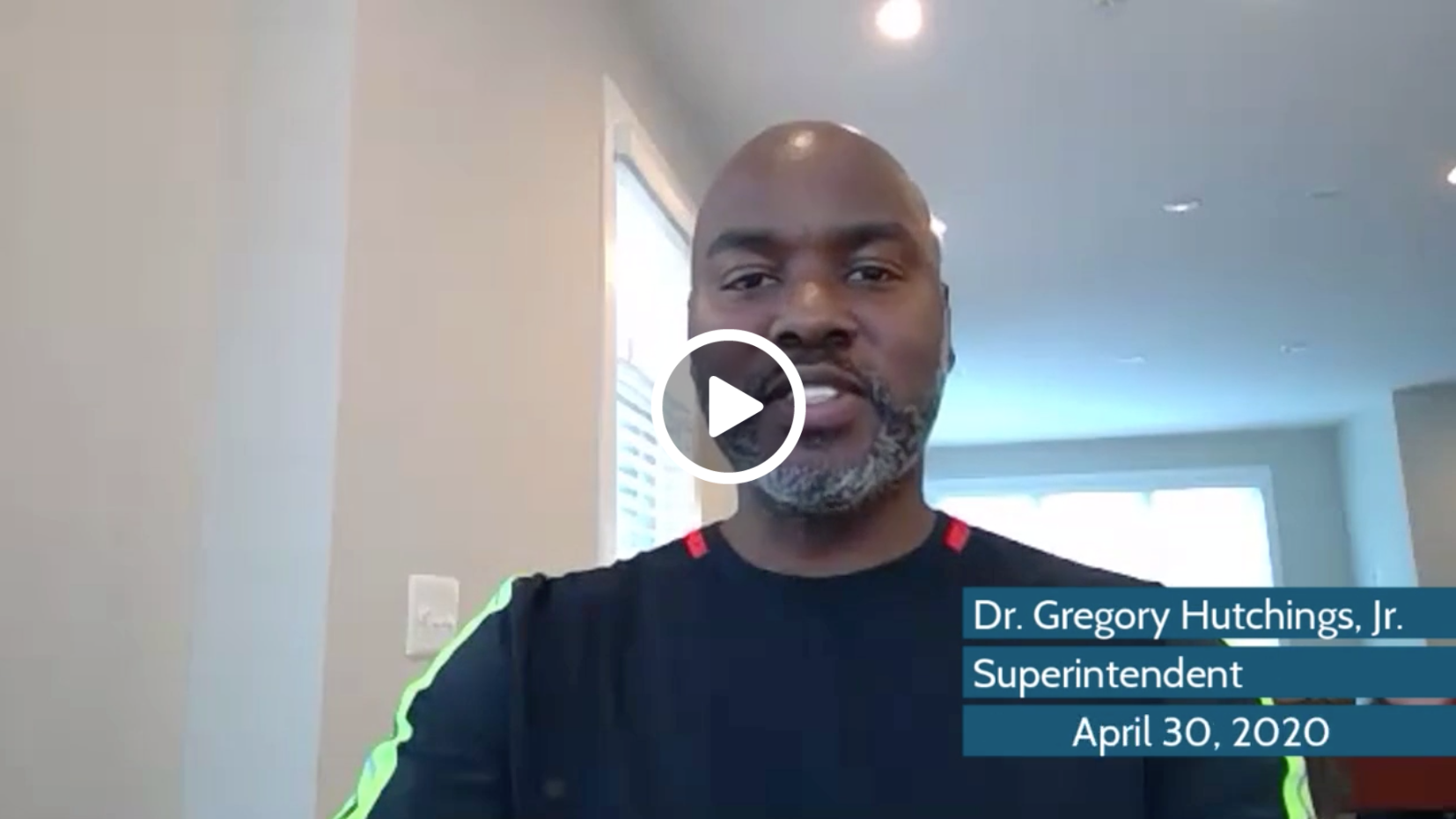 Tune in to our Board Meeting Today
During the closure of school buildings, our School Board is meeting virtually each Friday at noon. Watch the School Board Meeting.
Teen Wellness Center is Open
The Teen Wellness Center at T.C. Williams is still open regular hours Monday through Friday for all Alexandrians ages 12-19. All services are provided in the clinic and if the teen is ill with an elevated temperature (100.0 or more) we will see them through our telehealth video format. Make an appointment over the phone by calling 703-746-4776.
Updates from the Alexandria Health Department
The City of Alexandria and the Alexandria Health Department strongly urge everyone to follow state orders to STAY HOME except for essential trips such as food purchases and medical care, and keep 6 feet apart from others when in public. Your neighbors and loved ones are counting on you to stop the spread of COVID-19. For other questions about COVID-19, call the Alexandria COVID-19 Hotline at 703-746-4988, weekdays from 9 a.m. to 6 p.m.
Additional updates can be found at www.alexandriava.gov/Coronavirus.
Food Distribution
ACPS has multiple distribution meal site locations throughout Alexandria for all ACPS students and children over the age of two.
GRAB-AND-GO MEAL LOCATIONS:
Grab and Go breakfast, lunch and snack meals are available Mondays, Wednesdays and Fridays between 9 a.m. and 12 p.m. at the following locations:
William Ramsay Elementary School


5700 Sanger Avenue, Alexandria, VA 22311

Francis C. Hammond Middle School


4646 Seminary Road, Alexandria, VA 22304

Cora Kelly School for Math, Science and Technology


3600 Commonwealth Avenue, Alexandria, VA 22305

Jefferson-Houston PreK-8 IB School


1501 Cameron Street, Alexandria, VA 22314

T.C. Williams High School


3330 King Street, Alexandria, VA 22304
And available at our "Pop-Up" sites located at:
Mason Apartments at South Reynolds Street, Alexandria, VA 22304


10:45 to 11:15 a.m. Mondays, Wednesdays and Fridays

Brent Place Apartments at 375 South Reynolds Street, Alexandria, VA 22304


11:20 to 11:50 a.m. Mondays, Wednesdays and Fridays

Ruby Tucker Family Center at 322 Tancil Court, Alexandria, VA 22314


10:45 to 11:15 a.m. Mondays, Wednesdays and Fridays

Community Lodgings at 607 Notabene Drive, Alexandria, VA 22305


10:45 to 11:15 a.m. Mondays, Wednesdays and Fridays

Old Towne West Apartments (parking lot) at 500 South Alfred Street, Alexandria, VA 22314


11:20 to 11:50 a.m. Mondays, Wednesdays and Fridays

Corner of Florence Drive and Four Mile Road, Alexandria, VA 22305


10:45 to 11:15 a.m. Mondays, Wednesdays and Fridays
NO SIGN UP OR REGISTRATION IS REQUIRED TO RECEIVE MEALS.
Meals consist of breakfast, lunch and snack and include, for example, fresh fruits and vegetables and sandwiches for multiple days.
NOTE: No food distribution will occur on Tuesdays or Thursdays. The limited days for distribution is to support the practice of social distancing and to limit social gatherings. Meals for two days will be provided on the pick-up days, (Monday/Wednesday/Friday).
Other Food Resources in the City of Alexandria
For food pantry locations and schedules in Alexandria, visit www.hungerfreealexandria.com or call ‪703-662-1067. 
Questions? Or Need Translation?
Send us your question in Spanish, Arabic or Amharic:
Text ACPSMEALS to 797979 (English and Spanish)

Call or text 703-927-6866 (Amharic)

Call or text 703-927-7095 (Arabic)
OR
Call the FACE Center's Bilingual Parent Information Lines:
For Spanish, call 571-775-9719, Monday-Friday (9:00 a.m. – 5:00 p.m.)

For Amharic, call 703-927-6866, Monday-Friday (9:00 a.m. – 1:00 p.m.)

For Arabic, call 703-927-7095, Tuesday-Thursday (9:00 a.m. – 3:30 p.m.)
SAFETY REMINDER:
Please remember to observe social distancing practices while at the food distribution site by maintaining six feet of personal space between you and other families or individuals.
Anyone exhibiting symptoms of a respiratory illness like fever, runny nose, sore throat, coughing or difficulty breathing on the day of food distribution or in the previous 24 hours should not visit a food distribution site but call a healthcare provider instead. If you do not have a primary care physician and are not enrolled in a clinic, you may CALL an urgent care center or emergency room.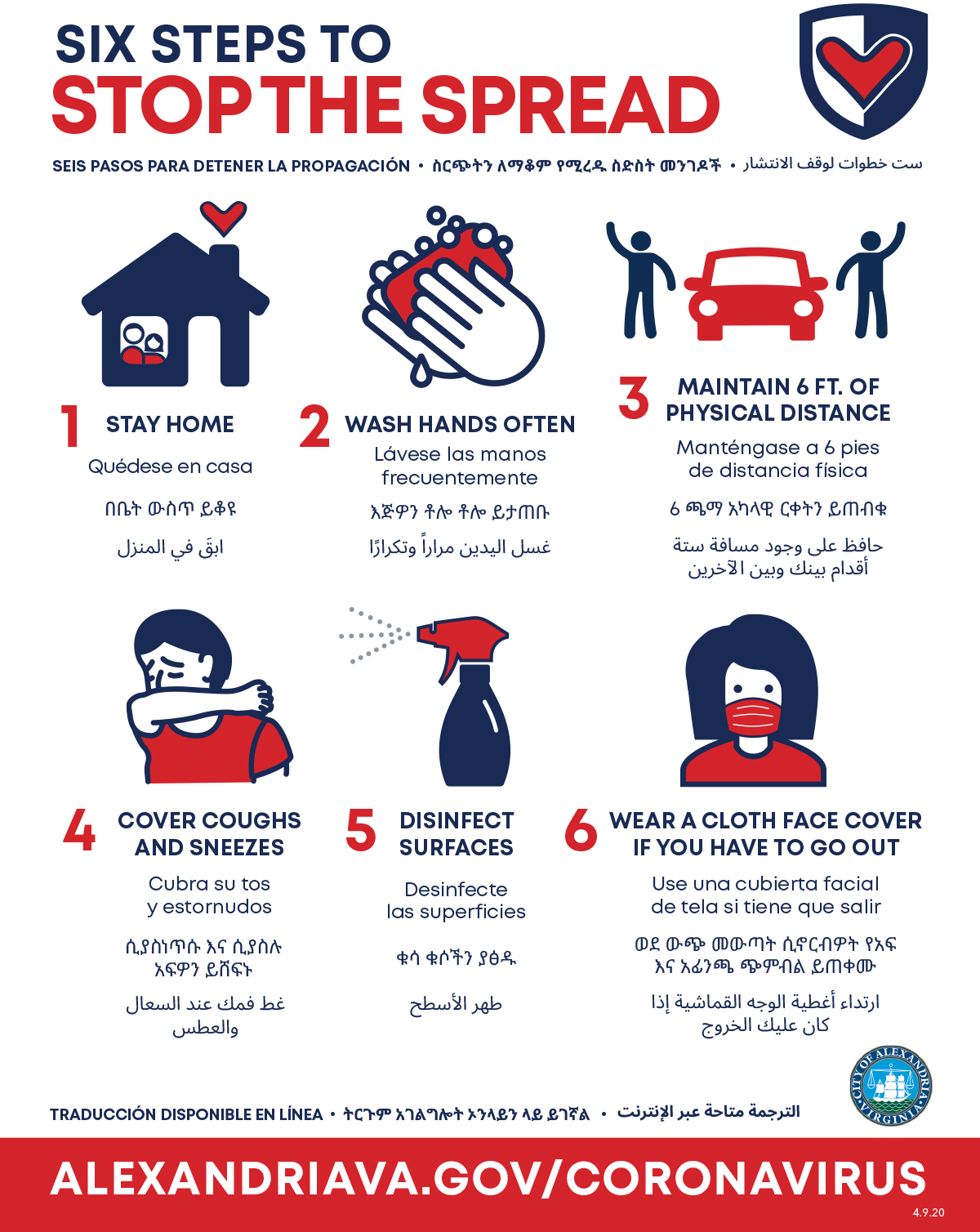 CONNECT WITH US
We want to hear from you! Send us a photo, video or story about your experiences while school is closed. Email us at news@acps.k12.va.us.
SHARE YOUR LEARNING!
Learning Together: At-Home Tips from One ACPS Family to Another
Have a learning tip that works well for your child, or a particularly interesting project or story you think others would enjoy? We invite you to share it with the entire ACPS learning community! 
Upload your video or audio story or post it to the ACPS Facebook page.
See this great example from one parent and her son.
Coping with COVID-19 Fear and Uncertainty
Check out the City of Alexandria webpage Coping with COVID-19 Fear and Uncertainty which includes the COVID-19 Wellness Resource Guide.
WANT TO HELP?
Please consider donating through ACT For Alexandria and the Covid-19 Response Fund if you are able. 
Community members who would like to volunteer should reach out to www.volunteeralexandria.org or 703-836-2176 to register for any additional potential volunteer opportunities.
MENTAL HEALTH SUPPORT
Continuity of School Support and Academic Advisement
School Student Support Team staff, including school counselors, school nurses, school psychologists, and school social workers will be available during school hours throughout the closure. Monday – Friday between 8:30 a.m. and 3:30 p.m staff will be connecting with students and their families. The Department of Student Services, Alternative Programs and Equity staff members are also available during this time and can be contacted by voicemail and at student_services@acps.k12.va.us.
Emergency Supports
If there is a crisis or emergency during the time of the closure, students and families can access the supports below:
Crisis Text and Crisis Link:

Text: CONNECT to 85511
Call: 703-527-4077
We know that this is a challenging time. ACPS will continue to share information through the ACPS website, social media, and email. Please don't hesitate to reach out to your student's school counselor or school social worker with any questions.
HEALTH REMINDERS
Don't Feel Well?
Contact your primary health care physician. Don't have insurance? Contact Neighborhood Health at 703-535-5568.
---
Have questions, concerns or feedback? Contact us.
Stay Healthy!
Wash your hands regularly. Regular soap is okay.