A huge congratulations to Ana Humphrey from T.C.
On being named a National Merit Scholar, you see.
Considered to be the highest honor a student can receive,
She'll be awarded $2,500 toward college to achieve!
Becoming a Merit Scholar is no easy thing to do,
With 1.6 million juniors across the country competing with you.
Your SATs must be high, your academic record spotless,
And your teacher and principal recommendations countless.
Oh, Ms. Humphrey has awards and accolades galore!
To list them on this page, there's no room for more!
But winning a mere $250k is worth mention,
As a Regeneron winner, she beat out this country's best competition.
From first grade through twelfth she's studied with us,
Now it's on to Harvard to debate and discuss
This world's biggest mysteries — things big, bold and bright,
Things we can only dream of, that Ana has in her sights.
So good luck, goodbye, and as the French say, 'adieu.'
We're so proud to know someone as talented as you!
Becoming somewhat of a celebrity, Ana has appeared on national and local television, in the Washington Post and even made it to Poetry Fence on Dewitt Ave in Del Ray.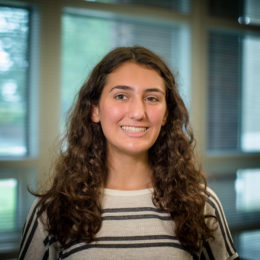 We are very proud of all of Ana's accomplishments. Being recognized as a National Merit Scholar is a significant honor and I could not be prouder. Ana's accomplishments have known no bounds this school year. She is a student who is invested in her school and community and I hope that all of her ACPS teachers share in this wonderful recognition," Pete Balas, Principal of T.C. Williams said.
If there's any question about where you're headed from here, we think Dr. Seuss would have made a slight edit to Oh, the Places You'll Go …
ANA, YOU'LL MOVE MOUNTAINS!