Amazon is helping to establish a robotics program at six elementary schools in ACPS by way of a demonstration of its commitment to Alexandria ahead of the arrival of its new H2 headquarters.
Cora Kelly School for Math, Science and Technology, Ferdinand T. Day Elementary School, William Ramsay Elementary School, John Adams Elementary School, Patrick Henry K-8 School and Jefferson-Houston PreK-8 IB School will each receive FIRST® robotics program registrations plus $10,000 from Amazon to expand access to computer science education. Students from each school will also get a tour of the local Amazon Robotics fulfillment center.
Amazon selected Cora Kelly as the location to announce the grants, which are given to 100 Title I schools near Amazon locations across the United States. T.C.'s Titan Robotics Club submitted the grant on behalf of ACPS and students from the club were on hand to help inspire students at the announcement.
Alexandria has received six of these grants by way of beginning to establish an educational partnership between ACPS and Amazon. ACPS is in the process of redesigning its high school programming to include expanded opportunities for future generations of students through partnerships with local businesses and higher education institutions. Amazon's arrival in Northern Virginia includes a historic partnership with Virginia Tech to develop an Innovation Campus in Alexandria to fill the demand for high-tech talent.
In ACPS we are establishing opportunities that inspire students to pursue science and high-tech courses that create a pathway to get talented students into the workforce. It is through exciting partnerships like these and others we hope to announce soon that we will be able to establish Northern Virginia as a hub for high-tech skills in the future," said Superintendent Dr. Gregory C. Hutchings, Jr.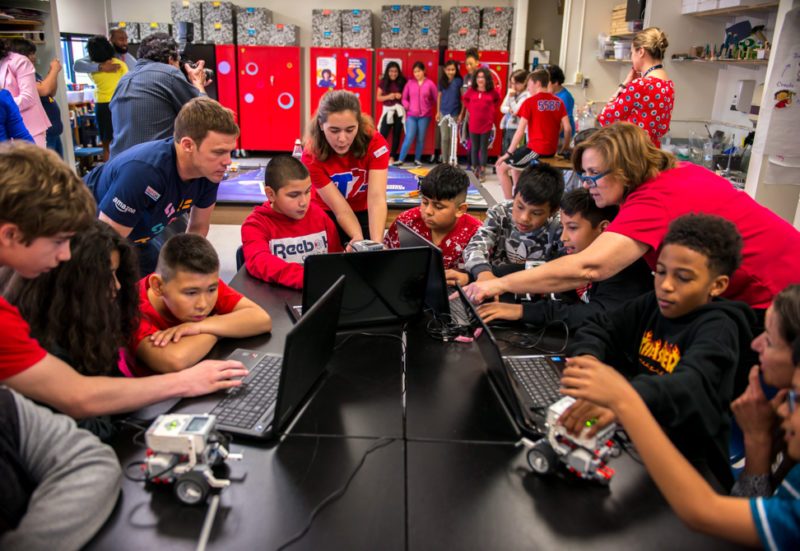 ACPS already has a reputation for developing scientific research skills among its students. ACPS is creating a pathway of high-tech and scientific talent through research classes that start in middle school and culminate in clubs such as the highly successful robotics club at T.C. Williams High School. Two weeks ago, T.C. Williams senior Ana Humphrey was named the top student scientist in the nation for her research into exoplanets.
These students are the innovators of the future, and we're confident that this hands-on experience provided by Amazon Future Engineer will inspire them in their academic pursuits and beyond," said Jeff Wilke, CEO Consumer Worldwide, Amazon.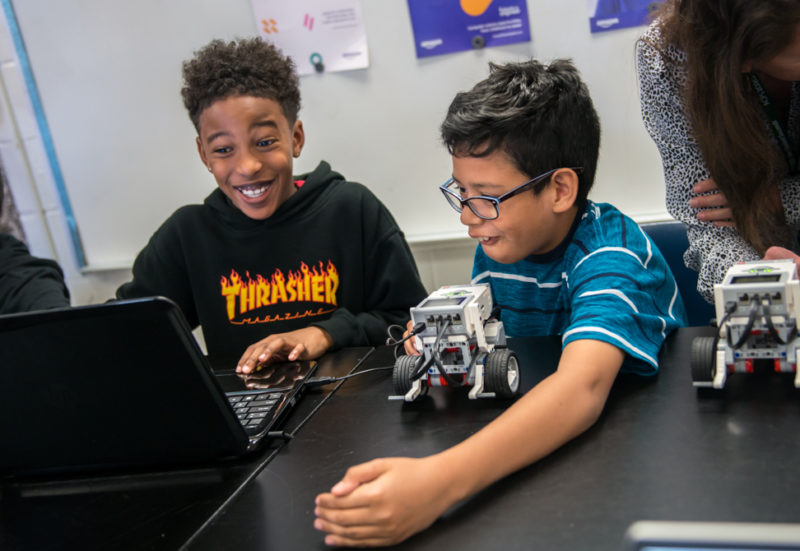 Computer science is the fastest-growing profession within the Science, Technology, Engineering and Math (STEM) field, but only eight percent of STEM graduates earn a computer science degree. A tiny minority of those are from underprivileged backgrounds. Students from underprivileged backgrounds are 8 to 10 times more likely to pursue college degrees in computer science if they have taken AP computer science in high school.
The Bureau of Labor Statistics projects that by 2020 there will be 1.4 million computer-science-related jobs available, and only 400,000 computer science graduates with the skills to apply for those jobs.
Cora Kelly will be arranging a field trip to the Amazon distribution center in Baltimore shortly. Staff at the school said they were already amazed by the excitement generated among students who had not shown excitement in math or science before. ACPS schools that received the grants will begin integrating robotics into their programs this spring.